Pandan Chiffon cake is a light, fluffy or sponge cake of Indonesian / Malaysian origin, and is both flavoured and cloured with the juice of Pandanus amaryllifolius leaves. The cakes are light green in colour due to the chlorophyll in the leaf juice. This is a favourite snack in both Indonesia and Malaysia. The precise origin of the cake is unclear. However, the pandan cake was probably of Indonesian or Malaysian origins with Dutch influence.
If you enjoy authentic Southeast Asian desserts / snacks, then this Pandan Chiffon Cake should be perfect. The signature green colour of this cake usually comes from the juice of pandan leaves  (screwpine) leaves although green food coloring is also often used to enhance the color.  It is also popular in Philippines, Singapore, Vietnam, Laos, Thailand, Sri Lanka, Hong Kong, and China.
Ingredients:
Section 1:
6 large egg yolks (from 6 x 60 g eggs) – reserve whites for meringue
100 g caster sugar
115 ml vegetable oil – I'm using sunflower
140 ml coconut milk
2 tsp vanilla extract
1 tsp pandan paste / essence – I'm using paste
200 g cake flour
2 tsp baking powder
¼ tsp salt
Section 2: the Meringue
9 egg whites (weight of egg should be 60 g each)
100 g caster sugar
1 tsp cream of tartar
Makes a 25cm chiffon tin size cake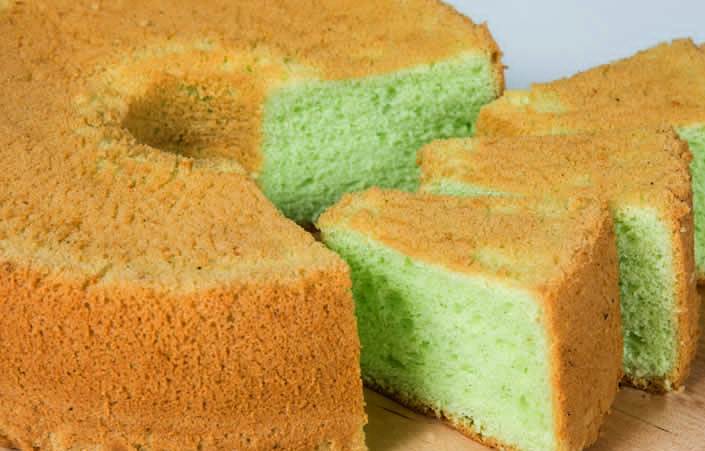 Full Cooking Instructions:
Part I:
In a large bowl, add in egg yolks and caster sugar and whisk at high speed for 5 mins, until pale and fluffy.
In a medium bowl, mix the oil, coconut milk, vanilla extract and pandan essence together.
Pour the mixture into the whipped egg yolks and continue to whisk for another 30 secs until combined.
Do not over-mix.
Lastly, add in sifted cake flour, baking powder and salt. Give it a final mix for 1 min.
Transfer all the pandan egg batter into a large bowl and set aside.
Part II:
In a large bowl, add in egg whites and whisk at medium speed until foamy, approx. 1 min.
Add in cream of tartar and continue to whisk for 30 secs.
Turn the whisking speed to low and slowly add in caster sugar to the meringue.
Turn up the speed to high and whisk for another 3 mins, until it just reaches stiff peak. DO not go overboard or your batter will be lumpy.
Take off the meringue and mix into Part I batter using a rubber spatula to lighten the batter.
Add in the rest of the meringue and gently fold until just combined. Give the bowl a few hard taps to get rid of air bubbles trapped in the batter.
Slowly pour all the batter (do not attempt to turn the chiffon pan while pouring) into a 25 cm chiffon pan.
Use a chopstick / skewer to swirl around the batter to get rid of anymore bubbles inside the batter.
Level the top off with a knife a spatula so you will have a smooth top.
Bake in a preheated at 170°C for 20 mins and lower the temperature to 130°C and bake for another 25 mins.
Remove from oven and immediately set the cake tin upside down on top of a bowl or glass to elevate it. Make sure the base is not too near the counter surface.
Let it cool completely before unmolding.
Using a thin sharp knife, insert carefully into one side of the cake and in one swift motion, go around the cake tin and the center funnel. Gently remove the tin. Next, use the same technique to remove the base of the tin from the cake.
Using a serrated knife, slice the cake and enjoy.
The cake-making technique was brought into the South East Asian region during the period of European colonisation. In the past, Indonesia was a Dutch colony, while Malaysia and Singapore were under British rule. Those early European colonists brought their fondness for their own cuisine along with them. Even today, the legacy of that remains obvious in bread, cake and pastry-making.
Across Southeast Asia, the pandan leaf is a popular flavouring agent used to deliver a pleasant aroma. It is added to various dishes, from fragrant coconut rice, traditional cakes, to sweet desserts and drinks. That early fusion of European cake-making techniques with locally grown ingredients created the pandan flavoured cake a century or more ago.