Malaysia is a multicultural society, with Malays, Chinese and Indians living side by side. The Malays are the largest community. They are Muslims, speak Bahasa and are largely responsible for the political fortunes of the country. The Chinese comprise about a third of the population. They are Buddhists and Taoists, speak Hokkein, Hakka and Cantonese, and are dominant in the business community. The Indians account for about 10% of the population. They are mainly Hindu Tamils from southern India, they speak Tamil, Malayalam, and some Hindi, and live mainly in the larger towns on the west coast of the peninsula. There is also a sizeable Sikh community. Eurasians and indigenous tribes make up the remaining population. Despite Bahasa Malaysia being the official language, when members of these different communities talk to each other, they generally speak English, which was recently reinstated as the language of instruction in tertiary education.
The main indigenous tribe is the Iban of Sarawak, who number 395,000. They are largely longhouse dwellers and live along the Rejang and Baram rivers. The Bidayuh (107,000) are concentrated on Sarawak's Skrang River. The Orang Asli (80,000) live in small scattered groups in Peninsular Malaysia. Traditionally nomadic agriculturalists, many have been absorbed into modern Malaysia.
Malaysian music is heavily influenced by Chinese and Islamic forms. The music is based largely around the gendang (drum), but includes percussion instruments (some made of shells), flutes, trumpets and gongs. The country has a strong tradition of dance and dance dramas, some of Thai, Indian and Portuguese origin. Other artistic forms include wayang kulit (shadow-puppets), silat (a stylised martial art) and crafts such as batik, weaving and silver and brasswork.
Malay Food
It's not easy to find authentic Malay food in Malaysian restaurants, though you can take your pick of Chinese, Nyonya (a local variation on Chinese and Malay food – Chinese ingredients, local spices), Indian, Indonesian or (sometimes) Western cuisines. Satays (meat kebabs in spicy peanut sauce) are a Malaysian creation and they're found everywhere. Other dishes include fried soybean curd in peanut sauce, sour tamarind fish curry, fiery curry prawns and spiced curried meat in coconut marinade. Muslim Indian dishes have developed a distinctly Malaysian style. The variety of wonderful tropical fruits and fruit juices available is huge, and strange sweet concoctions include cendol (sugar syrup, coconut milk and green noodles) and ais kacang(beans and jellies topped with shaved ice, syrups and condensed milk).
Events
The major Islamic events are connected with Ramadan, the ninth month of the Muslim calendar. The major Malaysian festival is Hari Raya Puasa, which marks the end of Ramadan with three days of joyful celebrations. Hari Raya Haji marks the successful completion of the hajj (pilgrimage to Mecca) with a two-day feast of cakes and sweets. Chinese New Year, in January or February, is welcomed in with dances, parades and much good cheer. The festival of Thaipusam in late January is one of the most dramatic Hindu festivals (now banned in India) during which devotees honour Lord Subramaniam with acts of amazing masochism – definitely not for the squeamish. In KL, devotees march to nearby Batu Caves; in Penang, the event is celebrated at the Waterfall Temple. The Kota Belud Tamu Besar is a huge tribal gathering held in May at Kota Belud near Kota Kinabalu in Sabah. It includes a massive market, traditional ceremonies, ornately decorated horsemen, medicine men and tribal handicrafts. A smaller tamu is held in Kota Belud every Sunday if you're not visiting during May.
• Bergendang (Drumming)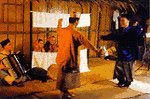 In the traditional musical performances of the Malay community in Sarawak, it is the womenfolk who play the gendang or drums. Seated behind a screen, they drum out their beats in rhythm to songs sung by young maidens and dances performed by men.
• Wayang Kulit (Shadow Play)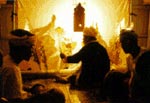 Wayang Kulit is a traditional theater art-form using puppets and shadow-play to tell the epic tales of the Ramayana. The puppets are made of buffalo hide and mounted on bamboo sticks. There may be as many as 45 puppets – handled entirely by a single master puppeteer, known as the Tok Dalang.
• Maggagong (Gong Ensembles)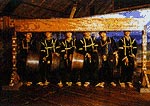 Brass or bronze gong ensembles form an inherent part of Sabah's ethnic music. The melody varies from district to district. The Kadazan Dusun group include six songs and a drum called the sopogogungan (Penampang) in their musical composition while the Bajau from Kota Belud add kulintangan, a set of kettle-bedded gongs.
• Bunga Malai (Garland Making)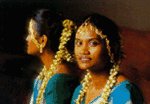 Flowers form an integral part of the cultural heritage of Malaysian Indians for religious occasions, weddings, moving house, or welcoming an important guest. Flowers, holy basil, and the leaves of the margosa or mango tree are strung together to form a malai or garland. They are done in different styles to suit each particular occasion.
• Sumpit (Blow Pipe)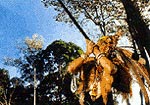 The tribal people of Sarawak are known for their magnificent hunting skills. They are aided by the sumpit, a six-foot long wooden blowpipe with a poisoned or a barbed tip. One quick puff sends the dart (sometimes twenty-yards away) to the victim, usually a wild pig, deer, or bird.
• Silat (The Malay Art of Self defense)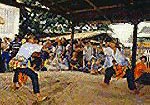 Silat, the Malay art of self-defense combines a series of supple movements, which enables a person to defend himself under provocation. The aim of silat is to instill confidence in oneself in the face of adversity. Occasionally, a keris (small dagger) may be used.