Soup stocks are a great thing to always have on hand. They can perk up even the dullest of recipes. Even when your freezer is almost bare, you should always have either containers of stock or bags of ingredients waiting to be turned into stock within its depths.
Stock making is not difficult and since it makes us of scraps and leftovers that might otherwise be thrown out, it is very frugal. Keep small containers of stock in your freezer, so that it's ready at a moment's notice. Another handy tip is to freeze stock in ice cube trays, then transfer the cubes to a plastic freezer bag. That way you have perfectly measured, small amounts of stock for cooking.
You can save a lot of fat and calories by using stock for sautes instead of oils or fat. You can also add lots of flavor to everydays foods (such as rice) by substituting stock for water in cooking.
The four main types of stocks are vegetable, chicken, meat and fish. You can often substitute one for another in many (but not all) recipes, with little to no ill affect to the overall recipe. Since stocks can make use of leftovers or items that might otherwise be thrown away, I find it handy to keep bags in the freezer for collecting ingredients such as vegetable scraps and meat bones. When I've gathered enough ingredients, I throw on a pot of stock.
You can make any of the following stocks more intense in flavors by simply simmering them for an extended period of time until their liquid volume is reduced. Of course, you can always buy canned stock. I predict, however, if you try making your own, you'll never go back. It's so simple and inexpensive, there's really no reason not to.
Vegetable Stock
With the exception of cabbages (which include broccoli and cauliflower), which can overpower the flavor of vegetable stock, you can use all kinds of vegetables for this stock. The flavor will vary slightly, depending on the mix you use. Tomatoes can also overwhelm stock flavor, so while I do use them, I keep the amount small (unless of course, you want a strong tomato flavor). Some people feel that asparagus also overwhelms the stock. I personally don't agree, and find that asparagus adds a depth and richness to vegetable stock.
Making vegetable stock is a great way to clean out the refrigerator of food that is less than fresh, don't limit your stock making ingredients to whole vegetables. Start saving peels (well washed, of course) and trimmings while you cook. Your stock will be strained before being used, and all those unattractive peels will be gone, but they will have imparted a lovely flavor to your stock. Some excellent vegetables (and vegetable scraps) to use are: onions, garlic, potatoes, sweet potatoes, squash, carrots, celery, mushrooms, peas, corn (empty corn cobs can also add lots of flavor to veg. stock), parsley, green beans, beets, bell peppers, scallions, green onions, shallots, fresh basil or other herbs, etc., etc.
You can also add some fruit or fruit scraps to your vegetable stock ingredient mix. Apples, pears and even pineapple works well.
A good rule of thumb is to have about half solid ingredients to half water. It's a good idea to throw in a tablespoon or so of whole black peppercorns and a bay leaf or two for added flavor. Cover your ingredients with the water, bring to a boil and let simmer for about an hour. Cool and strain to remove any pieces of vegetables, fruit or scraps. That's all there is to it. You've just made vegetable stock.
You should Never add: Some things will simply ruin what could have been a great stock. The foremost of these is anything from the cabbage family. Cabbage, Broccoli, Cauliflower, Brussels Sprouts, Broccoflower, Boc choy. These become bitter and pungent the more they are cooked. They will ruin your stock.
Poultry Stock
You can buy chicken or turkey parts to make stock (buy inexpensive parts, such as backs and necks). Poultry stock is also a great way to use the bones that are leftover when you de-bone chicken breasts. You can also use a leftover cooked chicken or turkey carcass (my what a lovely visual) instead of fresh raw meat to make stock (in other words, don't throw out the Thanksgiving turkey's bones, put them to use).
As for the vegetables that go into poultry stock, you can use whole fresh ones, or save leftover scraps just like we did for vegetable stock. If you want a darker, richer stock, roast your poultry, poultry bones and vegetables in a 450? oven for about forty minutes, before adding them to your stock pot.
So, here's the basic poultry stock recipe (you can use an approximate amount of scraps instead of the whole vegetables listed):
4 or 5 pounds of chicken or turkey parts or meaty bones
1 large chopped onion
2 or 3 large chopped carrots
3 or 4 stalks celery (the leafy top parts are great for stock as well)
6 to 8 chopped garlic cloves
1 tablespoon whole black peppercorns
Put all your ingredients into a pot and simmer for about two hours. Periodically skim off the foam as it rises to the top of your pot. When finished cooking, strain the broth and refrigerate for a few hours. Any fat in the broth will congeal at the top and can be easily strained off. Your stock is now ready for use or for the freezer.
Meat Stock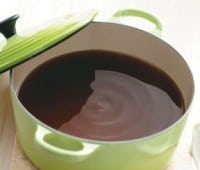 Since you will want most meat stocks to be dark and rich, I recommend roasting your meat, bones and vegetables for about 45 minutes in a 450? oven, before adding them to your stock pot and adding water. You can make meat stock without this step, however, it will simply have a lighter color and not as rich a flavor.
As with all the stocks here, you can use either whole vegetables, or scraps, as we did when making vegetable stock. Just use an approximate equivalent amount of scraps instead of the whole vegtables.
So, here is a basic recpe for meat stock.
5 to 7 pounds of lean meat and bones (if your pile is more meat than bones, use 5 pounds, if more bones than meat, increase the amount) – this can include beef, veal, lamb, pork, ham (will have a distinct smoky flavor), or venison
2 large chopped onions
4 large chopped carrots
4 stalks celery
1 head of garlic, peeled and chopped
2 large chopped tomatoes
4 bay leaves
1 tablespoon whole black peppercorns
1/2 cup chopped fresh parsley
seasonings (about a tablespoon of each that you desire: oregano, basil, thyme) water to cover (about a gallon and a half)
Add your ingredients to your stock pot and simmer, stirring occasionally for about 4 hours. Add more water if necessary to keep the ingredients covered. Strain out the solid ingredients and refrigerate stock for a few hours. The fat layer can easily be skimmed off the chilled stock, making it ready for use or the freezer.
Seafood Stock
Seafood stock comes in handy for many recipes. You can use any inexpensive white fish scraps, bones and trimmings (your seafood market or grocery store probably sells fish packaged for just this purpose). You can also use crab, shrimp and lobster shells for adding flavor to seafood stocks.
4 to 5 pounds mild white fish (such as cod or halibut) bones and trimmings, and/or shellfish shells
2 tablespoons butter
2 large onions chopped
4 or 5 chopped garlic cloves
1 stalk celery
a tablespoon lemon juice
1/2 cup chopped parsley
1 teaspoon whole black peppercorns
1 cup dry white wine (optional)
approximately 1 gallon of water
Melt butter in bottom of stock pot and saut? onion, garlic and celery for about 5 minutes or until soft. Add remaining ingredients and simmer for about an hour. Periodically skim off foam that will appear at the top of pot. Cool and strain out solid ingredients. Your stock is now ready for use or for the freezer.