Delicious Pizza Recipes
Dough recipe
Yield: 4
servings 1 oz Fresh yeast;-=OR=- 3/4 c Warm water (125F)
2 pk – Instant dry yeast granules 1/2 ts Salt
1/2 c Milk; at room temperature 3 c Unbleached white flour
IN A LARGE BOWL, dissolve the yeast in a mixture of the milk and water. Mix in the flour and salt to make a soft dough. Knead 10 minutes by hand, or 4 minutes in a heavy-duty mixer with a dough hook. Oil a clean bowl and set the dough in it, cover tightly with plastic wrap, and let rise until doubled in bulk. (In the traditional warm place, this will take about 2 hours. However, a cooler temperature will do as long as the dough has enough time to rise, including overnight in the refrigerator.) If the dough is ready sooner than it is needed, punch it down and refrigerate it or let it rise slowly again at room temperature until ready to use. When ready to use, divide into 4 equal parts. Roll 1 into an 8-inch round. Top with favorite toppings and bake 10 minutes in 450F oven.
Makes 4 Pizzas
Cherished Chocolate Pizza
Yes, I know it's not traditional, but man! it's good and fattening!!
Yield: 12 servings
1 c Semi-sweet chocolate chips 1 ts Baking powder
1/2 c Shortening 3/4 c Semi-sweet chocolate chips
1/2 c Flour 2 tb Shortening
1/2 c Granulated sugar 2 tb Water
2 Eggs
Assorted candy for decoration
Melt 1 cup chocolate chips and 1/2 cup shortening over hot water; cool. Stir in flour, sugar, eggs and baking powder with fork; mix well. Spread evenly onto well-greased 12 inch pizza pan. Bake in 375 oven for 15 minutes. Cool. Combine 3/4 cup chocolate chips, 2 tbsp shortening and 2 tbsp water, stir to combine. Spread glaze evenly over cooled chocolate pizza. Decorate as desired with candies. Makes one 12 inch chocolate pizza.
Pizza Uno's Deep Pan Chicago Style Pizza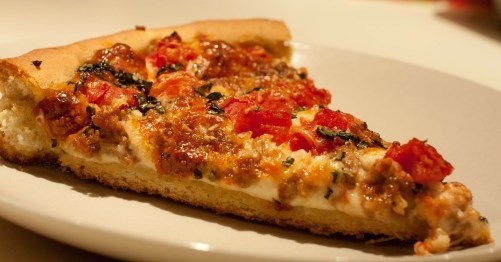 Yield: 6 servings
1 c Warm tap water (110-115 deg) -casing and crumbled
1 pk Active dry yeast 28 oz Can whole tomatoes, drained
3 1/2 c Flour -and coarsely crushed
1/2 c Coarse ground cornmeal 2 Garlic cloves, minced
1 ts Salt 3 ts Dried oregano -or- 5 fresh
1/4 c Oil -basil leaves, shredded
Filling: 4 tb Freshly grated Parmesan
1 lb Mozzarella, sliced -cheese
1 lb Sausage, removed from the
Crust:
Pour the warm water into a large mixing bowl and dissolve the yeast with a fork. Add 1 c of flour, all of the cornmeal, salt, and, and vegetable oil. Mix well with a spoon. Continue stirring in the rest of the flour 1/2 c at a time, until the dough comes away from the sides of the bowl. Flour your hands and the work surface and kneed the ball of dough until it is no longer sticky.
Let the dough rise in an oiled bowl, sealed with plastic wrap, for 45 to 60 minutes in a warm place, until it is doubled in bulk.
Punch it down and kneed it briefly. Press it into an oiled 15-inch deep dish pizza pan, until it comes 2 inches up the sides and is even on the bottom of the pan. Let the dough rise 15-20 minutes before filling.
Preheat the oven to 500 degrees.
While the dough is rising, prepare the filling. Cook the crumbled sausage until it is no longer pink, drain it of its excess fat. Drain and chop the tomatoes.
When the dough has finished its second rising, lay the cheese over the dough shell. Then distribute the sausage and garlic over the cheese. Top with the tomatoes. Sprinkle on the seasonings and parmesan cheese.
Bake for 15 minutes at 500 degrees. Then lower the temperature to 400 degrees and bake for 25 to 35 minutes longer. Lift up a section of the crust from time to time with a spatula to check on its color. The crust will be golden brown when done. Serve immediately.
Sensual Sausage and Sage Pizza 🙂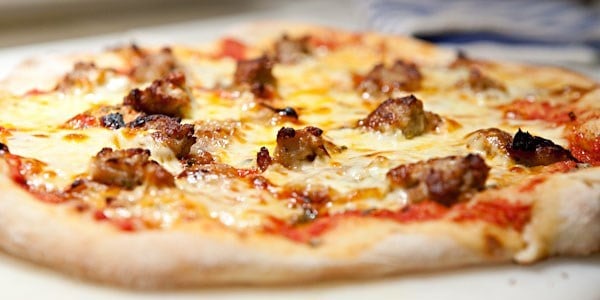 Yield: 12 servings
3 Sweet or hot Italian 12 Inch pizza crust
-sausages (or a combination 5 tb Grated romano cheese
-of both), 1 Heaping T Chopped fresh sage
Casing removed -OR
1 Heaping C Grated mozzarella 1 ts Dried sage
-cheese Juice of 1/2 lemon
Preheat oven to 425 degrees. Crumble sausage meat into small pieces.
Either cook in microwave briefly or saute' (3 to 5 minutes) to draw
out excess fat; drain on paper towels.
Sprinkle mozzarella evenly over pizza crust, then distribute sausage
meat evenly over crust.
Sprinkle romano cheese, then sage, evenly over meat.
Bake pizza with toppings until nicely browned, about 10 minutes.
Before serving, squeeze lemon juice over top of pizza. Makes one 12
inch pizza.
Spicy Broccoli Aioli Pizza
IFya' like broccoli….
 Yield: 8 servings
 
      2 ts Cornmeal                          1/4 ts Red pepper flakes
     10 oz Can Pillsbury                       6 oz Sliced Havarti or
           -Refrigerated All Ready                  -Monterey Jack
    1/4 c  Olive oil                          16 oz Pkg Green Giant Frozen
      4    Garlic cloves, chopped                   -Broccoli Cuts, thawed,
      2 tb Chopped shallots or onion                -well drained
      1 tb Balsamic vinegar                    7 oz Jar roasted red peppers,
    1/3 c  Grated Romano or Parmesan                -drained, sliced into 2 x
    1/2 ts Dried basil leaves                       -1/4" strips
    1/2 ts Dried thyme leaves                1/2 c  Grated Parmesan or Romano
    1/2 ts Dried oregano leaves           
 
  Heat oven to 425 degrees.  Lightly grease 12" pizza pan or 13 x 9"
  pan; sprinkle with cornmeal.  Unroll dough; press in bottom and up
  sides of greased pan to form a rim.  Bake for 5 to 8 minutes or until
  light golden brown.  In food processor bowl with metal blade or
  blender container, combine oil, garlic, shallots, vinegar, Romano,
  basil, thyme, oregano and red pepper flakes; process until smooth and
  set aside. Arrange Havarti over partially baked crust.  Place
  broccoli evenly over cheese. Dollop oil mixture evenly over top.
  Arrange pepper strips over broccoli; sprinkle with Parmesan cheese.
  Bake for 17 to 22 minutes or until edges of crust are deep golden
  brown. Serve immediately. Per serving: 310 calories; 14 g protein, 24
  g carbohydrate, 19 g fat, 35 mg cholesterol, 470 mg sodium. From the
  36th Pillsbury Bake Off, by Gilda Lester, Chadds Ford PA.

Tofu Pizza
Personally, I think Tofu sucks, but you might like this…my wife sure does!
Yield: 6 servings
 
      3    Pita Breads, Split                  1 lb Tofu, Pressed
           Into Six Rounds                   1/2 lb Fresh Mushrooms Sliced
  1 1/2 c  Tomato & Garlic Sauce,            1/2 c  Chopped Green Pepper
           Drained                         1 1/2 tb Grated Parmesan
 
  Preheat Oven To 375 F.
  
  Place Pita Bread Rounds On Cookie Sheet & Spread With Tomato & Garlic
  Sauce.  Crumble Tofu Over Each Pizza Crust.  Top With Green Pepper &
  Mushrooms. Sprinkle With Cheese.  Bake 15 Min.
     (Fat 6.6.  Chol. 1.0.)

Freddie's French Bread Pizza
   Yield: 30 pizzas
 
    1/4 c  Olive oil                                -chopped
      1 lg Onion, chopped                      2 T  Drained capers
      1 md Eggplant (unpeeled), cut          1/2 T  Freshly ground pepper
           -into 1/2-inch cubes                2 T  Chopped fresh basil
      2 sm Zucchini, diced                     1    French bread baguette, cut
      1    Red bell pepper, chopped                 -into 1/2-inch-thick slices
      3    Garlic cloves, chopped          1 1/2 c  Grated provolone or
    1/2 T  Salt                                     Mozzarella cheese (about 6
      2    Tomatoes, peeled, seeded and             Oz)
 
  Heat oil in heavy large skillet over. medium heat. Add onion and cook
  until beginning to soften, about 3 minutes. Add eggplant, zucchini,
  bell pepper, garlic and salt. Cook 5 minutes, stirring frequently.
  Reduce heat, cover and simmer until vegetables are tender, stirring
  occasionally, 30 minutes.
  
  Add tomatoes, capers and pepper to vegetables. Simmer uncovered until
  most of liquid evaporates and mixture thickens, stirring frequently,
  about 15 minutes. Stir in basil. Adjust seasonings. (Can be prepared
  3 days ahead. Cover and refrigerate.)
  
  Arrange bread slices on baking sheets. Spoon about 1 T ratatouille on
  each. Top with cheese. (Can be prepared 2 hours ahead. Cover with
  plastic and refrigerate.)
  
  Preheat broiler. Broil pizzas about 5 inches from heat until cheese
  melts and bubbles. Transfer to platter.

Shemp's Shrimp and Feta Cheeese Greek Style Pizza
 Yield: 8 servings
 
      1 lb Uncooked med. Shrimp                1 tb Cornmeal
      1    Can PB Pizza dough (or hmade        4 oz Shredded Mozzeralla cheese
      1 tb Olive oil                           2    Minced Garlic cloves
  2 1/2 oz Crumbled Feta Cheese              1/4 c  Slice green onions
      2 ts Rosemary crushed                2 1/4 oz Can sliced ripe olives
 
  Shell and devein shrimp and set aside. Heat oven to 425 F. Grease 12"
  pizza pan or 13x9" pan; sprinkle with cornmeal. Place dough in
  greased pan; starting at center press out with hands. Sprinkle with
  mozzeralla cheese. Heat olive oil in large skillet over med-high
  heat.  Add shrimp and garlic. Cook until shrimp are light pink, about
  1 min., stirring frequently. Spoon over mozzarella cheese. Sprinkle
  feta cheese, green onions, rosemary and olives over shrimp. Bake at
  425 F for 18-22 min., or until crust is golden brown.

Smoked Salmon and Brie Pizza
      Yield: 2 pies
 
           PIE: (makes 2 pies)                      TOPPING: (for one pie)
  4 1/4 c  Flour                               1 lb Brie, rind discarded, cut
  1 1/2 c  Water, lukewarm (105 to 115              Into small pieces
           Degrees Fahrenheit)                12 oz Smoked salmon, cut into
      1 pk Active dry yeast                         Small pieces
      1 ts Salt                                1 sm Onion, red, very thinly
      1 ts Sugar                                    Sliced, separated into rings
      2 tb Olive oil                         1/4 c  Olive oil, extra virgin
 
  Put flour into a large bowl and make a deep well in the middle. Pour
  warm water into the well, mix in the yeast, using a bit of flour in
  the mix. Add the sugar, salt, and flour to the well, let stand for 10
  minutes until mixture bubbles. Slowly stir all of the flour into the
  yeast mixture. When it gets too thick to handle place it on a board
  and knead it until elastic. Form a ball, place into a greased bowl,
  then turn it over so the top of the ball is greased. Cover with a
  towel and let rise in a warm and draft free place for an hour or
  until double in bulk. Preheat oven to 450 degrees. Punch down dough
  and divide in half. Refrigerate one half for later. (Allow extra time
  to rise). Roll the other half into a circle about 15 inches across.
  Place on a 14 inch greased pizza pan, roll edges to form a rim.
  
  Transfer the pie a pizza pan. Bake the pizza until the crust begins to
  brown, about 6 minutes. Remove from oven and cover with cheese,
  leaving 1/2 inch border around the edges. Arrange the salmon and
  onion on top and drizzle evenly with olive oil. Return to the oven
  and bake until the crust is golden brown and puffy, the cheese begins
  to melt and the salmon is heated thru, about 4 minutes. Remove from
  oven to a cutting tray or board and lightly brush the crust with
  olive oil. Garnish with dill. Slice and serve immediately.

Darrrow's Deep-Thought Dish Pizza
A 'diet' pizza….But it tastes great!!
 Yield: 4 servings
 
           *INGREDIENTS*                     1/2 c  Tomato Sauce
    1/2 c  Flour                             1/2 ts Oregano
      1 ts Baking Powder                     1/2 ts Basil
      8 ts Margarine, Reduced Calorie        1/4 ts Garlic Powder
      2    Egg                                 4 oz Mozzarella
    2/3 c  Cottage Cheese, Lowfat              1 tb Cheese, Romano
 
  Calories     per serving:             Number of Servings:   4 Fat
  grams per serving:              Approx. Cook Time: Cholesterol per
  serving: Marks: E
  
  *DIRECTIONS*
  
  Preheat oven to 375 degrees.
  
  In a medium bowl, combine flour and baking powder.  Add margarine and
  cut in with a pastry blender or fork until mixture resembles coarse
  crumbs.
  
  In a small bowl, beat eggs and cottage cheese with a fork or whisk
  until blended.  Mixture will be lumpy.  Stir into dry ingredients.
  Place mixture in a 10-inch pie plate that has been sprayed with a
  non-stick cooking spray.
  
  Combine tomato sauce and seasonings.  Spread evenly over first
  mixture, leaving a 1/2 inch border around edges.  Sprinkle with
  cheeses. Bake 20 minutes.  Coole 5 minutes before cutting.

Here's another one…
Popeye's Spinach Calzone Pizza
 Yield: 6 servings
 
      1    Loaf frozen bread dough,          1/4 c  Onion, finely chopped
           - thawed                            4 oz Canned mushroom stems and
      8 oz Fat-free Mozarella, shredded             - pieces, drained
     10 oz Spinach, frozen chopped,            1    Garlic clove, minced or
           - thawed and well-drained                - pressed
      6 oz Tomato paste                        2 tb Red wine
 
  Heat oven to 375 F.  Divide bread dough into 6 equal pieces. On baking
  sheets sprayed with non-stick cooking spray, pat each piece into a 7"
  circle. Combine remaining ingredients; mix lightly. Spoon
  approximately 1/2 c. of mixture onto half of each circle. Fold dough
  over filling; moisten edges and press together with fork to seal. Cut
  small slit in top of each calzone; lightly spray with cooking spray.
  Bake at 375 F. for 15 to 18 minutes or until golden brown. 6
  servings, each 322 calories, 22 g protein, 46 g carbo., 2 g total
  fat, .5 g saturated fat, 7 mg sodium, 616 mg sodium, 3 g fiber, 6%
  calories from fat.
Feelin' Fruity Pizza
  Yield: 4 servings
 
      1    Stick oleo                               Halved strawberries
      2 tb Lemon juice                       1/2 ts Salt
    3/4 c  Sugar                                    Sliced bananas
    1/4 c  Water                             1/2 c  Sugar
      1    Egg                                      Sliced peaches
      8 oz Cool whip                                Dash salt
    1/2 ts Vanilla                                  Sliced pineapple
      8 oz Cream cheese                        1 tb Cornstarch
  1 1/2 c  Flour                                    Maraschino cherry
           Halved white grapes               1/2 c  Orange juice
      1 ts Baking powder                  
 
    CRUST: Mix oleo, 3/4 c sugar, egg and vanilla, cream together. Sift
  1 ts baking powder, flour, and salt. Mix all together. Refrigerate 1
  hour, then spread on 12 inch pizza pan. Bake at 350 degrees for 15
  minutes or until lightly browned. Cool.
  
    GLAZE: Mix 1/2 c sugar, dash salt, and 1 T cornstarch, orange juice,
  lemon juice, and water, cook until it thickens, then cool
  
    CHEESE FILLING: Mix cool whip and cream cheese, spread on crust.
    FRUIT: Arrange fruit in concentric circles on cheese with cherry in
  center, cover with glaze, refrigerate.
Placating Pizza on the Grill
Party Hardy Pizza Rolls