An electric wok is a vital kitchen tool not just in Chinese kitchens but also in any kitchen around the world. If you frequently stew, boil, sear, braise, smoke, steam and deep-fry, there's a good chance that you'll need a wok to do it. These cooking techniques are all wok's wheelhouse.
| Product | Brand | Name | Price |
| --- | --- | --- | --- |
| | Breville | Breville BEW600XL Hot Wok, Brushed Stainless Steel | Check Price on Amazon |
| | Aroma Housewares | Aroma Housewares ASP-137B Grillet 3Qt. 3-in-1 Cool-Touch Electric Indoor Grill Portable | Check Price on Amazon |
| | Aroma Housewares | Aroma Housewares AEW-305 Electric Wok Easy Clean Nonstick, Dishwasher Safe, 7Qt, Black | Check Price on Amazon |
| | VonShef | VonShef 7.4Qt Electric Wok with Lid – Adjustable Temperature Control – Cool Touch Handles – | Check Price on Amazon |
* If you buy through links on our site, we may earn an affiliate commission. For more details, please visit our Privacy policy page.
Woks have a good track record as a kitchen tool. No wonder that from the traditional wok, we can now find its upgraded version which is the electric wok.
5 Best Electric Woks
Breville has a good reputation in making quality kitchen appliances and this model is no exception. This 6-quart capacity wok is a perfect choice for family use.
The Breville Hot Wok has a die-cast wok bowl and stainless steel base. Die-cast is an excellent material for a wok since it is a good conductor of heat. Moreover, the bowl is also coated with Quantanium, a durable and scratch resistant non stick coating. And yes, Quantanium is safe to use with food.
When it comes to temperature settings, this cooking tool is on par with other quality electric powered woks in the market. It has a 1500-watt heating element with 15 heat settings that can reach up to 425 degrees Fahrenheit. The different temperature settings let you prepare different food dishes. You can use it to slow-cook, steam, or stir fry food among others.
It is also worth mentioning that this wok has a glass lid with adjustable steam vents. This feature works for easy monitoring of what you are cooking without lifting the lid.
If you are curious to know if the Breville BEW600XL model is "dishwasher safe," yes it is as long as you remove the temperature probe. Also, its non stick coating makes cleaning quicker and easier.
Pros:
Has 15 heat settings
Easy to clean
Glass lid has adjustable steam vents
Temperature control probe is removable
Cons:
A bit heavy, weighing a little over 12 pounds
---
Do you love stir fries or grilled steaks? The Aroma Housewares ASP-137B model may just be for you. This 3 quart electric wok has a 10-inch grilling surface. Imagine the variety of food you can cook with this wok!
When it comes to cooking, this wok is the epitome of versatility. You can use it to grill, stew, simmer, stir fry, slow-cook, boil and sauté. You can tell that it is well-designed to meet your kitchen needs.
If you'll frequently use this aluminum wok for cooking, you'll love the fact that it is quick and hassle-free to clean. After cooking, you can easily detach the parts and load the wok into your dishwasher. And since the parts are detachable, storage is also easy.
Moreover, another good thing about this 3 quart capacity electric wok is that it allows you to easily manipulate the cooking temperature from warm to 450 degrees Fahrenheit. With precise heating and multiple temperature controls, you'll be more confident with your cooking.
If you only have room for one cooking tool, or if you need something to cook with that will make your life in the kitchen easier, this wok is a perfect choice. And since it only weighs a little over 5 pounds, it's portable and you can easily move it.
Pros:
Made of aluminum which is lightweight and portable
Easy to store
Will a full range of temperature options
With tempered glass lid
With nonstick coating
Cons:
The power cord is a bit short
---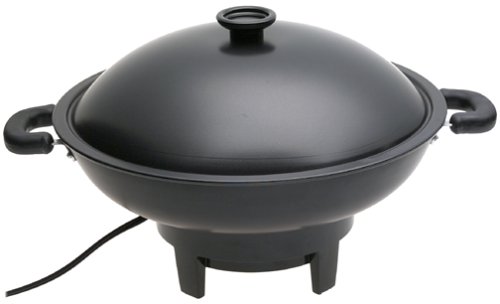 Just like Breville, Aroma Housewares created for them a good name in the kitchen tools industry. In particular, they have a wide variety of electric woks for your different needs and the AEW-305 is one of their best sellers.
Easy to clean, portable and convenient to use, this model is a perfect gift to someone who enjoys preparing meals at home. Its capacity is 5 quarts which is perfect for two to four people.
With the classic dome design and rounded bottom of the Aroma Housewares AEW 305 electric wok, it works great for making quick meals as well as for stir fries, braising, frying and boiling. You'll be able to use less oil than you usually would.
If you look closely at this heating element, you'll notice that it has a wide convex curve which allows for better heat distribution. This feature plus the fact that it is made of heavy-duty cast aluminum is vital as they help seal the flavor of the food.
Additionally, like what most home cooks would want, this AEW 305 electric wok unit is dishwasher safe. You can easily detach the base for easy storage.
Pros:
Lid has an adjustable steam vent which helps with heat retention and temperature control
Comes with a free steam rack and chopsticks
Cleaning is easy
With non stick surface which lets you cook with lesser oil
The butterfly element is solid and stable
Cons:
---
We consider the Presto 5900 Electric Wok as one of the best electric woks for a good reason. Weighing just 5.25 pounds, it's amazing how it can have such a huge capacity of 7 quarts. And looking at its overall construction, it's obvious that it has so much to offer for beginner and experienced cooks alike.
This 7-quart electric wok is very straightforward to use. You can adjust the temperature through the dial, allowing you to choose warm, 200, 250, 300, 350, and 400 degrees Fahrenheit. With these available heating options, you'll be able to use this electric wok for warming your food, sautéing, boiling and stir-frying, among others.
The Presto 5900 has a durable stainless steel body with a 1500-watt heating element. It features side loop handles and a tempered glass lid with stainless steel rim. Both the wok and lid are dishwasher safe.
Pros:
Lightweight
Dishwasher safe
With 6 temperature settings
With nonstick coating so you can cook with lesser amount of oil
With aluminum-clad base for even heat distribution
Cons:
The tempered glass lid has no steam vent
---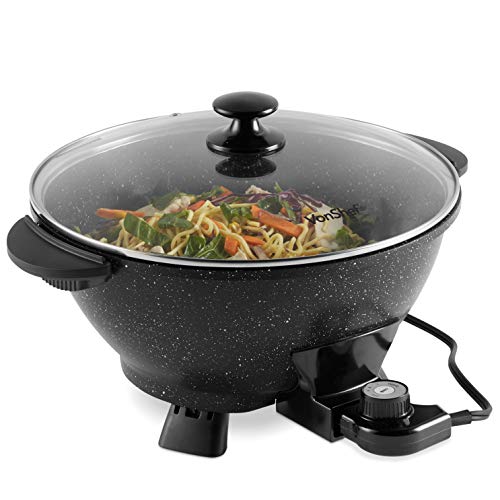 This is one of the best wok when it comes to size and capacity. It has a 7.4-quart capacity which will fit roughly 29.5 cups of stew, soup or other delicious dishes. Surprisingly, it only weighs 5.5 pounds as it is made of lightweight aluminum.
Looking at its interior features, this 14-inch wok has a non stick coating to prevent oil and food from sticking. Not only that, but this type of coating also allows for healthy cooking techniques that require less oil such as stir frying.
This product will not fail is easy to use as it has fully adjustable temperature control. It is fitted with a rotary dial that lets you select one from its four heat settings: warm, low, medium and high. Being able to easily adjust the temperature is a must to help you achieve better results when dealing with delicate dishes.
But what makes this wok stand out is its cool touch heat resistant silicone handles and lid. Not many models have silicone handles. Both components ensure your safety.
Pros:
Large capacity
Heat resistant cool touch handles and lid
With nonstick coating
Wok is detachable and allows you to use it for serving
Tempered glass lid
Cons:
The bottom is not rounded like a traditional wok
---
How to Choose the Best Electric Wok
Choosing the best electric wok can be a bit tricky given that there are dozens of brands and models available. However, as long as you know what to look for in an electric wok, you should be able to find the best one that meets your needs.
Size and Capacity
The size and capacity of electric wok matter as they give you an idea about the amount of food you can cook with it in one go. For instance, a 3-quart wok can prepare food for 2 to 3 people while a 6-quart wok may be enough to feed 5.
Material
Two of the most common materials used in electric woks are aluminum and stainless steel. Both materials have their own advantages.
Stainless steel doesn't easily burn so they are better for cooking at high heat. Since this metal doesn't corrode, you can cook almost anything with your electric wok including acidic foods.
It's important to note though that a stainless steel electric wok does not conduct heat well. This should not be an issue for regular cooking but if you are always in a hurry to cook something, you should take this factor into account. Moreover, just like cast iron, stainless steel electric woks can be heavy, not to mention, expensive.
On the other hand, aluminum is great at conducting heat which means that it will heat up quickly and cool down quickly. It is also lightweight and less expensive than stainless steel. However, this material is not ideal for cooking at high heat.
Heat Control
Generally, electric woks are not able to reach temperatures as high as a gas cooking wok may be able to achieve. Even so, having an electric powered wok allows you to cook various food recipes in a more convenient way because of their temperature control or heat control settings.
Many electric woks can reach 300 to 400 degrees Fahrenheit. You should also check for products that allow you to easily choose the temperature for cooking. Some electric woks have buttons while others have a rotary dial for temperature control.
FAQ
Are electric woks safe to use?

Generally, the best electric woks are safe to use for cooking. They are designed to handle high heat up to a certain degree. But just like working with any electrical cooking tool, make sure to familiarize yourself with the manufacturer's instructions regarding its proper use.

What kind of dishes can I cook with an electric wok?

Electric-powered woks are very versatile. You can cook almost any dish you can think of as long as the dish does not require high heat of more than 400 degrees Fahrenheit as this the maximum limit of many electric woks.
Some of the most common cooking techniques you can use with an electric wok are stir fry, boiling, frying, sautéing, braising and simmering. The best thing about using an electric wok is that it generally requires less oil than a regular pan or wok.
Conclusion
Preparing meals will be a lot easier and quicker with the electric-powered woks we listed above. Among the best electric woks we reviewed, our top choice for overall construction and performance is the Breville BEW600XL Hot Wok. This stainless steel non stick wok has 15 heat settings and a large capacity of 6 quarts. It has a butterfly stand that is extra durable and stable. Most importantly, it has a glass lid with an adjustable steam vent, a feature that is not very common among the electric-powered woks we've seen.
For great value, we choose the Aroma Housewares ASP-137B Grillet. It's a great choice if you are on a budget and are already happy with a versatile and durable electric wok without many bells and whistles.
| Product | Brand | Name | Price |
| --- | --- | --- | --- |
| | Breville | Breville BEW600XL Hot Wok, Brushed Stainless Steel | Check Price on Amazon |
| | Aroma Housewares | Aroma Housewares ASP-137B Grillet 3Qt. 3-in-1 Cool-Touch Electric Indoor Grill Portable | Check Price on Amazon |
| | Aroma Housewares | Aroma Housewares AEW-305 Electric Wok Easy Clean Nonstick, Dishwasher Safe, 7Qt, Black | Check Price on Amazon |
| | VonShef | VonShef 7.4Qt Electric Wok with Lid – Adjustable Temperature Control – Cool Touch Handles – | Check Price on Amazon |
* If you buy through links on our site, we may earn an affiliate commission. For more details, please visit our Privacy policy page.