The best cooking torch otherwise known as kitchen torch is a must kitchen tool for any gourmet home chef. From roasting and charring vegetables, searing steaks, torching meringue, finishing off your creme brulee or giving your sous vide a crisp and crunchy crust, there are numerous tricks that a kitchen torch can be used for.
| Product | Brand | Name | Price |
| --- | --- | --- | --- |
| | Bernzomatic | Bernzomatic TS8000 - High Intensity Trigger Start Torch | Check Price on Amazon |
| | Iwatani | Iwatani International CB-TC-PRO 2 Iwatani PRO2 Culinary Butane Torch | Check Price on Amazon |
| | Authenzo | Authenzo Kitchen Butane Torch Lighter (Butane Gas Not Included, Black) | Check Price on Amazon |
| | Sondiko | Sondiko Butane Torch, Culinary Torch Refillable Kitchen Butane Torch Lighter | Check Price on Amazon |
| | EurKitchen | EurKitchen Butane Culinary Kitchen Torch - Fuel Not Included - Refillable Food Blow Torch | Check Price on Amazon |
* If you buy through links on our site, we may earn an affiliate commission. For more details, please visit our Privacy policy page.
Professional grade kitchen torches can reach outrageously high temperatures close to 3,000 degrees Fahrenheit when most cooking tools can only reach around 500 degrees Fahrenheit.
Think of a kitchen torch as your best friend in preparing and cooking food. You'd probably be able to use it more than you can imagine. If you need to buy one, this guide is for you.
6 Best Kitchen Torch for Professional and Home Chefs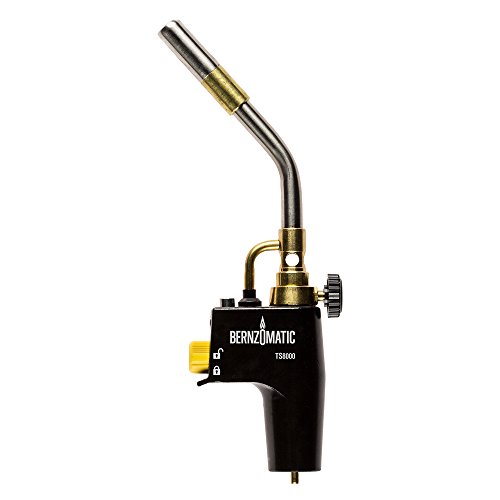 If you like a kitchen torch that is great not just for searing steaks or other meat for sous-vide cooking but also for many other applications, you can get the Bernzomatic TS8000. It can also be used to start campfires and do other lighting works.
The Bernzomatic TS8000 blow torch has a cast aluminum body which is extremely durable. It is lightweight and portable too, weighing just 1.2 pounds and measuring 1.91 x 5.25 x 12.25 inches.
When it comes to performance, you can never go wrong with this kitchen torch. It is pressure regulated which means that it performs consistently even when it is momentarily inverted or tilted.
Feature-wise, the Berzomatic TS8000 torch has got the bells and whistles for your convenience. It comes with an auto-start and stop ignition which is a vital feature for easily igniting and extinguishing the fire. Once turned on, you can use its lock button to keep the torch lit. You can also adjust the intensity of the flame using the control knob. With its adjustable flame, you can ensure that you get what you need to finish your dish.
Moreover, this Bernzomatic TS8000 kitchen torch has a nozzle that is a bit long to keep the swirling flame farther from your hand.
Pros:
Lifetime limited warranty
Excellent safety features
Performs well even when inverted
Does not take much time to ignite
Comes with a Map Pro fuel-filled gas cylinder
Cons:
Can be hard to apply pinpoint flame as it produces a 2-inch diameter flame
---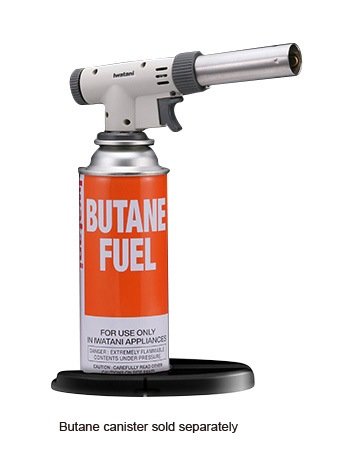 Another torch that can be used for sous vide cooking and can add extra flavor and texture to your food is the Iwatani International CB-TC-PRO. It is great for finishing off chicken, fish, steak and other meat dishes as well as vegetables.
The best thing about this kitchen torch is that it has an adjustable flame size and shape, allowing you to use as much or as little fire as you need. It can go as hot as 2,610 degrees Fahrenheit. Additionally, it features a one-touch Piezo ignition system that will quickly trigger the fire.
This kitchen tool for sous vide measures 17.78 x 7.62 x 3.81 inches and weighs 2.88 ounces. It does have a stabilizing plate to keep it standing for your safety.
Pros:
Easy to start the flame with just a click of the trigger
Solid and durable stainless steel construction
Temperature settings are easy to adjust
Cons:
---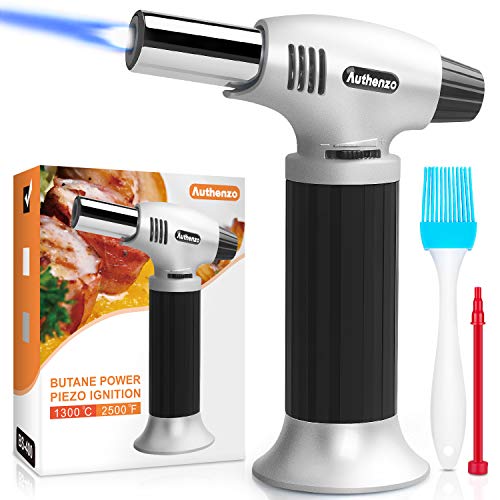 The Authenzo food torch can be your top choice if you want a budget-friendly product that will elevate the taste of the food you will be cooking, be it steak, fish, veggies or dessert.
Torching any type of food across the surface of your hot cast iron pan will be easier using this kitchen tool. It can go as high as 2,500 degrees Fahrenheit and easily go down using the temperature control. It is possible to use this torch at any angle as it incorporates the Piezo ignition technology for effortless one-hand operation.
Moreover, this product will not leave any bad torch taste on your steak or any food you prepare. In fact, it can greatly enhance the flavor and texture of your dish.
It's worth noting that this product has a sturdy brass nozzle which effectively works for wind-proofing. This means that after you trigger the flame, as long as you keep it on, the flame will not be easily quenched by wind. Additionally, this sous vide food torch has an ergonomic non-slip handle for your comfort and safety when using it.
Pros:
Nonslip handle
High temperature settings
One-hand operation
Cons:
---
Just like the Bernzomatic torch, this product is also one of the top selling kitchen torches for sous vide. If you like an extremely portable torch, you may like having this tool in your kitchen.
This torch measures 4.7 x 2.2 x 6.1 inches and weighs 9.9 ounces. It's a versatile kitchen tool that works great for caramelizing the sugar in your creme brulee, searing steaks, glazing a baked ham or melting cheese among others.
One of the notable features of this butane torch is that it uses the Piezo Ignition Technology which allows for consistent performance at any angle. Also, with a regulator fitted into this sous vide torch, you can effortlessly operate it with one hand. If you think that the temperature is not hot enough, you can also slowly adjust the flame as it can reach up to 2,500 degrees Fahrenheit. Moreover, an easy trick of turning the safety lock clockwise will keep the torch producing flame for an extended time without you pressing it.
While this sous vide kitchen torch is compatible with butane gas, the gas is not included when you get this product.
Pros:
Reaches up to 2,500 °F
Extra lightweight and portable
Easy to operate, does not take much time to ignite
Works at any angle
Cons:
Refilling the butane fuel can be a bit tricky according to some users
---
Want a butane torch for searing steaks to perfection? The EurKitchen torch is one of the top choices available.
You can use this torch to sear a steak, caramelize sugar, roast vegetables to give them a smoky taste, and more. Whether you are a professional chef or a culinary newbie, you can use this professional-grade blow torch for doing a wide range of cooking techniques. It can produce swirl flame or continuous flame of up to 6 inches long and can reach up to 2,370 degrees Fahrenheit.
And unlike most propane or butane sous vide kitchen torches which do not have a fuel gauge, this one has. The gauge allows you to know if you have enough gas in your butane tank to finish what you are doing.
Moreover, this kitchen torch for sous vide is fitted with a gas flow regulator dial so you can conveniently adjust the intensity of the flame as needed. This also works as a safety feature since you can easily turn the blowtorch off in case the flame gets out of hand. Apart from that, it also has a gas flow lock to avoid involuntary lighting.
You may easily refill this product using a butane canister with a long universal tip.
Pros:
With gas flow regulator
Comes with a fuel gauge
Does not leave a bad torch taste
Cons:
Requires a few steps to turn on – you need to disengage the safety lock and turn on the gas first.
---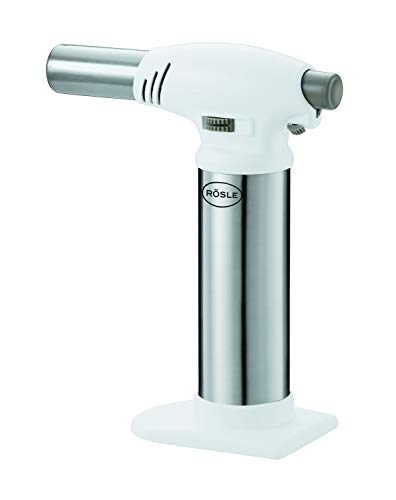 If you often make homecooked food, having this ergonomic torch will easily upgrade your home cooking. From caramelizing sugar in your dessert to searing your steak to get that perfect crust, this kitchen torch can do it for you.
Rösle is known for producing some of the finest quality kitchen tools including cast iron pan, skillet and other cookware tools. This torch for sous vide cooking is no exception. Measuring 5 x 3.5 x 6.7 inches and weighing 9.12 ounces, it is lightweight and convenient enough to be used for one-hand operation. Searing your steak will definitely be that easy!
Given the stainless steel construction of this product, it doesn't corrode easily or get damaged by heat. Controlling the flame during operation is no problem as it comes with a gas dial for heat adjustments that go up to 2,372 degrees Fahrenheit. And this sous vide torch has a childproof switch for safety in case your little one gets a hold of it.
The butane/propane tank of this sous vide torch is empty upon delivery. It comes with a 0.04-quart gas reservoir, allowing you up to 60 minutes of continuous flame.
Pros:
With lifetime warranty
With topple-free stable base
Lightweight and handy
Works with either butane or propane gas
Cons:
Butane/propane tank can be difficult to refill
---
Factors to Consider When Comparing Kitchen Torches
Size and weight
The size and weight of sous vide torches matter as they can affect the portability of the torch. Ideally, you should be able to hold the torch with just one hand so imagine if it is heavy in your hand.
For portability and convenience, make sure to get the best sous vide food torch that is small in size and lightweight so that you can comfortably work with it by just one hand.
Fuel
Some of the best kitchen torches have either butane of propane gas fuel. Butane fuel is more common among smaller torches. Butane produces cooler fire than propane fuel.
On the other hand, propane fuel is more cost-effective while producing hotter fire.
There's another fuel called MAP Pro gas which is composed of propylene and propane. One known advantage of MAP Pro gas is its ability to achieve 3,730 degrees Fahrenheit. Propane gas can only go up to 3,600 degrees Fahrenheit, making a torch that uses MAP Pro gas achieve an even higher heating capacity than any other torches.
Heat Control
You would want your torch to be easily adjustable in case you want to increase or decrease the flame. Some brands allow you to do it with a push of a button or by turning the dial. If you can find a model that allows you to make adjustments on the temperature with only one hand, that product may be a keeper.
In connection with heat control, you should also check the maximum heating limit of the product you are considering.
Do I need a Searzall to use a kitchen torch?
If you've been looking around for sous vide kitchen tool, chances are you may have also encountered Searzall. This accessory product improves the performance of a blowtorch, without the torchy taste. Searzall is designed to diffuse the intense heat coming from a blowtorch to achieve a more consistent and shallow flame.
You can use a kitchen torch without a Searzall but having one can greatly improve its performance.
Conclusion
After reviewing some of the best torches available, we came up with two top choices, one in terms of performance and the other, budget-friendly cost.
For overall performance, our top choice is the Bernzomatic TS8000. It has one of the highest heat settings due to its use of MAP Pro fuel. It is also one of the few torches that are covered by a lifetime warranty.
On the other hand, our top product in terms of budget-friendly cost is the Authenzo Kitchen Butane Torch Lighter. Aside from its low cost, we also love the ergonomic design of this kitchen tool.
| Product | Brand | Name | Price |
| --- | --- | --- | --- |
| | Bernzomatic | Bernzomatic TS8000 - High Intensity Trigger Start Torch | Check Price on Amazon |
| | Iwatani | Iwatani International CB-TC-PRO 2 Iwatani PRO2 Culinary Butane Torch | Check Price on Amazon |
| | Authenzo | Authenzo Kitchen Butane Torch Lighter (Butane Gas Not Included, Black) | Check Price on Amazon |
| | Sondiko | Sondiko Butane Torch, Culinary Torch Refillable Kitchen Butane Torch Lighter | Check Price on Amazon |
| | EurKitchen | EurKitchen Butane Culinary Kitchen Torch - Fuel Not Included - Refillable Food Blow Torch | Check Price on Amazon |
* If you buy through links on our site, we may earn an affiliate commission. For more details, please visit our Privacy policy page.