Sous vide is also known as low temperature long time cooking. It is a type of cooking process in which the food is put in a glass jar or plastic bag, and cooked in water bath for longer than the traditional cooking times. Typically, it is 1 to 7 hours, however, in some circumstances, it can take up to 72 hours or longer.
* If you buy through links on our site, we may earn an affiliate commission. For more details, please visit our Privacy policy page.
The cooking temperature is significantly lower than the usual. Basically, around 55 to 60 degrees Celsius (130 to 140 degrees Fahrenheit) for red meat, 66 to 71 degrees Celsius (150 to 160 degrees Fahrenheit) for poultry, and higher for vegetables.
You've come to the correct site if you are looking for information on which containers are suitable for use with an immersion circulator. Take a look at some of the best sous vide containers that are available in the market today.
Sous Vide Container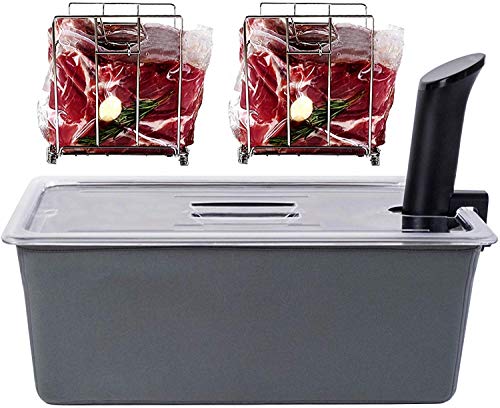 Brand: Väeske
Capacity: 26 Quarts
Material: Polycarbonate, Stainless Steel, Neoprene
Color: Container/Racks/Insulator
Dimensions: 21 x 13.75 x 8.75 inches
Item Weight: 8.63 pounds
Product Description
VÄESKE Sous Vide Container has a large capacity. The container can fit 10 steaks or chicken breasts, as well as huge portions like whole brisket that won't fit in the 12 Quart container. Large families, parties, and commercial kitchens will all benefit from this product.
Heat is distributed equally thanks to the insulating sleeve. The washable neoprene insulating sleeve keeps heat in, allowing your container to heat up faster and maintain a consistent temperature for precise cooking results. The sleeve also protects your countertop from scratches and heat-related cracks.
It also features racks that remove floating and clumping. The adjustable stainless steel racks make circulation space between the bags and the extra wide cross-bar prevents floating, ensuring your food cooks evenly from all sides.
Lid prevents water evaporation. You don't need to set your alarm clocks to refill water overnight on long cooks. Your water level will stay full with the fitted lid. There is no more risk of exposing food which can result to half-cooked disasters.
It fits most deices. 2.5″ Lid Opening is compatible on Nano, Anova, Joule and the majority of cookers.
If you are interested in buying this product, click on Amazon
---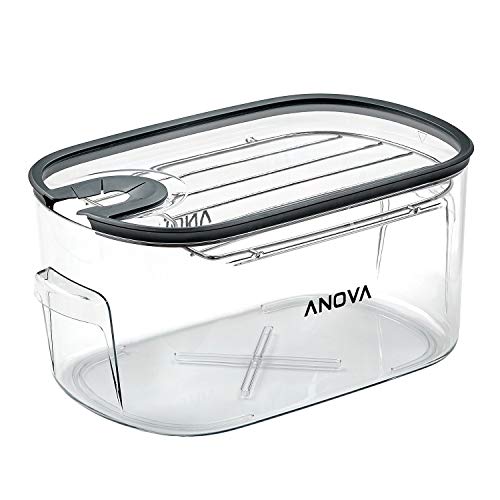 Brand: Anova Culinary
Product Dimension: 18.5 x 11.18 x 8.74 inches
Item Weight: 10 pounds
Included Components: Container, Lid And Rack
Material Type: Plastic
Product Description
The Anova Precision Cooker Container was created with sous vide in mind, with a curved body form that supports greater water circulation, a silicon sealed lid, an integrated wire rack, and an elevated base. You can rest easy knowing you're cooking with the best.
You can use this with any sous vide. The Anova Precision Cooking Container's flexible silicon lid collar enables for the use of practically any "wand" style sous vide circulator.
Features a silicon-sealed cover and food-grade polycarbonate construction, making sure that no steam escapes your cook while preserving optimum heat retention. This means almost no water evaporation and even more exact temperature control throughout your sous vide cook.
This sous vide container is very convenient and easy to use. To use, fill your Anova Precision Cooker Container with water, connect your sous vide circulator to the container, and position or clip your sealed bag of food beneath the integrated wire rack.
If you are interested in buying this product, simply click on Amazon
---
Brand: EVERIE
Capacity: 12 Quarts
Material: Stainless Steel
Dimensions: 14.72 x 11.02 x 7.83 inches
Item Weight: 4.18 pounds
Product Description
The Sous Vide Container Bundle comes with a 12 quart sous vide container, as well as a universal silicone lid, stainless steel rack, and a neoprene sleeve for the container. Anova 800W 900W 1000W, Anova Nano, Anova AN500-US00, Joule, Wanacle, and Instant Pot sous vide cookers are all compatible with its lid.
Features a polycarbonate container. NSF approved for your sous vide cooking safety. The collapsible silicone cover makes it simple to refill or remove water or ingredients for cooking. Only the container in which water is filled and heated is NSF approved. None of the lid or the stainless steel rack or the neoprene sleeve is NSF approved. Also, Both the stainless steel rack and the lid and are food safe.
To maximize the water flow within the water tank, the sous vide cooker is installed on the side towards the corner. The best seller type of lid is the corner mount.
The stainless steel rack keeps your food bags warm in the water bath. The dividers on the Wobble-Free rack are secured to the base with a particularly hard clamp to prevent them from wobbling. There are seven dividers in total, five of which are removable and two of which are built-in as holders.
Sous Vide Container Sleeve is made from Neoprene material. It reduces the heat exchange and heat loss by insulation.
If you are planning to buy this product, just click on Amazon
---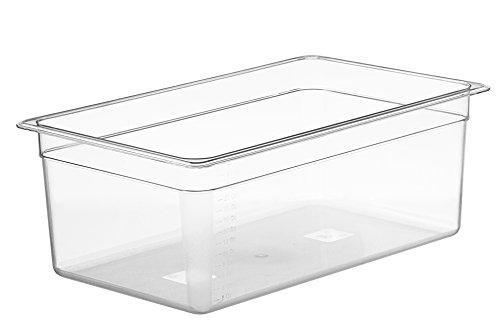 Brand: LIPAVI
Item Dimensions: 20.87 x 12.8 x 7.87 inches
Capacity: 25 Liters
Material: Polycarbonate
Color: Clear
Product Description
Anova Precision, Anova One, Nomiku, Sansaire, ChefSteps Joule, PolyScience Creative, Wancle, Garmercy, Gourmia, Instant Pot, and many others have custom lids available.
This is an ideal match with Lipavi L20 Sous Vide Rack, providing more capacity and even warming.
The Lipavi sous vide container is made of strong and crystal clear polycarbonate.
It can also withstand high temperatures, from -40 to 210 F for the water bath, cooling and even freezing.
The height is 8 inches. It is the perfect height for Sous Vide with Immersion Circulators.
Containers from LIPAVI are noted for their great quality. They ensure that sous vide enthusiasts have the best containers available and that their food is cooked to perfection. They put in a lot of effort to make sous vide cooking as efficient as possible.
Don't hesitate to buy this product on Amazon
---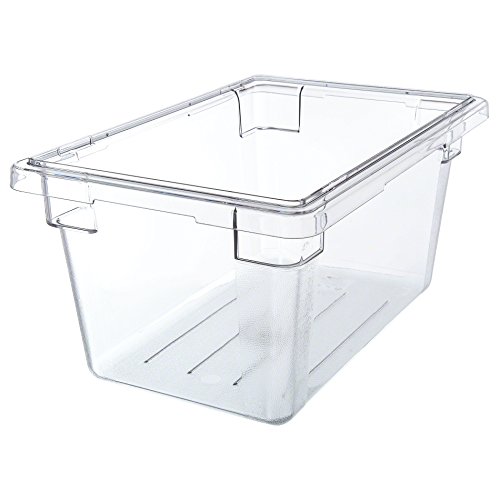 Brand: Cambro
Color: Clear
Material: Polycarbonate
Item Dimensions: 20.75 x 18 x 12.5 inches
Item Weight: 3.2 Pounds
Product Description
Camwear boxes are used to keep bulk vegetables and ingredients in coolers, freezers, and pantries.
The Cambro sous vide container is made of crystal clear, virtually unbreakable polycarbonate. This polycarbonate container material is extremely durable, and there's no way you could break it by accident.
The Cambro container doesn't come with a lid. By transferring the product from the cardboard, you can reduce the possibility of cross contamination.
The product comes with 4-3/4-gallon holding capacity.
If you are interested in this product, buy the sous vide cooking container now on Amazon
---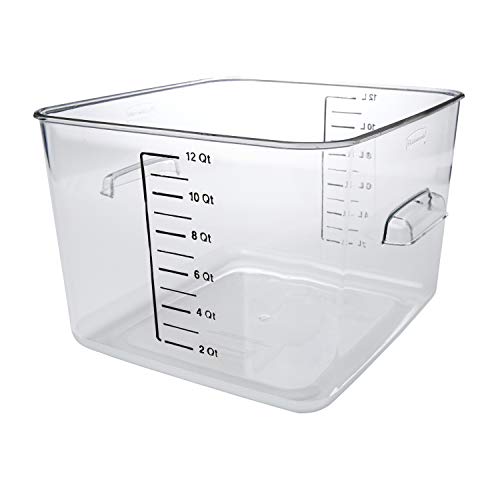 Brand Name: Rubbermaid Commercial Products
Item Shape: Square
Material: plastic
Capacity: 12.0 quarts
Color: Clear
Product Description
Rubbermaid sous vide container is recognized for its square-shaped containers, which are simple to arrange and are designed to be stacked on top of one another.
The Rubbermaid container is high quality. Its commercial-grade, break-resistant polycarbonate material provides improved durability, product visibility, and a smooth surface that makes cleaning a breeze. The product does not come with a lid.
These sous vide containers are created for saving space. Square containers hold up to 25% more on a shelf than round containers, allowing you to store more in a smaller storage space in your busy kitchen.
This food storage container is made of FDA-approved materials and can withstand temperatures ranging from -40 to 212 degrees Fahrenheit. It is also dishwasher safe.
Perfect for Sous Vide. This sous vide immersion cooking container has a high heat threshold and a robust unique design.
Excellent size for broccoli, avocados, onions, sweet potatoes, apples, and oranges.
Lid is not included in the package. Lids that are compatible with this container are FG652300wht, 1980307, 1980308, 1980309, 1980310, and 1980311.
This container is also multi purpose. These sous vide containers are ideal for preserving any food, but they're especially useful for brining or marinating meats, as well as dry cereals, rice, pasta, or trail mixes.
The sous vide container is approved by the National Sanitation Foundation. NSF 3-A meat and poultry equipment and NSF 2-certified.
Buy this product now on Amazon
---
Brand: Anova Culinary
Item Dimensions: 15.35 x 9.41 x 8.37 inches
Capacity: 12 Liters
Item Weight: 3.31 Pounds
Material: Plastic
Item Weight: 3.31 pounds
Product Description
Another excellent Sous Vide container from Anova Culinary. Smaller container but with same awesome features. The 12L Anova Precision Cooker Container was created exclusively for sous vide cooking. Its innovative Hemiflow design has smooth, curved edges that help the water circulate more efficiently and quickly heat your water.
You can put a lid on it. Take on extended or multi-day cooking without worrying about evaporation loss. The Anova Precision Container 12L lid is made entirely of silicone (100%), ensuring a secure fit and preventing evaporation.
There will be no more floaters. With convenient handles for quick access to your food while cooking, a retractable cooking rack keeps your food perfectly placed and submerged during the cooking process.
The product has a built in protection. Even without a trivet, the unique 3mm elevated base protects surfaces from prolonged heat exposure.
If you want to buy this product, just click on Amazon
---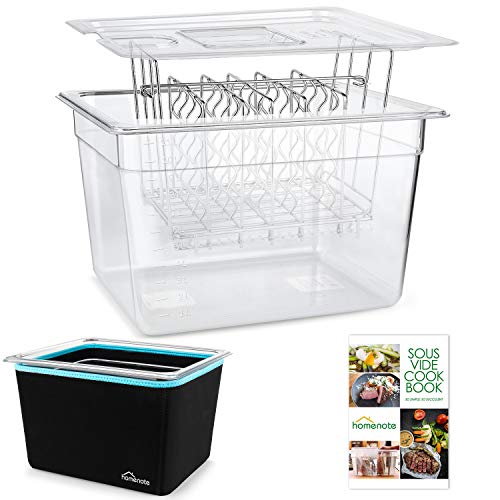 Brand: Homenote
Item Dimensions: 7.7 x 4.3 x 1.9 inches
Capacity: 12 Quarts
Material: Stainless Steel, Polycarbonate
Color: White
Product Description
The best container for sous vide cooking. This container/lid is made of BPA-free Polycarbonate that resists heat well, allowing water to stay at a consistent temperature and preventing evaporation. They are transparent, so you can see what's inside, and they're very light.
All of the necessary sous vide accessories are included. These bundle kits gives you everything you need to get started with sous vide cooking, including a 12 Qt container and lid with pre-cut holes (middle mount), sleeve, and sous vide rack.
Durable and adjustable sous vide rack. The rack's wavy design is constructed of 304 stainless steel, which is rust-proof and keeps the food bags from floating. Although regular cleaning is needed to extend the life of the rack. It also creates some space between the bottom of the container and the food bags, allowing more circulation of the hot water.
Features a heat-resistant and insulated sous vide sleeve. The high grade neoprene used in this sous vide sleeve prevents heat from escaping through the sides. It efficiently stores heat, reducing cooking time and saving fuel or electricity.
Keep in mind that this set of attachments has been thoroughly tested for ANOVA and CHEFSTEPS machines, but they cannot guarantee that it will work with other brands. Before you buy, double-check that your machine is compatible with the size of the pre-cut hole.
You can buy this product by clicking on Amazon
---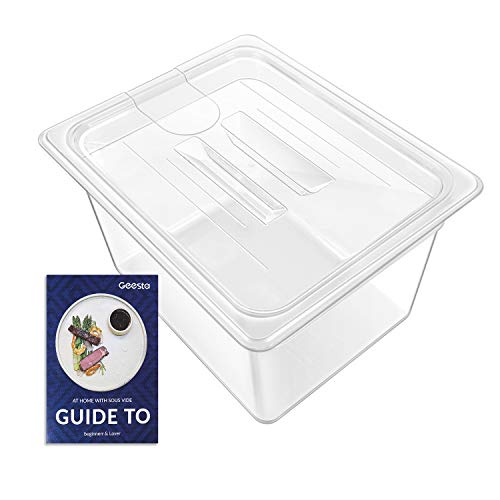 Brand: Geesta
Size: 12QT – Container
Capacity: 12 Quarts
Material: Metal, Polycarbonate
Color: Clear
Product Description
A 12 litre sous vide container and a universal collasible hinged kid are included in the Sous Vide Container Bundle. Anova 800W 900W 1000W, Anova Nano, Anova AN500-US00, Joule, Wancle, and Instant Pot sous vide cookers are compatible with the lid, which has a cutout in the corner.
One of the most affordable and recommended product. High-quality and reasonably priced, this set is ideal for novices or couples who want to try cooking. Only the container and the recipe book are included in this kit. Ordering is more convenient, as it eliminates the time and cost of picking.
It also has a special eBook for beginners. Steak, pork, fish, and veggies are in this eBook. They have a lot of content, so buy their kit to receive an electronic version of the eBook, which can be viewed on the phone anytime, anywhere, and is simple and pleasant to use.
The sous vide container is made of sturdy plastic with good heat insulation. It is also NSF approved for your food safety. Only the container in which water is filled and heated is NSF approved. The lid is not NSF approved, but the lid is food safe.
If you want to buy this product, simply click on Amazon
---
Brand: SEAYIN
Size: 12 Quats with Lid
Capacity: 11 Liters
Material: Polycarbonate
Color: Clear
Product Description
It includes complete sous vide essential accessories, perfect for Virtually All Immersion Circulators Cookers.
The sous vide container can hold 11 liters (12 quarts) of food for a family size. 8 Inch is the perfect height for use with the Immersion Circulators.
This sous vide container is very durable and sturdy, made of Crystal Clear/Transparent Hard Polycarbonate. It also has a high heat resistance, so it can help maintain a consistent water temperature and avoid evaporation.
Has a high temperature tolerance for the water bath, cooling, and even freezing, ranging from -40 to 210 F.
This set of accessories is suitable for most sous vide machines, but before you buy, double-check that the size of the pre-cut hole is compatible with your machine.
If you want to buy this product, just click Amazon
---
History Of Sous Vide Cooking
In 1977, Benjamin Thompson, Count Rumford was the first to describe low-temperature cooking. In his trials, he used air as the heat-transfer medium while attempting to roast meat in a machine he had built to dry potatoes. According to him, the meat was not only edible, but also well cooked and exceptionally flavorful.
Food preparation under pressure, with or without heat, was developed as an industrial food preservation technology by American and French engineers in the mid-1960s. The researchers discovered that the cuisine had improved in flavor and texture, just like Rumford. Applying pressure to food by vacuum sealing was sometimes referred "cryovacking" when it was first developed.
In 1974, Georges Pralus, a French chef, implemented the procedure at the Restaurant Troisgros in Roanne, France. He noticed that when foie gras was cooked in this way, it retained its original appearance, lost less amount of fat, and had a better texture.
Bruno Goussault, the French chief scientist of Sterling, Virginia-based food maker Cuisine Solutions, is another sous vide pioneer. In 1991, he founded CREA, or Centre de Recherche et d'Études pour l'Alimentation, as the service arm of Cuisine Solutions, its parent company.
In the 1970s, Goussault and Pralus worked on the creation of sous vide separately and eventually became colleagues. Goussault was the first to combine vacuum sealing and low-temperature cooking. Pralus, known as the Father of Modern Sous Vide, used higher temperatures in his cooking.
---
Cooking Temperature
The degree of precision and consistency required for cooking temperature varies depending on the meal being prepared. In some circumstances, it isn't vital. A temperature between 44 °C (111 °F) and 61 °C (142 °F), a 15 mm (0.59 in) thick piece of fish will cook in 17 to 18 minutes. A switched-off slow cooker filled with hot water and a thermometer can be used to prepare such dish.
Maintaining an accurate, stable temperature is especially fundamental for an egg, which contains proteins that denature at varying temperatures. Confit egg yolks are usually cooked at a temperature of 63 degrees Celsius (145 degrees Fahrenheit), which is hot enough to cook the white without setting the yolk. The bath is typically set to 64 degrees celsius, which means the actual cooking temperature is 63 degrees Celsius.
---
Importance Of A Lid In Sous Vide
Long cooking, such as those lasting 24 hours or more, benefit very much from the use of lids in Sous Vide. These cooking windows result in more water evaporation, which increases the risk of your machine shutting down due to low water levels. Lids are especially useful for individuals interested in Sous Vide cooking.
---
Conclusion
With that said, those mentioned above are so far the best sous vide containers. You won't go wrong with any of these options because they all provide benefits that will make your food especially wonderful. Thank you for reading this post.
* If you buy through links on our site, we may earn an affiliate commission. For more details, please visit our Privacy policy page.