Choosing the perfect stainless steel work tables is needed for having a sturdy work place especially if you need it for heavy use. Work tables often comes in different sizes and also comes in different variations such as undershelves or backsplashes. It can also either be in a form of round, square sides or countertop. The size, dimensions and shape depends on the need for such work table according to one's preference. In today's post, we are going to discuss the best commercial stainless steel prep table that you can check out.
| Product | Brand | Name | Price |
| --- | --- | --- | --- |
| | Rockpoint | ROCKPOINT Stainless Steel Table for Prep & Work with Backsplash 48x24 Inches | Check Price on Amazon |
| | HALLY SINKS & TABLES H | Stainless Steel Table for Prep & Work 24 x 48 Inches, NSF Commercial Heavy Duty Table | Check Price on Amazon |
| | Mophorn | Mophorn Stainless Steel Work Table with Wheels 24 x 12 x 32 Inch Prep Table Heavy Duty Work table | Check Price on Amazon |
| | DuraSteel | DuraSteel Stainless Steel Work Table 24 | Check Price on Amazon |
| | Seville Classics | Seville Classics Stainless-Steel Professional Kitchen Work Table Cart Utility NSF-Certified Storage | Check Price on Amazon |
* If you buy through links on our site, we may earn an affiliate commission. For more details, please visit our Privacy policy page.
Commercial Stainless Steel Prep and Work Table
Before we talk about the stainless prep table, let us first look into Gauges. Knowing the size of the gauge for the Stainless steel work table is important to be able to know the thickness of the stainless-steel material that you are planning to purchase. Tip: the lower the gauge number, the thicker the stainless steel material.
Know the Gauge:
Gauge 18: Used as a budget work tables or for economy work tables since tables with 18 gauge is lighter therefore less expensive. Since a prep table with an 18 gauge that are lighter which make it more prone to dents. It can be used preferable for lighter works in prep area for making a sandwich, salad, preparing dough and for sorting items.
Gauge 16: A 16 Gauge prep table is the perfect table for an all-around work space. As compared to the 18 gauge Stainless steel work tables , it is more durable but does not overdo one's budget for its low prices.
Gauge 14: As mentioned, the lower the gauge number the thicker the material. With a thicker material also means more expensive work space. However, its durability and quality is always tested. It is mostly used in areas that require as a specialty work tables and for heavy work loads such as in butcher shops since the prep table can handle heavy workloads and stronger blows.
Know the Type:
When planning to purchase a prep table, you also need to consider the type or series of stainless steel. There are quiet a few different types and series of Stainless steel work tables available however for commercial work tables there are 300 or Type 304 and 400 series or Type 430 series.
The former is more resistant to develop corrosion since it contains nickel and chromium. Therefore if you are planning to use a work table While the 400 series does not contain nickel and it is magnetic.
What are tablet tops?
There are two typesof table tops: The poly top work table and the wood top work tables. The former is considered to be a perfect choice for a specialty work tables that can be used in bakery, as a meat counter, butchers shops and other areas where a chopping board is needed, as such the poly top. On the other hand, wood top work tables is often used as a table top used by bakers in making doughs for making pastries and bread. It often has a round corner to easily clean the space area.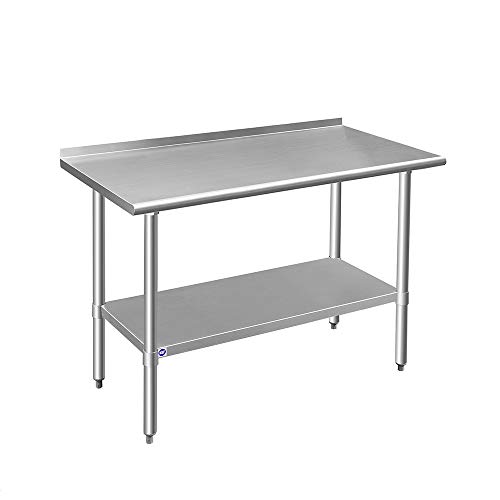 Heavy duty prep table with backsplash, perfect choice if you need a heavy duty stainless steel table for food prep as well as storage. An ideal working table as kitchen work tables, restaurant and for restaurant equipment and other working space that can withstand heavy and strong work.
Made from 18 gauge and Type 430 series. It is also NSF certified, which means it has been certified to have meet the safety standards for food. If you want to customize the height of the table, you can do so since the bottom shelf is adjustable.
Dimensions of the prep table:
48x24x34.8 (LxWXH)
36 inches with backsplash
Buy it now here: Amazon
---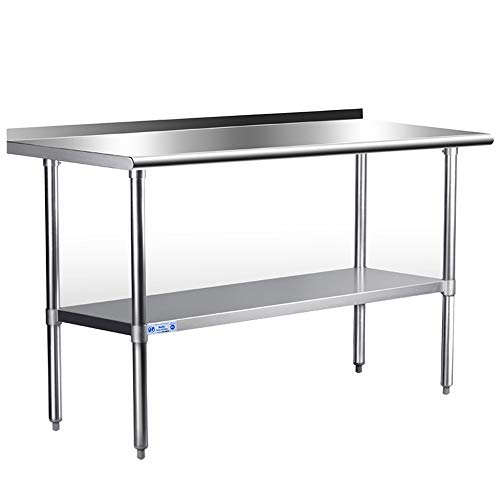 Another commercial work tables is a 2-layer prep table that's adjustable height to suit the height requirements according to one's preference. The first layer can carry a weight load of about 500 lbs while the undershelf can carry a weight capacity of about 400 lbs. NFS certified work tables that passes the food standard for prep tables required.
Made using 18 gauge with Type 430 series therefore it is more durable and safe to use. To prevent water splashes and spilling, the work tables has a backsplash of about 1 1/2 inches.
Dimensions: 24×60 inches
Buy it now here: Amazon
---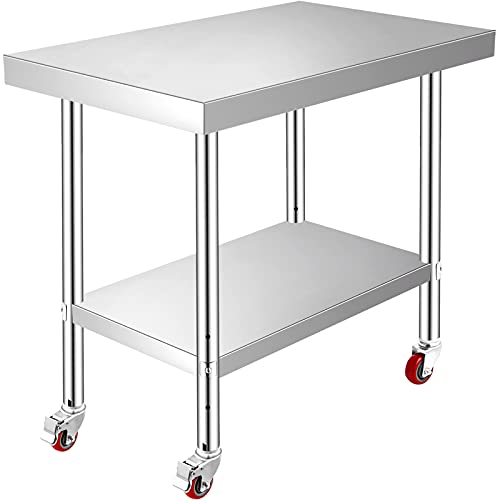 The Morphon stainless steel is considered to be a heavy duty stations commercial work tables as it can withstand a weight load capacity of about 220 lbs (99 kg). Wheels are attached to the legs along with a locking brake to prevent it from slipping from the floor and sudden movements keeping it in place whether you are using it at home or as part of your restaurant equipment.
Dimensions:
Upper Board: 35.4″x23.6″ (900x600mm)
Lower Board: 30″x18.3″ (765x465mm)
Since this working tables has a wide application, it is the perfect choice for meal preparations, sewing and crafts and laundry activities.
---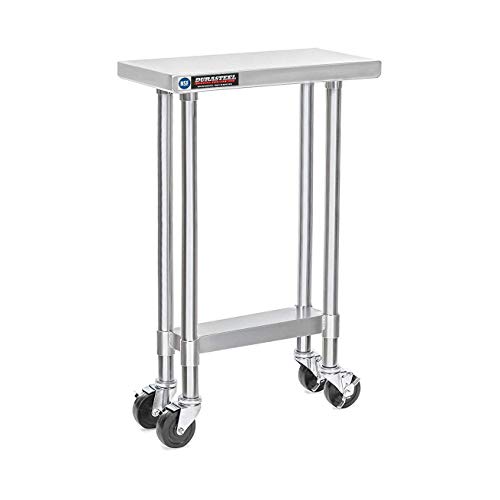 An 18-Gauge stainless steel commercial work tables with a galvanized undershelf to prevent corrosions. Proven to reach up to 20 years if taken cared properly.
There are 4 casters attached allowing it to be moved freely but it also has locking brakes for add on stability of the table. However, make sure not to put on more than 150 lbs of load for the casters to move freely.
Dimensions: 24″x 48″x34″
An NFS certified that is easy to clean because of its polished surface.
---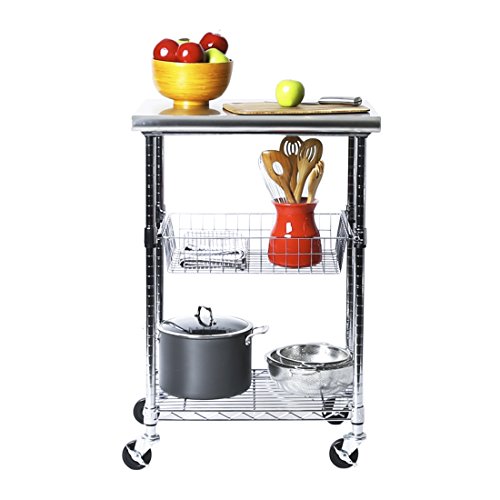 Another commercial work tables that features a 443 type series. It is a 3-layer working table wherein the 2nd layer has a sliding wire basket to organized accessories while on the 3rd layer is a shelf. A 3-inch wheels are also included for easy rolling and placement whether as a kitchen work table, workshops for sorting other items or in the garage.
Dimensions:
Pull out storage basket (2nd layer): 18.25″ x 14.5″ x 4″H
Steel Wire shelf(3rd layer): 24″ x 20″
NFS certified commercial work table for use in environments that require dry and heated storage.
---
| Product | Brand | Name | Price |
| --- | --- | --- | --- |
| | Rockpoint | ROCKPOINT Stainless Steel Table for Prep & Work with Backsplash 48x24 Inches | Check Price on Amazon |
| | HALLY SINKS & TABLES H | Stainless Steel Table for Prep & Work 24 x 48 Inches, NSF Commercial Heavy Duty Table | Check Price on Amazon |
| | Mophorn | Mophorn Stainless Steel Work Table with Wheels 24 x 12 x 32 Inch Prep Table Heavy Duty Work table | Check Price on Amazon |
| | DuraSteel | DuraSteel Stainless Steel Work Table 24 | Check Price on Amazon |
| | Seville Classics | Seville Classics Stainless-Steel Professional Kitchen Work Table Cart Utility NSF-Certified Storage | Check Price on Amazon |
* If you buy through links on our site, we may earn an affiliate commission. For more details, please visit our Privacy policy page.