In the culinary world, there are just some terms that make us confused. Among them are bisque and soup. Whether you have wondered about this before or not, it's quite interesting that there has been a bisque vs soup debate going around for years.
| Product | Brand | Name | Price |
| --- | --- | --- | --- |
| | Hamilton Beach | Hamilton Beach 58148A Blender to Puree - Crush Ice - and Make Shakes and Smoothies - 40 Oz Glass Jar | Check Price on Amazon |
| | Lodge | Lodge Manufacturing Company EC6D32 Enameled Dutch Oven, 6 qt, Indigo | Check Price on Amazon |
| | Instant Pot | Instant Pot Aura 10-in-1 Multicooker Slow Cooker, 10 One-Touch Programs, 6 Qt, Silver (AURA 6Qt) | Check Price on Amazon |
| | Crock-Pot | Crock-Pot SCCPVL610-S-A 6-Quart Cook & Carry Programmable Slow Cooker with Digital Timer | Check Price on Amazon |
* If you buy through links on our site, we may earn an affiliate commission. For more details, please visit our Privacy policy page.
Some people think that bisque and soup are the same. Others believe that they are different but not quite sure how to tell them apart.
Thankfully, you can now know the difference as well as the similarities between bisque and soup. You don't have to live in the dark and impress your friends with your brand-new learning.
So, without any further delay, let's explore the world of bisque and soup!
What is the difference between bisque and soup?
In a nutshell, bisque and soup are different based on how they are used in referring to food. Soup is a general term that refers to liquid food. On the other hand, bisque is the term used to specifically refer to liquid food dominantly known for its creaminess.
In short, bisque is a type of soup. All bisques are soup but not all soups are bisque.
What is the similarity between bisque and soup?
Both bisque and soup are made of liquid food. They are made by combining different ingredients that are usually chopped, diced, pureed, grated, and even kept whole.
Another similarity between bisque and soup is the way they are eaten. Both of these dishes can be served in breakfast, lunch, and dinner. You can also eat them during snacks.
More similarities
If served during snacks, you can eat it with other carby foods such as bread, cornbread, biscuits, and crackers.
Moreover, you have the option to serve bisque and/or soup as appetizers or starters.
Modern bisques and soups are known to have originated in France.
Now that you know the overall difference and similarities of bisques and soups, it's time to get deeper and discuss each of them.
What is soup?
Let's talk about soup as this is the more general term between the two.
Soup is a liquid food that is served hot or warm. There are also times when it is served cool or cold. Ingredients may include a combination of milk, water, meat, vegetables, vegetable stock, and fruits.
Description
The cooking process of soups includes the use of a pot. Inside the pot, the solid ingredients and liquids are mixed. The mixture would then be heated until the flavors of the ingredients come out. This forms a broth that is rich in nutrients and flavors.
Since soups are liquid food, they can also be sometimes mistakenly called stews. Well, that's understandable because soups are similar to stews and there's not even a clear distinction between the two.
However, if you want to be technical about it, stews have lower amounts of liquid compared to soups.
Types of soups
As we mentioned above, soups are a popular part of French cuisines. That's why it was the French that made two distinct categories of soups.
These are the following:
Clear soups – include bouillon and consomme.
Thick soups – as this type of soup is thickened by starch, cream, eggs, butter, bechamel sauce, or pureed shellfish, it is no longer clear. Thick soups also include other commonly added ingredients such as flour, lentils, rice, and grains. Bisque soups are considered thick soups.
Other well-known soup types
Aside from the clear and thick soup category, there are also other types of soups. These include the following:
Bisque
Broccoli cheddar soup
Broth
Chili soup
Chowder
cream soups
Dessert soup
Fruit soup
Noodle soup (Chicken)
Noodle soup (Other flavors)
Pulse soups
Shellfish soup
Stew
Taco soup
Tomato soup
Tortilla soup
Dessert soups
Vegetable soup
These are just the common types of soups. However, it is worth noting that this list can easily expand to the hundreds as you can make soup with just anything to your heart's desire.
Whatever favorite ingredients you may have, be it meats or vegetables, added with various items such as rice, potatoes, noodles, and others, the options are endless. As they say, the sky's the limit when it comes to soups!
Soups by culture
Soup is such a great food common in various places around the globe. So, we shouldn't be surprised to see which types of soups are popular for a group of people or in a given country.
United States
In the United States, the official soup is chicken noodle soup. Whether the day is sunny or gloomy, the chicken noodle soup is there to comfort everyone.
In New England, USA, chicken noodle soup isn't that common. Another type of soup dominates this area. It is the clam chowder. This soup comes with shellfish, fish, salt pork, potatoes, milk, and tomatoes. Although clam chowder can be cooked in different ways with different ingredients.
Europe
In Italy, the most popular soup by far is the minestrone. It is a thick soup with pasta and vegetables.
Going to Hungary, you will instantly recognize their beloved soup called goulash. This soup is super flavorful as it is richly seasoned with the addition of vegetables and meat plus a generous dash of paprika.
Asia
In China, they have this egg drop soup. It's a great soup that is low in calories but high in yumminess. Tom Yum is the soup of choice in Thailand, which features sour and hot flavors. Fragrant herbs and spices are also added.
Indonesians love their Soto which comes with a lot of meat and turmeric. Soto is also known as tauto, coto, saoto, and sroto.
History of soups across the globe
How soup came about is an interesting story. According to some historians, soups started to become trendy way back in 20,000 BC. That's a lot of years that is just beyond our comprehension.
With the use of waterproof containers such as clay vessels, animal hides, watertight baskets made of reeds or bark, ancient people were able to boil their food to create soups. They use hot rocks to boil water.
The term soup came from the French word soupe, which means broth or soup. The word soupe came from the Latin word suppa, which means bread soaked in broth.
Soups and Restaurants
The terms soup and restaurants somewhat share the same history. In the 16th century, the word restaurant was first used in France. If you look into its meaning, it doesn't really have something to do with food. Restaurant simply means restoring.
The term restaurant was first used to refer to a special type of soup sold by street vendors. Locals believe that this soup can reduce physical exhaustion and restore energy, thus it is called "restaurant."
In 1765, the soup became so popular that an entrepreneur located in Paris chose to open a shop that specializes in selling the restaurant soup. Eventually, the shop was called a restaurant, leading to the modern use of the term to refer to eating establishments.
History of soups in the US
In the US, there's no exact date when soup began to be common. However, it is with the help of cookbooks that soups became more and more mainstream.
The 1700s and beyond
In 1742, a colonial cookbook was written by William Parks that included soup recipes. In 1772, The Frugal Housewife, a cookbook, was published. It included a full chapter about soups.
As more and more immigrants come into the US, other types of soups become popular. For example is the potato soup made by German immigrants in Pennsylvania.
In 1794, Jean Baptiste Gilbert Payplat dis Julien became the "Prince of Soups" after opening his restaurant, "The Restorator." Although a French Revolution refugee, he has found his calling in Boston through his soups.
In 1882, Emma Ewing wrote the first American cooking pamphlet entitled Soups and Soup Making. In the same century, the portable soup was created by boiling seasoned meat to produce a resinous syrup, which can be dried and stored for later use.
How to cook soup?
Since soup can be a general term that encompasses a wide range of liquid and creamy food, there are different ways to cook and prepare soups.
Soup Ingredients
Here are the most common ingredients used when cooking soup:
Meat (can be chicken, steak, seafood, ham, ground beef, seafood, and others)
Onion
Celery
Garlic
Pepper, salt, and other seasonings
Noodles
Tomatoes, tomato paste, or sauce
Rice
Potatoes
Carrots
Broth
Cream
Bouillon
Cheese
Consomme
Since soup can greatly vary in how they are cooked, there's really no rule as to which ingredients you use. Feel free to use any ingredient or seasoning that you like.
Cooking soup
There are different ways of cooking soup. You can make it a thin and transparent or thick and creamy texture. Soup can be served cold or hot. You can eat it with crackers and bread as well.
Some soups are made with broth. The more it is boiled or simmered, the more flavorful it gets.
You can make your own soup or cook the ones from canned goods.
What is bisque?
Bisque may sound fancy, but it is a specific type of soup that is perfect for any weather. For cold nights or snowy weather, a bowl of bisque will definitely warm not just your tummy but also your heart.
So, let's get our definition of terms straight. Bisque is a type of thick and creamy soup that is made with the paste of the crushed shell of the shellfish. The shells are boiled to make a stock and in turn, use this stock to create the bisque.
Evolution of Bisque
In the United States, it was Julia Child who was credited to have popularized the lobster bisque, which uses lobster shells and rice to thicken the soup.
Traditionally, bisques are made of boiled shellfish. However, other crustaceans can be used. For example would be lobster, crayfish, shrimp, and crab.
Today, the term bisque can refer to a wide range of creamy soups that include ingredients ranging from vegetables to fruits. Some of the most widely prepared vegetable bisques are made of squash and tomato.
Not only that but using rice to thicken bisque has also been widely accepted. There are also types of bisques that come with a different finish. For example, they include butter or hot cream for a more delicious texture.
The creaminess of the bisque should be smooth and consistent. For a more authentic bisque, it should come with a velvety texture.
Thus, the ingredients of bisques are thoroughly blended or crushed. Any coagulation should be eliminated as much as possible.
History of Bisque
In the earliest days of bisque, the only ingredient used was shellfish. The shells of shellfish would be grounded into fine powder. The powdery shells would then be turned into a paste that is used to thicken the soup.
Today, as was mentioned, shellfish is not the only ingredient used for bisque. Other crustaceans are also used.
However, did you know that in the past, the word "bisque" is a term, which refers to soups made of pigeon or quail? Yes, you read that right. However, this type of soup was commonly mixed with crayfish meat. Over time, the crayfish was replaced by shellfish and the pigeon and quail were removed.
If you look into the culinary world now, bisque is used to refer to a pureed or cream soup. Whether the main ingredient is crustacean or vegetable, it will still be called a bisque.
Types of Bisques
Some of the most popular types of bisques today include the following:
Tomato bisque
Tomato-basil bisque
Butternut squash bisque
Mushroom bisque
Crawfish bisque
Creole shrimp bisque
Curried harvest bisque
Crabmeat bisque
Lobster bisque
Oyster bisque
Fennel apple bisque
Crab bisque
Butternut bisque
How to cook bisque
The exact method of cooking bisque depends on your recipe. As you may already know, there's no single way of cooking bisque. As long as it retains its trademark creaminess and consistency, you will still have bisque.
So, how do you cook bisque?
While there's no exact answer to this, cooking bisque would generally include the following:
Use a large pot for cooking.
Get the butter and melt it. Once it is hot, add onions and saute.
Sprinkle the flour and mix thoroughly with the butter and onions.
Add other ingredients you may want to include in your bisque.
Simmer for 40-50 minutes.
Be sure to stir frequently.
Serve with other goodies while it is hot.
Tools for making soup and bisque
Now that you know the difference between soup and bisque, you need to know a few tools and implements you may need to ensure you have the best food there is.
Here are some of the things you need when making soup and bisque: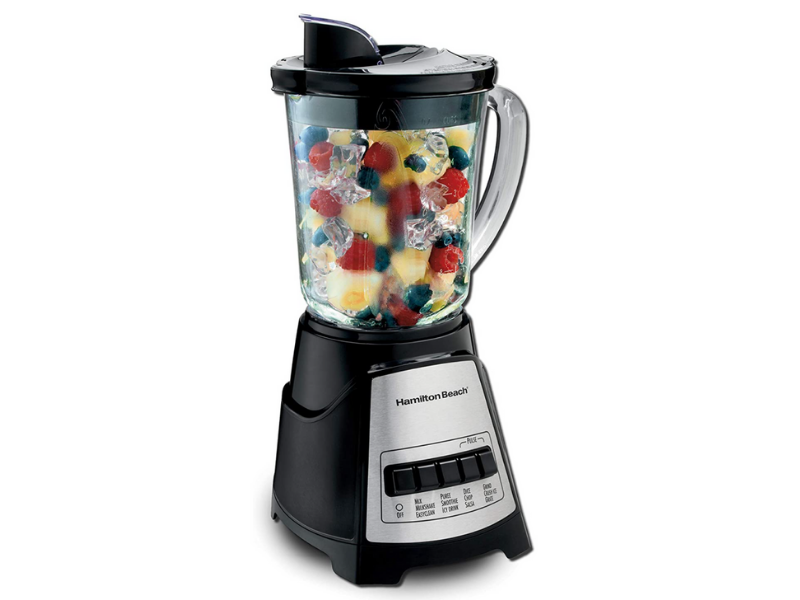 This blender machine is specifically made for making puree, which is a perfect tool if you want to have pureed soup. It has a 40-ounce capacity with 12 functions. With black color and stainless build, the blender looks sleek and professional.
Interested in this product, buy it now on Amazon
---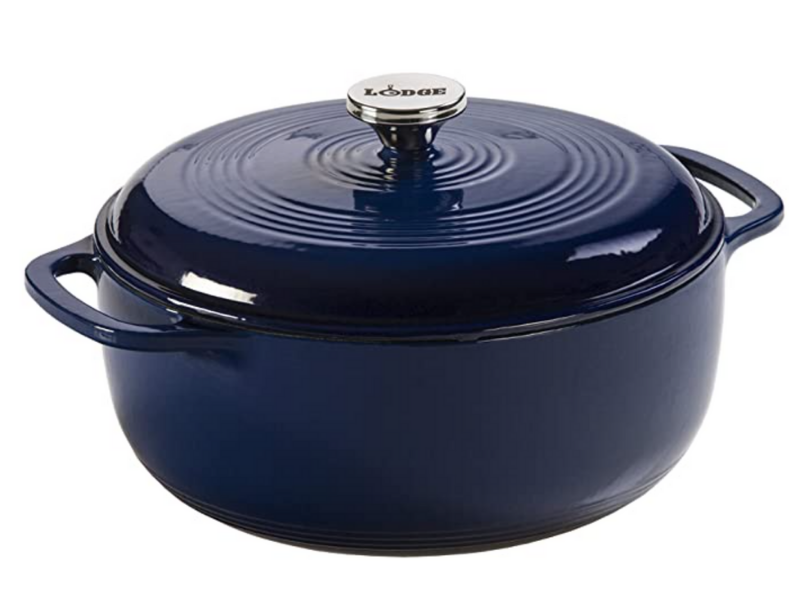 Lodge is no doubt one of the most reputable manufacturers of cookware and this Dutch oven is just one of those great products.
The Dutch oven is ideal cookware if you're going to boil and prepare soup or bisque. It is made with cast iron but coated with enamel for ease of cooking.
Color selection is wide, from indigo to red. Sizes also vary from 1.5 quarts to 7.5 quarts. This Dutch oven retains heat and quickly heats up, which are two important features needed to cook delicious soups.
Interested in this product, buy it now on Amazon
---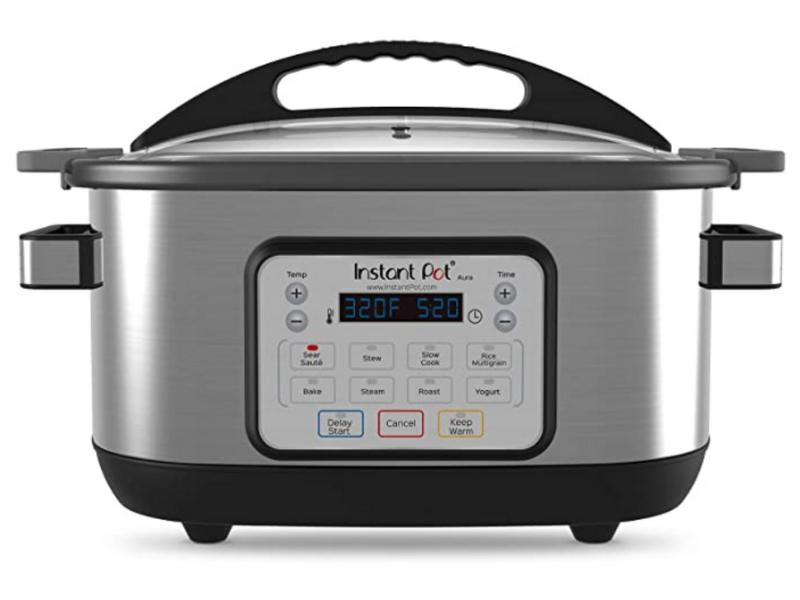 Another cookware you should consider is a multicooker like the Instant Pot Aura. This product comes with 10 one-touch programs.
Of course, ideally, you would like to use a stovetop pot to cook soup. However, the Instant Pot Aura is a great way for you to prepare soup in the quickest way possible.
Just to give you an example, Vietnamese noodle soup takes more than four hours to cook if you use the stove. However, by using Instant Pot Aura, you can finish cooking this type of soup in a quarter of the time!
Interested in this product, buy it now on Amazon
---
With a capacity of six quarts, you can cook a lot of soup in one go. Like a slow cooker, you can easily program this cookware, relax, and wait for your food to cook.
If you are going to use broth and chicken stock, a slow cooker is a great tool to use. Moreover, modern slow cookers today are super safe to use.
You can even let your slow cooker run the entire day while you attend to other concerns you may have. This is a great feature, which you can use when cooking soups.
Interested in this product, buy it now on Amazon
---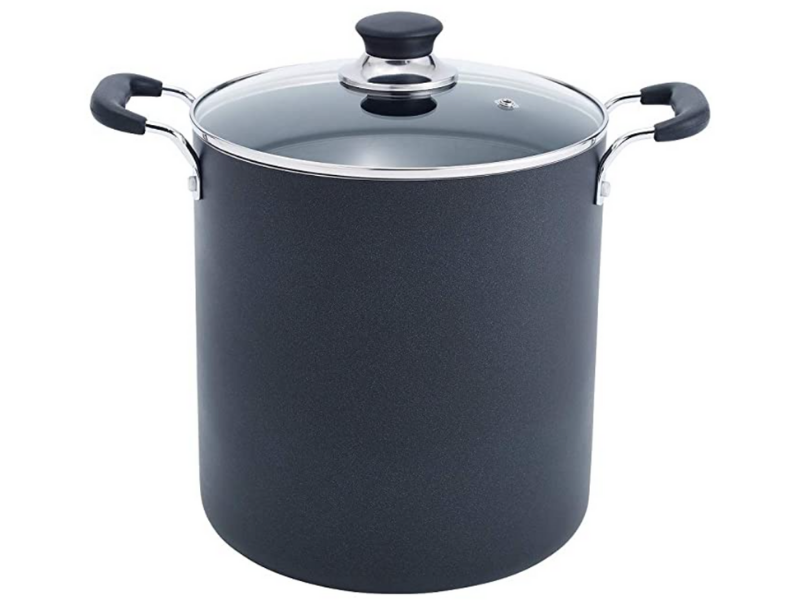 The T-fal stock pot is another important tool for you to cook soup. It is non-stick, dishwasher safe, and has a huge 12-quart capacity.
Preparing broth and stocks is made easy with a stockpot. When cooking with a stockpot, most chefs recommend removing the lid. The evaporation process creates a deeper and more concentrated mix of flavor.
Bear in mind: when using a stockpot, you should avoid boiling, but simply simmer the liquid. When you boil or you use too much heat, you'll lose too much liquid and you leave more fat that feels greasy to the mouth.
Interested in this product, buy it now on Amazon
---
Bisque vs soup: which one is better?
Now that you know the difference and similarities between bisque and soup, you should have a better idea of which one is better. To eat soup doesn't mean that you have to limit yourself with one.
Of course, this can be on a case-by-case basis. Sometimes, in a given situation, a bisque is better than other types of soup. There are also times when the wider range of soups is better than bisque.
It is all up to you. The important thing is you enjoy your food, stay healthy, and learn more recipes.
| Product | Brand | Name | Price |
| --- | --- | --- | --- |
| | Hamilton Beach | Hamilton Beach 58148A Blender to Puree - Crush Ice - and Make Shakes and Smoothies - 40 Oz Glass Jar | Check Price on Amazon |
| | Lodge | Lodge Manufacturing Company EC6D32 Enameled Dutch Oven, 6 qt, Indigo | Check Price on Amazon |
| | Instant Pot | Instant Pot Aura 10-in-1 Multicooker Slow Cooker, 10 One-Touch Programs, 6 Qt, Silver (AURA 6Qt) | Check Price on Amazon |
| | Crock-Pot | Crock-Pot SCCPVL610-S-A 6-Quart Cook & Carry Programmable Slow Cooker with Digital Timer | Check Price on Amazon |
* If you buy through links on our site, we may earn an affiliate commission. For more details, please visit our Privacy policy page.