Learn what to serve with chicken salad to make your ordinary meal extra special. Read on.
Chicken salad is one of the most famous dishes served on almost all occasions. Any kind of salad having chicken as the main ingredient is considered a chicken salad. It is commonly made of other ingredients such as hard-boiled eggs, celery, dried cranberries, onion, pickles, pepper, mayonnaise, apple cider vinegar, fresh herbs and fresh veggies, and other types of mustards.
There is actually no standard in making a good chicken salad dish. And there is also no exact way to assemble the ingredients and make the dressings. You are free to use your favorite chicken salad recipe and add ingredients according to your taste.
Most of these delectable dishes have a mayonnaise based chicken salad dressing, and some used berry jelly and a bit of lemon juice to balance its sweetness. While others used Greek yogurt instead of mayo. Adding fresh fruit and fresh vegetables will also make this classic dish unique.
11 Side Dishes On What To Serve With Chicken Salad
Making chicken salad may vary depending on your favorite recipe. You can even use leftover chicken, add your preferred ingredients and chicken salad dressing to create a more complex flavor profile on your chicken salad.
But aside from the ingredients, other menus served with chicken salad will also bring delight to everyone's taste buds.
Here are a few side dishes that will complement your chicken salad best.
Ambrosia Fruit Salad
Ambrosia is an American fruit salad native to the Southern United States. Ambrosia fruit salad recipes usually contain fresh or canned crushed pineapple, fresh orange sections or canned mandarin oranges, coconut, and miniature marshmallows.
In New Zealand, it refers to the same dish made with yogurt, fresh, frozen or canned berries, whipped cream, and chocolate chips loosely meld into a pudding.
To have a creamy texture, you can add dairy ingredients such as miracle whip, yogurt. cottage cheese, sour cream, or cream cheese.
For the flavors to meld, refrigerate the mixture of ingredients for a couple of hours or overnight.
This salad is usually served during potluck with chicken salad and other delicious side dishes.
---

Pasta Salad
Another side dish that you can serve with your classic chicken salad is the pasta salad, also known as pasta fredda. It is a dish made with one or more types of pasta, mostly chilled, and frequently tossed in an oil, mayonnaise-based dressing, or vinegar. It can be served as a main dish, appetizer, or a side dish. It is known to be the spring or summertime meal, but can also be prepared on any occasions, anytime of the year.
You can mix your pasta salad with vegetables, herbs, meat, nuts, cheeses, legumes, or seafood. Carrot, baby corn, broccoli, cucumber, onions, beans, olives, chickpeas, and feta cheeses are some of the known ingredients used in a North American version of pasta salad.
---
Grilled Chicken
Another mouthwatering dish you can serve with chicken salad is grilled chicken, or a barbecue chicken. This dish is made of chicken parts or whole chicken that is grilled. The preparation techniques may vary globally, depending on the preparer's taste. Most grilled chicken is seasoned or coated with a barbecue sauce or spice rub. To add flavor and make the meat tender, you can use marinades.
It is also best served with a dipping sauce. And is definitely perfect to serve with your chicken salad finger sandwiches. This food is usually served as a main dish or a side dish.
---
Whole Grain Bread
Whole grain bread is also one of the side dishes you can serve with chicken salad and chicken salad sandwiches. It is a type of bread prepared using flour milled from almost-whole grains. It is usually a brown bread, traditionally coated with cracked or whole wheat grains. Its taste is slightly bitter and has a bristly texture. But the level of bitterness of this bread varies depending on the varieties of wheat being used.
Though the taste isn't that pleasing to everyone, it is still the best bread that complements the flavor of your chicken salad. A slice or two slices of bread should be enough to feed your hungry stomach.
---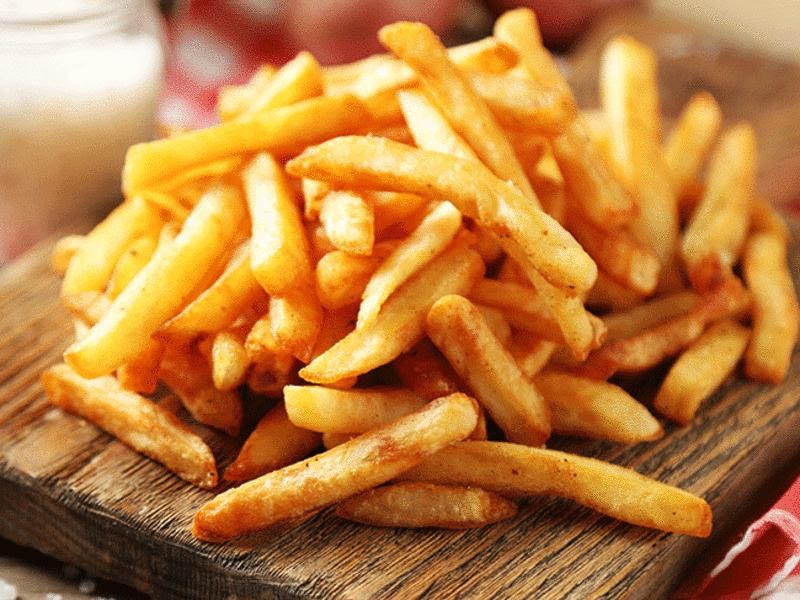 French Fries
French fries are stripped potatoes dried and fried in a deep fryer. This food is native to Belgium or France, and most fries are made from frozen Russet potatoes. They are mostly eaten during lunch, dinner, or even snacks, which are served hot, soft or crispy.
French fries are available almost everywhere. You can see these on the diners menu, child menu, fast food restaurants, bars, and pubs. Uncooked fries are also available in your nearest grocery store.
This food can be salted and served with mayonnaise, vinegar, tomato sauce, or ketchup.
To produce potato fries with lower oil content, but retaining the color and texture, you can use vacuum fryers.
Potato fries are rarely served as a main dish, but rather a side dish or snack. And it is definitely best serve with chicken salad or chicken salad sandwich.
---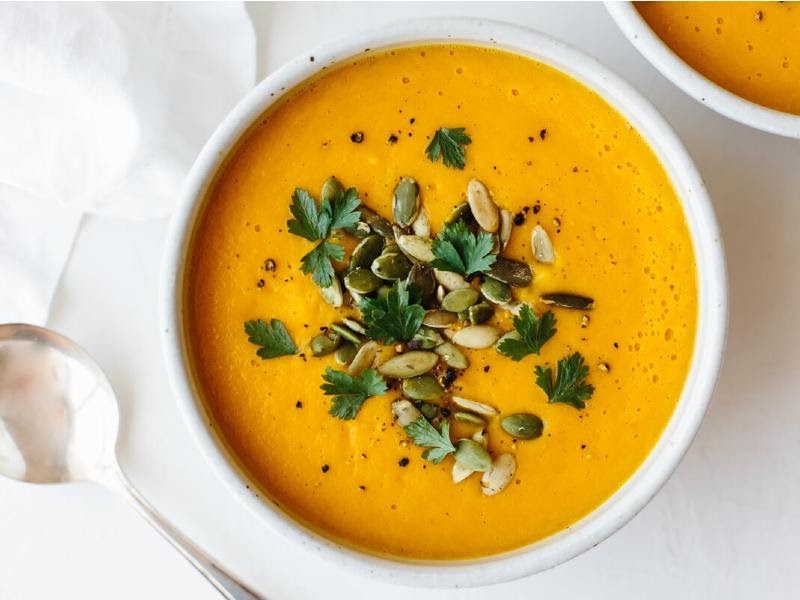 Butternut Squash Soup
Butternut Squash Soup is made from a butternut pumpkin or gramma, a type of winter squash usually grown on a vine. It has a nutty and sweet taste, and is a good source of magnesium, potassium, fiber, and vitamins C and A.
This soup is often thick and can be served hot or cold. It is often served during Thanksgiving in the US along with other cuisines, including chicken salad and chicken salad sandwiches.
During the Vietnam war, butternut squash soup was a staple for the prisoners of War in the prison camps of North Vietnam.
There are also various versions of squash soup known in different countries such as Europe, Asia, North America, and Australia.
---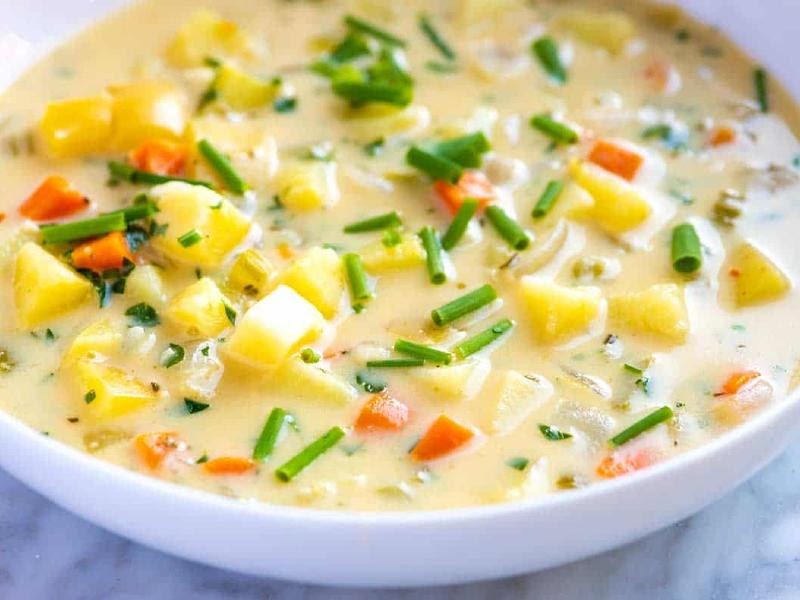 Potato Soup
Chicken salad sandwiches and potato soup combo will definitely make your meal memorable. A creamy potato soup can be made of russet potatoes, carrots, yellow onion, celery, salt and pepper, chicken broth, and flour. You can also add cornstarch to thicken the soup. Bring it to a low boil, and cook the mixture for a minute or two. Adding cheese can also add thickness and flavor to your potato soup. Best served when hot.
---
Pita Bread
Pita is a kind of flatbread, also known as pitta, pide, or pitka. It is a round brown, wheat flatbread prepared with yeast.
Pita bread is known in the Middle East, but can also be found in Levant and North Africa. It can be topped with lamb, tomato, hummus, or cucumber.
Aside from yeast, this bread also contains other ingredients such as sugar, olive oil, flour, and salt. You can eat pita bread while warm, and serve with chicken salad and other side dishes.
---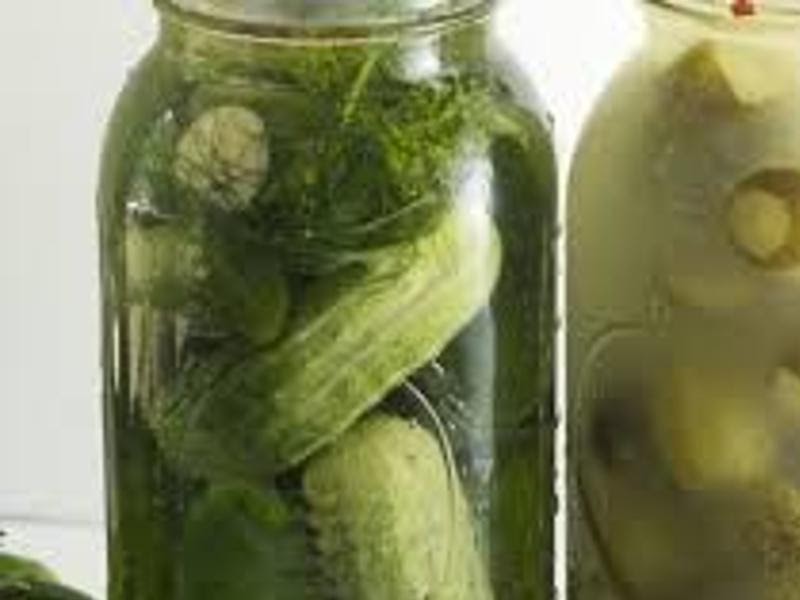 Dill Pickles
Dill pickle is actually a pickled cucumber that has been pickled in vinegar, brine, or other solution. It is left to ferment for a couple of days to produce a sour taste. Dill pickles are usually part of mixed pickles.
Dill pickles are commonly served as an appetizer and among the healthy cuisines to serve with chicken salad and chicken salad sandwiches.
---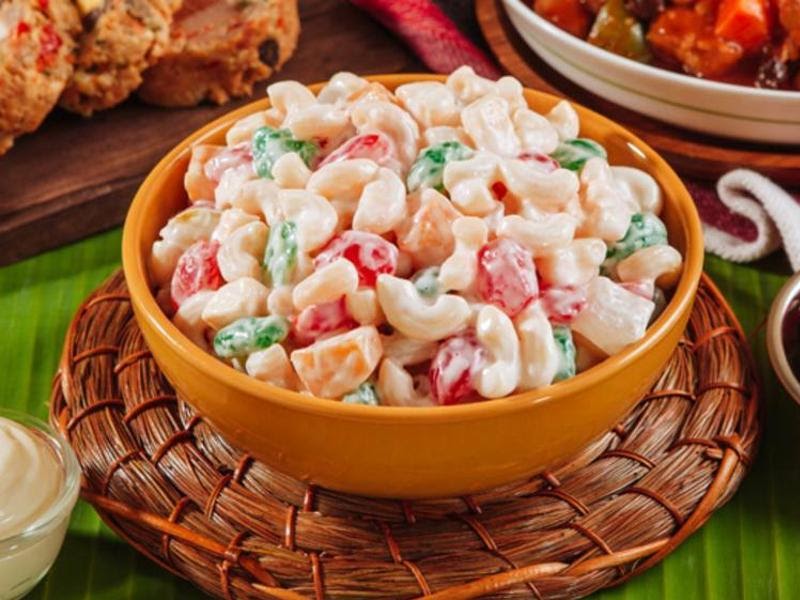 Macaroni Salad
Macaroni salad is actually a kind of pasta salad, made from elbow macaroni, prepared with mayonnaise, and usually served cold. Just like the pasta, macaronis also served as an appetizer to picnic style dishes such as barbecue, chicken salad, fried chicken, and chicken salad sandwiches.
Macaroni salad has a creamy texture because it is covered with mayonnaise. Other ingredients a macaroni salad has are carrots, bell peppers, celery, and more.
The commercial version of macaroni salad is readily available in grocery store and supermarkets.
---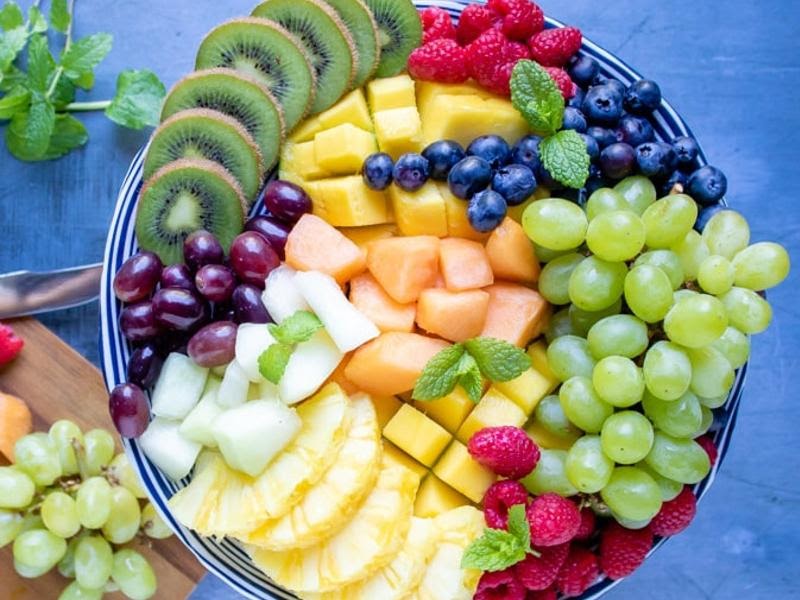 Fruit Platter
Last but not the least, is the fruit platter. A fruit platter is actually made from different fruits, sliced and served on a platter. It is great to serve with chicken salad and chicken salad sandwiches. The fruit's sweetness and tanginess balanced out the chicken salad's creaminess.
Definitely a very refreshing food that will also add a nice crunch to your meal.
Other salads that you can serve with chicken salad are vegetable platter with ranch dressing, caesar salad, and green salads.
Leftover chicken salad and chicken salad sandwiches can still be consumed the next day. You just need to put them in a refrigerator to avoid spoiling.
---
And that pretty much about the foods you can serve with your chicken salad and chicken salad sandwich. If you find this information relevant, feel free to share this post. Thank you for reading!