Shrimp Chips also known as Prawn Crackers are crispy fried chips with seafood sweetness, a favorite Asian snack cuisine of all ages. There are different varieties of Shrimp chips Asian snacks available in Asian markets, that is why in this post we have rounded up some of the best shrimp chips snacks you can buy online. Read on here for more details.
* If you buy through links on our site, we may earn an affiliate commission. For more details, please visit our Privacy policy page.
What is Shrimp Chips made of
Shrimp chips or Prawn crackers is basically a mixture of tapioca flour and dried shrimp. The process in making is pretty simple, the mixture of dried shrimp and tapioca flour are then mixed with water. Mixing it with water will produce a dough, after which the created dough will then be pressed and formed into thin sheets. The thin sheets are then cut into small pieces of crackers. The last process is drying the sheets. Once the thin sheets are dried, it will then be packed and sold in the market.
If you notice some of the shrimp chips have different colors , that is because the sheets are dyed for coloring to make it more attractive to the customers.
There are different companies selling different types of shrimp chips, most of the companies have added seasonings to their products. Seasonings such as MSG, black and white pepper. Since Shrimp chips are widely accessible and available, it can be a substitute for potato chips.
Best Shrimp Chips Snack You Can Buy Online
Listed below are some of the best shrimp chips or prawn crackers that you can buy online, links for each products are also included.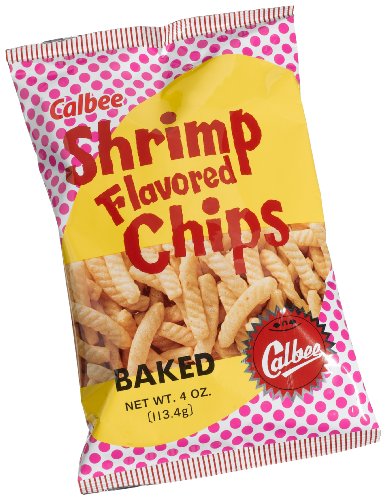 A widely known snack in Japan, Calbee Shrimp chips is a pack 12 4-ounce bags of shrimp chips. It is made with fresh whole shrimps. Considered to be a nutritious snack since this product contains calcium, to be exact 100g of Calbee Shrimp chips contains about 100mg of calcium. We all know that calcium helps strengthen our bones and teeth. Aside from calcium, this product also contains animal fiber.
Calbee Shrimp Chips also has lesser caloric value because the mixture are roasted instead of being fried as a result of its mild flavor and smooth texture.
The product weighs 3.45 pounds and with a size dimension of 15.8 x 10.3 x 9.4 inches. Total Package weight is approximately 1.75 kgs.
If you want to try this product, buy it now on Amazon
---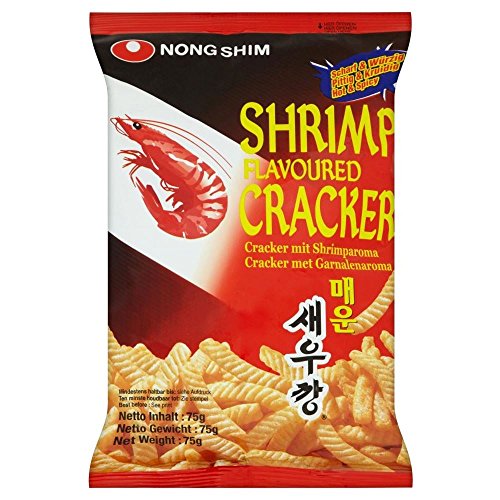 Shrimp Flavored Crackers from Nong Shim. This one is different because it is hot and spicy shrimp chips snack. These are non-fried shrimp crackers that is made using rice flour, baked with salt with a touch of red chili powder.
The package contains 2 packs of 75g hot and spicy shrimp crackers, and the package weighs approximately 0.37kgs.
If you want to try this product, buy it now on Amazon
---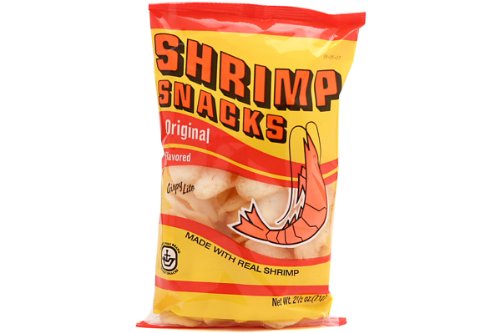 Marco Polo Shrimp Snacks is made using real shrimp therefore it is an original flavor shrimp chips. These are lite crispy chips are the perfect snack during picnics, parties or can be consumed anytime of the day.
The package weighs about 0.53 kgs and each package contains 6 packs of 2.5 ounces of Marco Polo Shrimp Snacks.
If you want to try this product, buy it now on Amazon
---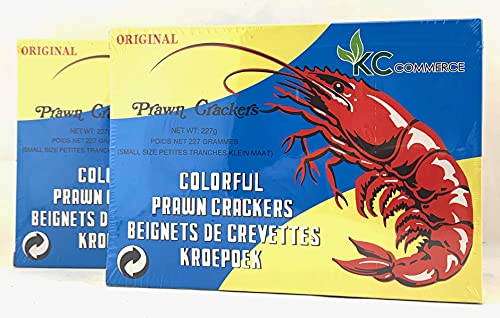 This product is different from the the shrimp chips mentioned above, different because it is uncooked. This means that you will need to cook the chips in hot oil.
Since you will be the one to fry the prawn chips, make sure not to fry too many crackers all at once. Simply fry just enough crackers on the frying pot, at least 5 to 7 crackers depending on the size of your frying pot. Make sure also to have a strainer ready, this is use to remove the fried prawn crackers from the hot oil preventing it from burning.
The product package includes pack 2 (8-ounce) uncooked prawn flavor chip, and the package weighs about 0.5kgs.
If you want to try this product, buy it now on Amazon
---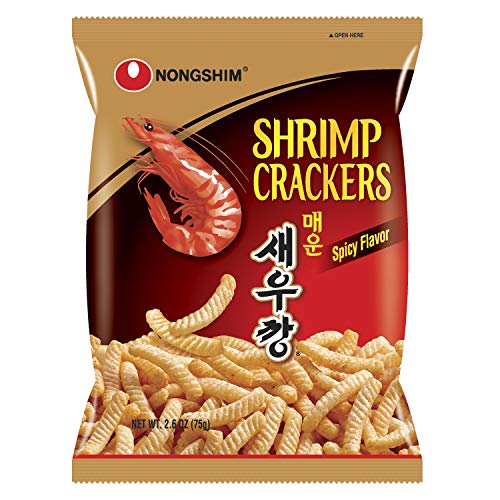 Another shrimp crackers from Nongshim, a Korean food company known for other products such as noodles. This salted hot and spicy flavor of shrimp crackers is made from fresh flour and ground shrimp.
Nongshim spicy shrimp chips is a perfect Asian snacks especially for kids since it is shaped like French fries. Nutritional value includes zero (0) trans fat and total calorie value of 140.
The package includes 12 packs of 2.64 ounces of shrimp crackers with a package dimensions of 16.15 x 11.26 x 7.48 inches.
If you want to try this product, buy it now on Amazon
---
Shrimp Chips Recipe
Although Shrimp chips and prawn crackers are readily available and easily accessible in the market nowadays, it can also be made at the comfort of your home. Shrimp chips can be readily served as a snack, an appetizer or a side dish.
Below is a simple and easy to follow Shrimp Chips Recipe.
Prep Time: 5 minutes
Cooking time: 10 minutes
Total Time: 15 minutes
Serving size: 6 pax
Ingredients:
Shrimp Chips (1 pack)
Cooking oil ( 2 cups); (suggestion: grapeseed, vegetable or canola oil)
Cooking Instructions
In a medium size frying pot or wok, heat cooking oil probably about 5 to 6 minutes.
Depending on the size of the pot, gently add about 7 to 10 pieces of crackers at a time. Again, the number of crackers to add to the hot oil depends on the size of the pot. Making sure each piece crackers fits into the pot and not overlapping each other. This is to ensure that each piece is thoroughly and evenly cooked and not burn.
You will notice that the cracker will expand and eventually float on the pot, you can use a metal strainer to strain the cooked crackers.
Drain excess oil and place on a lined paper towel to drain some more. Repeat the step 2 if you want to add and fry more crackers.
Once excess oil has been drained, serve while still hot and crispy. Bon Appetit. You can also add dipping sauce, a suggestion would be to use a vinegar and hot garlic. Soy sauce can also be used as well.
Cooking tips:
It is recommended to use neutral flavored oil such as vegetable oil, grapeseed oil or canola oil.
Oil added to the cooking pot should be at least 1 inch deep. This is to allow the crackers to be evenly submerged to the cooking oil for an even cooking of the crackers. To ensure each piece of cracker is deep fried and not burnt.
Ideally, the oil temperature should be at least 165 degrees Celsius however if it is not possible to exactly know the hotness of the oil if you do not have a thermometer you can an use old and proven trick. To know if the hot is hot enough for cooking, you can sprinkle a little amount of water to the oil. It will start to bubble and when the bubbling stops, that's when the oil is already hot enough and is now ready for cooking.
If you want a fat free shrimp chips, you can use microwave, air fryer or an oven to cook the prawn crackers. Although the deep fry process can produce a sweet and spicy shrimp chips as compared to other methods of cooking.
The cooking oil used in frying the shrimp chips can still be reused for frying other dishes as well.
Once the crackers expand, immediately strain and remove it from the oil so as not to overcooked and burn the crackers.
Conclusion
In this article, we have gathered some of the best shrimp chips that you can find and buy online. We hope that this guide has helped you decide and choose which shrimp chips to purchase for your next picnic gathering. We also hoped that this guide has helped you how to make and cook shrimp chips at your home. Let us know what you think.
* If you buy through links on our site, we may earn an affiliate commission. For more details, please visit our Privacy policy page.