Are you looking for the best Korean snacks to feast on this 2021? Whether you are enjoying some Korean dramas, resting during your break, or chatting with your friends, every moment can easily become enjoyable and memorable with the right snacks from South Korea.
* If you buy through links on our site, we may earn an affiliate commission. For more details, please visit our Privacy policy page.
But you're not in Korea, you might say. Thankfully, the world has become smaller with the Internet. So, today, let's go through our updated list of the most exciting and delicious Korean snacks you can buy online in 2023.
Best Korean Snacks You Can Buy Online
Orion Choco Pie is one of the best Korean snacks you'll ever taste. It is a perfect addition to your lunch box, the right snacks after playing your favorite sports, and even a great snack partnered with your morning coffee.
One package of this item comes with 24 individually packed pies for easier distribution and storage. Each snack comes with a rich marshmallow cream filling. What's great about this snack is it comes with no trans fat, artificial color, and preservatives.
---
With a nutty and sweet flavor, the Orion Gosomi crackers are a favorite of many Koreans making them one of the best Korean snacks. Each biscuit is generously sprinkled with sesame seeds. Though they are thin, they are crispy and crunchy.
A little sugar and salt are added to the cracker to make it more flavorful. The snack is perfect to stave off hunger and stay energized throughout the day.
---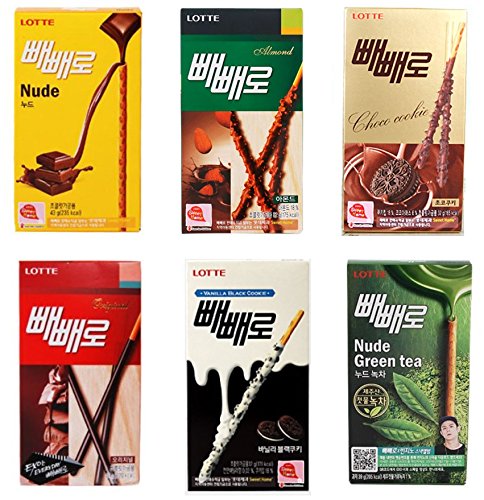 Enjoy your break time with the sweet and relaxing taste of Peperos chocolate sticks! This item comes in six packs with each pack coming with unique flavors. Flavors include Pepero Nude, choco cookie, almond, vanilla black cookie, original, and nude green tea.
---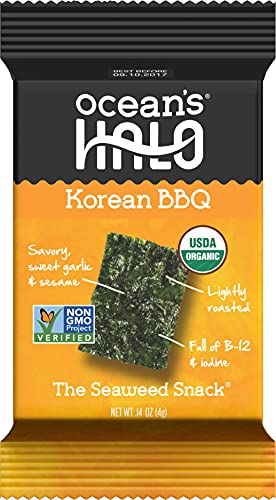 If you love seaweeds, then this snack is the right one for you. With the natural sea salt flavor, it will remind you of the blissful moments when you relax by the sea. It's worth noting that this snack is a non-GMO and USDA- and vegan-certified organic seaweed. Not only that but these best Korean snacks come with a high level of vitamin B-12 plus iodine.
---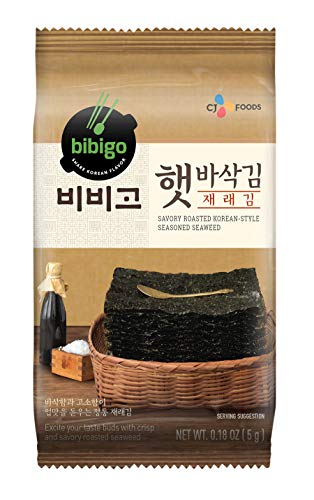 Seaweeds are popular snacks in Asia and South Korea is not an exemption. That's why you will see several seaweed snacks on our list.
Bibigo's seaweed snacks are great for vegetarians and those who are on a diet. It only comes with 30 calories per serving. As this might be the case, it is still as delicious as those calorie-rich snacks you commonly find in the market.
---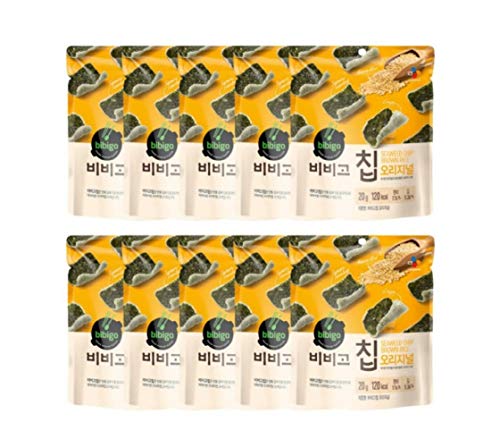 If Bibigo has roasted seaweed snacks, they also have the baked version. You can choose between three flavors: sweet corn, brown rice, and potato. The gluten-free and vegan snack is a perfect replacement for tortilla and potato chips. Since this is made of seaweed, it's a healthy snack for your kids, too.
---
This 100% real sweet potato is a healthy, vegan, non-GMO, and gluten-free snack. There's no added sugar, artificial additives, or flavors.
While you can definitely enjoy this snack as it comes in the package, you can also toast it in the oven for a crispier, sweeter, and delicious taste. You can even chop the sweet potato and add it to your ice cream, cake, bread, and salad.
---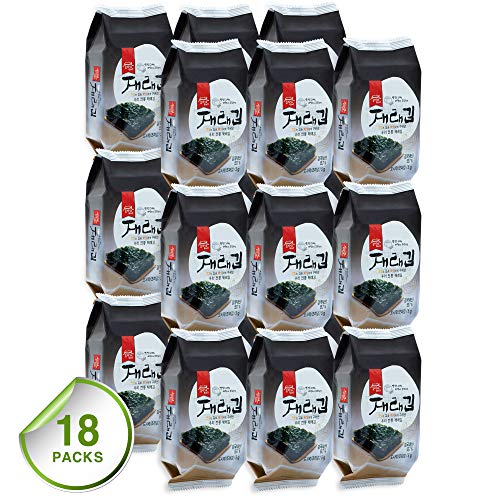 If you're looking for another roasted seaweed snack, then you can also try this snack from Jeollanamdo. What's great about this snack is it comes in 18 packs. So, there's a lot of more premium, tastier, and crispier snacks to share around.
---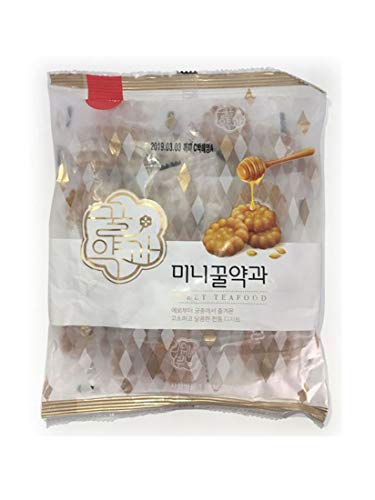 If you're looking for authentic Korean cookies, then you can go for this one. Samlips Yak Gwa cookies are drench in sweet, delicious honey that will give you that rich and delightful taste.
In the package, the cookies are individually packed. This means that you can simply get a few of these cookies and bring them on the go for a quick snack.
---
This is an almost similar product to Samlip's Yakgwa cookies. However, at this time, it is made by Bagis.
Yakgwa cookies are waffles turned into cookies. Bagis makes sure that their best Korean snacks are made in sanitary facilities.
The cookies are packed individually. Plus, they are put inside a sturdy container to ensure it doesn't get crushed during shipping or travel.
---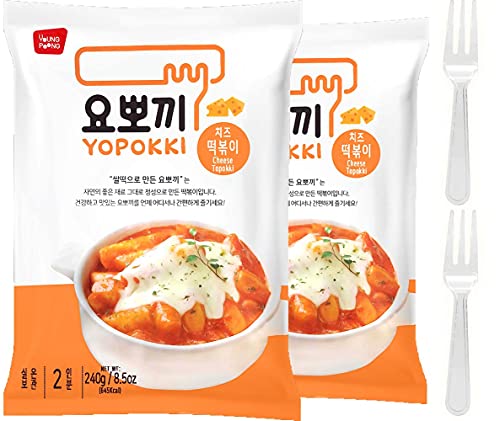 Tteokbokki is among the most popular street foods in South Korea. So, it is definitely a must-have snack if you want to experience Korea wherever you are on earth.
Yopokki's tteokbokki rice cake can instantly be prepared. All you need to do is boil water, add the tteokbokki and veggies, pour sauce, stir, and you're ready to enjoy your Korean snacks.
If you're in a hurry, try Yopokki Instant Cup Tteokbokki. It's already prepared in a cup. You simply add hot water.
If that's not enough, you can also try the best-selling and top-rated cheese tteokbokki of Yopokki.
---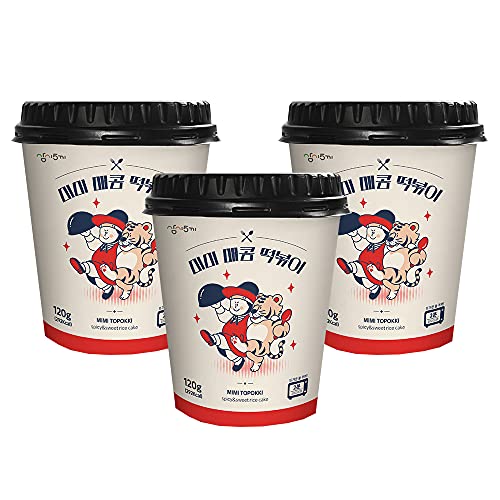 Looking for a quicker way to enjoy tteokbokki? If yes, then you should try Eutuxias tteokbokki. In just 2 minutes, your snack is ready. Simply add water to the rice cake. Mix the Aram chili sauce, and you're just a few seconds from tasting Korea's most popular snack.
---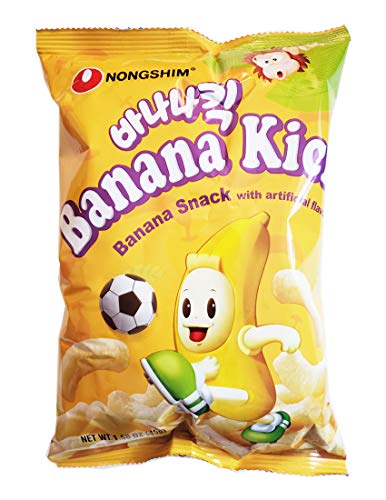 Nongshim Banana Kick is a bag of delicious and wonderful banana-flavored snacks. They are sweet, but not too sweet that your tooth hurts. The texture of the chips is less crunchy compared to Cheetos, but they easily melt in your mouth, leaving a sublime banana taste.
---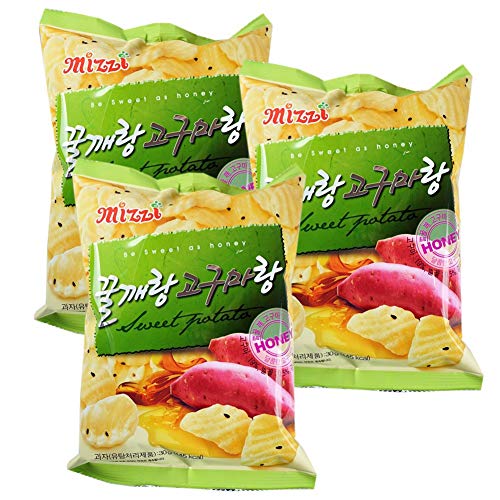 Imagine the best Korean snacks with a kick of sweet honey and the salty taste of potato snacks. The result is just overwhelmingly delightful. That's what you get with Rom America sweet potato chips. Once you open the bag, you can't put it down anymore. Before you know it, you have already consumed even the remaining tasty bits of these potato chips.
---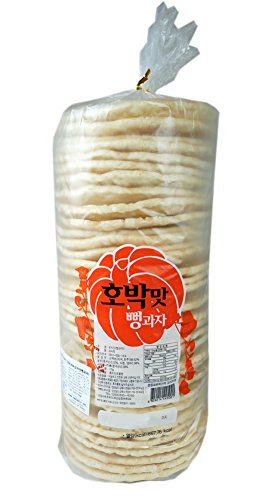 This crispy puff rice biscuit cracker comes with a mild pumpkin flavor. It is big enough to share with your friends. The calories are also low in this snack, which makes it a great healthier option for many.
---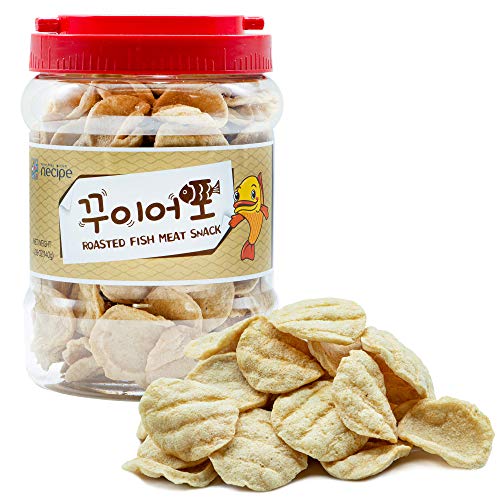 Packed with rich and savory flavor, the roasted fish jerky of Jeollanamdo comes in a transparent plastic jar. You will love its fishy taste which is strong enough to give you the unique taste of the sea, but weak enough to ensure you still enjoy the snack.
The best thing about this roasted fish jerky is it can easily blend with various drinks such as cold sodas and hot teas. Because the tub or jar is big, you can easily share it with friends and family.
---
These Korean potato chips are among the most popular on-the-go snacks in Korea. It doesn't come with that greasy feel because it is baked and not fried. Not only that but the snack comes with fewer calories compared to other potato chips.
A lot of customers testify that the potato chips from K-Munchies are highly addictive and should be considered the best Korean snacks. It's crispy, thick, lightly salted, and authentically Korean.
---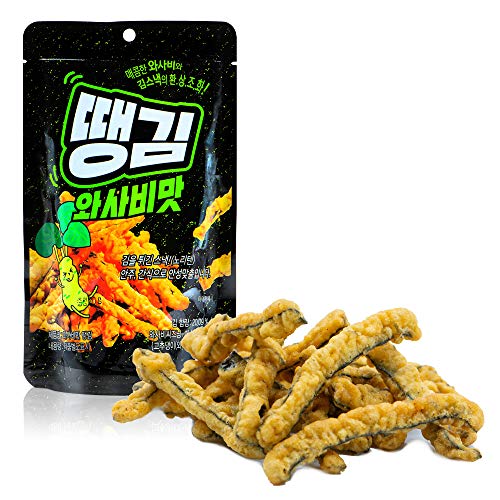 Who said that seaweeds can only be roasted? Well, Jeollanamdo proves that it can also be fried. In this snack, you get nothing but crispy, salty, and addictive fried seaweed chips. The flavor is further enhanced with mild wasabi addition.
You'll love the fact that this fried chip snack is made with high-quality and premium seaweeds. They are only harvested and prepared by fully certified companies that follow strict and meticulous harvesting methods to create the best Korean snacks.
---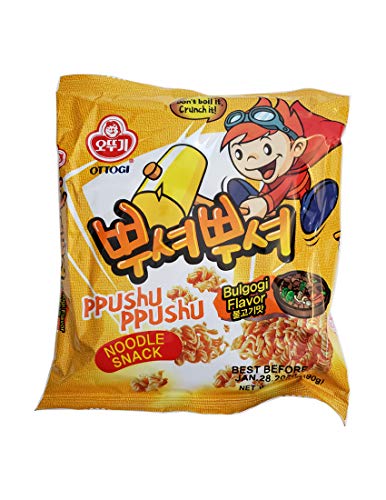 Do you love bulgogi? Or perhaps, you want to taste it? If yes, then take a bite at this delicious bulgogi-flavored noodle snack by Ottogi.
Eating this snack is quite unique. The first thing you need to do is crush or smash noodles before opening the pack. Then, you can open the pack and get the spice packet and sprinkle it in the noodles. Shake well and your snack is ready to please your palate.
---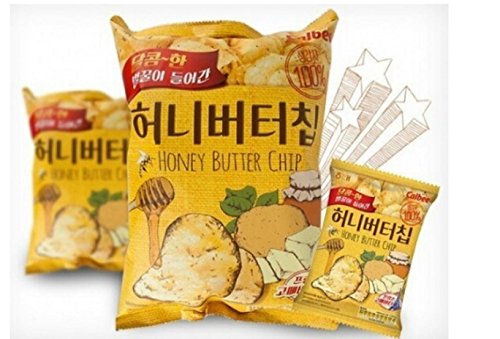 Haitai's potato snack comes with real honey and butter flavor. Each order of this item gives you 3 packs of potato Korean snacks, having 60g each.
If you look into the customer reviews of this snack, you will be amazed at how top-rated it is. In fact, honey butter chips have become a sensation in Korea. It has become so famous that the supply dwindled to the point that it is too difficult to find it in the market anymore.
So, if you want to know why these potato snacks have been so high in demand and considered to be the best Korean snacks, then give it a try and see for yourself.
---
If you love tteokbokki, you'll also love these crunchy snacks. It has turned the all-time favorite snack of Koreans into a convenient pouch of tteokbokki — no need for hot water or a complicated preparation process. Just open the pouch and eat the chips straight away.
---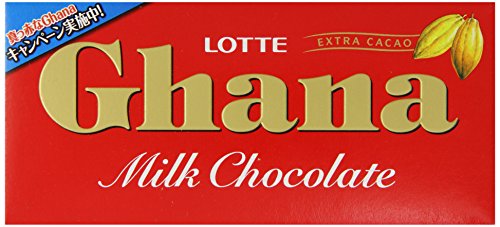 You might know the Lotte brand as a Japanese snack. However, Lotte is a Korean company with the majority of its market is based in Japan. So, technically, they are still considered Korean snacks.
In this case, the Ghana milk chocolate is a popular line of chocolates from Lotte. There are various flavors as well. Each bar comes with a rich, chocolatey, sweet, and refreshing taste.
Since you're already here, you may also give Lotte Crunky a try, which comes with smooth and crispy chocolate, and Lotte Waffle Mate, which can give you instant hunger relief. Lotte has some of the best Korean snacks there are.
---
This one's a best-seller of Lotte. Depending on what you like, you can choose from different flavors. Flavors include almond, chocolate, choco cookie, nude, and white cookie. You can also choose the variety pack if you wish to taste each of them.
---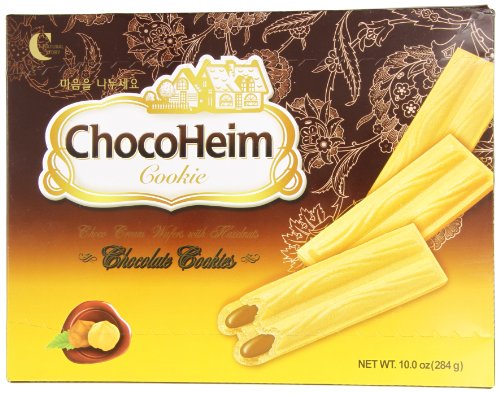 Wafer lovers would surely be delighted to have this in their bag of Korean snacks. The wafer tubes are filled with great-tasting chocolates. It is not just an on-the-go snack, but also a better option to serve as a dessert. With a taste this good, you can enjoy your best Korean snacks any time of the day.
---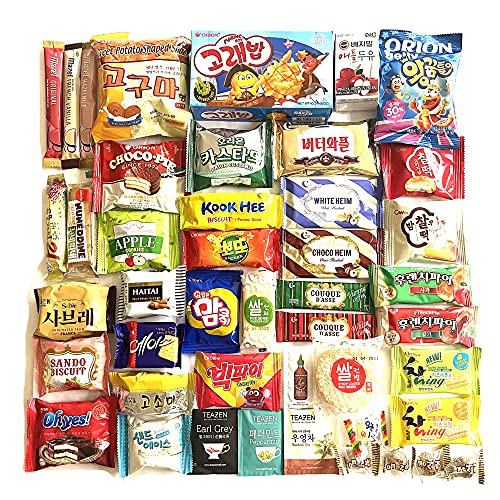 Let's now go to some of the best snack boxes from Korea.
For our first snack box, we have Unha's Asian products. In this snack box, you will get the 40 best Korean snacks! That's 40 times the fun and chance to taste different types of Korean snacks.
The Korean snack box includes packs of candies, chips, cookies, biscuits, and cookies.
---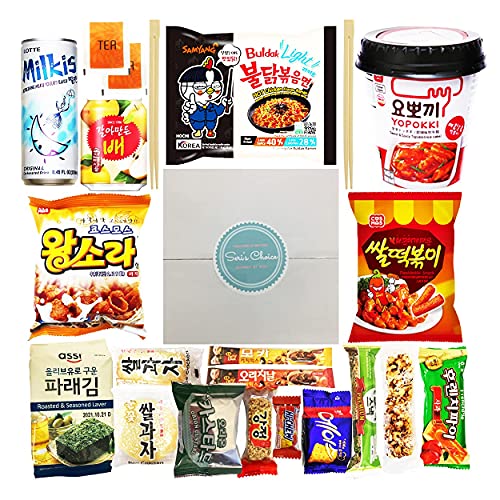 If 40 counts of Korean snacks are too much, you can start with Seri's Choice Korean Snack box with 20 counts of individually packed items. The snacks include cookies, chips, noodles, and drinks. This should be a perfect gift to your friends and family members who want to try something new such as Korean snacks.
---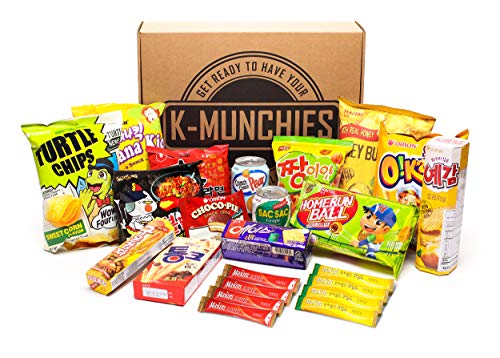 You will not regret choosing this Korean snack box because of the different quality and existing snacks included in the package. There are 17 different items to choose from, which are ideal for birthday parties, holiday getaways, and breaks.
---
How to choose the best Korean snacks for you
As you can see, there are a lot of the best Korean snacks out there. In fact, we have only listed a few but the best of them. That's why you must know how to choose the right snacks for you.
So, how are you going to do that? Here are some factors to consider:
Description – since you'll be buying online, be sure to read the reviews carefully. Don't skip the FAQ section as well, if there's any.
Size and amount – be sure to check if you are ordering enough snacks for yourself. If you're going to serve the Korean snacks during small or big gatherings, then you consider ordering more.
Price – if possible, check various sellers of the same snacks. This should help you find the seller with the best deal.
Shipping – shipping from overseas could take several weeks. So take note of the shipping time because you need the snack immediately, you might need to consider other options.
Reviews – read what other people think about the Korean snacks. They can give you a huge amount of information about whether the snack is a good deal or not.
Choose your favorite best Korean snacks
Undoubtedly, there are so many Korean snacks to choose from in the past and the present, especially this year 2021. You can always taste every snack we have featured on this page, buy them online, and eventually find the right one for you.
Don't forget to share the best Korean snacks with your friends, classmates, and family. They would surely enjoy the taste of Korean snacks this 2021 and beyond!
* If you buy through links on our site, we may earn an affiliate commission. For more details, please visit our Privacy policy page.