The best Filipino snacks are the ones that not only satisfy your palate but also your heart. There are just a lot of things you'll love about the snacks from this Southeast country. However, perhaps, the most important thing is the sentimental value of each snack.
* If you buy through links on our site, we may earn an affiliate commission. For more details, please visit our Privacy policy page.
For most Pinoys (informal demonym for Filipinos), seeing and eating their childhood snacks brings back memories of the good old days. Of course, even if you're not a Filipino, you'll still appreciate these snacks. It gives you the unique opportunity to learn more about the Filipino culture.
So, for this reason, let us share with you the 15 best Filipino snacks you can buy online in 2023. In just a few clicks, your Filipino snack is already on its way!
Aah, Choc Nut — just hearing this name brings back a lot of childhood memories for many Filipinos. It is actually very affordable. That's why most kids can easily buy them. It is made of peanut, milk, and chocolate. So, you can just imagine how rich the flavor is.
Pro
Con
Need to order a few boxes because the snack itself is small
There's also a similar product called Hany. The taste is almost similar. We just mention it if you want to check other milk chocolate snacks from the Philippines.
---
Nagaraya sounds more like a Japanese snack. However, this snack is actually from the Philippines and it's one of the most successful and popular Filipino snacks in the country. Filipinos just love its unique taste and look. As coated cracker nuts, it comes in various flavors such as garlic, butter, and hot & spicy.
Pro
Con
Might be too hard to bite
---
With the right level of saltiness, umami taste, and shrimp flavor, the prawn crackers from Oishi are among the most popular Filipino snacks in the Philippines. It is commonly eaten in front of "sari-sari" stores (neighborhood sundry stores), in malls, homes, and even on the basketball court!
Pros
Get 10 packs of 60-gram pouches
Tastes good until the last piece
Con
Shipping may take a while
---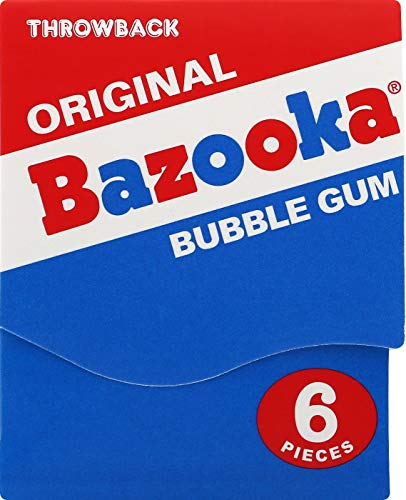 You can ask any 90s Pinoy kids about Bazooka bubble gum and they will surely share their personal stories and reminisce about the past glory of this gum. Bazooka bubble gum isn't just known for its sweet and long-lasting taste but also because of the mini-comic strip that comes with it. In fact, the Bazooka Joe and His Gang comics are what most people look forward to every time they buy this gum from their local "sari-sari" store.
Pro
Fun to buy because of the comic that comes with it
Con
The taste of Bazooka gums today may not be the same as it was in the 90s.
Just want to mention, aside from Bazooka bubble gum, one of the most loved gums in the Philippines is the Juicy Fruit gum. It even has its own commercials back in the 90s. That's how popular it was. You may also want to check it out along with Bazooka bubble gum.
---
Ask any Pinoy who was born in the Philippines about Marie and chances are, they have eaten this as early as when they are still six months old. Marie biscuits are among the earliest biscuits mommies have introduced to their toddlers. Because it is not too sweet, but soft and easy to chew, it's a great snack for babies and all ages.
Pro
Con
Might be too bland for some people
---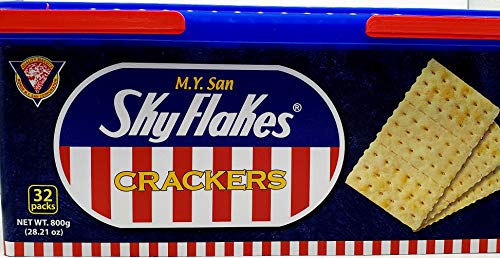 If you talk about cracker biscuits in the Philippines, then you would never miss SkyFlakes. It is a popular snack that you can easily eat whenever you're hungry while waiting for the next meal. Not only that but SkyFlakes is among the most common biscuits included in relief goods and packages. Eventually, SkyFlakes has become the number 1 Philippine cracker brand since the 1960s.
The original SkyFlakes biscuits are known for their simplicity in flavor and taste. It is made of wheat and contains no cholesterol, sugar, and trans fat. It is only flavored with salt. Of course, M.Y. San has also infused other flavors such as the sweet mantikilya, condensada, tsokolate, and onion, to name a few.
For most Filipinos, the SkyFlakes biscuit is not the only thing they look forward to. When they buy this in bulk, they get the durable plastic tub, which becomes a container for almost anything in the house.
Pros
Perfect hunger quencher
Can be paired with other snacks, spreads, dips, and toppings
Con
The taste might be too bland for some people
---
Snacku comes with delightful rice crackers shaped like french fries. Its green color makes the snack look like grass, making it more intriguing to eat.
Ingredients include rice, vegetable oil, iodized salt, MSG, and other flavorings to give you a delightful gastronomic experience.
Pro
Con
The package can be too small
---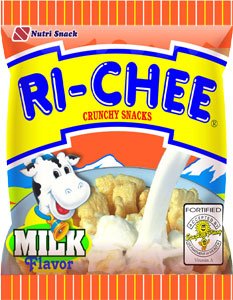 Having a Sangkap Pinoy Seal, RI-CHEE crackers are among those healthy snacks among elementary school kids. It is actually fortified with calcium. RI-CHEE is crunchy and its rich milky flavor adds an extra punch of sweetness.
Pro
Helps in strengthening bones and teeth
Con
If you like salty snacks, this might not be a good choice.
---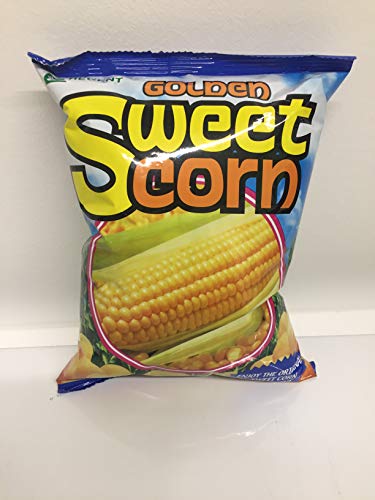 As a tropical country, the Philippines has a lot of corn plantations. So, it is not a surprise that even in snacks, Filipinos always find a way to turn their favorite corn into a bag of crackers. As a result, we now have the Regent Golden Sweet Corn. It is made of small crunchy, tasty, and corn-flavored yellow balls.
Pro
Con
Sweet corn package is small
---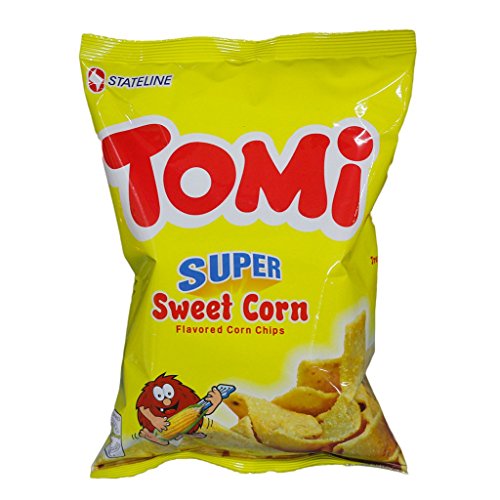 This is another childhood snack most Filipinos who live through the 90s would recognize. It is a crunchy, salty, and delightful treat for many.
Pro
Con
Some who are not used to the taste might find the corn flavor lacking
---
You mention "Chippy" to Filipinos and they will instantly recognize the crunchy, salty, and smoky snacks made by Jack n' Jill. It first rolled out in the market in the 1960s. Since then, it has become a favorite of most Filipinos.
The most popular flavor of Chippy is barbecue. However, it also comes in chili cheese and garlic vinegar.
Pro
The saltiness makes you crave for more
Con
Some folks may find the flavor lacking
---
If you love cheese, then you will love Chiz Curls. It is just a delightful snack that comes with corn curls drenched in rich cheddar cheese. You can bite into each corn curl or let it melt in your mouth.
What's more, it comes with the "Sangkap Pinoy Seal." It's a seal that certifies the snack is fortified with essential micronutrients.
Pro
Con
It may not be a good snack for people who don't like cheese
---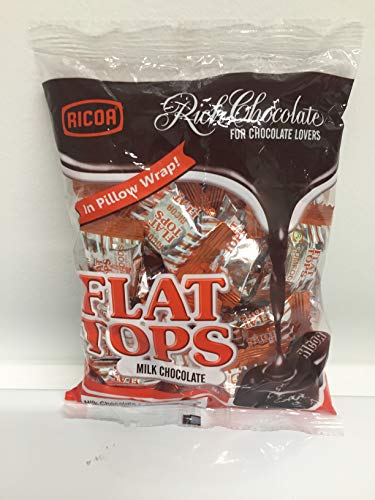 If Switzerland, the US, and other countries have their famous chocolates, the Philippines also has its own home-grown chocolate brands. One of these is the Ricoa Flat Tops. It's made of milk chocolate and because of its affordable price, it is within reach by most Filipino masses. So, it inevitably grew in popularity.
Pro
Isn't too sweet and the taste gets better as it melts in your mouth
Con
Might not be at par with some of the more expensive international chocolate brands
Of course, we can't tell you about Flat Tops without mentioning its sister, Curly Tops. It is manufactured by the same company, Ricoa. Perhaps the most notable difference is their shape, but the taste is almost the same.
---
Who would forget about Cloud 9's great, sweet, and filling chocolate taste? It is just one of those snacks that most Filipinos could easily recognize. Think of Snickers. Cloud 9 is like that. It comes with a rich coating of chocolate milk. Inside, you'll find a combination of creamy caramel, crunchy peanuts, and soft nougat.
Pro
Con
Avid chocolate lovers may find the snack lacking
---
A lot of Filipino grandmas love to prepare polvoron for their grandchildren. However, polvoron might be a snack that's difficult to find right now in most convenience stores or sari-sari stores. Thankfully, one of the most popular bakery chains in the Philippines sells them. That's how we got the Goldilocks Classic Polvoron. It's among the best-selling products of Goldilocks.
The classic polvoron is a common "pasalubong" or souvenirs of most Pinoys. They love to share it with families, friends, and even people whom they just met.
By the way, you may ask, what is polvoron. Polvoron is a popular Filipino snack made of toasted flour, sugar, powdered milk, and butter. It commonly comes in a flat oval or circular shape.
Pro
Con
Might be a little messy to eat. You need to eat it in one bite.
Before we close our list, we just want to mention as well other familiar Filipino snacks worth trying:
How to choose the best Filipino snacks online in 2023
It's not always easy to choose the right snacks for you, especially if you're not yet familiar with them. So, here are a few pointers to bear in mind:
Read the product description and label
Thankfully, you can easily read and understand product labels in Filipino snacks as they are written usually in English. So, be sure to read through what the snack is, its ingredients, nutritional value, flavor, and other helpful details.
Check what other people say
Since you're ordering online, it is most likely you'll find customer reviews. These are valuable pieces of information because it gives you more details about the snacks from the perspective of customers.
Talk to a Filipino friend
If you know someone who is Filipino, don't hesitate to ask them for any suggestions. They'll be happy to tell you which snacks they love. What your Filipino friend recommends gives you valuable hints as to which snacks to buy and eat.
Choosing the best Filipino snacks
You just read our list of the best Filipino snacks you can buy online. in 2023, times might have changed, but not the Filipino snacks we always love. So, go ahead, don't be afraid to try something new. Any of the snacks we featured on this post are worth your attention.
Of course, just in case, if you are wondering which Filipino snack we love the most, we also want to give you our recommendations. It's not easy to pick one specific snack from our list because we love all of them. However, if you insist, perhaps, we would tell you to try Goldilocks Classic Polvoron. This snack gives you a solid taste of the Filipino culture. It's delicious, sweet, and enjoyable to eat.
That's it for us. Perhaps, you also have a Filipino snack in mind that you want to add to our list. If yes, don't hesitate and share your thoughts in the comment section below.
* If you buy through links on our site, we may earn an affiliate commission. For more details, please visit our Privacy policy page.