Eating healthy involves following a balanced diet that includes a variety of nutritious foods and beverages. Fruits are delicious and nutritious snacks, but did you know that the peels or skins of fruits are also high in fiber, antioxidants, vitamins, and minerals? Usually we peel fruits and vegetables, and the only skins are discarded. However, unpeeled fruits and vegetables can contain up to a third of the fiber and minerals. Antioxidant levels in the skins of fruits and vegetables are often higher than in the actual fruits and vegetables. There are actually fruits and vegetables that have no outer covering. It means you don't need to peel these fruits and vegetables to eat them. Depending on the fruit or vegetable, the quantity of nutrients in each peel differs. Take a look at some of the fruits that you don't need to peel.
Fruits Without Skin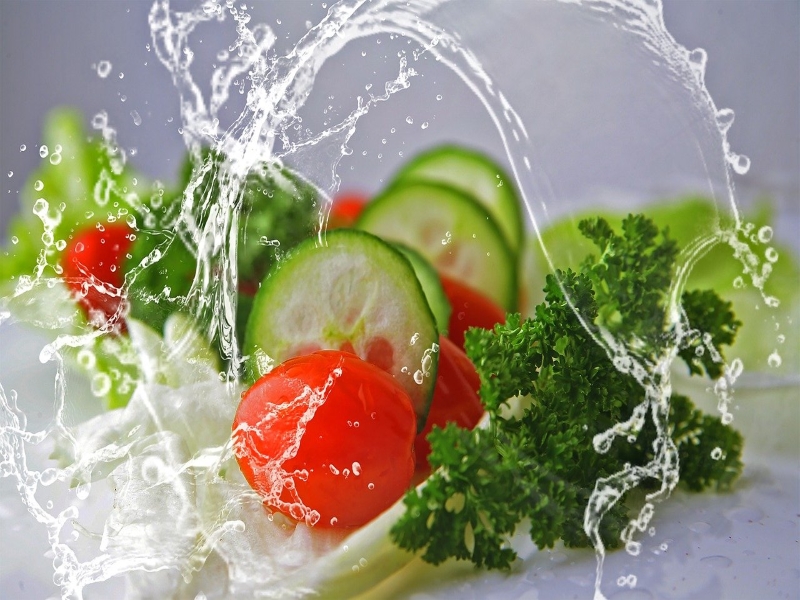 Cucumber
Cucumber is a is a type of creeping vine plant in the gourd family that produces cylindrical fruits, and are eaten as vegetables.
Cucumber skins can actually be eaten and they are the most nutritious part of the fruit. So, without peeling them beforehand, consider including them into your diet. You'll get more fiber and vitamins this way.
Raw cucumbers are 95 percent water, 4% carbs, 1% protein, and have very little fat. A 100-gram reference serving contains 16 kilocalories of food energy. It contains few micronutrients, with vitamin K accounting for 16 percent of the Daily Value.
---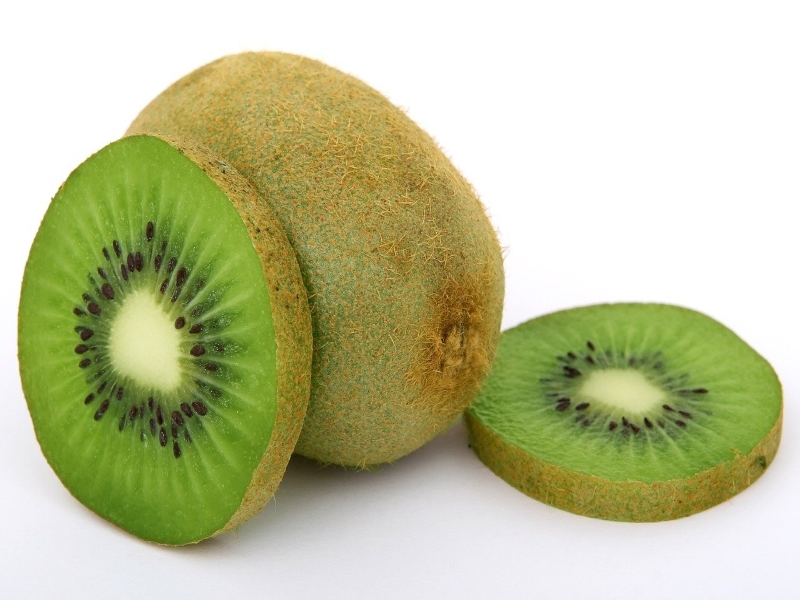 Kiwi
Also known as Chinese gooseberries. Kiwis have a fuzzy, dull brown skin and bright green flesh and are very delicious. It is a huge, sweet-tasting egg-shaped fruit.
Kiwi can be eaten fresh, cooked with meat, processed into juices, baked into products, or garnished. The entire fruit, including the skin, can be consumed by humans. Just like the skin of cucumbers, kiwi skins are edible. You heard it right, kiwi skins are surprisingly edible and they are packed with vitamin C, and fiber. The amount of fiber is three times higher when you consume the kiwi skin. Next time you buy this fruit, you may want to avoid peeling kiwis, and start eating the skin. The skin of the fuzzy kinds, on the other hand, is frequently rejected due to its texture.
---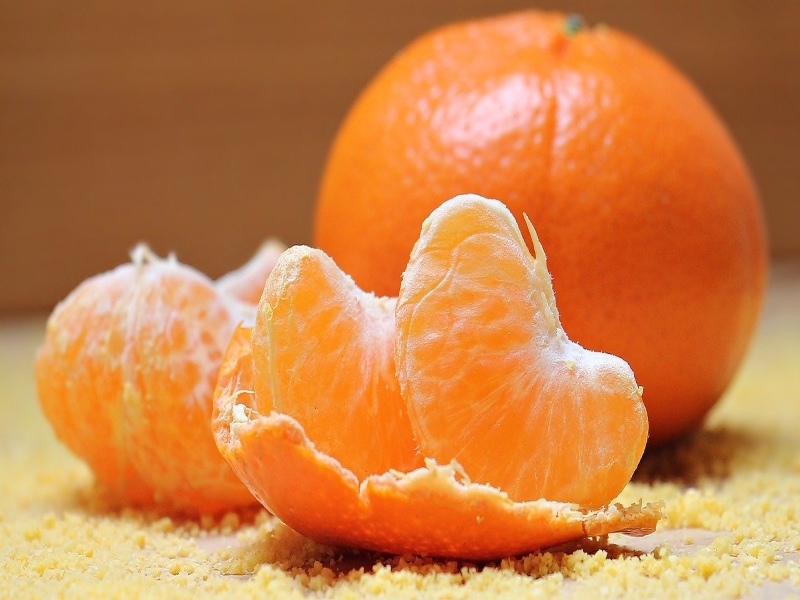 Citrus Fruits
Oranges, tangerines, grapefruits, lemons, limes, and pomelos are among the citrus fruits that are commonly consumed fresh. South Asia, East Asia, Southeast Asia, Melanesia, and Australia are all home to the Citrus genus. You can actually eat citrus fruit peels if you boil them or shred them into zest. Oranges and other citrus fruits are not high in antioxidants, and vitamin C.
---
Apples And Apricots
Avoid peeling apples and apricots. Apples are edible fruits produced by an apple tree, called Malus domestica. The apple tree grows to a height of 2 to 4.5 meters (6 to 15 feet) in cultivation and up to 9 meters (30 feet) in the wild.
Except for the seeds, all components of the fruit, including the apple skin, are safe for human eating. Apple skins are high in nutrients and have a pleasant taste.
An apple is the one fruit that you should eat with the skin on. Apple peels comprise nearly half of the fiber content of the fruit. You waste around a third of the apple's vitamin C, vitamin A, and potassium content when you peel it. Generally speaking, the apple skin has four times the amount of vitamin K as the peeled apple. It also contains insoluble fiber.
Despite the fact that apple skins are high in nutrients and fiber, they are considered a higher pesticide fruit. Be sure to wash them thoroughly before eating them. Buying organic apples is a great choice as well.
A raw apple provides 86 percent water and 14 percent carbohydrates, with no fat or protein. A reference serving of a raw apple with skin weighing 100 grams has 52 calories and a moderate dietary fiber content.
Apricot belongs to a drupe fruit, which similar to a small peach. It is 1.5–2.5 cm in diameter, some are larger depending on the cultivars. It is yellow to orange in color. Mostly tinged red on the side, which is usually exposed to the sun.
---
Plum
A plum is the fruit of Prunus species. The fruit is delicious, juicy and firm. The plum skin is smooth, with a natural waxy surface that sticks to the flesh. Plum is a drupe, which means that its soft fruit is surrounded by a single hard fruitstone that contains the seed. The epicuticular wax coating is known as "wax bloom".
Plums have 87 percent water, 11 percent carbs, 1% protein, and less than 1% fat in their natural state. Raw plums provide 46 kilocalories of food energy in a 100-gram reference serving, and are a moderate source of vitamin C (12 percent Daily Value).
---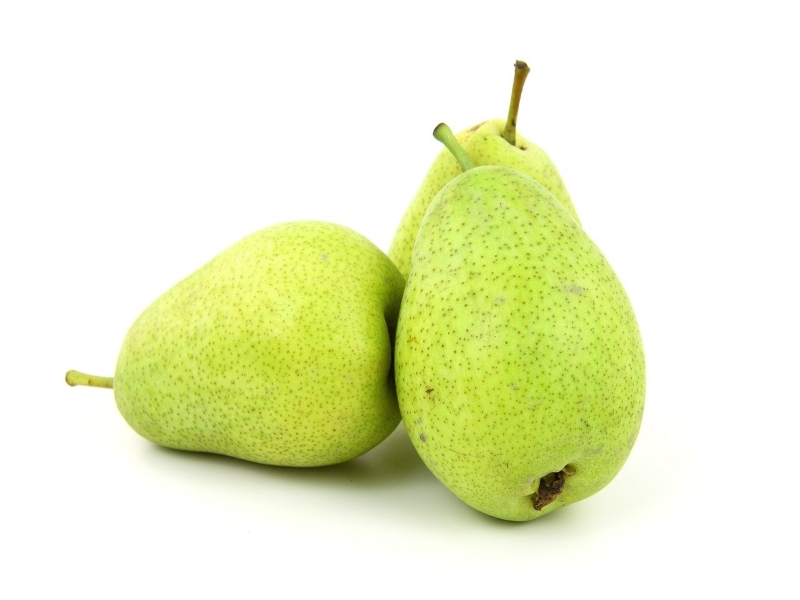 Pears
Pears are a type of fruit that grows on trees and is harvested in the Northern Hemisphere from late summer to early October.
The pear fruit is a pome, with a diameter of 1–4 cm in most wild species and up to 18 cm long and 8 cm wide in some cultivated forms. The shape varies from oblate or globose in most species to the classic pyriform "pear shape" of the European pear with an elongated basal part and a protruding end.
Just like plum skins, pear skins are packed with nutrients, fiber, and antioxidants.
Pears are 84 percent water, 15% carbs, and have very little protein and fat. Raw pear supplies 57 kilocalories of food energy per 100 g reference quantity, and a moderate amount of dietary fiber.
---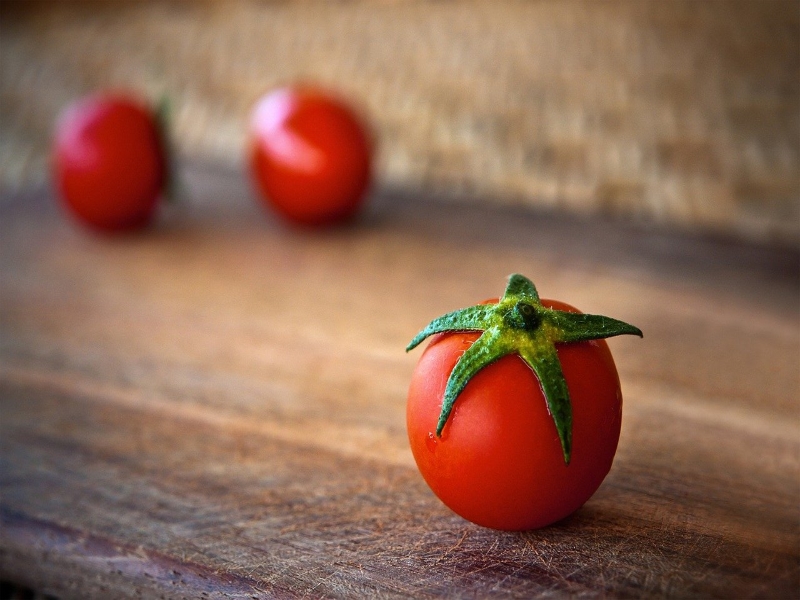 Tomato
You should avoid peeling tomatoes. Tomato skin is edible and contains a high concentration of naringenin, a flavonoid that may reduce inflammation and boosts immune system. Studies shows cooking tomatoes with the skin on is also thought to boost the availability of nutrients, such as lycopene.
A tomato provides 95% water, 4% carbs, and less than 1% fat and protein. 100 g of raw tomatoes have 18 calories and a considerable amount of vitamin C (17 percent of the Daily Value).
---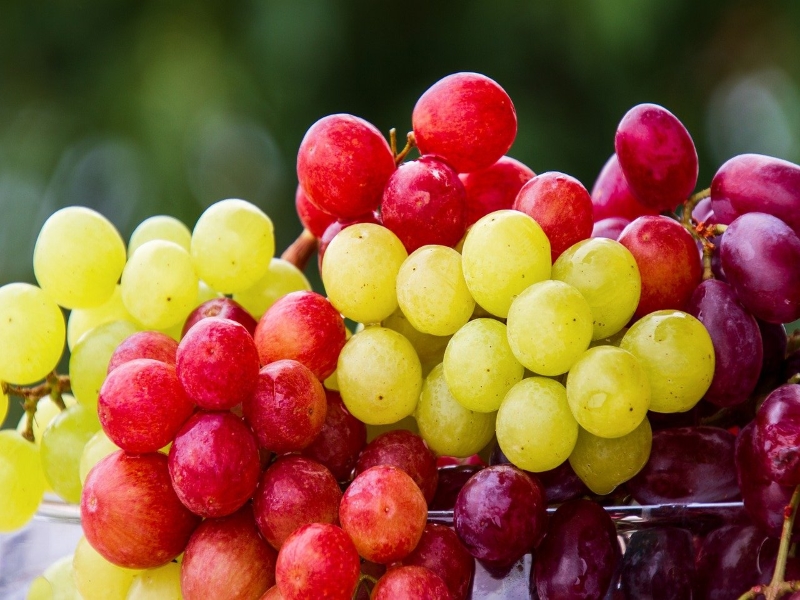 Grapes
Grapes are a type of fruit, botanically a berry, that are available in a variety of colors, including crimson, black, dark blue, yellow, green, orange, and pink. Grapes have an ellipsoid form, similar to a prolate spheroid. They usually grow in clusters of 15 to 300.
Antioxidants and minerals are abundant in grape skin. The skin of the grape is particularly healthy because it contains the most antioxidants of the entire fruit.
Grapes can be consumed fresh as table grapes, or dried as raisins, currants, and sultanas. They can also be used to make wine, jam, grape juice, jelly, grape seed extract, vinegar, and grape seed oil.
Grapes are composed of 81 percent water, 18 percent carbs, 1 percent protein, and very little fat. Raw grapes provide 69 kilocalories of food energy and a moderate quantity of vitamin K in a 100-gram reference amount (14 percent of the Daily Value).
---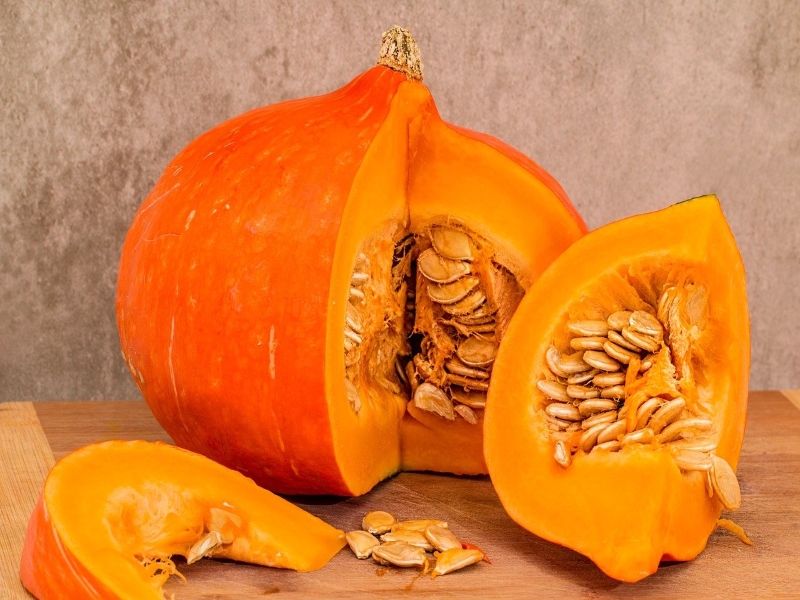 Pumpkins And Winter Squashes
A pumpkin is round with smooth, slightly ribbed skin and is often deep yellow to orange in color. It is technically a fruit. Winter squash is an annual fruit that comes from numerous squash species in the Cucurbita genus. Pumpkin and winter squash come from the same family.
You shouldn't peel pumpkins and winter squashes. Pumpkins and winter squashes peels can be consumed when it is cooked.
---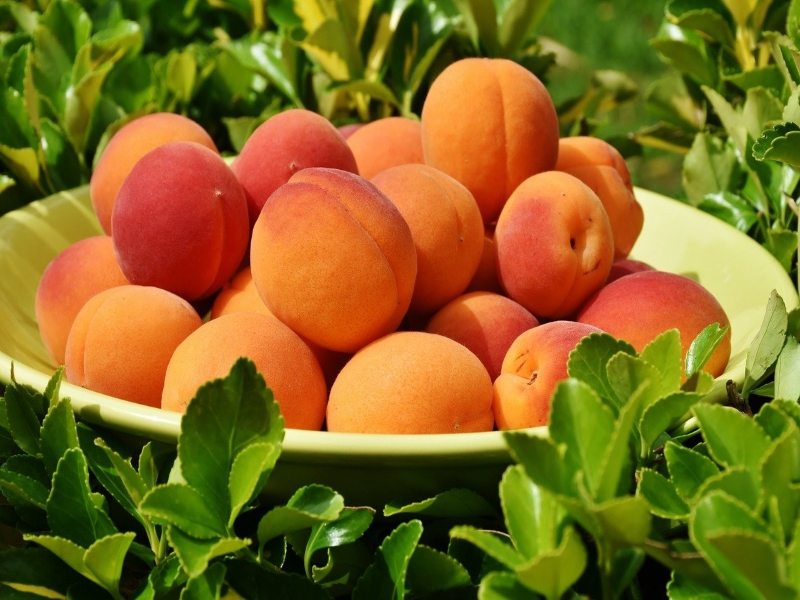 Peach
In diverse cultivars, peaches have yellow or pale flesh, a delicate aroma, and a velvety or smooth skin. Some producers' flesh is delicate and quickly bruised, although some commercial kinds' fruits is rather firm, especially when green. The one, huge seed is red-brown in color, oval in shape, and is 1.3–2 cm in length. It is encased in a wood-like husk.
Just like pears and plums, peach skin contains high amount of fiber, antioxidants and nutrients. It is believed that removing peach skin results in a reduction of 13 to 48 percent in antioxidants. Peach skin is packed with nutrients, fibers, as well as antioxidants.
---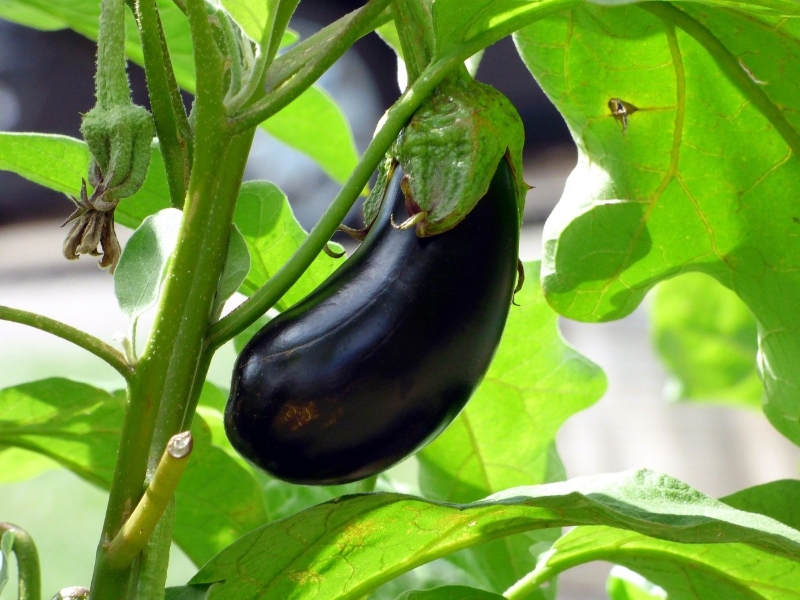 Eggplant
The fruit is egg-shaped, smooth, and purple with white flesh and a mushy, "meaty" texture are common cultivars. Some cultivars have a longer form and white in color.
Avoid peeling eggplant skin if you want more flavanoids, fiber, and magnesium. Eggplant skin is rich in water. Fresh fruits contain 92 percent water, 6% carbs, 1% protein, and very little fat. It has a moderate level of vital nutrients, with only manganese accounting for a substantial percentage of the Daily Value (11 percent).
---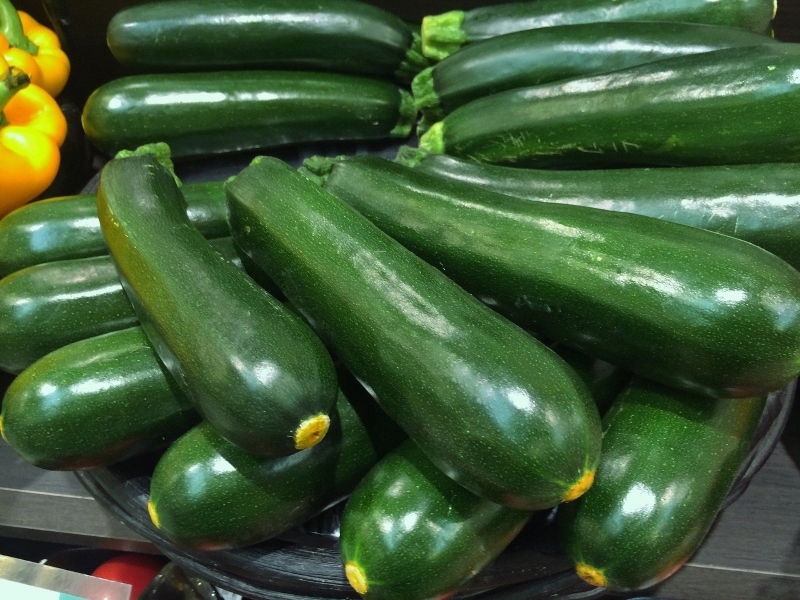 Zucchini
The golden zucchini is a bright yellow or orange color, yet the fruits are any shade of green. They can reach about 1 metre (3 feet) in length when fully mature, however they are usually picked at around 15–25 cm (6–10 in).
Zucchini skin has high water concentration. Zucchini is 95 percent water.
---
Cherry
Another fruit that you shouldn't peel is cherry. It is ideal to consume cherries without peeling them. Aside from the fact that it is inconvenient to peel cherries, the cherry skin is rich antioxidants and nutrients.
---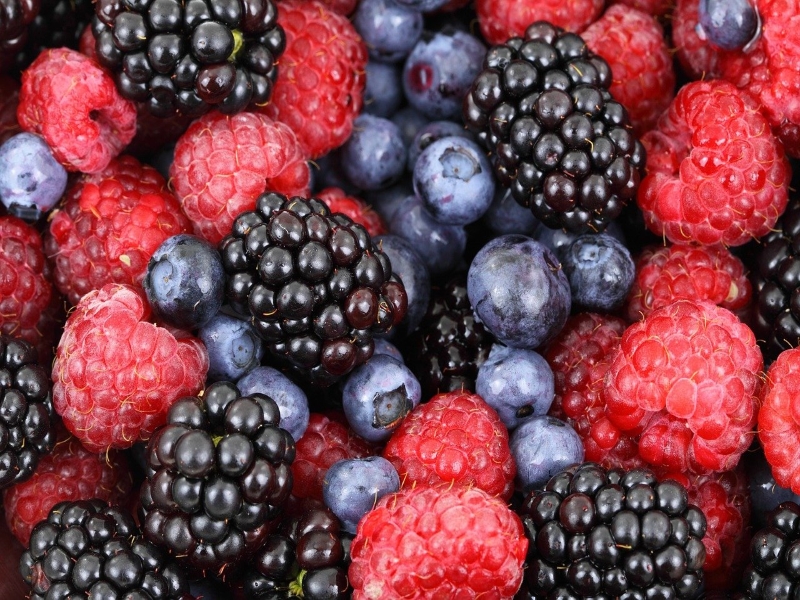 Berry
A berry is a tiny, pulpy fruit that is frequently edible. Berries are often juicy, spherical, brightly colored, sweet, sour, or acidic, and lack a stone or pit, though a large number of pips or seeds may be present. Strawberries, raspberries, blueberries, and blackberries are examples of common berries.
You should avoid peeling berries. It is best to eat berries that have not been peeled. The skin has lots of antioxidants and nutrients.
---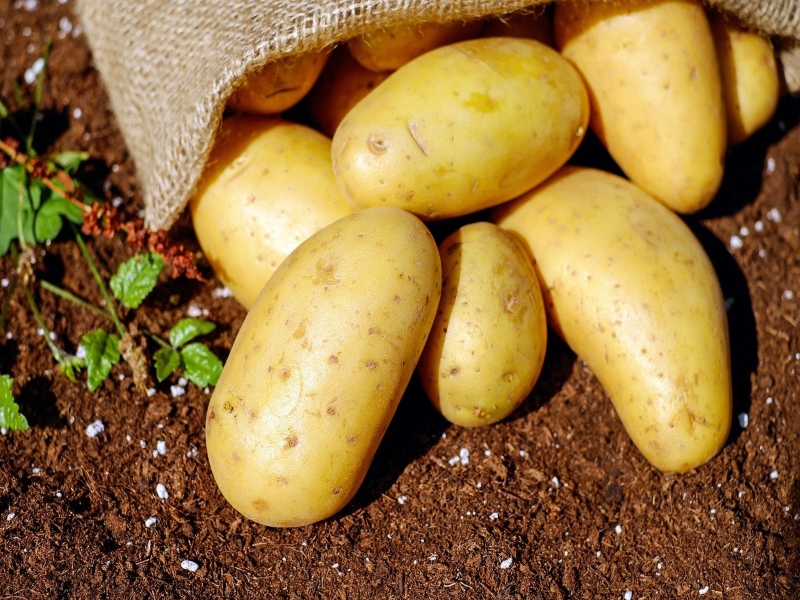 Potato
Potato skins are rich in fiber and nutrients, such as iron, potassium, vitamin C, and folate. Instead of removing the potato's nutritional value, lightly clean the potato gently with a vegetable brush before you cook it.
Fruits That Require Peeling
Tropical Fruits
You must peel tropical fruits. Pineapples, papayas, mangoes, bananas, and melon should always be peeled. The skins of these tropical fruits are difficult to swallow and consume.
Avocado
You should peel avocados. Avocado skin is difficult to digest and should not be consumed.
Conclusion
If a fruit or vegetable's skin is extremely unappealing, it's preferable to consume it without the peel and obtain the nutritional content than to avoid eating fruits and vegetables altogether.