Philippines is an agricultural country which exports agricultural products despite being regularly hit by adverse weather conditions. One of their major export products is vegetables. If you haven't been in the Philippines but want to try their famous dishes made of vegetables because you may be on a vegan diet, here are the 6 Filipino Vegetarian recipe that you can try and prepare at home.
Filipino Vegetarian Recipe
VEGAN CHICKEN ADOBO
Adobo is known to be a popular classic Filipino dish which can be a combination of meat, seafood, or vegetables. In the early age, adobo is used to preserved big batches of meat and its main ingredient is vinegar. Many years have passed, chicken adobo became every kids favorite because of its delicious and sweet flavor. If you love Adobo but doesn't have the desire to intake chicken meat, try the Filipino version of Vegan Chicken Adobo. Instead of using a chicken meat, Vegan adobo recipe uses a chicken-style seitan. The prep time for this cuisine is about 5 minutes and cooking time is 30-35 minutes. To make a delicious Vegan adobo recipe, you need to secure all these ingredients:
8 ounces chicken-style seitan (if not available, you can use tofu or mushrooms)
14 ounces coconut milk
4 cloves peeled and smashed garlic
3 tablespoons cane vinegar
2 tablespoons oil
2 tablespoons dark soy sauce
2 teaspoons light soy sauce
1 large onion sliced thinly
1 tablespoon sugar (you can use white or brown sugar )
1 bay leaf
1 teaspoon whole black peppercorns
2 pcs potatoes (sliced, optional)
Tip: If you plan to keep your Adobo in the refrigerator for up to a week, do not add potatoes.
Once everything is ready, here's how to make a Vegan chicken adobo:
Add 1 tablespoon oil in a pan heated over medium-high heat, add the garlic and onion, then saute until softened.

Add the coconut milk, vinegar, dark soy sauce, light soy sauce, sugar, bay leaf, black pepper, and 2 dried chili peppers

Turn the heat down when the coconut milk turns brown and cook for 15-20 minutes

In another pan (preferably a non-stick skillet), add 1 tablespoon oil. Then add the cut seitan and brown it until it becomes golden in color.

Once done, add it to the sauce and cook for at least 5 minutes.
This Filipino cuisine is best served with steamed rice or garlic fried rice. You can also add chopped cilantro as toppings.
---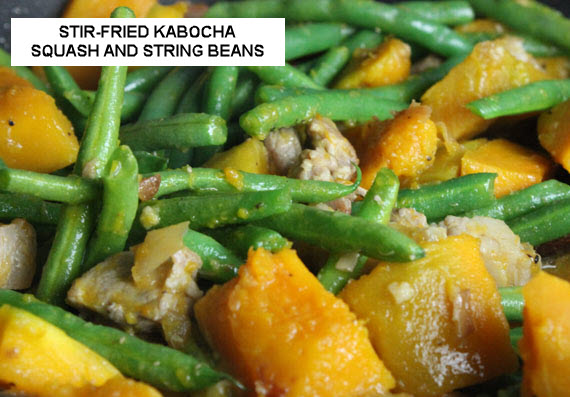 STIR-FRIED KABOCHA SQUASH AND STRING BEANS
This stir fry recipe is a frequent home cooked Filipino dish that is best eaten with rice, fried meats, and/or fish. The prep time is 30 minutes, and the cooking time is more or less 50 minutes. You can add a coconut milk for a richer and creamier flavor. Here are the ingredients:
5 cloves of garlic (diced)
4 tablespoons of fish sauce
2 tablespoons oil
1 medium size Kabocha Squash cut into cubes
1 teaspoon pepper
1 cup coconut milk (optional )
1/2 lb pork cut into small pieces
1/2 lb green beans or long beans
1/2 cup of water (can be replaced with sour stock if available)
1/2 medium size onion (diced)
And here's how to prepare this Filipino recipe:
Add 2 tablespoons of oil in a pan heated over medium to low medium heat.
Add the pork and set aside when the color becomes brown.
Add the diced onions and garlic. Saute until the onions becomes tender and translucent in color.
Add the Kabocha Squash, pork, and the water (or the soup stock).
Add 2-4 tablespoons of fish sauce and pepper.
Simmer for about 30 minutes and make sure to mix it from time to time.
After 30 minutes, add the green beans and the coconut milk.
Add salt and pepper. You can add more fish sauce if needed.
Cook for another 20 minutes or until the squash becomes tender.
Serve hot with rice and other dishes.
---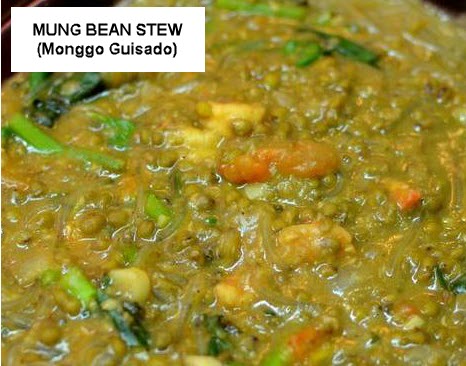 MUNG BEAN STEW (Monggo Guisado)
Monggo Guisado is one of the many Filipino recipes that is easy to make. This delicious and healthy is made of mung beans, meat or fish flakes. In this Mung Bean Stew recipe vegan version, we will use anchovies or small salty fish (also known as bagoong). Some recipe calls for a bitter moringa leaves, in this version, we will utilize fresh spinach instead. Here are the complete ingredients:
1 1/4 mung beans (soaked overnight)
2 tablespoons achovies or bagoong na isda
1 clump fresh spinach
1 small sized yellow onion
1 tablespoon garlic, minced
3 tomatoes, cubed/diced
2 tablespoons cooking oil
3/4 fish flakes
2 tablespoons cooking or vegetable oil
ground black pepper (optional)
Instructions to cook this classic Filipino dish:
Heat the cooking oil in a pan.
Stir fry the onion and garlic until the onion becomes tender.
Add the fish flakes and cook for 1-2 minutes in a medium heat.
Add the tomatoes and stir for 1 minute until cooked.
Add the mung beans, "bagoong na isda", and 1 cup of water.
Cover the pan and cook for another 18 minutes. Add water when needed.
Add the spinach and sprinkle ground pepper to taste.
Stir and add more water when needed.
Bring to boil and wait for 5 minutes.
Transfer the cooked dish to a serving bowl.
Best served when hot.
---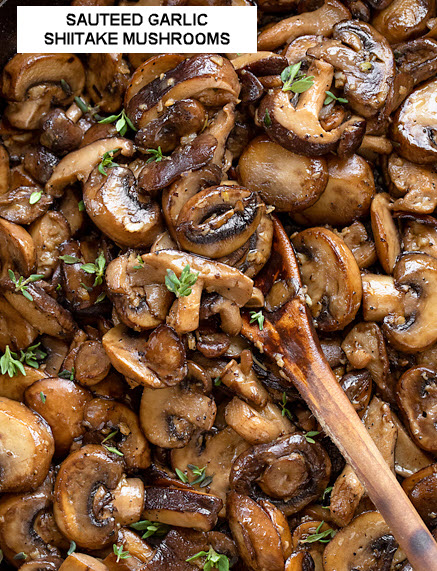 SAUTEED GARLIC SHIITAKE MUSHROOMS
Though Shiitake mushrooms are native to East Asian countries, Philippines also has traditional versions of Vegan recipes made of these edible mushrooms. One of these vegan Filipino recipes is the sauteed garlic Shiitake mushrooms. Shiitake mushrooms are known to be the good source of polysaccharides and other compound that help boost immune system and give protection against cell damage. This simple dish prep time is around 15 minutes and best served with polenta or steaks.
Ingredients:
6 ounces shiitake mushrooms
4 Tablespoons butter
2 cloves garlic
1 tablespoon parsley
salt
pepper
Instructions on how to cook this vegan dish:
Heat pan over medium heat. Add the butter until melt.
Add the garlic, stir, and cook for about 30 seconds.
Add the mushrooms and suite for 6 minutes or until the color becomes light.
Add salt and pepper to taste.
Sprinkle with parsley (chopped).
Best served when hot along with other Filipino dishes.
---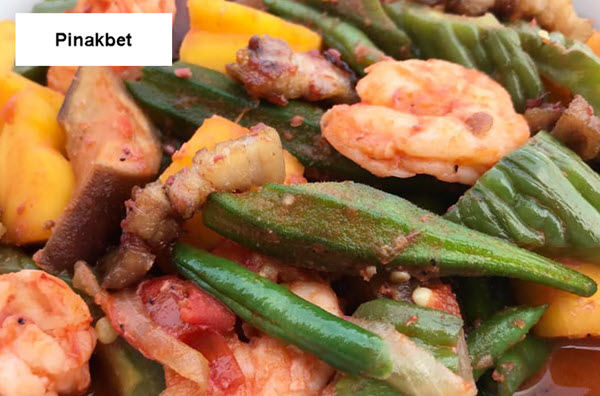 PINAKBET
Pinakbet or Pakbet is also one of the famous vegan Filipino recipes. It is made of different vegetables, mixed and steamed in shrimp, fish, or soy sauce. The term is a shorten Ilokano word pinakebbet, which means shrunk or shriveled. This dish can also contain pork or prawns. Therefore, you can serve and eat this dish as a big batch meal. Here are the main ingredients of this vegan Filipino recipe:
1/2 lb (227 grams) of chopped pork loin
1/2 lb of deveined and peeled prawns
1 pc onion (chopped)
2 cloves garlic (minced)
1 pc tomato (chopped)
1/4 lb zuchinni, cut into small pieces and seeded
1/4 lb okra
1/4 lb green beans
1/4 lb eggplant
1 bitter melon (small size)
salt
pepper
3 tablespoons olive oil (vegetable oil)
Instructions:
Heat large pot over medium heat then add the olive oil.
Add the garlic and onions. Stir for 5 minutes or until become tender.
Add the pork and stir for 7 minutes or until the color turns brown.
Add the shrimp into the mixture and stir.
Add salt and pepper to taste.
Continue stirring the mixture for 3 minutes or until the shrimp becomes pink.
Add tomato and cover the pot.
Wait for 5 minutes, then add the remaining vegetables into the mixture. Wait for 10 minutes or until the vegies are already soft to touch.
This pinakbet recipe is good for 6 Filipino servings and best eaten when hot.
---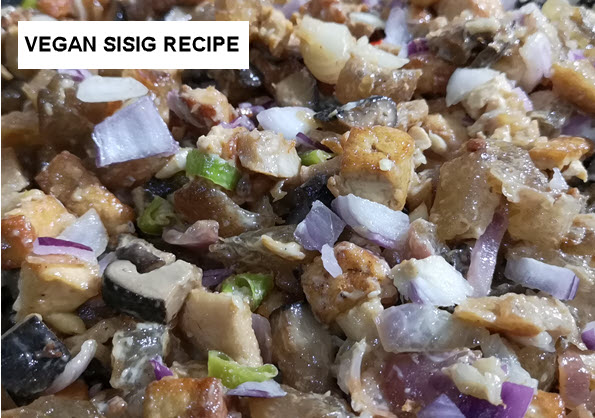 VEGAN SISIG RECIPE
The traditional version of sisig is typically made of pig parts. But in this recipe version, we will replace the meat with tofu and some mushrooms. Sisig usually goes well with hard drinks but eventually becomes a main dish. In fact, most Filipino restaurants prepare and offer sisig for lunch or dinner.
Here are the main ingredients for our vegan sisig cuisine:
10 pcs shiitake mushrooms (diced)
12 pcs oyster mushrooms (diced)
1 block firm tofu
2 oz beech mushrooms (diced)
Ingredients for the marinade:
3 cloves garlic (crushed)
1/2 cup soy sauce
1/4 cup vinegar (coconut vinegar)
1/2 teaspoon whole peppercorns
3/4 tablespoon sugar
Ingredients for the saute:
1/2 tablespoon lemon juice (can use lime or kalamansi)
3 chili pepper
2 tablespoons coconut oil
1/2 tablespoon ginger (diced)
mincedgarlic, 2 cloves
1/2 yellow onion (diced)
Instructions:
Marinate all marinade ingredients for 10 minutes. Make sure to save some marinade sauce.
In a pan heat over high heat, add the oil.
Stir fry tofu until the color becomes golden brown. Then, set aside.
Lower the heat and more coconut or vegetable oil. Add garlic, ginger, onion, and saute until onion becomes translucent and tender
Add the lemon juice, tofu, chili pepper, mushrooms, and marinade sauce. Add sauce according to your taste.
Mix well all the ingredients.
Cook for about 20 minutes or until the sauce as reduced or until the watery sauce is no longer visible.
Adjust the seasoning according to your taste. Best served hot with rice.
And these are just few of the many Filipino dishes that you must give a try. For more vegan Filipino recipes and other cuisines, check out our website.
If you find this article relevant, feel free to spread the news by sharing this post. Thank you for reading!