An authentic Filipino meal whether it is at a party, a small gathering or a simple family dinner is never complete without a sawsawan or dipping sauce.
* If you buy through links on our site, we may earn an affiliate commission. For more details, please visit our Privacy policy page.
When it comes to traditional dipping sauces, there is no hard and fast rule on which sauce to use for a certain dish. You could choose whichever dipping sauce suits your taste buds.
If you want to enjoy eating Filipino dishes, we have listed 8 sauces that go well with them.
Best Filipino Sauces

Lechon is a roasted pig or chicken which is popularly served during parties, fiestas and gatherings. This food in itself is packed with flavors but it will not be complete without lechon sauce.
The most ubiquitous dipping sauce for lechon is a light brown sauce made of pork or chicken liver. The liver is first turned into a paste before cooking it with other ingredients such as minced garlic and onion, vinegar, sugar and bread crumbs.
Depending on the other ingredients added into the lechon or liver sauce, it typically has a pungent and vinegary taste with a deep flavor that comes from the liver. It is best for roasted meat dishes but you can also use it for dipping grilled meat among others.
---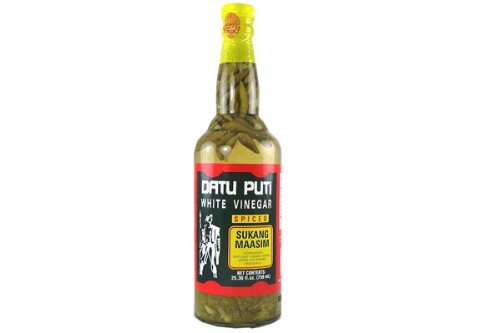 The vinegar dipping is perhaps the easiest and simplest dipping sauce to make. You can use spiced vinegar, add a little salt and that's it. A more elevated version may include other ingredients such as diced onion and tomatoes as well as hot peppers.
The vinegar dipping sauce has a tangy taste and it goes well with grilled meat, fried tofu, fried meat and lumpia. Some Filipinos also use this sauce as a dip for seafood dishes, particularly buttered shrimps.
---
Fish balls, squid balls, chicken balls and other fried street food appetizers are not as delicious without this delicious sweet and sour sauce. Many of the street vendors also use this sauce for many other street foods.
From its name, you can get an idea of how this sauce tastes like. Its flavor comes from a combination of ingredients which include vinegar or Philippine lime juice, sugar, salt, soy sauce and flour. You may also add minced chilies if you want a spicy version.
The sweet and sour sauce can also be used in seafood dishes such as escabeche, or sweet and sour seafood.
---
Locally known as patis, this sauce is a staple condiment in many households. It is a versatile sauce that is made from fermented salted fish.
Patis has a strong fish odor. This sauce is a bit salty which is why most people add lemon juice or vinegar to the sauce. You may also add very hot peppers to give it a kick.
Fish sauce is perfect for grilled and fried meat as well as for boiled vegetables.
---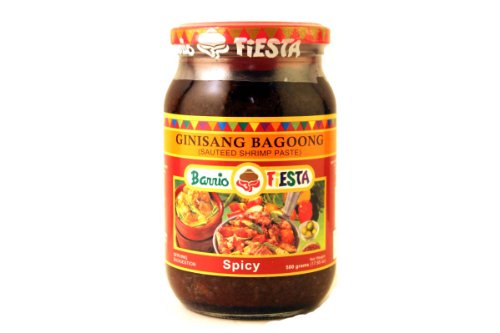 Fermented shrimp paste which is also known as prawn sauce is a fermented condiment that is widely used in the Philippines as a sauce. It uses crushed or grounded shrimp or krill as the main ingredient. Just like fish sauce, shrimp paste also undergoes a process of salting and fermentation.
This savory paste is also a staple in Southern Chinese and Southern Asian cuisines. It comes in different forms from paste, block to liquid. They may also vary in color from dark to lighter pink.
When it comes to taste, this sauce is salty and savory with a strong shrimp taste. It goes well with green mangoes and roasted and fried dishes. It also works as eggplant sauce.
---
Soy sauce with vinegar is a typical Filipino dipping sauce for everyday meals. It is made by combining soy sauce and regular or spiced vinegar. Many Filipinos usually substitute vinegar for Philippine lime.
To elevate this sauce, you can also add diced tomatoes, diced onions and minced chilis. If available, you can also add some Chinese chili oil to add spice.
The acidity of the vinegar as a sour condiment balances the saltiness of the soy sauce. The resulting taste is somewhat salty and sour. It is perfect for grilled meats, grilled fish and fried dishes.
---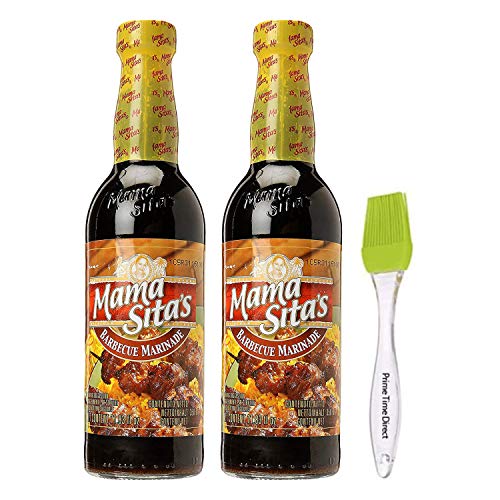 Filipinos love eating barbecue. In fact, chicken BBQ and pork BBQ are among the most popular street foods in the country. What makes this food extra delicious is the savory and sweet barbecue sauce.
There are dozens of different variations in how Filipino barbecue sauce is made. The basic recipe, however, generally contains soy sauce, vinegar, chopped garlic and onion, Philippine lime, and banana ketchup. If banana ketchup is not available, you can substitute it for tomato ketchup.
To make this sauce, you just need to mix all the ingredients. Once ready, you need to marinate the meat for a few hours before cooking. The leftover marinade is then boiled until you get that sticky consistency. You can use it to glaze the meat or as a sauce.
---
Buro is a kind of sauce made from fermented rice and seafood. The most common buro sauces are burong hipon (shrimp), burong bangus (milkfish) and burong dalag (mudfish).
Buro may come in different colors depending on what kind of fermented rice is used. If it has a pinkish color, it means that red yeast rice is added in the mix. Lighter-colored buro, on the other hand, uses regular rice.
Buro has a strong seafood smell and taste. it is also on the salty side. It is a perfect dipping sauce for boiled vegetables or fried dishes.
---
FAQs
What are the common ingredients in making Filipino sauces?


The various common dipping sauces that Filipinos use typically contain soy sauce, vinegar, fermented fish sauce and a spicy condiment. Chili, onion, tomatoes, garlic and Philippine lime are often added to the sauce for extra flavor. If you have the three ingredients, you can easily make your authentic Filipino dipping sauce at home.

What sauce is best for lumpia?

Lumpia is a popular dish in the Philippines and it is made from pickled bamboo shoots. There are two versions of lumpia, the fried version and the fresh version. Both of these varieties require special lumpia sauce.

For fried lumpia, you can use vinegar or sweet and sour sauce. For the fresh lumpia, there's a special recipe to make its sauce. Fresh lumpia sauce is made by combining brown sugar, soy sauce, water, garlic and cornstarch. The mix is boiled to achieve a sticky consistency. You can then toss some crushed toasted peanuts on the sauce before serving.

Are fermented sauces safe to consume?

Fermented sauces are generally safe for most. However, some people may experience side effects such as allergic reactions, stomach aches or bloating because of the high probiotic content in the sauce.

Is atchara a sauce?

If you try to search for Filipino sauce or condiment, atchara usually appears in the results. However, atchara or atsara is not a sauce but a condiment. It is made primarily from grated unripe papaya with sweet pickling solution. If you are familiar with how sweet pickled relish or pickled green mangoes are made, the method is somewhat similar.
Conclusion
Filipinos love eating their food with a sauce on the side. Whatever food it may be, from the simplest boiled vegetables to elaborate dishes, Filipino sauces can further elevate their taste.
If you want to try any of the sauces we listed above, many of them are widely available in grocery stores, Asian markets and specialty stores. If not available, you can also easily make these sauces (except for fermented sauces) at home using the common condiments in your pantry. You can easily search for the steps and ingredients to make them.
Whether you are just curious about the country's cuisine or you want to spruce up your dish, these sauces are worth trying.
* If you buy through links on our site, we may earn an affiliate commission. For more details, please visit our Privacy policy page.