Online shopping is the new trend today, especially during pandemic outbreaks. People nowadays seek convenience, particularly for those who prefer to stay at home rather than going to the supermarket.
If you regularly make Asian food, and frequently run out of Asian ingredients, ordering online may be a wonderful option for you than going to Asian supermarket. There are hundreds of online Asian grocery stores these days, but having so many options and not knowing if the online store website is legitimate can be can be a problem for new customers. Also, it might be difficult to find the perfect Asian groceries at a fair price with fast shipment. For your convenience, we've compiled a list of the best online Asian food stores in the United States. If you are interested in knowing what these best Asian grocery stores are, scroll down and continue reading.
Best Online Asian Grocery Store In US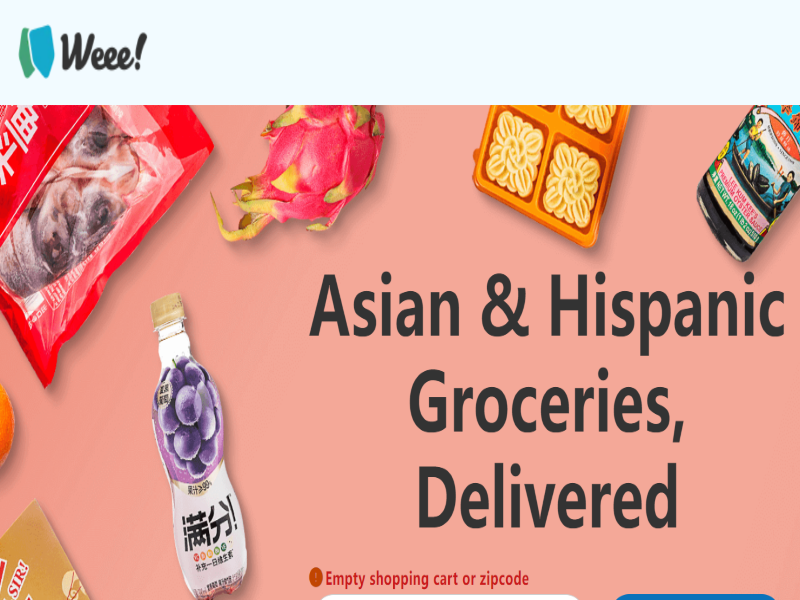 Weee!
An online Asian market that provides basic food goods to your front door. Weee! is the leading online retailer that specializes Hispanic and Asian foods. The online grocery store has no shopping fees, no subscription costs, and free shipping on items over $35. It is one of the greatest e-commerce websites that sells local and fresh produce, as well as delicious snacks from across the world.
The online market ships across North America, so you can enjoy fresh Asian and Hispanic favorites wherever you are. A wide selection of shelf-stable pantry staples are also available. Mi Goreng, easy-to-prepare Japanese Curry mix, instant ramen or noodles, Taiwanese BBQ sauce (turns nearly any meat into a delicious meal), I-Mei Choco Puffs, seaweed pancakes, takoyaki balls are some of the products you can find in this online market.
The good thing in this online shop is that your presence is not mandatory for delivery. They can drop your parcel on your doorstep, in your yard, in your locker, in your mailroom, or at your leasing office.
If you want to buy their items, you may go to their website or download their app from the App Store or Google Play. It's as simple as that.
---
Umamicart
Umamicart is another website where you can shop groceries online. They offer thousands of Asian products and ingredients.
Asian vegetables, fresh fruits, your favorite types of meat, pantry essentials, rice, noodles, and more are all available. They cater to all of your Asian grocery requirements. Their staff is just as passionate about high-quality products and ingredients as you are, so customers can be certain that you're getting the finest Asian products available.
They provide a carefully picked range that includes both classic favorites and up-and-coming Asian-American owned companies. Umamicart is an online grocery store that celebrates and emphasizes the infinitely variety, distinctive, and ever-changing culture and cuisine of Asian Americans.
Umamicart has a vast selection of fresh Asian products and meat cuts. Fresh perilla leaves, pickled mustard greens, paper-thin slices of hot pot meat, and many more items are available.
Umamicart was created for the purpose of product discovery and convenience. To purchase their products, simply go to their website and browse their selection by category, cuisine, or essentials, and then add the products to the cart .Keep in mind that purchases above $49 get free shipping.
You do not have to be there when your parcel is delivered. Your package will be placed at your front door or in a safe area, such as an apartment lobby or with a doorman.
---
Amazon
Of course, Amazon is included on the list. Under the International Food Market category on their website, you may buy Asian foods. On Amazon, you may get baby foods, drinks, breads & bakery, breakfast foods, dairy, eggs, frozen products, meat & seafood, meat alternatives, pantry basics, produce, snacks, and sweets. All of these are under their Asian cuisine category.
If you plan to use a product regularly, you can even check to see if it's eligible for the Subscribe & Save program. You'll get free standard shipping on auto-deliveries with Subscribe & Save, as well as the opportunity to schedule shipments on your Subscribe & Save delivery day (non-Prime users may pay shipping expenses for the first delivery). On Amazon and Amazon Marketplace, eligible items are frequently offered at a discount. A subscription can be canceled at any time.
---
Yamibuy
Another great website to shop for groceries is Yamibuy. Yamibuy is focused to supplying Asian Americans with Asian snacks and food, and other products. Yami is presently one of the most popular one-stop shopping destination among the Chinese population in North America, due to its expansion. The headquarters of Yami is in Brea, California, USA. With thousands of goods, Yami aspires to provide the most comprehensive assortment of Asian-friendly products. They quickly form partnerships with marketplace sellers to offer a broader range of snacks, soda, instant meals, spices, dried foods, and other home goods to market.
Alex Zhou is the founder of Yami. He had the trouble of travelling two hours to access the nearest Asian store while he was still studying in Kansas. As a result, Yamibuy was created, with the goal of assisting Asian Americans in places that are experiencing similar struggles. It was established on March 2013.
This Asian site features one of the greatest online options of instant noodles and self-heating hot pot dishes. The product, however, does not end there. Hundreds of thousands of items are available in this online site. For orders above $49, shipping is free.
---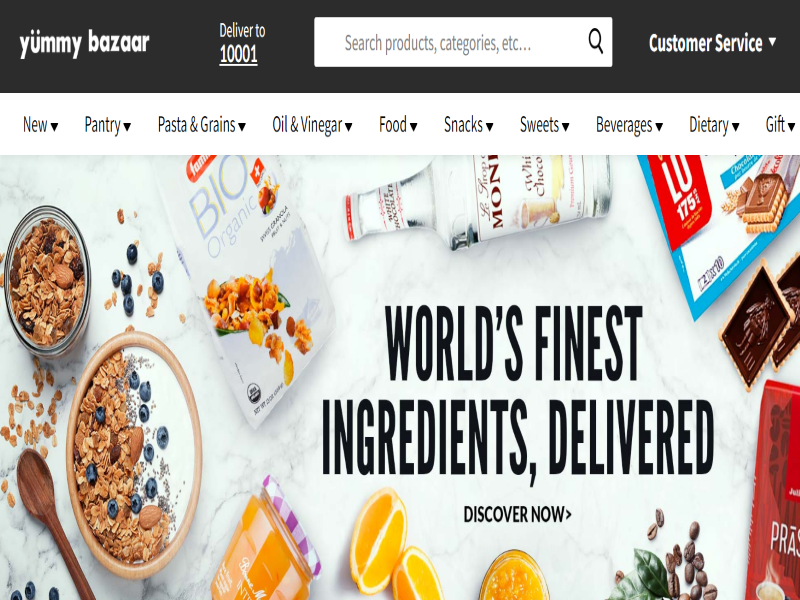 Yummy Bazaar
Another website that sells Asian goods and gourmet foods is Yummy Bazaar. This online store sells specialized ingredients from all around the world. They don't provide just Asian food, but they also sell French and Italian goods.
If you want goods from Korea and Japan, you can purchase in this site. Samyang ramen, Japanese grain rice, condiments, chips, cookies, crackers, herbs & spices, coffee, tea and many more goods are offered. They also offer Chinese grocery items.
You have the opportunity to cancel your order within one hour after a successful transaction during business hours if you ever change your mind. You can call their toll-free hotline to cancel your order. Any purchase canceled after the one-hour timeframe will be charged a restocking fee of 20% of the order value.
---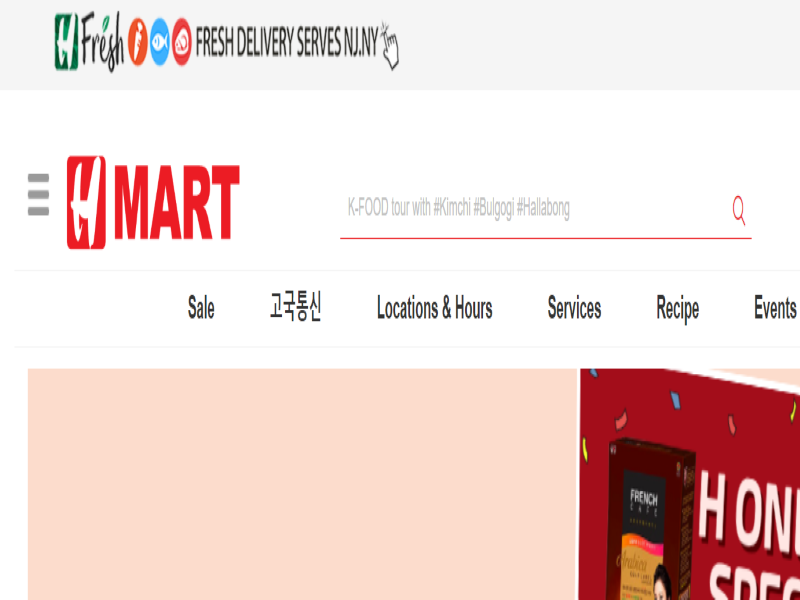 H Mart
You won't be disappointed with H Mart if you're seeking for items coming from South Korea. You can visit their website if you don't have access to their physical location. Everything from best-selling Korean ramen and pancake mixes to steel kettles and humidifiers may be found on the website.
---
Bokksu
Danny Taing, the founder, returned to the United States with a bag full of goodies to share with friends and family. Everyone thought that the treats were fantastic, but they were unavailable in the United States. Many of the foods were created locally by family firms that didn't sell internationally. So Danny made the decision to make a move.
They obtain their snacks in Japan from a variety of local and well-known producers, and they are dedicated to forming long-term relationships with these producers in order to provide clients with the greatest Japanese snacks possible.
Their products include Japanese Kit Kats, crunchy rice crackers, mochi, soda, candy, crispy Pocky, fluffy breads, etc.
---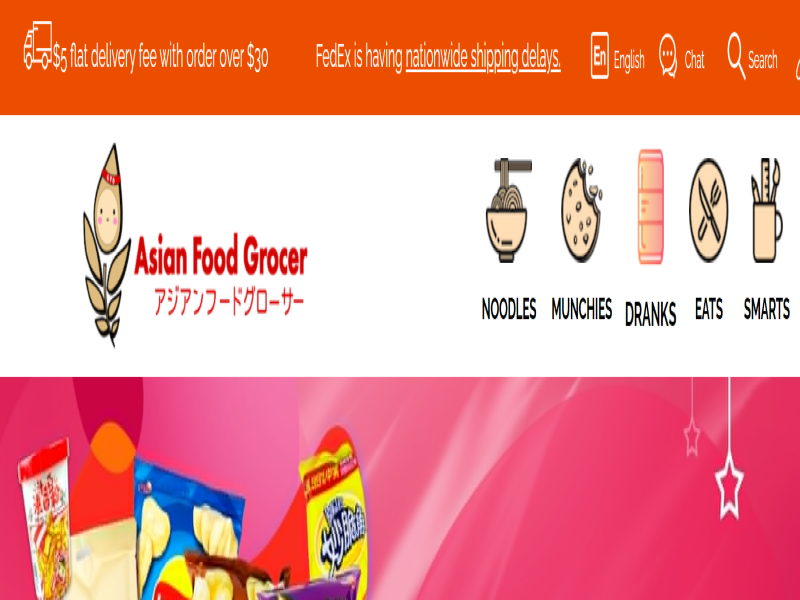 Asian Food Grocer
The parent firm of Asian Food Grocer has been in business since 1965. It specializes in food imports and has a long history of customer satisfaction based on competitive retail prices, quality, and customer service. Customer service is something we strive for. Their offices are situated in northern, central, and southern California, with strategically placed stores and warehouses to assist maintain product freshness.
This Asian grocery online has a little bit of everything, from Korean ramen and Thai coffee.
This is also a good place to order Asian noodles if you have a craving. You can order Asian noodles from them. If you're searching for a savory lunch on the go, consider their excellent, low-carb shirataki noodles, or their Ramen noodles or Udon noodles. They also provide a large selection of Japanese Soba and Somen noodles.
They also include a large selection of Japanese delicacies to munch, nibble, and chew on. Their Asian delicacies, which range from salty to seductively sweet, will satisfy your taste buds.
---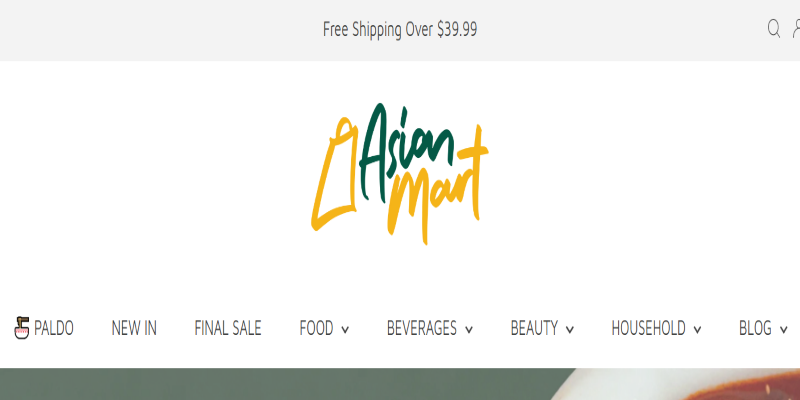 Asian Mart
Although Asian Mart may not have as many items as some other online stores, their selection is rapidly expanding.
They sell ramen, snacks, ready-to-eat meals, sauces and spices, as well as coffee, tea, juice, and sparking beverages. They have a free shipping on items over $39.99.