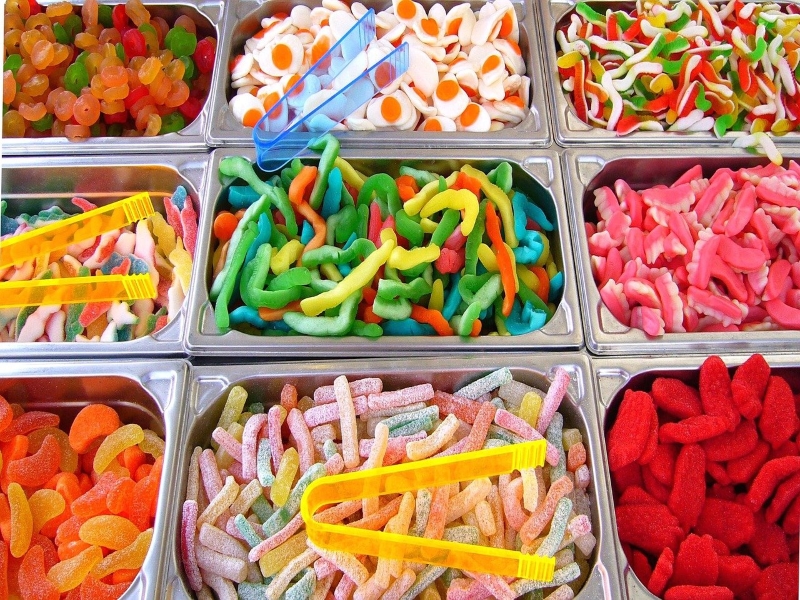 Do you have a sweet tooth? If you are a fan of sweet treats, such as jelly beans, chocolates, sugary taffy, gummy bears and other favorite sweets, you'll love this post. You may shop at the best online candy store that we've discovered.
Every customer's inner child awakens when they enter a candy store. Having these amazing treats is like entering into paradise due to the colorful candies and uplifting atmosphere. Now, the greatest alternative would be an online candy store if you suddenly had a craving and were searching for a certain favorite. Not only is it practical, but you may spend more time in the comfort of your home exploring various delights and shops.
If you are interested in knowing the best online candy store, scroll down and continue reading.
Online Candy Store
Amazon
It's no surprise that almost every stuff is available on Amazon, including a ton of sweets. Order large quantities of your old favorites or something that is difficult to get in your area in person.
Through this website, you may buy mints, gummies, candies, chocolates, and many other sweet goods. They will deliver your order right to your door.
---
Dylan's Candy Bar
The current locations of the Dylan's Candy Bar shop are in New York City, East Hampton, Los Angeles, Chicago, Honolulu, and The Bahamas, in addition to various US airports and wholesale locations all over the world. The owner of this candy bar is Dylan Lauren, Ralph Lauren's daughter, who is a famous fashion designer.
If you're looking for the best candy store, you should definitely try Dylan's Candy Bar. Chocolate lovers and candy lovers will surely enjoy the sweets they offer. It seems like Dylan's offers everything, from bright candies to an extensive selection of chocolate treats.
This candy store, which first opened its doors in 2001, has a full selection of more than 7,000 delicious goods for every imaginable sweet taste. Their products will definitely satisfy your sweet cravings.
You can buy candy online by visiting their website dylanscandybar.com.
---
Bulk Candy Store
The store is situated in South Florida. Bulk Candy Store is a family-run candy store. The majority of their clients have become personal friends, and their staff includes their family. Since 1992, Bulk Candy Store has provided customers with sweets and treats to help them celebrate their most special occasions. For them, each day is an occasion to celebrate, and spending those times with the ones you love is precious. Whether you're celebrating the New Year or just getting together to have fun. You can get all the sweets you need at the Bulk Candy Store to make your special occasions extraordinary.
They have a large selection of treats, which include modern chocolates (dark chocolate), jelly beans, and old-fashioned gumballs. They also include unique treats like cookie sticks and anything that is chocolate-covered. Shopping sweet treats in this store will make your eyes dazzle and sparkle without a doubt.
You can purchase their delicious sweets by accessing their page at bulkcandystore.com.
---
Candy Warehouse
A huge selection of delicious goodies are also available at Candy Warehouse. Over 6000 different candies are available. They have firmly kept a heritage of sweet perfection since 1998. Everything you need is available at their shop. They have everything, from the familiar to the novel, minty to sour, little to enormous, liquid to chunky, purple to silver, hard to chewy, gourmet, and gummy boogers. Consider this as your one stop shop. Definitely an extraordinary assortment for a full-service online store.
You can order candy online by visiting their webpage at candywarehouse.com.
---
Candy Club
The founder recognized a chance to bring the excitement of a traditional candy store right into people's homes. He started selling monthly subscription boxes of adorable jars packed with colorful candy, after doing some research and asking plenty of questions, and Candy Club was established.
Candy Club products are now available at some of your favorite boutique stores, online, and in significant department stores. They provide something for every occasion and taste, including single cups, gift packages, monthly subscriptions, everyday delight, and seasonal and holiday collections. Products from Candy Club are wonderful as presents, to give with others, or as a delicious treat for oneself.
Candy Club is perfect for those who gets down with a sugar rush. They are quite adorable and come with a wide array of both old fashioned and new candy. Both the Fun Box, which has six 6-ounce candy containers, and the Party Box, which contains six 13-ounce candy containers, are available.
If you want to purchase their product online, simply visit their website at candyclub.com.
---
Harbor Candy Shop
This candy shop is a must-see for candy lovers since it is a tradition in Maine and is well-known across the world for its truffles, fudge, chocolate, brittles, and a whole line of vegan treats. The shop was established 1961.
They meticulously choose all of their ingredients, including premium chocolate, nuts that meet the highest standards for each type, pure vanillas, butters, and dairy milk, as well as fresh eggs from chickens who have access to some outdoor space and freedom. They bring their pride and dedication to their work to these premium ingredients.
You can check their website at harborcandy.com if you want to order some of their products.
---
Richardson's Candy Kitchen
Everyday, the owners make everything themselves. The shop offers hundreds of different handmade treats, including caramel, fudge, truffles, cordials, and more.
You can shop through their website at richardsonscandy.com.
---
Godiva
Since 1926, Godiva has been offering incredibly delicious treats. Their rich and decadent wrapped bars, truffles, strawberries with chocolate coating, and cocoa are wonderful presents for everyone.
---
Old Time Candy
LaGrange, Ohio is the location of the store. They sell classic candies, but their products are brand-new and fresh from the manufacturer. They also sell various DIY arrangements and party favor bags.
You can avail their products by accessing their website at oldtimecandy.com.
---
It's Sugar
It's Sugar, which has 1000 sites across the United States, was founded by candy veteran Jeff Rubin in 2006. Since then, it has grown to be one of the biggest specialized candy retailers in the world.
They sell chocolate, gummies, as well as other unusual confections. Some are "huge" sized, such as 1-pound peppermint chocolate patties. A bizarre tastemaker's fantasy.
You can visit their website at itsugar.com to check their products.
---
Mouth
Mouth creates small-batch, independent candy producers more accessible online. Discover their variety of exceptional and distinctive candies and chocolates and get a taste of what's new in the small-batch confections industry. Savory munchies, small-batch pantry goods, and subscription boxes are also available.
Check out their website at mouth.com.
---
Schneider's Sweet Shop
Schneider's Sweet Shop and Chocolate Factor is situated just across the river from Cincinnati, Ohio, in Bellevue, Kentucky. The Schneider Family established the candy shop as a traditional local confectionery and ice cream shop in 1939. Robert Schneider and his wife Lill acquired exclusive possession of the company soon after it began operating since Robert was the only skilled candy maker in the family. Robert's reputation and Schneider's Sweet Shop quickly grew because of his years of expertise, tried-and-true recipes, and use of only the highest-quality ingredients.
Their Opera Creams have long been their most well-known Kentucky-specific product. Fudge, caramels, cordial cherries, pecan caramelettes, Kentucky cream candy, rich chocolate shell filled with a creamy, sugary center, and many other homemade treats are available as well. Additionally well-known for their wonderful homemade ice cream and ice balls is Schneider's Sweet Shop. They provide a full soda fountain and a variety of other drinks, including shakes, floats, sundaes, banana splits, and malts. Schneider's sweet shop is a wonderful gift for any celebration or holiday. These would include a lovely heart for Valentine's Day, a customized egg for Easter, ice cream varieties for the summer and special occasions, homemade caramel apples in the fall, and a variety of chocolates or opera creams for Christmas or other special occasions.
---
Hansel & Gretel Candy Kitchen
The company's founders, David & Janet Jones, established Hansel & Gretel in 1973.
This company's main store is in the heart of downtown Helen, Georgia, has grown in size over the years and now has numerous locations there as well. Along with making delicious fudges, brittles, and other desserts, they also offer a sizable store space filled with sweets.
You may visit their website at hanselandgretelcandykitchen.com.
---
Papabubble
This New York-based, Spain-inspired sweet specialty store views candy as art. The employees cut candy into a variety of shapes and flavors. Not your ordinary candy store, but a unique location for individuals who enjoy the unusual.
You can buy their products at papabubble.com.
---
The Candy Store
Their one-of-a-kind store is filled with nostalgic delights you have probably not seen in a long time, shelves stacked with the best confections from across the world, and walls lined with vintage candy jars.
The Candy Store is situated in San Francisco, and offers unique specialized goods as well as artistic and delectable candies.
If you want to purchase their products online, just go to thecandystoresf.com.
---
Robin's Candy
They are conveniently situated on Main Street in the lovely downtown of Great Barrington, Massachusetts.
Robin's features a wonderful assortment of both old and new confectionery. They specialize on New England-made goods like licorice in all varieties. This is a great place for those with sophisticated tastes, they also sell high quality imported licorice.
You can buy their products by visiting their website at robinscandy.com.
---
Yummies Candy And Nuts
This Maine-based shop offers traditional, hard-to-find goods in addition to fudge, jams, and jellies made in the area. They specialize in both individual pieces and arrangements of vintage or nostalgic candies.
The majority of their candies and nuts are hand-packed individually in smaller quantities so you may pick from a variety of goods rather than having to buy an endless supply of just one.
If you can't find what you're searching for since not all of their items are listed on the website, they could still have it in stock.
If you want to purchase their products through the website, just go to yummies.com.
---
See's Candies
Mary See is the mother of Charles, who started the candy company. The practice of Mary using only the best and most recent ingredients in her handcrafted sweets is still followed by See's today. In fact, several of their sweets, such Peanut Brittle, Victoria Toffee, and Chocolate Walnut Fudge, are still prepared using Mary's very own original recipes.
For more than 95 years, See's Candies has produced exceptional chocolate and candies. Mary was proud of her recipes, and insisted on using only the best, most seasonal ingredients. They are just as dedicated to producing confectionery the proper way today.
In America, See's has grown from one chocolate shop to over 200 locations, in addition to a successful online presence. Even as they expand, tradition, taste, service, and quality remain their top priorities.
You can visit their website at sees.com.
---
Cratejoy
A range of candy subscriptions from Cratejoy will deliver a consistent supply of the tasty candy right to your door each month. There is a suitable box for any sweet taste, including Japanese candies and traditional sweets.
You can check their candies at cratejoy.com.
---
The Penny Candy Store
If you are looking for inexpensive, but quality candies, you should try The Penny Candy Store. You can find your favorite old-school penny candy in low prices. You may buy anything without breaking the budget, from a single item to a bulk bag of reminiscence candies.
They feature an exhibit of a thousand traditional candies.
The Penny Candy Store has a long history of operation. Their mission is to provide their consumers with the finest, old-fashioned confectionery available at reasonable pricing.
Check out their product by visiting their website at pennycandy.com.
---
Jagielky's Homemade Candy
The Jersey Shore's Jagielky's Homemade Candy has left a lasting impression. In July 1972, George Jagielky started this candy shop using recipes he created in Philadelphia. Mike Carr, a relative, has received George's recipes after he passed away. George was a local legend among candy enthusiasts. George's family recipes for the delectable chocolate mixtures and the distinctive centers are used to make the majority of the sweets in the shop.
On the menu, there are a number of interesting dishes made using marshmallows.
You can check their product by visiting their website at jagielkyscandy.com.
---
Windy City Sweets
Windy City Sweets has been specializing in candies and hand-made chocolates since 1983. One of America's best online candy stores for gourmet gift baskets and other items, their candy store is a favored location for its devoted Chicago customers.
They prepare their own chocolate mixtures by hand there every week. They have over 1200 unique sweet delights at their Chicago candy store chocolate bar, including fudge, s'mores, truffles, gummy candies, caramel nut patties, and chocolate-covered fruit.
They are among Chicago's top ice cream parlors as well. They have a wide variety of sorbet, yogurt, and well-known ice cream.
If you want to check their products, go to their website at windycitysweets.com.
---
Hershey's Chocolate World
The international shop sells everything online, including a few things that aren't available in physical locations. For fans of Hershey, there are some tempting bulk savings available elsewhere. This shop is a dependable source of delicacy for fans of chocolate and candy bars.
Through more than 90 well-known brands and goods, including chocolate, candies, mints, and other delectable treats, they create moments of goodness.
---
Licorice International
The candy shop, Licorice International was created for you if you enjoy licorice. It provides about 160 distinct varieties of the chewy candy from 12 different nations, making it the source of the greatest collection of licorice in the United States. Even a complete choice of "salty" licorice is available in their store.
Visit their website at licoriceinternational.com to check for their items.
---
Economy Candy
With the support of Economy Candy, penny candy has become a full-time company since 1942. This location is reminiscent of the few remaining classic candy businesses. In their vast menu of sweetness, there are a variety of small and large sweets, traditional and new goods. For their clients, they have even embraced the low-calorie and sugar-free trends.
Check out their products through their website, economycandy.com.
---
Frequently Asked Questions
Where can I buy bulk candy online?
There are a lot of online candy store that offers bulk candy, and one of them is Candy Warehouse. Just access their website at candywarehouse.com
Can we order See's Candy online?
Yes definitely, just go to their website at sees.com.
Where can I buy candy apples online?
You can buy candy apples online by accessing the website, wholesalecandyapples.com.