A lot of people are looking for the best Japanese snacks. If you are one of them, you'll be happy you stumbled upon this post. Whether you are just curious to try out some Japanese snacks or you have been eating these snacks for too long that you are looking for new ones, then you should stick around.
* If you buy through links on our site, we may earn an affiliate commission. For more details, please visit our Privacy policy page.
In this post, let us share with you the 21 best Japanese snacks you will ever find in the market today!
Best Japanese Snacks You Can Buy Online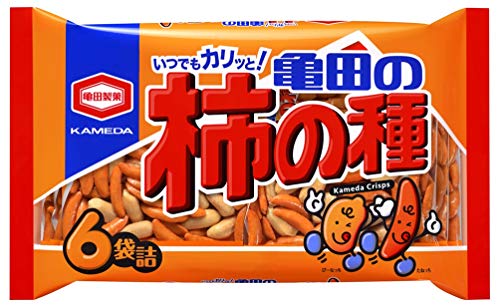 Kameda kaki no tane is arguably the best-selling Japanese snack . In fact, some data shows, kaki no tane is considered a staple item in Japan. So, if you want to taste one of the most popular snacks in Japan, then you should give kaki no tane a try.
This snack is actually a mixture of Japanese rice crackers and nuts. Other ingredients would include katsuo kosen extract, sorbitol, caramel dyes, seasonings, soy extract, salt, emulsifiers, and others.
Pro
Great snacks for different activities
Con
May not be appropriate for people with nut allergies
If you enjoy this snack but you want it to be hot and spicy, you can also try Uegaki Kaki No Tane. Its extra hot flavor will give a twist to your Japanese snack.
---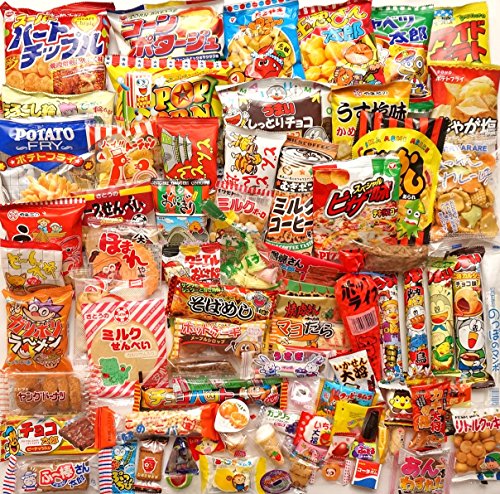 When you hear the word Dagashi in Japanese, it basically means the inexpensive and favorite snacks and sweets popularly consumed by children in Japan. Having this box of assorted snacks will give you a taste of Japanese childhood life.
The product comes with 85 packs of snacks and sweets. If you wish to get a smaller pack, you can also order the 20-pack Dagashi snacks.
Pros
Con
Some customers reported they get less than 85 packs. Be sure to let the seller know about your concern.
---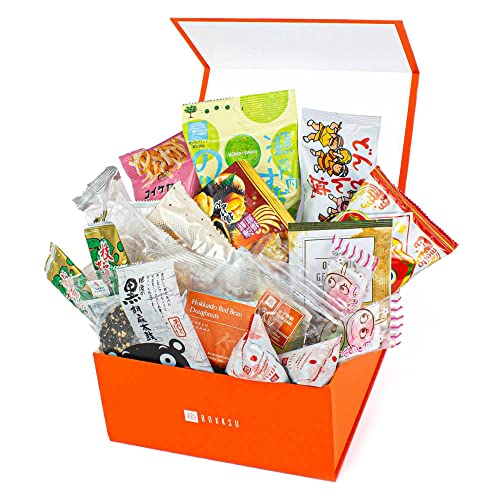 Among the best Japanese snacks come in a Bokksu box. You'll get nothing but authentic and delicious food from Bokksu. There are just so many things to love about the classic box.
First of all, this is actually a snack & candy subscription. It means you can get the Bokksu classic box every month depending on your subscription type. The beauty about this is that Bokksu gathers various snacks every month so that you get to eat different types of food. In most cases, the Bokksu boxes would contain food based on changing themes such as flavors, festivals, Japanese culture, and cities.
Another cute feature of the Bokksu box is it comes with an in-box guide. The guide comes with a map, which shows you where your snacks came from. Not only that but the guide discusses a brief background of each snack in the box. The guide also contains a few details about Japanese culture, what it's like to travel around the country, its language, and the profiles of snack makers.
Once you buy the snacks, it comes with not just free shipping but also tracking. So that you'll know exactly where your Bokksu box is.
Finally, every time you buy a Bokksu box, you are also helping small family-owned snack-making businesses. Bokksu directly partners with these manufacturers so they would also thrive in their trade.
Pros
High-quality and authentic Japanese snacks
Comes with a snack guide
Con
Since you get different snacks, there's a chance you won't like all of the curated items.
---
If you are a fan of Kit-Kat, you would love to know that Japan has its own version. They have popular miniature Kit-Kat snacks that come in different flavors.
Flavors include hazelnut, green tea, rum raisin, wasabi, strawberry cheesecake, roasted tea, citrus blend, dark chocolate, Azuki sandwich, mixed juice, purple potato, apple, sweet potato, Kumamoto tea, and a lot more! There are so many snacks to choose from its list of 17 bite-sized Kit-Kat candy bars.
Pros
Introduces you to the wonderful Japanese world of Kit-Kat snacks
Ideal for gifts and parties
Con
You might not get all flavors as advertised. Assortment would depend on stocks.
---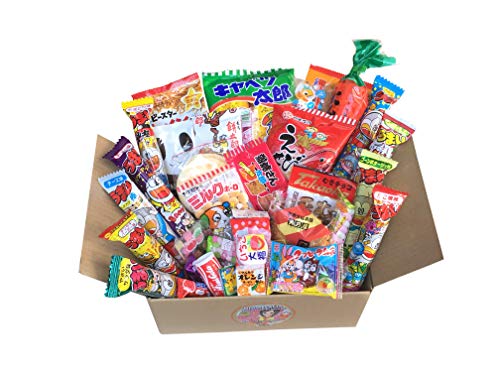 Unlike what we have featured earlier, this product is actually an assortment of 27 types of snacks. However, you'll get 35 pieces. Now, please note that the snacks included here are called "dagashi" in Japan, which is a term used to refer to cheap candies. It is like the American penny candy.
The best thing about this package is that you get all sorts of snacks and sweets. This means you get 27 chances of tasting different Japanese snacks. How cool is that!
Pros
Comes with 27 types of snacks
Experience the different taste of Japanese snacks
Con
Everyone has unique preferences. So, you might not like all snacks that come in the package.
---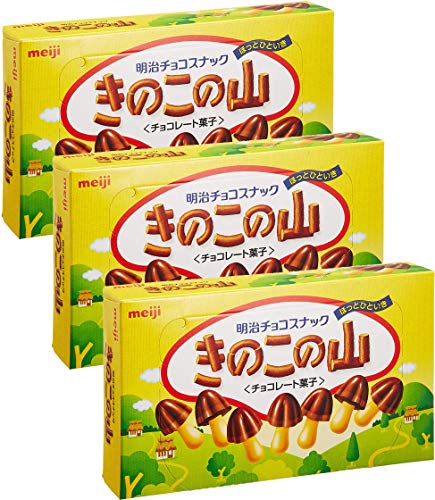 Kinoko No Yama literally means "mushroom mountains." This is a chocolate snack shaped like a mushroom, hence, the name. No, it doesn't taste like mushrooms nor mountains.
The combination of chocolate top and crunchy cracker stem simply make this chocolate snack insanely good. It's a perfect snack and gift for chocolate lovers. In fact, kinoko no yama is among the favorite snacks of Japanese kids.
In each order, you get 3 boxes of the choco snack. Of course, once tasted, you'll easily get addicted to the mushroom-shaped snacks. So, be sure to order extra for you and for the whole family.
Pros
Fun taste and shape
Comes in cute and secured packages
Con
Can be addicting and you may need to order more
---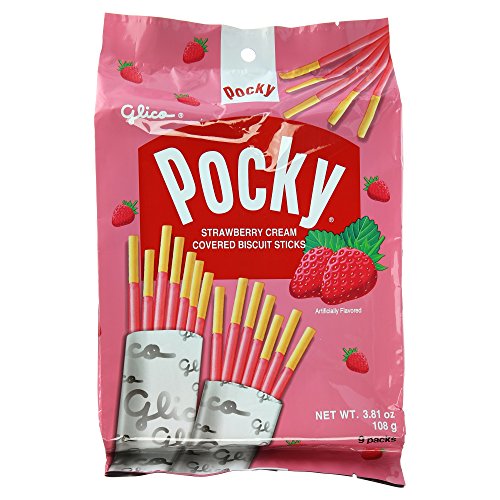 This snack will leave you saying, "kawaii!" There's just too much flavor packed in each strawberry cream biscuit stick. You will love the crunchy texture plus its creamy flavor. There are different sizes to choose from as well.
Ingredients include sugar, wheat flour, vegetable oil, palm oil shortening, whole milk powder, leavening, and other items combined to produce that sweet and delicious flavor.
Pros
Creamy and delightful
Perfect snacks for different events and activities
Con
Some sticks may stuck together especially during hot days
---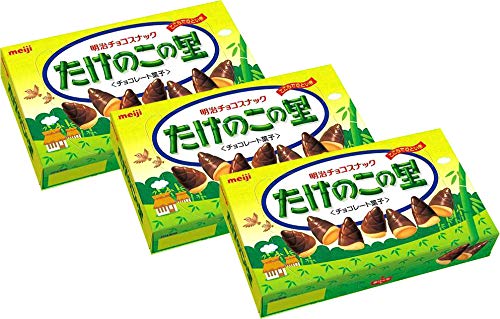 Another great snack from Meiji, the takenoko no sato choco snacks come with a great and sweet flavor. The Japanese product name basically means "bamboo countryside." Thus, the snack is shaped like bamboo shoots. Its top part is dipped in a delightful chocolate mix while its bottom part is made of biscuits.
Pros
Deliciously prepared by Meiji
Comes in three boxes, which helps in eating the snacks in batches
Con
You can easily eat them all in just a few seconds or minutes. So, you may need to order more.
---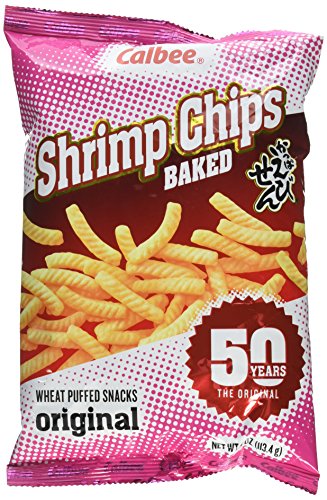 When you order this product, you will receive six packs of 4-ounce bags of shrimp chips. The taste is just extraordinary. Since it is shrimp flavored, you'll kind of taste the sea with every crunchy bite.
Pros
Can be addictively delicious
Having six packs of these tasty treats allows you to share them with friends
Con
People have different tolerance for the fishy and shrimpy taste. You may or may not like the degree of the shrimp flavor.
---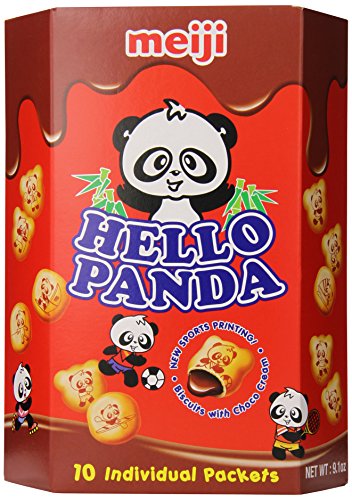 You can't blame us if we feature a few products from Meiji. The company is just a master of creating delicious Japanese snacks. The Hello Panda product comes with a cute panda printed on the package and the cookies themselves are shaped like pandas. Each order also comes with a NineChef spoon, which you can use to enjoy further your snacks.
Pro
Crunchy, sweet, and delicious cookies
Con
Shipping always brings with it the risk of having the package damaged
---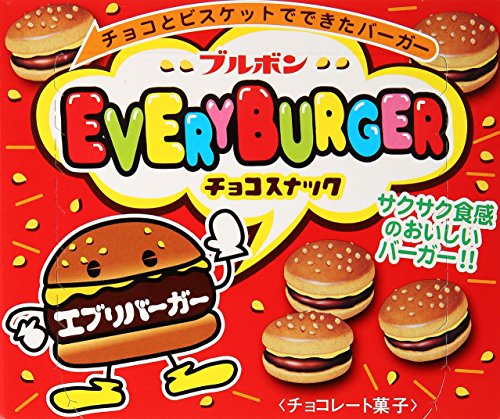 Have you ever thought of creating cookies shaped like burgers? Probably not, but the Japanese did. That's why you have these delicious, creamy, and wonderful treats from Bourbon.
So, imagine this: the biscuits serve as the bun. The burger patty is made of chocolate. The "cheese" is white chocolate. All these are squeezed together to give you that burger appearance. To make it look more realistic, you also have toasted sesame seed sprinkled on the top of the bun.
Pros
A cute and delicious treat
Perfect for novelty events
Con
Shipping takes a lot of time as it will come from Japan
---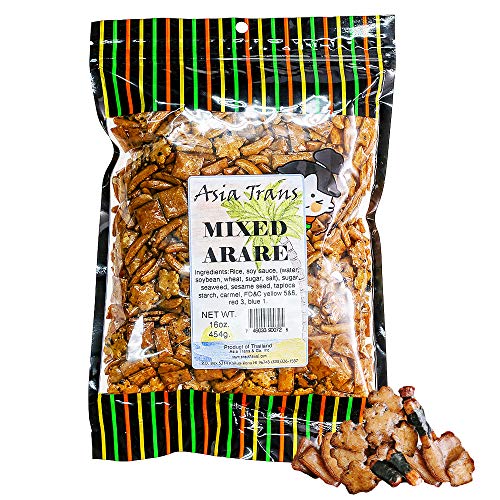 Arare refers to a popular snack in Japan made with glutinous rice flour. Soy sauce is then added to the mix. As a result, you get a savory and fish-like taste, which is commonly partnered with beer, soft drinks, and other beverages.
What's nice about arare is it can be considered as a healthy snack. It's a good source of lean protein and healthy carbohydrates. The product comes in various shapes and sizes. It is packed ready for games, parties, and snack time.
Pros
You'll enjoy its best and rich flavors.
Perfectly combined with other snacks such as popcorn and nuts.
Con
---
If the name of this product sounds familiar to you, you might have already heard of the Tokyo banana caramel cake. They are actually sister products.
With the Tokyo banana cream cake, as its name suggests, you will receive soft and delectable sponge cakes with an aromatic banana taste. What's so cute about this product is its banana shape and giraffe pattern. It is just a perfect gift for anyone who likes something cute.
Pros
Taste great without being too sweet
Comes in a gift-ready package
Con
Some may prefer more the Tokyo banana caramel cake
---
This one can easily become your favorite Japanese snack. In fact, many people expressed that this Yamayoshi's wasabi potato is among the best potato chips they have ever tasted. While its flavor is mainly wasabi with a twist of beefy taste, its spiciness is tolerable by most people, including children.
Pros
Comes with a perfect blend of saltiness, spiciness, sweetness, and umami flavor
Not overly spicy though it is wasabi flavored
Con
Takes too long to arrive from Japan. However, you will soon realize it's worth the wait.
---
Dorayaki is a common red bean snack in Japan. It looks like a sandwich made of pancakes. Between them is a sweet-filling, which is traditionally made with red bean paste. What's unique about pancakes in Japan is that it is sweeter and fluffier than most of the pancakes you probably have tried before.
With Shirakiku's dorayaki, you can choose how many packs you want, ranging from 2 to 10 packs.
Pro
Texture and red bean sweetness are just right
Con
You'll feel sad when you have your last bite
---
This is probably one of the oldest snacks in Japan. It is traditionally produced by Fujiya. The product is composed of cookies. There are a lot of flavors to choose from. These include vanilla, chocolate banana, black sugar, cocoa, rich chocolate, uji-kintoki, pumpkin, and sweet potato.
Pro
The cookie is crispy on the outside and moist on the inside, giving you that marvelous taste
Con
The cookies may be too small for some snack eaters
---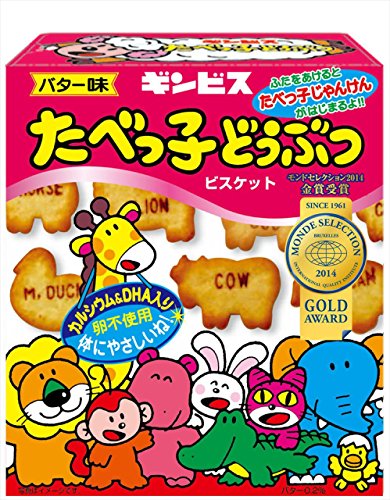 This product is a classic snack that most Japanese are familiar with. The biscuits are shaped like animals and they have their names printed on them. The Japanese snack is actually low in calories. So, it won't hurt your diet.
Pro
Con
One package only comes with 0.07 kg worth of goodies. Might not be enough for most people. Better to order a few boxes instead.
---
Made with milk and caramel, this classic snack will bring back childhood memories for children who grew up in Japan. If you grew up in another country, we're sure you'll love to get a taste of what Japanese children loved to eat when they were still small.
Fun trivia: the box of this dagashi snack has the picture of detective Conan, the most famous anime detective in Japan.
Pro
Con
Can easily run out of stocks
---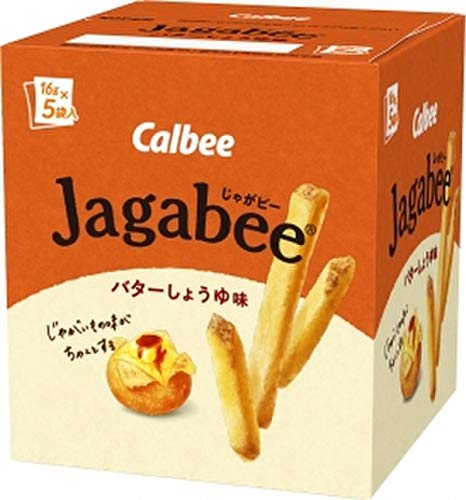 This snack is potato chip shaped like French fries. Each box of these goodies contains five small packs of potato sticks. You will enjoy its delectable soy sauce and butter flavor.
Pro
Con
May be too small for its price
If you are keen to try another type of potato stick from Japan, don't hesitate to give Jagariko sticks a try. You will love its unique taste as well.
---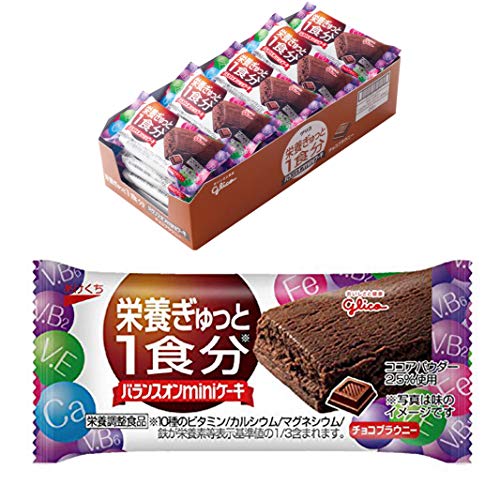 The Balance On snack is actually promoted as an energy snack. It is a chocolate brownie packed with energy-boosting ingredients such as eggs, cocoa powder, sugar, flour, and even antioxidants. It is best eaten with coffee or milk to give you a boost of energy during the day.
Pros
Fortified with vitamins such as B2, B12, and folic acid
Comes with the right level of sweetness
Con
Shipped from Japan; so you have to wait a few weeks to receive your order
---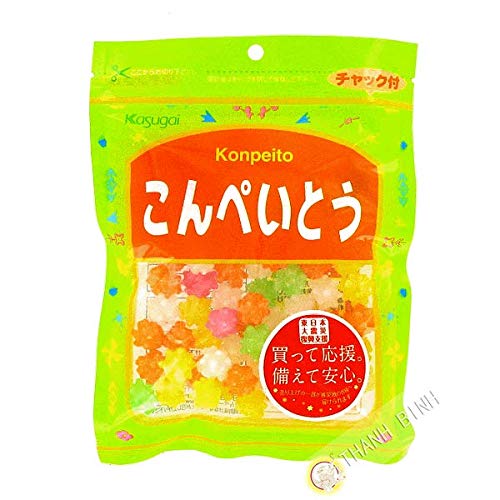 The word "konpeito" refers to the Japanese traditional sugar confectionery. It is small, cute, and colorful. It's a great sweet snack for children during playtime and adults during tea time.
Pro
Can be a nice decoration at the same time snacks in the house
Con
Could have added more flavor
---
How to choose the best Japanese snacks
Aside from the Japanese snacks that we have featured on this post, there are just so many others to choose from. While it is nice to have a wide range of options, it can be overwhelming at times. That's why it is best that you know how to choose the best Japanese snacks for you.
Here are some tips to remember when choosing the perfect snacks:
Check the price
Japanese snacks should be affordable. However, the price can easily go up when you add shipping and you buy in bulk. So, be sure to check first your budget.
Read the label
When you're buying online, you can't physically touch the product. So, it's best that you know the ingredients, nutritional facts, and other important details.
Of course, this can be tricky at times because most Japanese snacks are labeled in Japanese. If you don't understand their language and you want to be sure, it is best to ask the seller directly before you make a purchase.
See what other people say
In most cases, you should be able to read reviews. Thankfully, popular snacks already have received a lot of reviews. By reading through the reviews, you should get a feeling of whether you will like the snacks or not. You may try products with few to no reviews, too. However, just be careful since you don't know much about the product. So, it is either you'll get pleasantly surprised or regretfully disappointed.
Final verdict
We have just shown you 21 of the best Japanese snacks. We're sure you're excited now to try any of them. However, if there's only one Japanese snack you want to start with, give Yamayoshi hot wasabi potato a try. They are just among the best-tasting snacks you will not get enough of. Its unique umami taste got a lot of people talking about it. You might also want to give it a try and see what people are actually saying about this product.
Now, if you really want to taste different snacks in just one order, we recommend the highly-rated Bokksu Japanese snack and candy. You will not only love the snacks, but also the Japanese guide that comes with each box. What's more, if you decide to subscribe to their monthly Bokksu box delivery, you'll get different snacks, allowing you to experiment and experience various Japanese foods.
Thankfully, you don't need to fly to Japan to taste their snacks. With this in mind, we wish you a happy and enjoyable snack. Itadakimasu!
* If you buy through links on our site, we may earn an affiliate commission. For more details, please visit our Privacy policy page.