If you are looking for a method that takes less time to prepare mochi, then go for microwaving. In this post, we will teach you how to microwave mochi in not more than 10 minutes. Read on.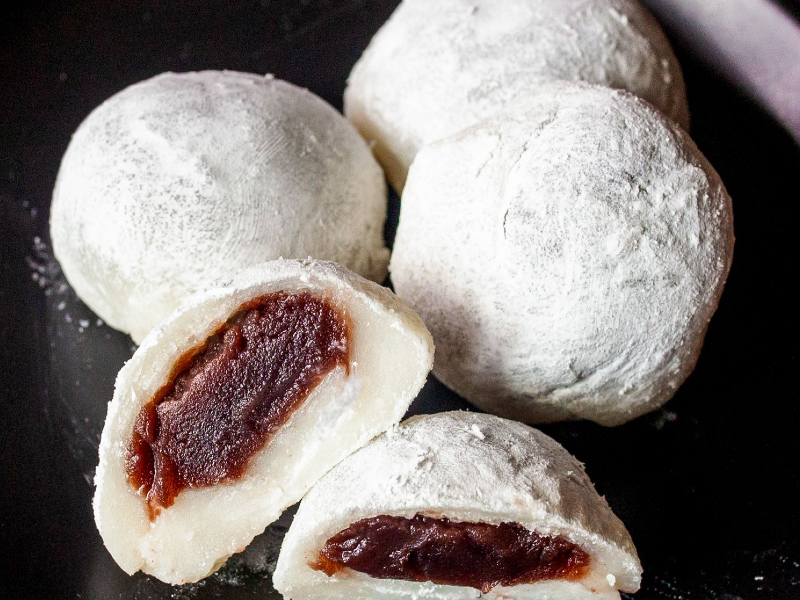 Mochi dessert comes in different flavors to satisfy everyone's sweet tooth. It uses special short-grain rice, soaked, steamed, and beaten into a dough. The dough is then reshaped into small buns and stuff with sweet fillings such as sweet red bean paste, matcha, and the likes.
While most of us stick to the traditional way of cooking mochi, there are some who seek for better option to lessen the preparation time. And the quickest way to make mochi is using a microwave.
WHAT IS MOCHI AND THE TRADITIONAL WAY TO PREPARE IT?
Mochi, native to Japan, is a rice cake made of a short-grain Japanese glutinous rice (mochigome) and other ingredients such as sugar, water or milk, and cornstarch.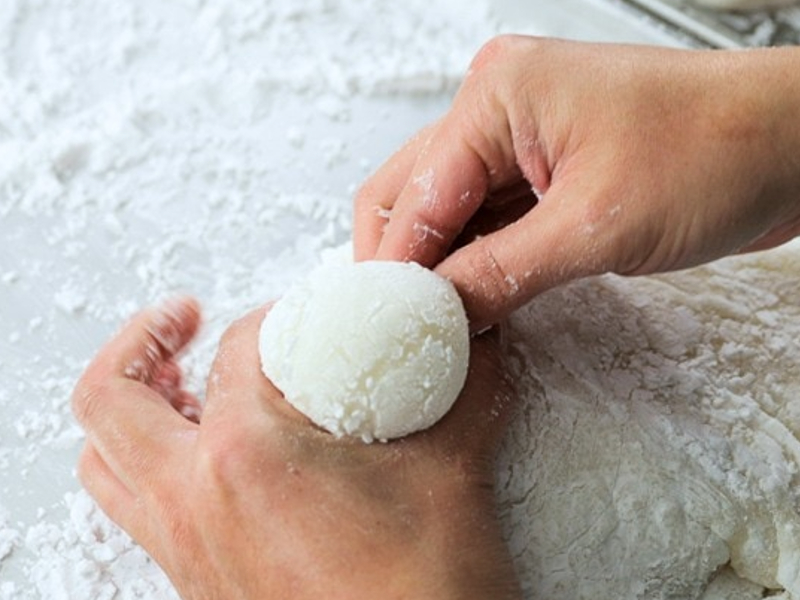 The traditional way of making mochi is a bit lengthy, from steaming the short-grain sticky rice to pounding it with a wooden mallet or wet rubber spatula to aerate and pulverize the rice (glutinous rice flour), and give the mochi the best texture.
The recipe of this glutinous rice flour is not into boiling and draining, but rather mixing gradually to achieve the desired chewy texture.
This dessert is also traditionally made in a ceremony known as mochitsuki. Additionally, mochis are commonly sold and eaten during the Japanese New Year.
HOW DOES MOCHI TASTE?
Mochi tastes like rice, but since this snack cuisine is mainly made from a pounded glutinous rice, its texture is somewhat sticky, soft, stretchy, and chewy. But due to the existence of modern preparations of mochi and the variety of ingredients being used, mochi now offers different flavor possibilities.
The traditional Japanese flavors of this delicious rice cake includes green tea, green tea matcha, red bean, plum wine, strawberry daifuku, mochi daifuku (anko filling), mango, vanilla, chocolate, mint chip, and kona coffee.
Apart from that, mochis are already used in various Japanese dishes as to date. Regardless of how mochi is prepared, this Japanese staple food is indisputably delicious in taste.
WHAT ARE THE NUTRIENTS YOU CAN GET FROM EATING MOCHI?
Mochi is a good source of Vitamins A, C, E and K. It is also rich in Niacin, Pantothenic Acid, Phosphorus, Folate, Calcium, Iron, Magnesium, Copper, Manganese, and Riboflavin. And when you eat the dish with seaweed, mochi will have a very low cholesterol and saturated fat content.
WHAT ARE THE COMMON INGREDIENTS TO MAKE MOCHI?
To make mochi at home, you need the following ingredients:
GLUTINOUS RICE FLOUR
One of the most popular ingredients in Japanese cooking is glutinous rice flour, which is mainly made from glutinous rice or sweet rice. This type of rice is mainly grown in Southeast and East Asia, as well as the northeastern regions of South Asia.
This opaque grain has a very low amylose content. Though it is called glutinous rice or sweet rice, sticky rice is gluten free.
SUGAR
This Japanese cake can be sweet, plain, or savory. And one of the ingredients that can make your mochi sweet is sugar. Sugar is commonly made up from glucose and fructose extracted from sugar cane or sugar beet. It is the generic name for sweet-tasting, soluble carbohydrates, and are often used in food, including mochi.
Sugar also makes mochi dough softer. You can add sugar during the kneading process if you use glutinous rice instead of the sweet rice flour.
Quality granulated sugar or cane sugar is the most common sugar used in most mochi recipes, but confectioner sugar or powdered sugar is also a good option.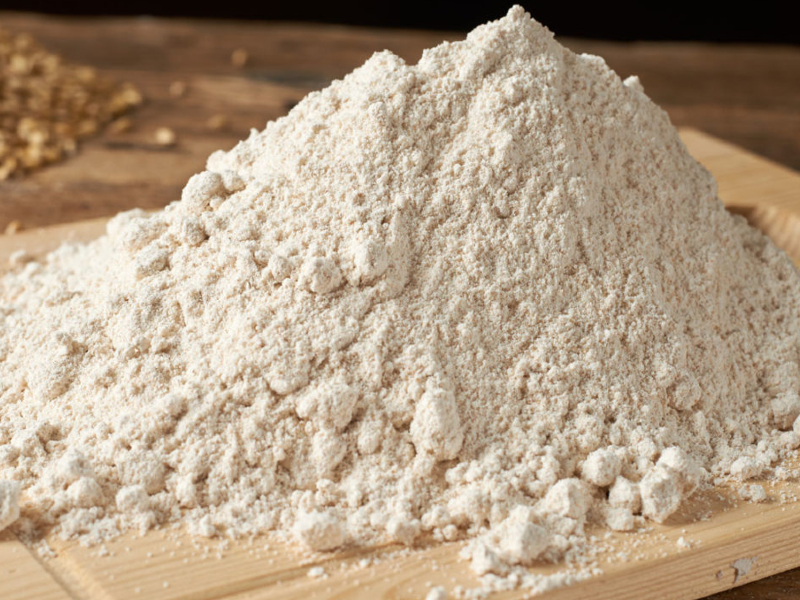 Sugar can be purchased in any Asian store.
STARCH
Since the mochi dough or mixture is sticky and messy, you will need starch to shape it easier. You can use potato starch or cornstarch on your work surface. The starch won't impact the taste of your mochi dough, but it will just make kneading and shaping uncomplicated.
Potato starch is more preferable for this snack cuisine, but can be substituted with cornstarch if not available.
MOCHI FILLINGS
Traditionally, mochi is filled with anko or sweet red bean paste. However, there are dozens of varieties of fillings you can choose from, from fresh strawberries, bananas, to mandarin oranges. You can also fill mochi with ice cream, cinnamon, white bean paste, and black sesame paste.
OTHER INGREDIENTS:
Water is also essential in preparing mochi to achieve the desired consistency of the mochi texture. This can be replaced with milk.
Other additives, seasonings, food coloring, and flavorings are crucial for the nutritive value and taste of the rice cakes. These include the salt and other food flavorings. Adding additives should be done after the rice cakes are formed, and the rice cake must be steamed for a smooth and elastic texture.
If you want to satisfy your sweet tooth cravings, here's a very quick mochi recipe worth a try. If you have glutinous rice flour or sweet rice flour, sugar, corn starch, and milk inside your kitchen cabinet, then make mochi at the comfort of your home in no time.
HOW TO MICROWAVE MOCHI IN 10 MINUTES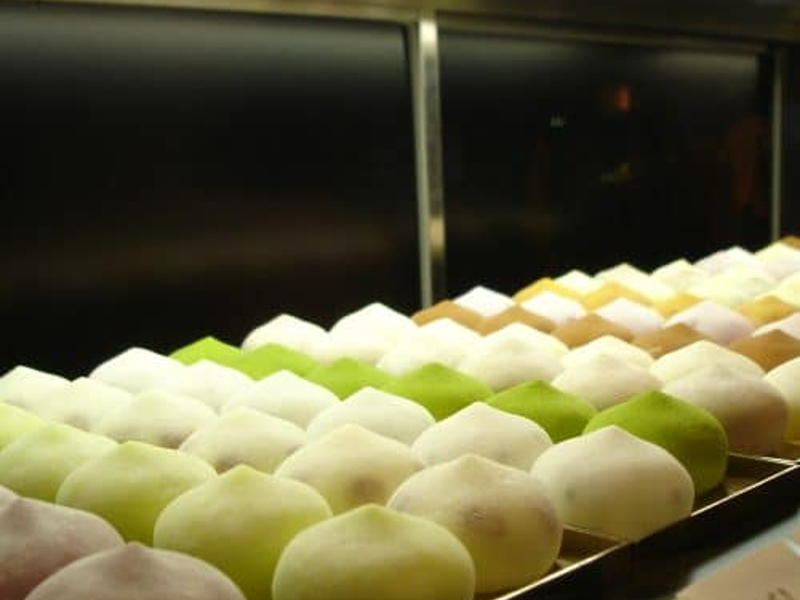 Here's a quick and easy homemade recipe to prepare mochi using a microwave method for at least 10 minutes.
MOCHI SERVINGS: 4 servings
EQUIPMENT: microwave safe bowl, plastic wrap, microwave
PREPARATION: 5 minutes
COOKING TIME: 5 minutes
INGREDIENTS:
100g GLUTINOUS RICE FLOUR
150g WATER OR MILK
50g CANE SUGAR
TAPIOCA STARCH OR CORNSTARCH OR KINDAKO FOR DUSTING
DIRECTIONS:
In a microwave-safe medium bowl, mix the sugar and rice flour. Then add water or milk to make the dough or mochi dough.
Once done, loosely cover the mixing bowl with plastic wrap and microwave for about 3 minutes. Stir the mochi mixture at 1 minute intervals. (Note: If your mixing bowl is not microwave safe, make sure to transfer the rice mixture to a microwave safe container and cover loosely with a lid).
Once the mochi dough becomes thick and transparent in color, proceed to the next step. Otherwise, microwave it again in 30 seconds and continue stirring until the color becomes transparent. Let cool for 3 minutes or until the mochi dough is cool enough to handle.
Sprinkle the work surface with cornstarch, then roll out the mochi dough with a rolling pin, make small balls or cut into shapes, and flatten the dough into discs to about half inch or your preferred thickness.
Fill each shape with fillings of your choice, then cover it with additional dough and tweak to close the opening. Dust the mochi with cornstarch to prevent sticking.
Place a soft mochi ball on a serving plate and serve immediately. Leftover mochis can be stored in an airtight container for up to two days.
MAKE MOCHI USING GLUTINOUS RICE
When opting for the microwaving method using glutinous rice, the first thing you need to do is to cook the sticky rice since the dough can't be pounded and kneaded when it is not properly cooked.
Note that if you will use glutinous rice instead of glutinous rice flour, the preparation will take longer.
Here's what needs to be done:
1. Rinse the glutinous rice with clean water and soak for about 15 minutes.
2. Place the glutinous rice in a rice cooker, steamer, or instant pot and cook.
3. Once the rice is completely cooked, knead it for 3 minutes using a dough hook, and scrape the sides using a rubber spatula.
4. Using a flat beater, pound the dough for 2 minutes and break it at 30 seconds intervals.
5. Once the dough is free of rice granules and has a smooth texture, dust the top of your workspace with more starch to prevent sticking.
6. Cut the mochi dough into your desired shapes and add your preferred fillings.
What is good about this mochi recipe is that it needs less ingredients, but allows substitutions.
If you don't have glutinous rice or sweet rice flour, there are some possible substitutes for when you badly need this Japanese treats. You don't need to stick with the original ingredients in making this dessert.
Here's what you can use if neither glutinous rice nor rice flour is available for your mochi recipe.
Cornstarch can be used to make mochi, but you might not achieve the chewy or stretchy texture a mochi dessert should have.
You can use arrowroot powder as a substitute for glutinous rice or glutinous rice flour.
Potato starch can not only help shape the rice cakes, but as well as a potential substitute for the mochi dough.
Last but not the least is the tapioca starch. By far, this is the most fair choice to replace glutinous rice or sweet rice flour.

WRAP UP
Making your own mochi dessert is definitely exciting and at the same time satisfying. Exciting because you can customize your rice cakes, as well as alter the base of your dough between glutinous rice, rice flour, or the potential substitute mentioned above. You can adjust the sweetness of your dessert and stuff soft mochi with your favorite fillings. Thus, give your much satisfaction.
If you know someone who loves this Japanese treat, feel free to share this mochi recipe.
Thanks for reading!
---
FREQUENTLY ASKED QUESTIONS:
WHEN DID MOCHI ORIGINATE?
The concept of steaming glutinous rice and pounding it into paste have its origin in ancient China. It was introduced from Southeast Asia to Japan after rice cultivation at the end period of Jōmon (14,000–300 BC).
WHAT ARE THE DIFFERENT METHODS OF COOKING MOCHI?
There are different ways to make mochi dessert. These rice cakes can be pan-fried, boiled, and microwaved. The fastest way to prepare mochi is using a microwave.
HOW MUCH NUTRITION CALORIES A MOCHI CONTAINS?
The average mochi can contain 100 calories.
WHAT IS THE SHELF LIFE FOR HOMEMADE MOCHI?
A homemade mochi can only last for 2 days (24 hours) at room temperature. When not consumed after the said time, mochi will start to mold and its texture will harden. But if you keep freshly cooked mochi inside the refrigerator, it can last up to one week.