Gaeng daeng gai is a popular Thai dish for Thai people that is made using red curry paste that is cooked in coconut milk. Meat such as beef, pork or chicken can also be added. Tofu can also used to add to the dish instead of meat for vegans. In today's post, let us talk about how to make red curry paste and the recipe on how to make Gaeng Daeng Gai (Red curry).
Make Thai Red Chicken Curry Paste
Making Thai Red curry paste from scratch is very simple, although there are ready made curry paste available for purchase in most of the local grocery stores but it is preferable to make curry paste at the comfort of home. Homemade curry paste as compared to store bought curry paste are more delicious and are more healthy too.
Red curry paste is an excellent ingredient to Thai curry dishes such as beef curry, vegetarian curries and fish curry, not to mention the famous Red Chicken Curry paste.
You have the option to adjust the ingredients used in making curry paste especially in terms of how you want the level of spiciness to that paste. You can simply add or reduce the chili or the chili sauce to the paste recipe. For vegan options, you can opt to use soy sauce can be a good substitute for fish sauce and for shrimp paste you can use golden mountain sauce instead.
Meats such as chicken, beef, pork. duck, shrimp can be added as protein source to the Thai dish.
Thai Red Curry Paste Recipe
Preparation time: 20 mins
Serving size: 4 to 6 servings
Ingredients:
1/4 cup onion (purple) or 1 shallot (chopped)
1 stalk fresh lemongrass (minced)
1 or 2 red chilies or 3 tsp. Thai Chili sauce or 1 tsp. cayenne powder
4 cloves of garlic
1 galangal or garlic (peeled and sliced)
2 Tbsp. Tomato ketchup
2 tbsp. Fish sauce or 1 tbsp. Soy sauce (vegan option)
2 tbsp. lime juice (squeezed)
2 tbsp. Chili powder or 2 tsp. Asian Chili powder
3 tbsp. coconut milk
1 tsp. Shrimp paste or 1 tbsp. Golden mountain sauce (vegan option)
1 tsp. sugar
1 tsp. cumin (ground)
3/4 tsp. coriander (ground)
1/4 tsp. White pepper (ground)
1/4 tsp Cinnamon (Ground)
Instructions:
Prepare and gather all the needed ingredients.
In a blender or food processor, place all the ingredients to the machine.
Blend all the ingredients until it becomes a pleasant smell of red curry paste.
Add more coconut milk is the paste is just too thick and continue processing or blending the ingredients. The red color becomes intense once the paste is cooked.
---
Before we proceed with how to make chicken red curry paste, let us first talk into detail each of the ingredients that will be used in this recipe.
---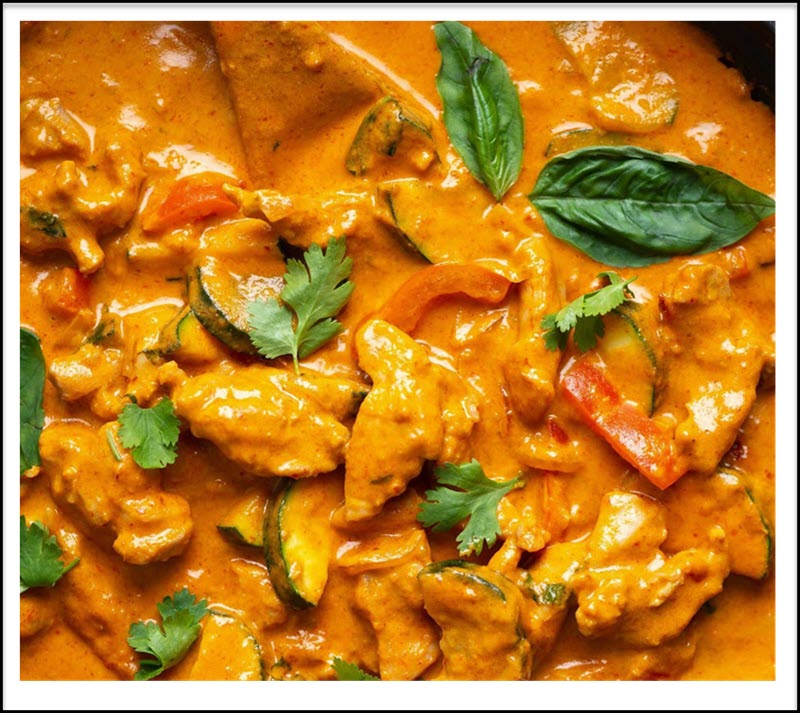 Chicken Red Curry Paste Recipe
Preparation time: 10 mins
Cooking time: 10 mins
Total time: 20 mins
Ingredients:
1 lb. boneless chicken breast or Chicken Thigh
1 can bamboo shoots (sliced diagonally)
3 tbsp. red curry paste
2 cups coconut milk
2 red chili (fresh; sliced)
1/2 cup Sweet basil leaves
2 tbsp. fish sauce
1/4 tsp. sea salt
1 1/2 palm sugar
Directions
Sliced diagonally bamboo shoots into different sizes: 1/2 cc thick. 3 cm wide and 3 cm long.
In a wok, pour in 1 cup of coconut milk. Over medium high heat, bring to boil while continuously stirring.
Add curry paste then continue to stir until a red oil appears.
Add chicken and sauté Chicken meat (Chicken breast or Chicken Thigh) until it is cooked enough.
Add the remaining coconut milk (1 cup) and bamboo shoots.
Add in fish sauce, sugar and salt then bring to boil.
Sprinkle the mixture with Kaffir lime leaves, sweet basil leaves and chilies.
Remove wok from cooking stove.
Place on serving dish. Add sweet basil leaves then serve.
---
FAQs
What can I used as a good alternative to Thai red curry paste?
Curry powder can be used as a substitute to red curry. Ideally, a teaspoon of curry powder for a tablespoon of curry paste.
What is the difference between Red Thai curry and Green Thai curry?
The big difference between Red Thai curry and Green Thai curry is that with red curry, dry red chillies are used while with green curry, green chillies and coriander roots are being used. Also, green curries are more sweeter than red curry.
What are the main ingredients used to make Red curry paste?
The main ingredients that are used to make red curry are garlic, lemongrass, shallot, salt, Coriander root, kaffir lime leaves and spices such as red chili pepper.
We hope that you enjoyed these red curry paste recipe as well the chicken red curry paste recipe that you might want to give it a try. Let us know what you think.