A sauce can be placed on top of a dish or used to prepare other dishes in the kitchen. It is usually creamy, watery, or semi-solid meal. Majority of sauces aren't meant to be eaten on their own, they're used to enhance taste, moisture, and aesthetic appeal to a dish. Sauces are used in almost every cuisine through out the world.
We're going to talk about a unique sauce today: sesame chicken sauce. We'll show you how to make the best Sesame chicken sauce possible. Scroll down to continue reading if you're interested in this type of sauce.
Sesame Chicken Sauce
What Is Sesame Chicken Sauce?
Honey, ketchup, soy sauce, garlic, and sesame oil are combined to make sesame chicken sauce. This sauce is utilized when making sesame chicken.
Sesame sauce is offered with a number of chicken preparations. The chicken is sometimes breaded and fried. Also, it can be used in baked sesame chicken, instead of breaded. It may also be used to prepare sesame chicken stir fry dish with vegetables.
You also have the option to prepare the delicious sauce ahead of time and keep it in the fridge for later.
---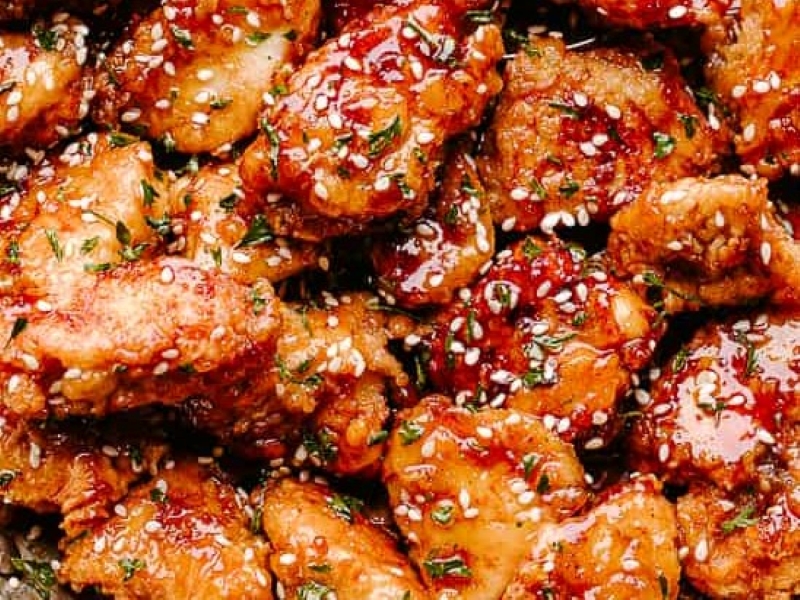 What Is A Sesame Chicken Dish?
In Chinese restaurants across the United States and Canada, sesame chicken is a popular dish. The flavor of the Chinese-based chicken is sweet rather than spicy, akin to General Tso's chicken. Basically, the dish consists of deboned, battered, and Chinese deep-fried chicken pieces or chicken thighs, which are then topped with a translucent, reddish-brown, semi-thick, slightly sweet sauce made from corn starch, vinegar, wine or sake, chicken broth, and sugar, the latter of which is a major contributor to sesame chicken's relative sweetness. Once cooked, the completed meal is garnished with little sesame seeds, which can be toasted or not, hence the name sesame chicken. It is often eaten with veggies like broccoli and baby corn.
---
How To Make Sesame Chicken Sauce?
Ingredients For Sesame Chicken Sauce
Instructions
Fry the sesame sauce and garlic. Cook it until aromatic.
Simmer everything else. Combine the chicken broth, brown sugar, soy sauce, vinegar, and chili paste in a large mixing bowl. Over high heat, bring to a boil.
Mix the slurry. Add to the simmering sauce. and boil for 2 minutes, or until thickened.
Use right away or set aside to cool and use later.
---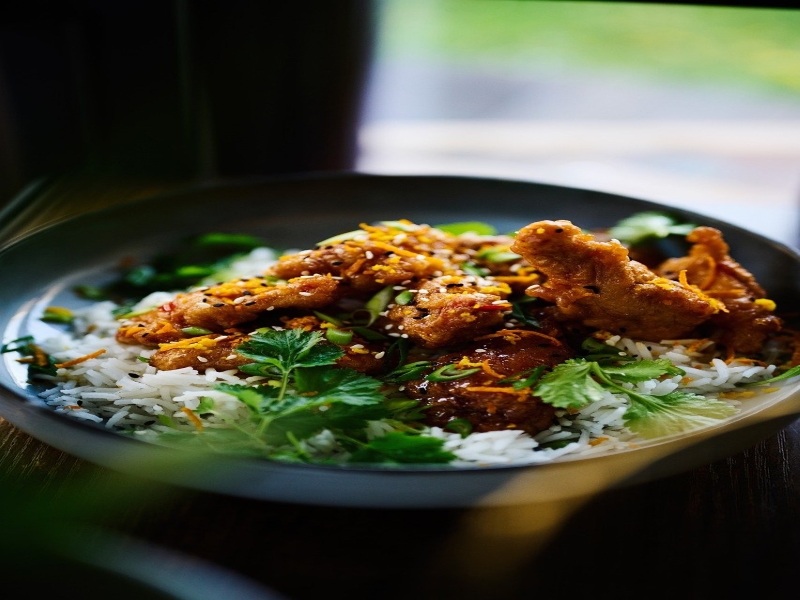 Sesame Chicken Sauce Recipe May Be Used In Various Dishes
Classic Sesame Chicken Recipe
This delicious recipe starts with pieces of chicken breast that are coated in eggs, flour and cornstarch. The chicken is fried to golden brown crispy chicken perfection, then tossed in a delicious sesame sauce.
Ingredients
For the chicken
1 1/2 lbs boneless skinless chicken breasts, cut into 1 inch chunks
2 eggs, beaten
salt and pepper to taste
1/2 cup all purpose flour
1/2 cup cornstarch
vegetable oil for frying
For the sauce
1 teaspoon vegetable oil or canola oil
1 teaspoon minced fresh garlic
1/4 cup honey
1/3 cup soy sauce
1/2 cup ketchup
3 tablespoons brown sugar
2 tablespoons rice vinegar
1 tablespoon toasted sesame oil
2 teaspoons cornstarch
2 tablespoons sesame seeds
2 tablespoons sliced green onions
Instructions
In a mixing bowl, combine the eggs, salt, and pepper. Stir everything together.
In a shallow container or on a plate, combine the flour and 1/2 cup cornstarch. Stir everything together.
Each chicken chunk should be dipped in the egg mixture, then in the flour. Complete the process with the remaining chicken.
In a deep frying pan, heat 3 inches of oil to 350 degrees F.
Put 7-8 chicken chunks to the pan. Cook for 5 minutes, or until golden brown and crispy. Continue on with the remaining chicken in the same manner.
Using paper towels, drain the chicken.
Combine the honey, soy sauce, ketchup, brown sugar, rice vinegar, sesame oil, and 2 tablespoons cornstarch in a bowl while the chicken is cooking.
In a large skillet, heat the teaspoon of oil over medium heat. Then, put the gralic and cook for half a minute. Then, add the honey sauce mixture, and simmer. Cook for about 3-4 minutes, or until the sauce has thickened slightly.
Lastly, put the crispy chicken in the pan with the sauce to coat it. Serve with sesame seeds and green onions sprinkled on top.
---
Baked Sesame Chicken Recipe
Ingredients
For Baked Chicken
1 lb. chicken breasts, boneless and skinless
1 tablespoon salt
1 teaspoon ground black pepper
½ cup all purpose flour
2 eggs, beaten
2 cups Panko breadcrumbs
cooking oil spray
For The Veggies
1/2 tsp ground black pepper
2 cups cauliflower florets
2 cups broccoli florets
1 tsp Italian seasoning
1 tbsp olive oil
1 tsp salt
For The Sauce
2 tbsp soy sauce
1 tbsp brown sugar
2 tbsp liquid honey
1 tbsp black vinegar
1/4 cup ketchup
1/2 tbsp vegetable oil
1 tsp cornstarch
2 tbsp sesame seeds
1 tsp fresh garlic, minced
1 tsp green onions, finely chopped
Instructions
Preheat the oven to 350 degrees Fahrenheit.
Dry the chicken breasts using a paper towel and slice into 1-inch cube-sized. Season with salt and pepper and place in a medium mixing bowl. Set it aside for 10 minutes.
Combine flour and cubed chicken in a big sealed bag, and shake it vigorously.
Take a shallow bowl or plate with Panko breadcrumbs and another shallow plate with beaten eggs. Dip each piece of chicken into the egg wash and coat equally, then coat evenly in the breadcrumbs. The flour adheres to the chicken, while the egg wash adheres to the flour and the breadcrumbs adhere to the egg wash.
Organize the breaded chicken on a parchment-lined big half-sheet baking pan. Using cooking oil spray, coat the chicken. During baking, this aims to develop a crispy crust on the outside.
Combine broccoli, cauliflower, olive oil, Italian seasoning, salt, and pepper in a large mixing container. Stir to evenly coat. On one side of the same baking pan, spread the vegetable mixture in a single layer.
Bake the chicken and veggies in the oven for 25 to 30 minutes, or until the chicken is thoroughly cooked. The chicken should be cooked to a temperature of 165 degrees Fahrenheit. Remove the pan from the heat, and set aside.
Next, prepare the sauce. Mix soy sauce, honey, vinegar, ketchup, brown sugar, and cornstarch in a medium mixing bowl. Stir until the cornstarch and sugar are completely dissolved.
Heat the oil in a big wok or pan over medium heat for 2 minutes. Then, add the garlic and sauté for a minute, or until garlic is aromatic. Reduce the heat to low and whisk in the sauce mixture. Stir well for about 2-3 minutes, or until it thickens. While stirring, keep the heat low.
In a sauce pan, add the chicken and veggies. Mix with the sauce to coat. Sesame seeds and green onions are sprinkled on top.
This dish is best served with a bowl of steamed rice.
---
Honey Sesame Chicken Stir Fry Recipe
1 lb chicken thighs cut into cubes
2 cups broccoli florets
2 large peeled Carrots cut 1/4″ thick
1 cup onion, sliced into 1 inch
3 cloves garlic, minced
1 egg
3 tbsp cornstarch
For Sesame Sauce
3 tablespoon honey
2 tablespoon soy sauce
1 tablespoon rice vinegar
1 teaspoon sesame Oil
1 tablespoon brown sugar
Instructions
Whisk together the ingredients for the honey sesame sauce in a small dish and set aside.
In a large mixing bowl, add the cubed chicken and cornstarch. Toss the chicken to coat it. Whisk the egg in a small bowl. Pour the egg over the chicken and toss lightly to coat.
In a large skillet or wok, heat 1 tablespoon oil over medium-high heat. When the skillet is heated, gently add the chicken. Cook until the bottom is brown, slowly spreading the chicken out into an equal layer. The chicken may appear different at this stage, but it will all come together eventually.
Flip the chicken over once the lower portion is brown, carefully breaking the pieces apart. Cook for another 5-7 minutes until golden on the opposite side. Remove from the wok, and transfer to a platter.
Add a half tablespoon of oil to the wok and stir fry the broccoli, carrots, and onions for approximately 5-7 minutes, or until the carrots and broccoli are cooked.
Return the chicken to the skillet with the vegetables and increase the heat to high. Stir fry for a few minutes longer, then carefully pour in the sauce, stirring continuously. Turn off the heat.
Serve with fresh chopped green onions and sesame seeds over steaming rice, just like the other recipes mentioned above.
---
Frequently Asked Questions
How to keep homemade Sesame Chicken Sauce?
To store the sauce, let it cool for an hour before transferring to an airtight container and storing in the fridge for up to 5 days.
What's the difference between General Tso's chicken and sesame chicken?
Sesame chicken is sweet and seasoned with both sesame seeds and sesame oil, whereas General Tso's chicken is sweet with a hint of spice.
Is Sesame Chicken unhealthy?
When chicken is fried rather than roasted, the fat level is somewhat higher, which may be unhealthy. Sesame chicken is high in calories and may be healthy. Always remember to eat in moderation.