This post is for you if you enjoy teriyaki meals. We're going to teach you how to prepare Hawaiian Teriyaki Sauce.
* If you buy through links on our site, we may earn an affiliate commission. For more details, please visit our Privacy policy page.
Teriyaki sauce in the Hawaiian style is super easy to create. It's a savory and sweet sauce with a hint of zing from fresh ginger. Chicken breasts or thighs can be marinated in Hawaiian Teriyaki Sauce. It's also good for marinating meats and vegetables.
If you are interested in making Hawaiian teriyaki sauce, scroll down and continue reading.
Hawaiian Teriyaki Sauce
What Is Teriyaki?
Teriyaki is a Japanese cooking method in which meals are broiled or grilled with a soy sauce, mirin, and sugar glaze.
The name teriyaki comes from the word teri, which pertains to the luster or shine produced by the sweetness in the tare, and yaki, which pertains to the grilling or broiling style of cooking. During cooking, the meat is traditionally dipped or coated with sauce multiple times. Teriyaki was created in the 1700s by Japanese chefs.
---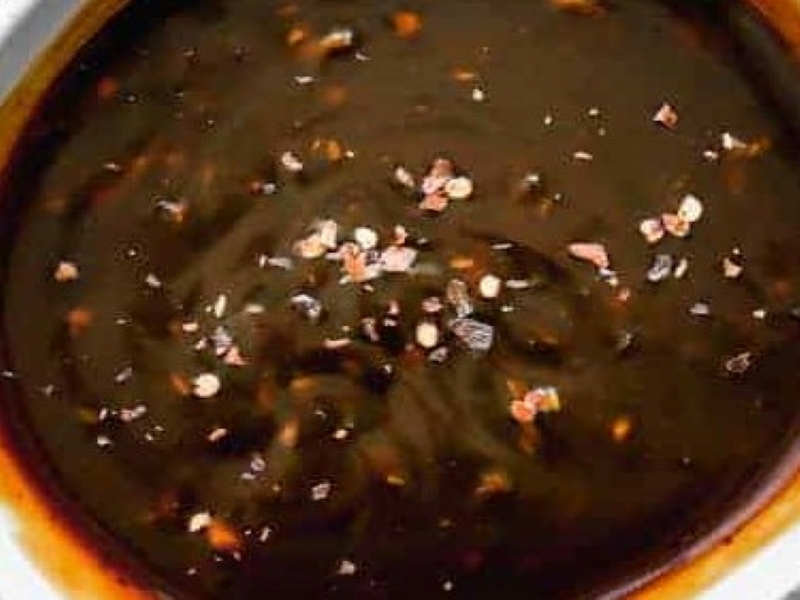 Teriyaki Sauce
In North America, the term teriyaki is used to designate any meal that has a teriyaki-like sauce. This comprises those who use wine as a substitute for sake or mirin, or those who use additional ingredients like sesame or garlic. The teriyaki sauce is often sweet, however it can sometimes be hot. Pineapple juice is commonly used because it contains both sweetness and bromelain enzymes, which help soften the meat. Other non-traditional teriyaki cooking methods include grilling the meat first and then pouring the sauce on top, or using sweet sauce as a marinade. Teriyaki sauce is often used as a dipping sauce for chicken wings.
---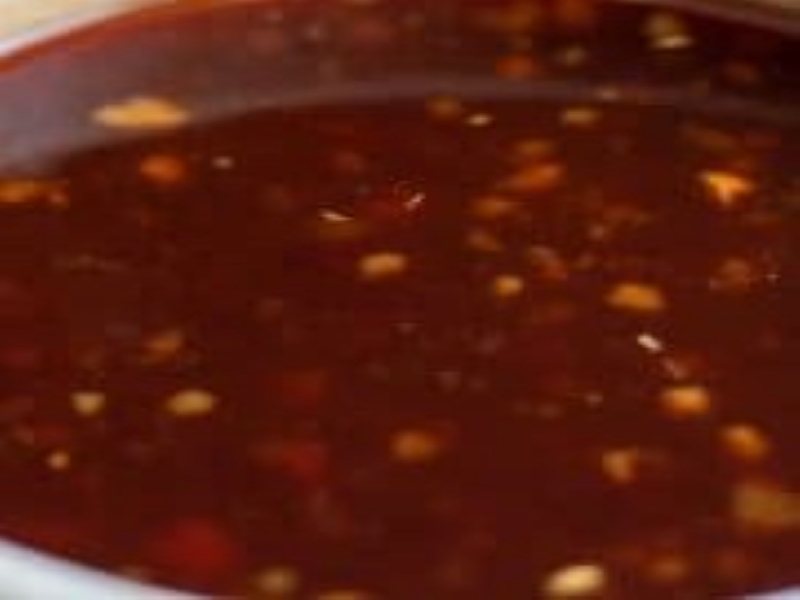 Hawaiian Teriyaki Sauce
Hawaiian style teriyaki sauce is not the same as typical Japanese teriyaki sauce. Soy sauce, sugar, and ginger are used in Hawaiian teriyaki sauce, whereas soy sauce, sake, sugar, and mirin are used in Japanese teriyaki sauce.
During the sugar plantation period in the 19th century, the Japanese introduced teriyaki sauce to Hawaii. Each culture's food was integrated and modified to local preferences over many years, just as the food of all the ethnic groups who arrived to Hawaii.
Sugar was used instead of mirin, probably because Hawaii was producing a lot of sugarcane at the time. To make the sauce more affordable and accessible, the sake was left out. Garlic and ginger were commonly combined. Many people thought that ginger and garlic were inspired by the local Chinese community.
---
Hawaiian Teriyaki Sauce Recipe
Another name for Hawaiian teriyaki sauce is Huli Huli sauce. The sauce is very easy to create and delicious over grilled meat or veggies.
Ingredients For Hawaiian Homemade teriyaki sauce
1 cup low sodium soy sauce
1 cup brown sugar
1/4 cup mirin
1 teaspoon finely grated ginger
1 large garlic clove, minced or grated
3 scallions, finely chopped
Instructions
In a small saucepan or skillet, mix the soy sauce and sugar over medium heat, enough to dissolve the sugar. Remove the pan from the heat and place the remaining ingredients.
Bring to a boil, then reduce to a low heat for 10 minutes. If you want a richer sauce, cook it longer.
Serve immediately over grilled or baked chicken with white rice or fried rice. You also have the option to let it cool slightly before storing in a glass jar and placing it in the fridge.
---
Tips In Making Homemade Teriyaki Sauce
This sauce may be kept in an airtight jar in the fridge for up to 5 days.
You may also freeze it for up to two months. Transfer the sauce to a freezer-safe container after it has totally cooled. When ready to use, defrost overnight in the fridge and use right away.
---
You may buy teriyaki sauce online if you don't have time to produce your own Hawaiian teriyaki sauce. The following are some of the greatest teriyaki sauces available for purchase online.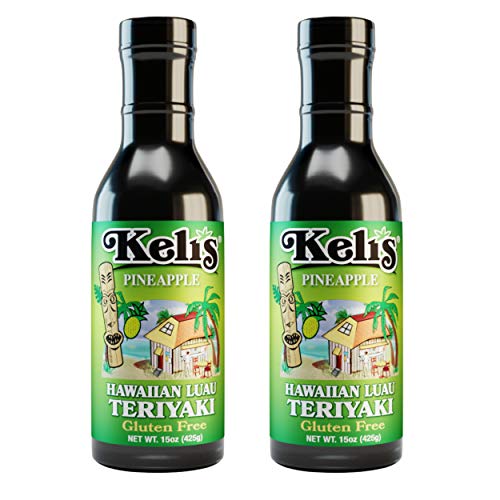 Product description
Flavor: Pineapple Ginger Garlic
Brand: Keli's
Weight: 15 Ounces
Package Weight: 1.34 Kilograms
Material Feature: Nut Free, MSG Free, No Artificial Preservative, Gluten Free, Vegan, Low Sodium
A pineapple Hawaiian style teriyaki flavor. Ideal for teriyaki stir-fry, yakisoba noodles, rice, and as a marinade. This sauce is ideal for stir-frying and marinating because of its thin consistency and pineapple taste. It is enjoyed by both children and adults.
It is a low sodium vegan teriyaki sauce. Their tasty sauce is low in sodium, gluten-free, nut-free, vegan, MSG-free, and preservative-free without losing flavor. If you have diet restrictions, the healthiest option is their Hawaiian Pineapple Sauce.
Keli's Hawaiian Luau Teriyaki is perfect for popular recipes such as teriyaki chicken, wings, steak, and more. It's become the go-to Teriyaki Glaze for backyard BBQs. For a genuine crowd pleaser, use Keli's as your "secret ingredient" at your next dinner party.
If you are interested in this teriyaki sauce, click on amazon
---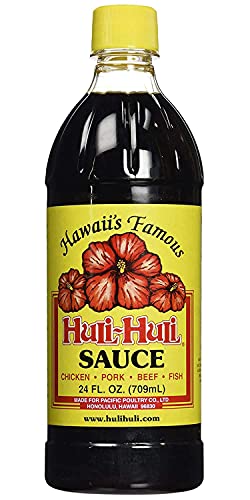 Product information
Flavor: Barbecue
Brand: Hawaii's Famous Huli-Huli Sauce
Package Information: Bottle
Package Weight: 0.92 Kilograms
Material Feature: Allergen Free, Gluten Free
The most popular and well-known barbecue marinade or can be made into teriyaki sauce. Chicken, pork, beef, and seafood sauces are all excellent choices. It improves the freshness of the meat and heightened the overall flavor of each dish.
Grilling marinated meats and vegetables with a sauce on the side transforms indoor or outdoor meals into a delectable flavor and savor for you and your friends and family.
Hawaii's Famous Huli-Huli Sauce is the ideal complement to any dish. It enhances the flavor of any food, particularly those prepared on the grill. It is well worth the cost to bring to your table and enjoy with your loved one, especially on important events like birthdays, anniversaries, and other occasions.
This sauce includes every seasoning to satisfy every taste bud, as well as a full spice to accomplish any marinated meal flavor. This is ideal for the upcoming holidays since you can not only bring delicious cuisine to the table. You may also wrap to share your favorite taste with friends, coworkers, and family members.
Buy this now on amazon
---

Product Description
Brand: Aloha Shoyu Co.
Flavor: Terikayi
Package Information: Bottle
Package Weight: 0.88 Kilograms
This teriyaki sauce is excellent as a marinade.
Best served with steaks, chicken, or seafood, or marinate any meat.
Excellent as a veggie sauce.
Made in Hawaii.
If you are interested in purchasing this product, simply click on amazon
---
Product Information
Brand: San-J
Flavor: Pineapple
Package Weight: 0.36 Kilograms
Perfect for Instant Pot cooking, this sauce is excellent for slow cooking and pressure cooking.
Simple to make; just pour, cook, and eat.
You can prepare delicious dishes such as, Hawaiian teriyaki meatballs, rice bowls, or Vietnamese Banh Mi sandwiches with it.
Very flexible. It works well with any foods and may be used as a simmer sauce.
Non-GMO Project certified, certified organic, gluten-free.
You can buy this product on amazon
---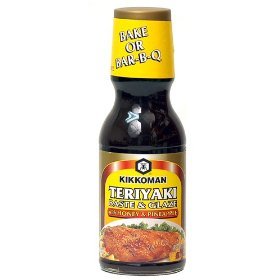 Product information
Brand: Kikkoman
Flavor: Honey, Pineapple
Weight: 12.8 Ounces
Package Weight: 1.05 Pounds
Kikkoman teriyaki sauce is also an excellent choice for teriyaki recipes. This sauce is popular with vegetarians.
If you want to buy this product, just click on Amazon
---
How Should Teriyaki Sauce Be Used?
Teriyaki Sauce Can Be Used As A Marinade
It can be used as a marinade. The sauce is a thin liquid that may be used to marinade a variety of foods, including grilled chicken thighs, tofu, pork, and fish.
Teriyaki Sauce Can Be Used As A Glaze
As a glaze, teriyaki sauce can be used. Simply simmer the sauce over medium heat until it thickens and reduces.
You may also make a glaze out of it by adding cornstarch. Using a teaspoon of cornstarch and a little water, make a paste. Ensure the cornstarch is completely dissolved before adding it to the teriyaki sauce. Bring to a boil, then reduce to a low heat. The blend of cornstarch and water thickens the sauce.
Frequently Asked Questions
What's the Best Way to Thicken Teriyaki Sauce?
A cornstarch slurry is the simplest method to thicken teriyaki sauce. You just have to combine 1 1/2 teaspoons cornstarch with 1 tablespoon water in a small bowl, then pour the mixture to your sauce while it is simmering.
What Does Teriyaki Sauce Go With?
Teriyaki sauce works great with Teriyaki chicken, teriyaki beef, chicken strip dipping sauce, and many more dishes.
Is there Pineapple in Teriyaki Sauce?
Yes. Some people like to use pineapple juice in their teriyaki sauce.
* If you buy through links on our site, we may earn an affiliate commission. For more details, please visit our Privacy policy page.