Japan is not only a beautiful and progressive country, it also offers a lot to the rest of the world. From different beautiful spots and sceneries, Japan also has the most delicious food. And Ramen being their popular dish served to both locals and tourists.
* If you buy through links on our site, we may earn an affiliate commission. For more details, please visit our Privacy policy page.
More and more people are hooked with this beautiful country and a lot of them have tasted the great flavours of their different dishes. From the fresh Sushi & Sashimi to the bold flavors of tempura and takoyaki, and the refreshing taste of their Miso soup, you can't get enough of these foods in one sitting.
Traditional Japanese cuisine is very flavorful that a lot of people love. Thanks to their innovative uses of different Japanese sauces in their recipes. One simple dish recipes could achieve a level up version once these sauces are incorporated into it.
Aside from that, these sauces from Japan can also be used as a dipping sauce, salad dressings, marinades for grilled meats, and have been essential elements in soups like their Miso. Noodles can also be mixed with these delectable sauces to get that bold flavor on Japanese cooking.
Let us explore some of the best Japanese sauces that you can incorporate your Japanese cuisine and Japanese cooking with. Check out the details of each condiment below and what recipes they are best for.
Different Japanese Sauces Used in Japanese Cooking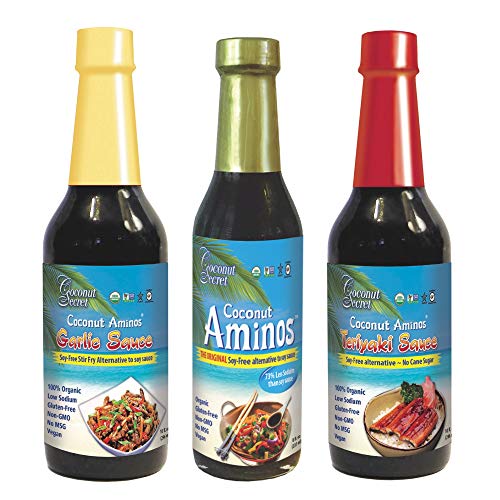 Teriyaki sauce is a staple Japanese sauce which is made out of soy sauce, sake (or mirin), sugar and ginger. This sauce is popular across Asia (or all around the world) due to its savory-salty-sweet flavor with lots of umami undertones.
Teriyaki can be incorporated on marinades like grilled chicken to create a glazed-appearance. You can also use it for stir-fry dishes and chicken wings together with other ingredients.
Buy it now: Amazon
---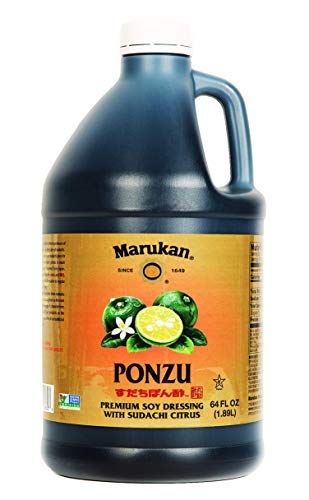 This citrus-juice based Japanese sauce has a tart, thin, water-like consistency and nearly colorless. Fresh juices from citrus fruit (lemon juice and orange juice) gives the ponzu sauce a citrus snap. It is used traditionally as a dipping sauce for shabu-shabu and other simmered dishes. You can also use this as a part of a dip for soba or somen noodles, sashimi, slices of tataki (seared meat) or occasionally dumplings.
---

The tonkatsu sauce or Usuta sauce is a thicker-version of the Worcestershire Sauce, served with the Japanese pork cutlet (tonkatsu) or the chicken katsu. The tonkatsu sauce is sweet and tangy, with a unique hint of spicy flavor. It is mainly made of vegetables and fruits that includes tomatoes, prunes, dates, apples, lemon juice, carrots, onions, and celery.
---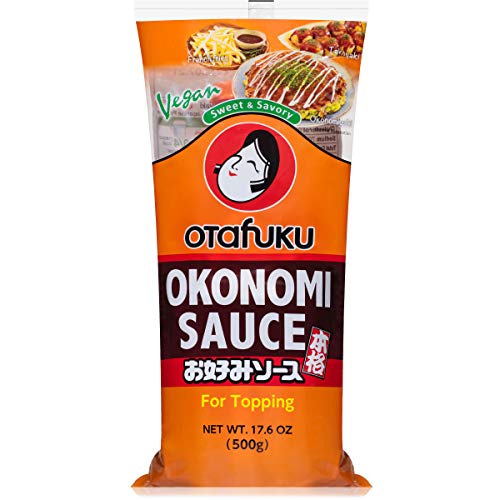 This sauce is very similar to the tonkatsu, with a sweet, savory taste and packs a lot of umami flavor. Okonomiyaki sauce can be brushed over the popular Japanese savory pancake with the same name. This essential condiment is made of Worcestershire sauce, oyster sauce, ketchup, and honey (you can also use sugar).
Since this is a great soy sauce based condiment, you can use this sauce on burgers and steaks. You can also make it as a dipping sauce for veggies and meats, in soups (like Miso soup) and as a marinade or put it in stir-fries.
---
One of Japan's best-known street food snacks originated in Osaka, the Takoyaki, uses a special soy sauce to create the distinct taste. The takoyaki is a delicious octopus ball that is crunchy on the outside and flavorful on the inside. Whereas the Takoyaki sauce has a thicker consistency and is a bit sweeter and milder than the Okonomiyaki. It usually drizzled on top of the Takoyaki balls.
---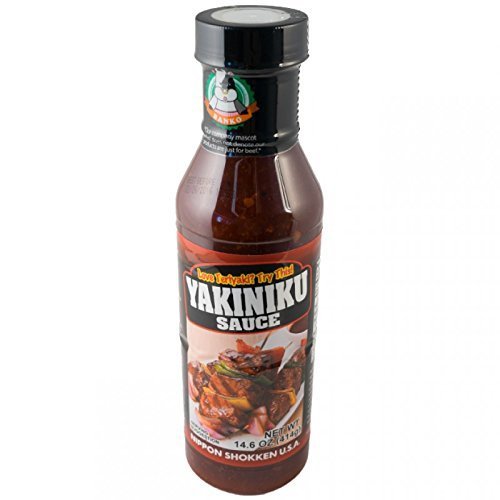 Yakiniku is one of the most common and traditional Japanese sauces. It is made of soy sauce that is mixed with cooking sake, mirin, sugar, garlic, fruit juice, and sesame seeds. Since the Yakiniku sauce is sweet and flavorful, it is best incorporated and served on BBQs and meat dishes. Aside from that, you can also add it on stir fries to give it an extra flavor.
---
From the name itself, the sushi vinegar is best paired with sushi rice. It should prevent the fresh fillings on the rice from becoming spoiled. It also gives the rice a refreshing taste that nicely balances most standard sushi fillings.
This vinegar is a combination of rice vinegar (rice wine), sugar, and salt. Aside from sushi's, you can also use this vinegar as a dip for other dishes if you want to as it has a taste similar to the regular vinegar dips being served.
---
Wasabi is considered as the best condiment for all types of Sushis. But you can also add this on dips and sauces, pasta, chicken, tofu and more for that real punch or a subtle spicy accent. Authentic wasabi paste is made from the rhizome of the Wasabia japonica plant, that is why it is called the green paste (ditch the artificial food coloring).
But don't be fooled by its gorgeous color as the wasabi paste has a very spicy taste. Make sure to only use a small portion if you're not into spicy dishes. Fresh wasabi taste is similar to hot mustard or Japanese horseradish rather than chili peppers, that is why it stimulates the nose more than the tongue.
---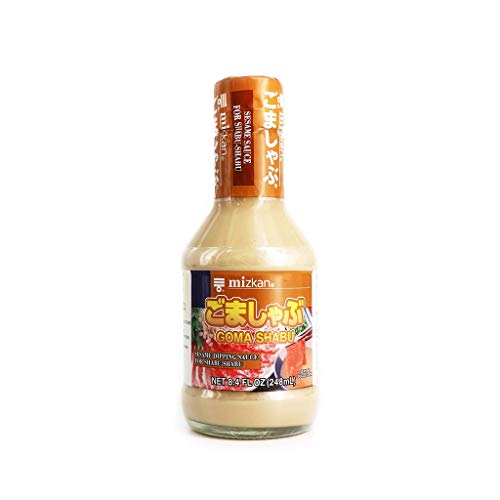 This is a traditional Japanese sesame seed that is mainly used as a dipping sauce. You can create this sauce by combining tahini, soy sauce, cooking sake, mirin rice vinegar, garlic, miso, sugar, sesame oil, and dashi stock. Adding Japanese mayonnaise is also optional and a personal preference.
Goma Dare is not only for dips, since sesame seeds are the main component of this sauce, it is best used as salad dressings. This is the reason why you will see many vegetables dressed with sesame salad dressing in restaurants.
---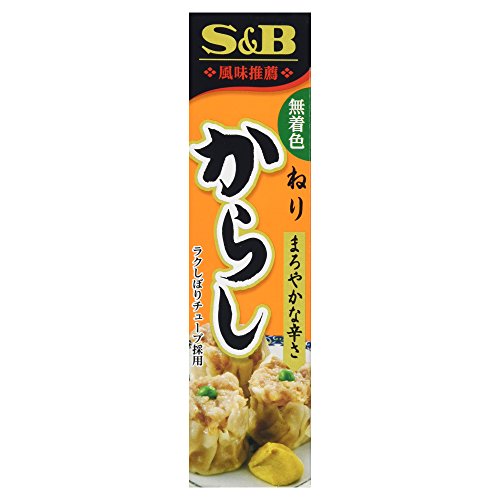 This Japanese mustard is a mixture of crushed mustard seeds of Brassica juncea and horseradish, which gives it a spicy flavor. When compared to the regular yellow mustard, Karashi is spicier and more potent.
It's used as a condiment or as a seasoning in different Japanese recipes. The most famous Japanese recipes where you can incorporate Karashi are oden, gyoza, and tonkatsu.
Those are just some of the best Japanese sauces that you can find and try on your own. Have you tried any of them yet? Some of them are great substitutes for soy sauce. Maybe it is time to explore different flavors of the Japanese cooking by using these sauces on your Japanese dishes.
---
* If you buy through links on our site, we may earn an affiliate commission. For more details, please visit our Privacy policy page.