One of the famous traditional Japanese dishes, Sushi is usually made of small pieces of raw fish that are wrapped in rice and seaweed. Making sushi can be fun as there are different styles and its presentation varies widely.
* If you buy through links on our site, we may earn an affiliate commission. For more details, please visit our Privacy policy page.
What Is Sushi?
This famous Japanese food is widely known for its delectable taste and unique flavor. Thanks to its main ingredient, the sushi rice, which is also the key in achieving a good quality of sushi.
Sushi is usually prepared with vinegared rice, added with some sugar and salt. A variety of ingredients, such as seafood (often raw) and vegetables are also incorporated into the sushi rolls.
The main procedure of making sushi is to use a type of vinegar that is made from fermented rice to flavor the rice. Then the rice is used to surround the fish and spices. The final stage is to wrap a nori sheets before rolling and cutting.
What Are The Best Sushi Making Kits
Though the vinegared rice makes the taste interesting, using the right sushi making kit can also help with the presentation of your sushi. That is why we sorted these sushi making kits and listed them below. Check out for more information.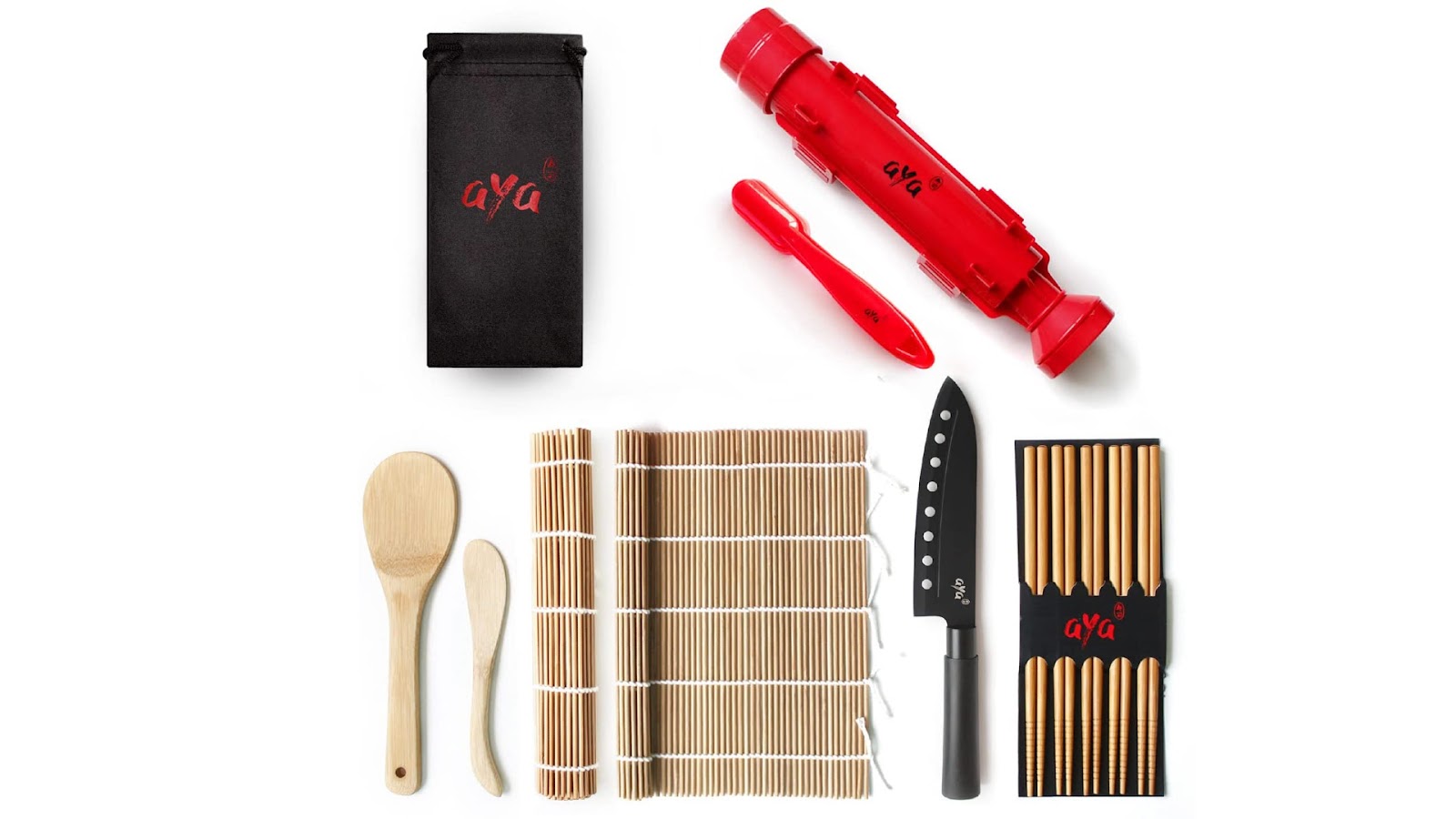 This sushi making kit might be just the thing that you need. It comes in a complete package for your delectable sushi making process.
The AYA bazooka sushi kit is very convenient to use. Simply open up the bazooka and fill it with your preferred ingredients. Close the lid and push to get an instant, perfectly-shaped roll minus the all the mess.
What you will get with this sushi chef kit will be natural premium bamboo sushi rolling mat, rice spreader, spatula and 5 chopsticks. It also comes with nigiri maker and professional grade sushi knife. What's good about this is that it will be packed with a stylish storage bag for the perfect gift.
Making sushi at home should be a breeze once you have some sushi making kits like the AYA Bazooka.
You can grab yours by clicking here.
---
If you are new in the sushi making field, you don't need to worry as you can still have fun making sushi at home using the kit.
The product that comes with this package is made out of high quality bamboo material, making it a sustainable option. It is constructed out of top-quality natural bamboo, durable, no chemicals or varnish. You can ensure that the sushi you are making is safe and healthy for your family.
You also don't need to look for other tools in making sushi as the package is complete with 2 Rolling Sushi Mats, 5 Pairs of Chopsticks, Paddle, and Spreader. This is really perfect for newbies and can be compared to a sushi chef kit.
If you don't want to spend more time on cleaning the tools after usage, this sushi making kit is also easy to clean. You can clean the tools easily by hand washing them with warm water. Or you have the option to wrap the plastic wrap in the bamboo mat for easy cleaning.
You'll definitely have fun making delicious sushi using the sushi rollers, two rolling mats in this package.
To purchase this one of the best sushi mats, simply click here.
---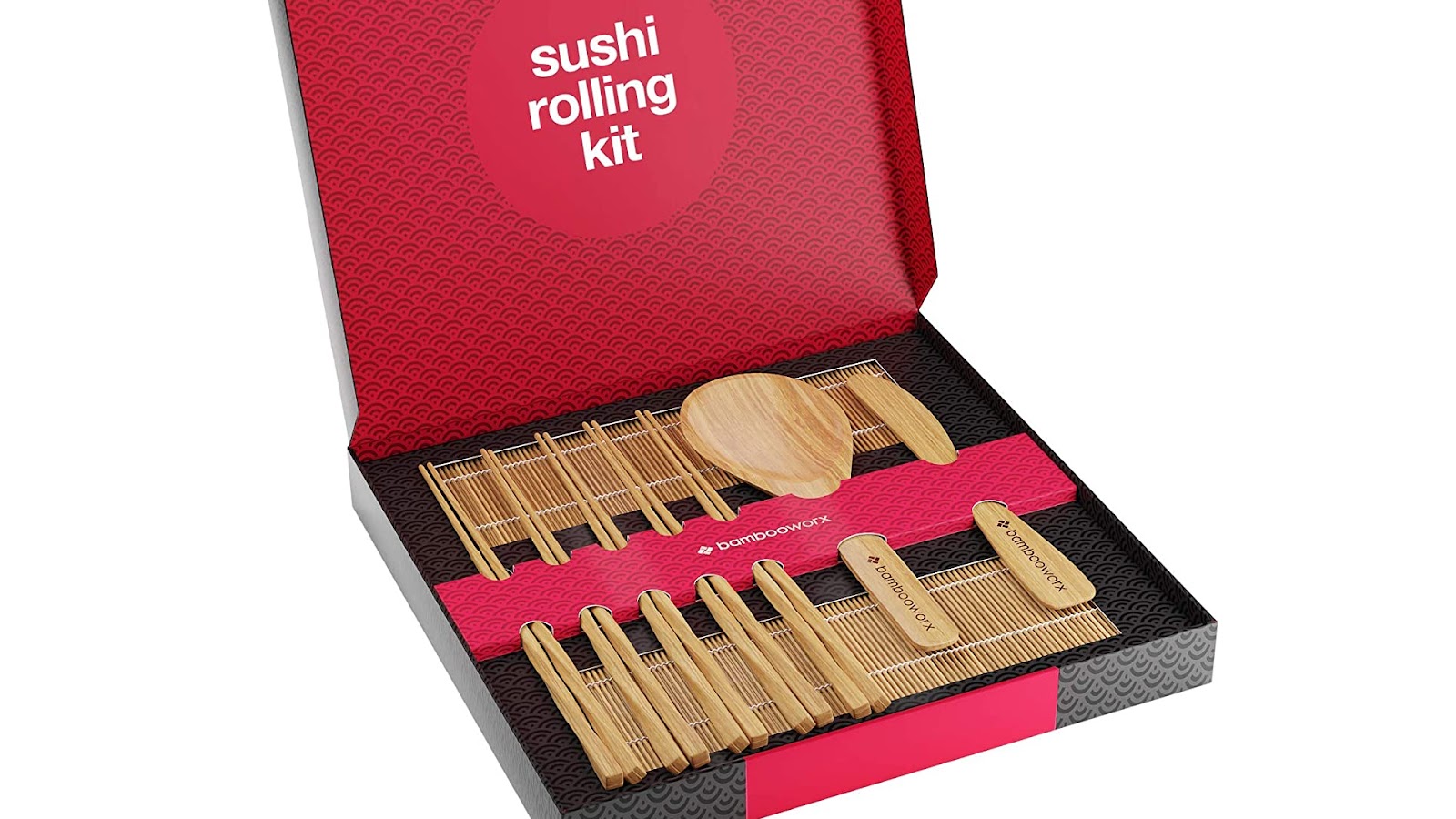 Choosing a brand that offers a complete set of sushi making tools can be tricky. Whether you are a beginner, a world class professional sushi chef or a culinary student, you might need something to lessen the job and achieve complete sushi making experience.
You don't need to worry about that as the BambooWorx sushi making kit will provide the ideal tools for making your own sushi at home. Expect that the items in the Sushi-Making Kit are crafted exceptionally well.
What you will get out of the box will be two bamboo rolling mats at full size of 9.5" x 9.5". It also comes with a rice spoon to mix the rice and vinegar. If you want evenly spread rice on your sushi roller, you can use the rice spreader.
With this kit, you can now host some sushi parties at home, teach kids how to make some sushi or provide this great tool as a gift to your loved ones who love to make great food.
Just purchase this one of the best sushi makers by clicking here.
---
Are you wondering how to prepare some delicious sushi chef? Well, choose the right tools first and then you can start from there.
The AYA Eco sushi making kit has one of the best sushi mats due to the biodegradable materials used, just like what the name suggests, it is eco-friendly. Not only can it be used in making some delicious sushi, you can also make tuna and salmon nigiris, California rolls and rainbow rolls with this sushi making kit.
If you are looking for a gift idea for Christmas day, Mother's Day, Father's Day, birthdays, and Hanukkah, or any other occasions, check out this product and they're gonna love it. This unique sushi making kit will provide the lowest impact on the environment.
Beginners, experts and professionals can definitely perform their tasks easily by using the bamboo sushi mat to get some amazing sushi rolls.
Click here if you want a kit for rolling sushi.
---
If you are looking for something that is made of sturdy plastic, food grade materials, the Pat & Doris Plastic Sushi Mat would be the one for you. This sushi making kit is made out of food grade plastic that is super durable.
There are strings drilled thru plastic that protects the strings and help for life-span of the mat to last longer. If it is going to be used for home-only, the food grade plastic sushi rolling mats can last up to 5 years. Whereas if it is going to be used in a commercial establishment, it can last up to 6 months.
This non-stick surface plastic mat would not require plastic wraps anymore, allowing you to save more time and money. It also resists dirt accumulation and would not retain odors or flavors of the food. If you are worried about cleaning, no need to worry as it is easy to clean.
You can buy this one of the best sushi mats by clicking here.
---
If you love to DIY your sushi and need a good sushi making kit, the SushiQuik Sushi Making Kit would be perfect for you. It comes with Roll Cutter, Rice Paddle, Pre-Measured Rice Frame, and Sushi Rolling Mat.
There is also an innovative frame that helps layer sticky rice along with traditional fillings to seaweed nori sheets. This is why you can make delicious and inexpensive sushi using SushiQuik sushi making kit at home.
It is also easy to use. Simply roll the sushi mat to mold a log then use the cutter for a perfect sushi bite. Use the rice frame, paddle or rice spreader, rolling mat and cutter to create your favorite rolls. If you are not confident on how you can make a perfect sushi, refer to the easy step-by-step recipes and videos in the kit.
Aside from that, this sushi making kit is made of premium quality materials, so you can be assured that it is going to last. The great thing is that it is also dishwasher safe.
Simply click here if you would love to get an amazing sushi making kit.
---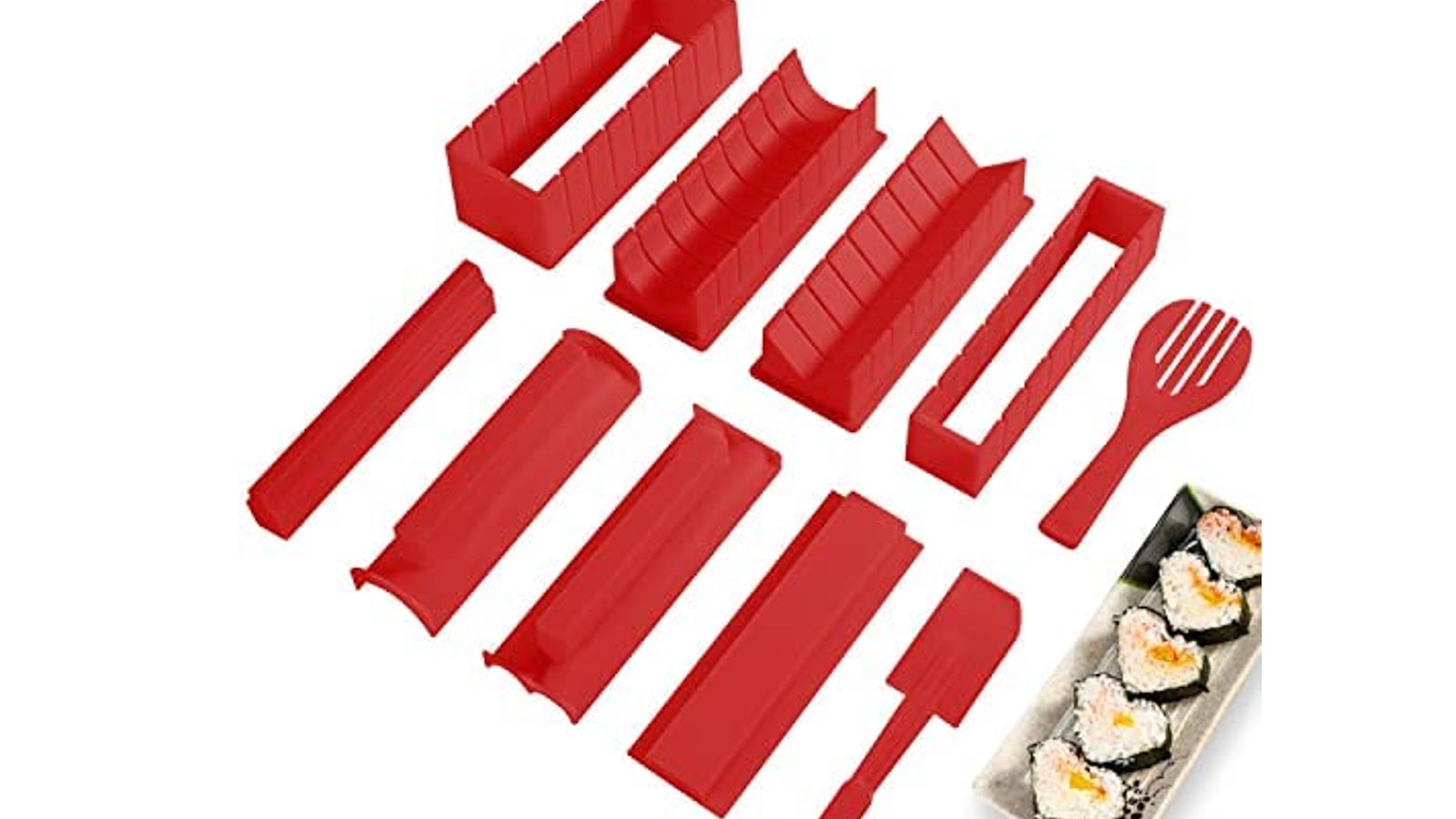 Having a solo sushi rolling mat would not ensure a perfectly rolled sushi. That is why you would need to help using some sushi shaper. This is why Meidong Sushi Shaper is part of the list.
This sushi making kit comes with 10 Pieces Plastic Sushi Maker Tool Complete with 8 Sushi Rice Roll Mold Shapes and Fork Spatula. You would love its superior quality, highly durable food-grade materials since they are easy to clean and guaranteed to withstand the test of time.
You won't need to worry about failed experiences, wasted ingredients and countless frustrations as this DIY sushi making kit provides professional, chef-like results every time. Get this sushi maker to create home-made rice-rolls, sushi, and kimbap in different shapes such as shape of hearts, squares, triangles or circles.
You can order it by clicking here.
---
How To Roll Your Sushi
Now that you have some tools for your sushi, let's practice on how you can create a perfect roll.
On your mat (bamboo mats or plastic mats), place a sheet of nori, ensuring that the rough side is facing up.
Using a rice spoon, spread your sushi rice on top. It should evenly cover near the edge and about an inch from the far edge. You can also use your hands in spreading the rice, just make sure they are wet as you spread the rice.
Beginning from the near edge of your rice layer, place your ingredients in a line and they should be on their own line.
Hold the edge of the mat using your thumbs. You can begin with the edge that has your first ingredient. Then lift the nori and fold it over your first ingredient.
Ensure that the ingredients are sticking together as you continue to roll.
Remove the mat as you continue to roll and roll slowly so that it will be even.
Using the mat, tighten the roll and roll it back and forth in the mat to tighten and seal it more.
For the grains to moisten the nori and lessen the risk of tearing, let the roll sit for a minute or two.
Using a sharp, wet knife, cut the roll into sushi pieces and serve.
Making your perfect sushi rolls can be achievable as long as you have the right tools and would follow the right instructions. Thank you for reading this post and please consider buying the products listed here.
* If you buy through links on our site, we may earn an affiliate commission. For more details, please visit our Privacy policy page.