When the first rice cooker was invented by Mitsubishi in 1945, a lot of brands emerged and started to innovate the once simple function of the rice cooker. The first rice cooker was very simple, as it needs to be monitored when the rice is done and turned off manually.
* If you buy through links on our site, we may earn an affiliate commission. For more details, please visit our Privacy policy page.
Since then, electric rice cookers have started to surface and Japanese have been the ones who are at the top of the game when it comes to rice cookers with great features. However, one Korean rice cooker brand has stood out and that is Cuckoo rice cooker.
What Is Special With Cuckoo Rice Cooker
It is said that Korean rice cookers are well-known throughout the world with their superior quality on top of their caliber features. Advanced technology is combined with great innovative technology to achieve greater heights in the rice cooker industry.
Aside from creating the best rice cooker, Cuckoo is also proud of their pressure rice cookers, and electric rice cookers designed for your home's kitchen but will offer the same performance as those being used in fine dining restaurants.
What Are The Best Cuckoo Rice Cooker
We have listed some of the best cuckoo rice cookers that you can purchase in the market today. Make sure to check them out and see which one would match your preferences for a modern and great rice cooker for the addition of your existing kitchen appliances.
One of their professional rice cookers, the Cuckoo CMC-QSB501S is an all-rounder. Using a fuzzy logic technology, this rice cooker can do other tasks aside from cooking rice.
This 8-in-1 cuckoo rice cooker is made with the trusted cuckoo electronics that can be used as a pressure cooker, slow cooker, rice cooker, steamer, food warmer, yogurt maker, sous vide, & sauté pan. That means preparing a variety of different meals would be a breeze.
Its user-friendly, modern LED screen is complete with jog dial controls, a preset timer, 2-language voice guide (English, Chinese) and functions. Cooking easy meals would be attainable as it is 70% faster than traditional stovetop cooking.
The Cuckoo CMS-QSB501S also features a 5-quart scratch-resistant, non-toxic inner pot. That means it can distribute high and even temperature and can withstand extreme heat, pressure and steam.
If you need to know everything about this amazing rice cooker, you can check its user manual once you buy it by clicking here.
---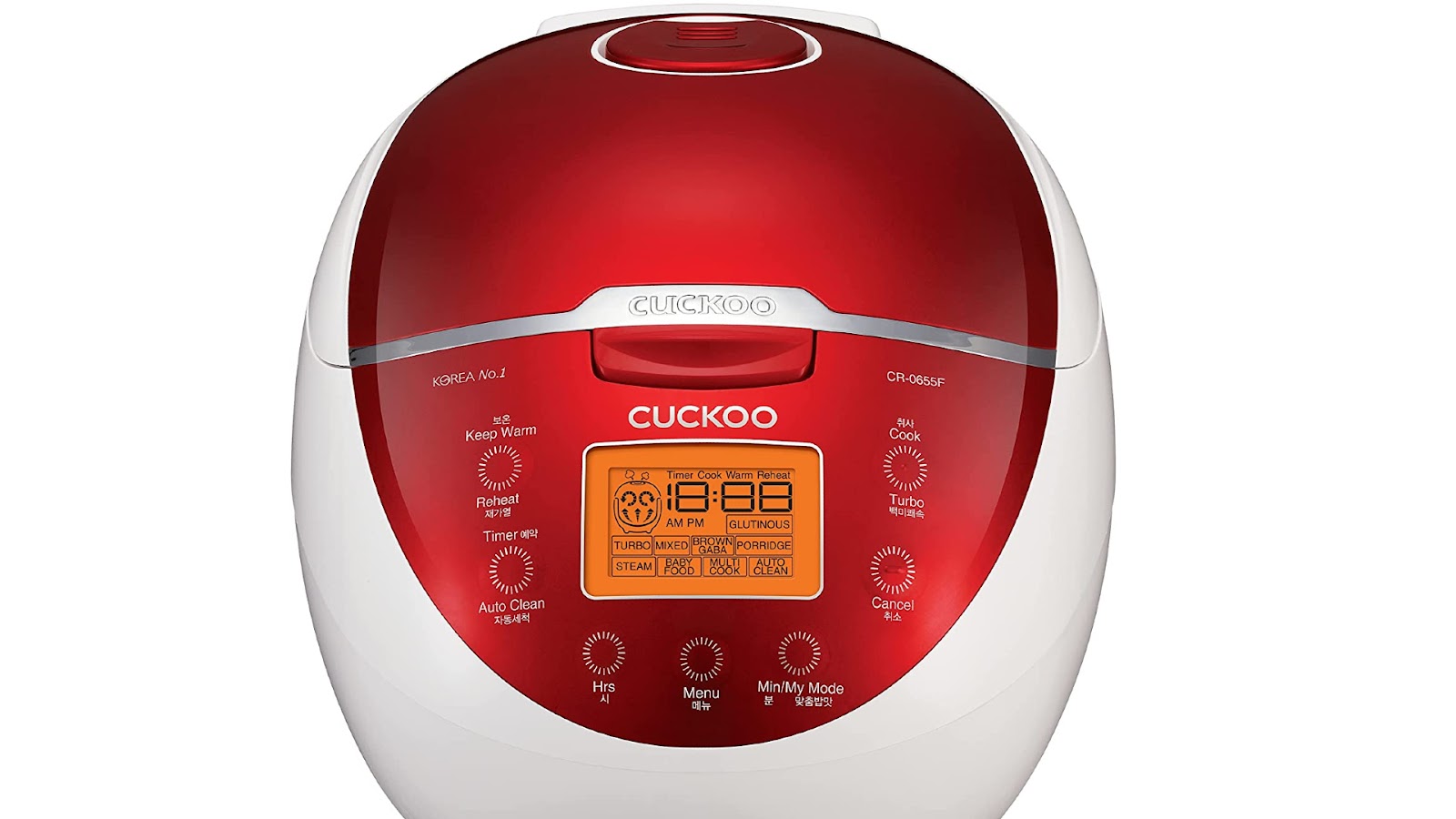 This 6-cup (12 cups cooked) rice cooker is intended for small gatherings or small to medium sized families. It has Unique 11 Menu Options that caters white (glutinous) rice, brown rice and porridge. It also includes options for steam and multi cook functions.
Cooking delicious rice every time is very achievable with this cuckoo electronics smart cooking algorithm designed for effortless cooking. If you want to cook sticky rice, soft rice, sweet rice, or savory rice, use its My Mode to take control of your cooking with the 16 unique rice flavor and texture options.
The removable inner cooking pot that is non-stick coated, detachable inner lid, auto clean function, and excess water drainage dish features should help keep your rice cooker clean and your rice tasting fresh.
You can buy this Cuckoo rice cooker by clicking here.
---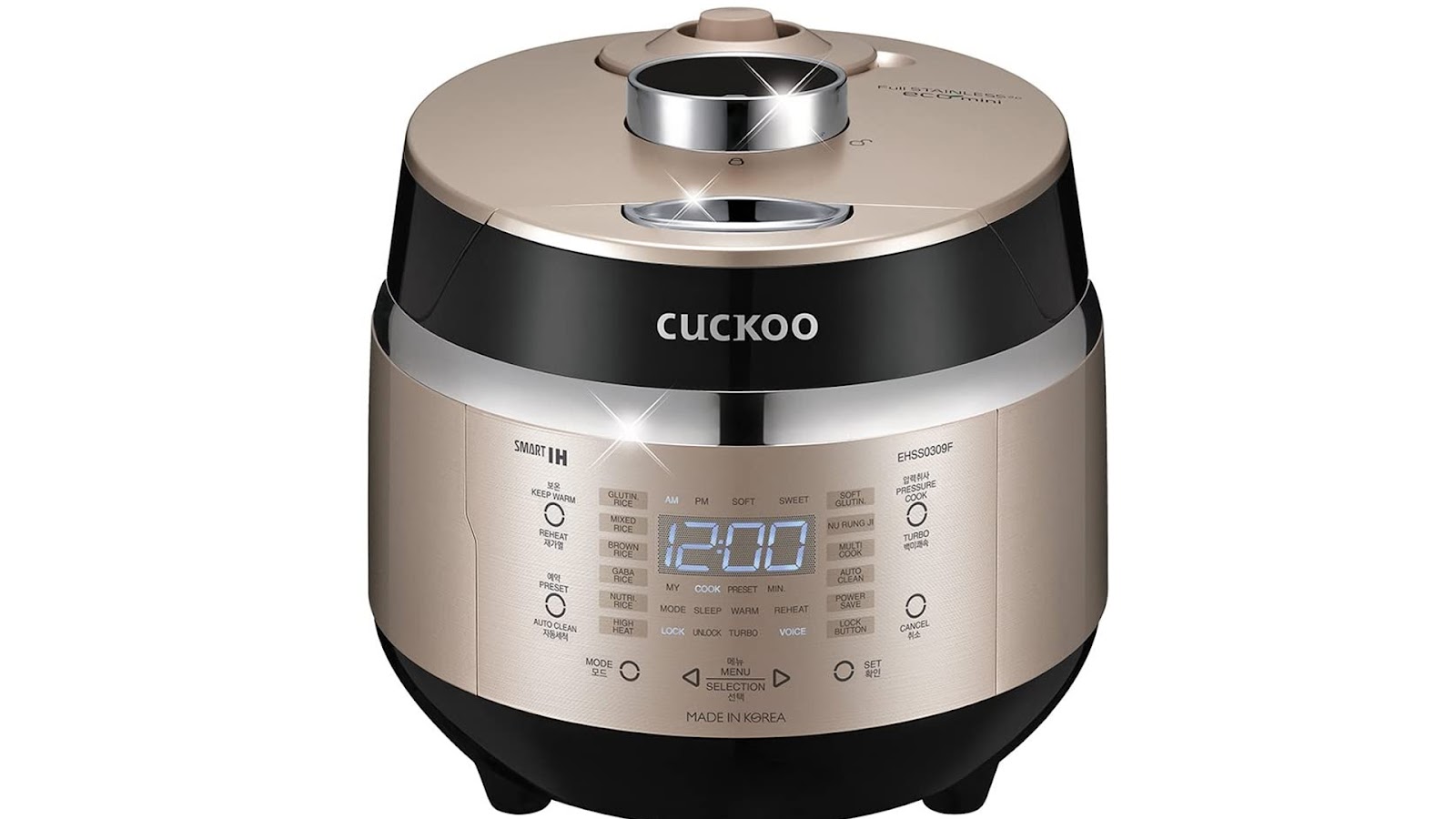 The smart tech used in this Cuckoo rice cooker allows the induction heating to completely surround the inner pot making the cooking process quick. Just imagine you can cook white rice in as little as 20 minutes.
The energy-saving smart algorithm automatically detects grain type and internal temperature to take the guesswork out of perfectly cooked rice. Aside from that, its eco-friendly stainless steel inner pot with X-Wall nonstick coating ensures optimal temperature and heat distribution throughout the cooking process and it is also ultra-durable.
Expect an intuitive experience through its LED touch controls, 3-language voice guide (Korean, Chinese, English), a preset timer, a reheat option for leftovers, and a keep-warm function. This will ensure none of your foods are ever overcooked while serving.
It is a small rice cooker with 3-Cup capacity and 15 menu options that supports GABA rice, brown rice, glutinous/white rice, nu rung ji, pressure cook, mixed rice, and multi-cook. Cleaning this rice cooker would also not be a problem as it has an auto-clean feature to effortlessly deep clean your cooker.
CUCKOO has perfected the art of cooking rice and crafting products made with integrity. With 40 years of industry experience, expect a superior quality with this rice cooker that is known internationally.
Get this Cuckoo rice cooker by clicking here.
---
If you want a bigger multi-functional rice cooker, then this Cuckoo model is for you. It is a 6-cup capacity that features simple touch controls, a preset timer, an auto-clean function, and Fuzzy Logic technology.
This advanced system allows the rice cooker to automatically detect and adjust its temperature and pressure accordingly for perfectly cooked rice every time. Its innovative technology also provides safe steam release.
This rice cooker will Automatically release pressure softly and quietly for a safe, convenient cooking experience. It also includes safety features like overheating alarm that will alert you if the cooker's internal or external temperature is too high. With Cuckoo, your safety is their priority.
You'll get a premium quality rice cooker as it comes with a stainless steel X-Wall inner pot with premium nonstick diamond coating. It is designed for optimal heat distribution, plus, it is also scratch-resistant that is built to last and easy to clean.
Got leftovers? No worries as you can use its reheat function to warm your dishes.
Buy this amazing product of Cuckoo rice cooker by clicking here.
---
Need a bigger cooking capacity? No worries as Cuckoo's CRP-P1009SB 10 Cup (uncooked rice) will save the day. A rice lover should be able to use the 12 Menu options found on this rice cooker.
Not only will it provide bigger capacity, but this rice cooker will also give perfect rice each time. It is a smart rice cooker that includes a smart cooking algorithm designed to automatically cook different types of rice, such as brown rice, sushi rice or mixed rice.
If you are also looking for a well-trusted brand for durability and premium quality, this rice cooker will provide you the peace of mind. It has a durable inner pot that is scratch-proof, non-stick & non-toxic. Its curve-shaped body provides optimal heat distribution.
It is truly a perfect combination of style and convenience.
Know more about its menu settings through the included instruction manual once you purchase this rice cooker by clicking here.
---
Why Choose Cuckoo Rice Cookers
Cuckoo has established their name internationally through its reliable kitchen appliances. Their rice cookers will not only provide perfectly cooked rice, but it will give you the convenience that you deserve by reducing the cooking time.
A Cuckoo rice cooker will definitely provide you with the things that you need for an electric pressure rice cooker. Their wide array of different models for a heating pressure rice cooker allows the customers to choose and select the best product designed for their needs.
Cuckoo's rice cookers have advanced tech features that includes smart wheel controls, induction heating inner pot with non-stick coating, stainless steel detachable inner lid, automated control systems, self-cleaning functions, delay timer, safety features, and fuzzy logic. That's one high end rice cooker you will get.
Not only will you get the best functions, but you will also get the best designs with a Cuckoo rice cooker. Their rice cookers are also known for classic design and sleek sophistication, making it great to be placed on the kitchen counter.
You should also check out their more advanced rice cooker that features Smart Voice Navigation. This makes the Cuckoo rice cooker a rice cooker for everyone. The built-in voice controls operate and offer instructions in many different languages. This is the reason why Cuckoo rice cookers are making the cooking experience more intuitive for users anywhere around the world.
Now that you have some ideas on what are the best Cuckoo rice cookers, make sure to check them out and don't hesitate to buy them once you find the right rice cooker for you.
* If you buy through links on our site, we may earn an affiliate commission. For more details, please visit our Privacy policy page.