Innovations allow a more advanced technology to be associated with regular equipment. Rice cookers are now capable of doing more things aside from cooking rice.
| Product | Brand | Name | Price |
| --- | --- | --- | --- |
| | Panasonic | Panasonic 5 Cup (Uncooked) Japanese Rice Cooker with Induction Heating System | Check Price on Amazon |
| | Zojirushi | Zojirushi NP-HCC10XH Induction Heating System Rice Cooker and Warmer, 1 L, Stainless Dark Gray | Check Price on Amazon |
| | Lihom | Lihom LJP-HK100GDE 10-Cup Rice Pressure Cooker | Check Price on Amazon |
| | CUCKOO | Cuckoo CRP-RT0609FB 6 Cup Twin Pressure Plate Rice Cooker & Warmer with High Heat | Check Price on Amazon |
| | Instant Pot | Instant Pot Lux 6-in-1 Electric Pressure Cooker, Sterilizer Slow Cooker | Check Price on Amazon |
* If you buy through links on our site, we may earn an affiliate commission. For more details, please visit our Privacy policy page.
Induction Rice Cooker Vs. Regular Electric Rice Cookers
The invention of induction heating rice cookers takes precision a step further. Regular rice cookers apply heat directly from an electrical plate underneath the inner cooking pan, whereas an induction-heating rice cooker would generate heat directly through an alternating electric current from the wall outlet.
This means that cooking rice would be perfect and even. May it be brown rice, sushi rice, basmati rice, white rice, jasmine rice, or mixed rice, using the induction heating technology would provide a perfect rice for your meal.
Unlike a regular rice cooker that will only heat the bottom of the pot, an induction rice cooker would heat the entire cooking pan. That will result in a faster cooked rice that does not need any clumping at the end. What you will get is a flawless rice cooking process.
What Are The Best Induction Heating Rice Cooker
Selecting the best induction heating rice cooker would be worth your money. You will not only get perfect rice that is cooked well, but it will also perform the job faster and more efficiently than the regular rice cooker.
Let us then help you decide on what induction rice cooker you should get depending on your needs. Read further for more details.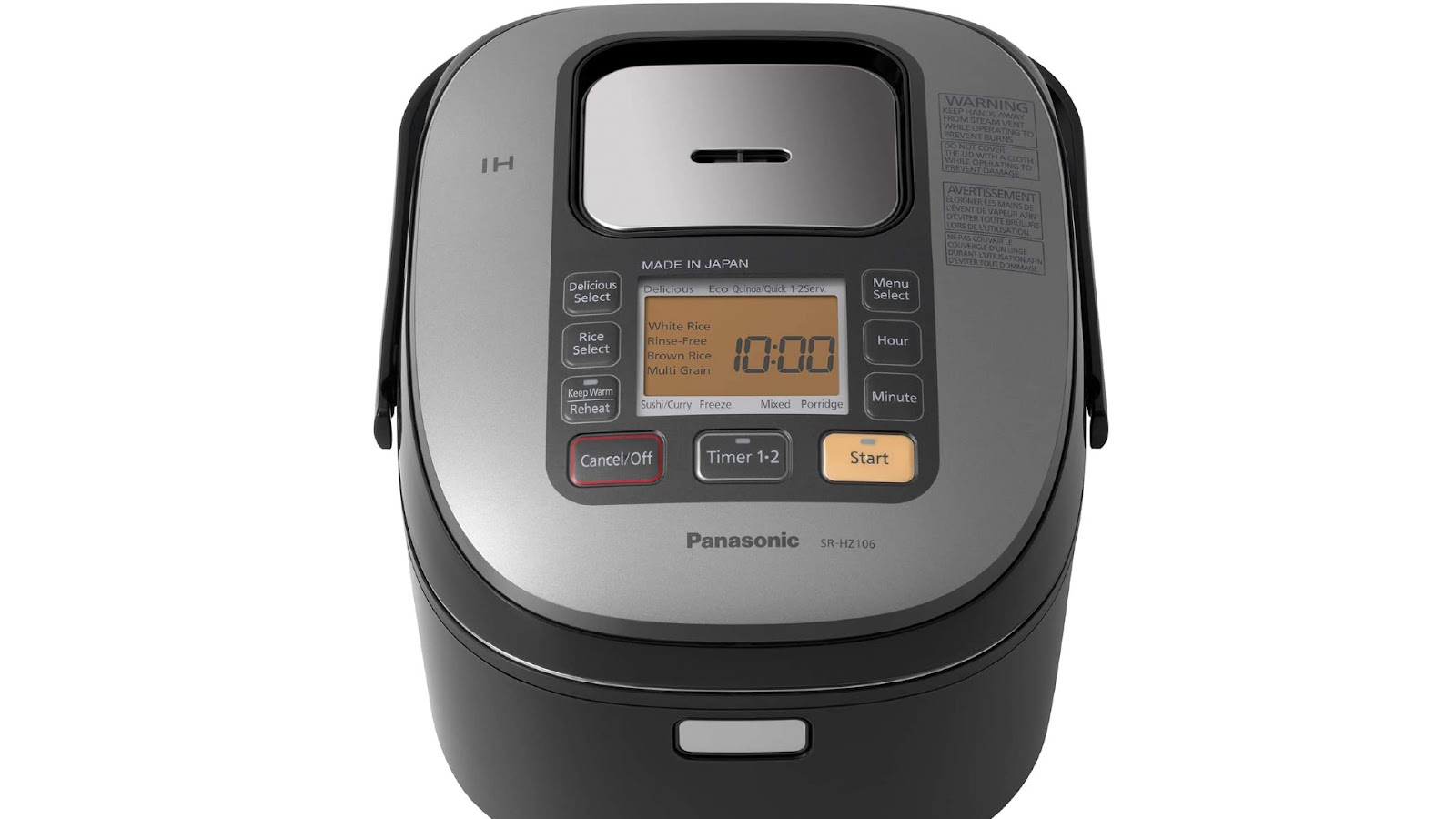 If you are looking for an induction cooker that is well-built, versatile, and offers 13 pre-set cooking options, then this Panasonic model will definitely stand out.
This Japanese rice cooker brand provides industry leading induction heating which creates an electrical current inside the inner cooking pan. This means you can heat and cook rice, porridge, soup and more conveniently.
When it comes to appearance, the Panasonic SR-HZ106 is aesthetically appealing and should not be an eye-sore at your kitchen. It also features a durable 7-Layer Inner Pan with Diamond Coating. Its non-stick inner pan with copper exterior is designed for years of continual heat and use without affecting the efficiency.
The versatile 13 Pre-Set Cooking Programs with orange LCD control panel automatically cook a variety of rice such as Jasmine white rice, sweet rice, quinoa, porridge, sticky rice, brown rice, frozen rice and more. This rice cooker also sports an automatic shut-off function that prevents overcooking and a keep warm function to keep the contents at an ideal serving temperature for up to 12 hours.
Not only that, your cooked rice won't taste dull as this induction rice cooker also features built-in umami-enhancing taste catcher. What you will get out of the box aside from the main rice cooker would be a 7-layer inner cooking pan, special measuring cup for portioning the desired amount, ladle, and a non-scratching rice spoon that will provide an authentic Asian-style service.
You can get your hands to this reliable induction rice cooker by clicking here.
---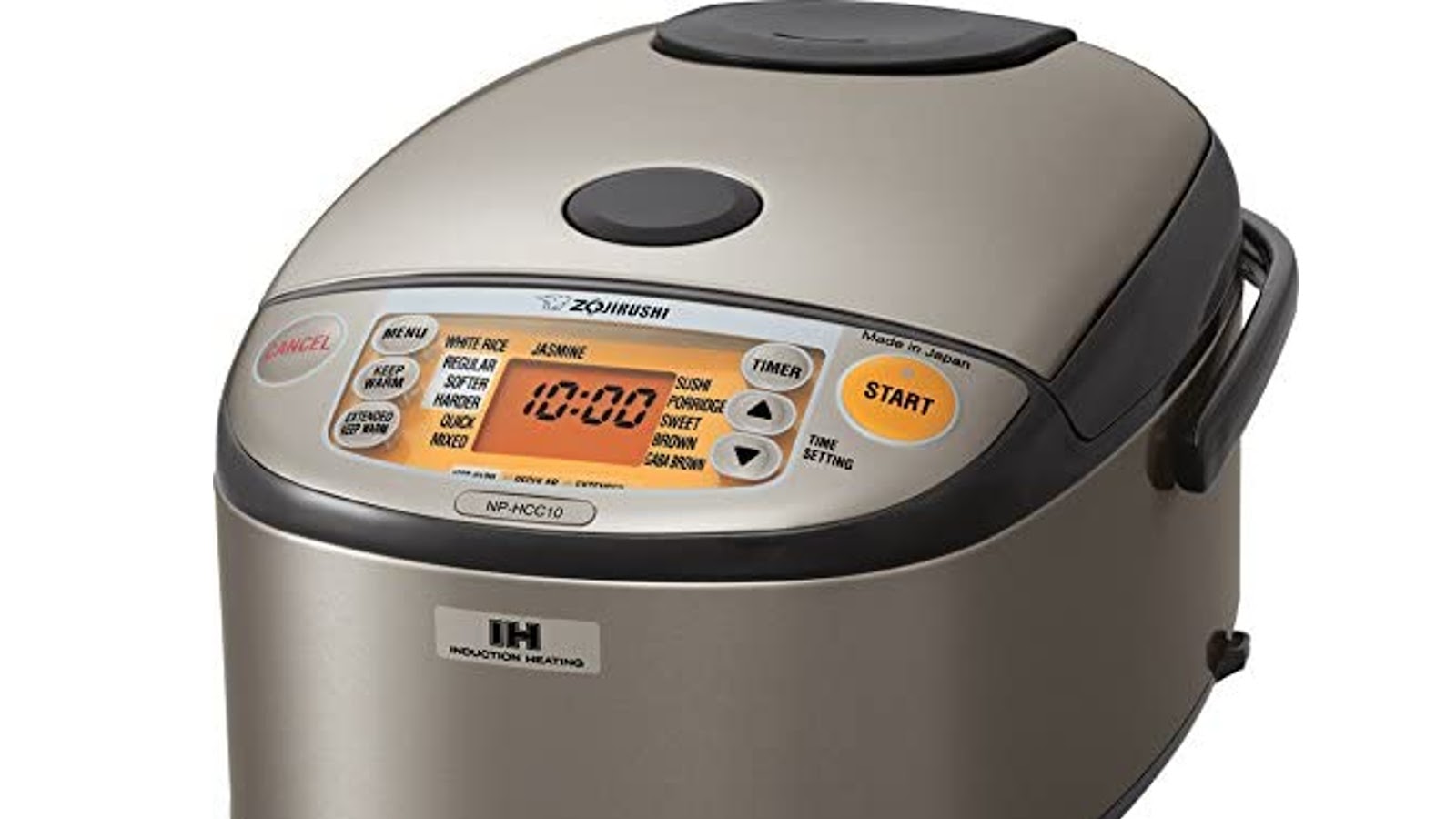 This Zojirushi rice cooker is one of the most worthy induction rice cookers that you can find in the market. The Multi-Menu cooking functions provide healthy cooking options for brown rice, GABA brown rice, sprouted brown rice and germinated brown rice.
Purchasing the Zojirushi rice cooker will not only provide a good induction rice cooker, but also a good warmer. Like most of the induction rice cookers, the Zojirushi rice cooker also cooks rice using superior induction heating technology that efficiently provides high heat and prepares flawless rice anytime you need it.
Fitting this rice cooker into your kitchen's aesthetic would not be a problem as the Zojirushi rice cooker sports a clear-coated stainless steel exterior for a clean look kitchen decor.
It also features a detachable and washable stainless steel inner lid, plus an easy-to-read and use orange LCD control panel with Clock and Timer display.
Buy this rice cooker by clicking here.
---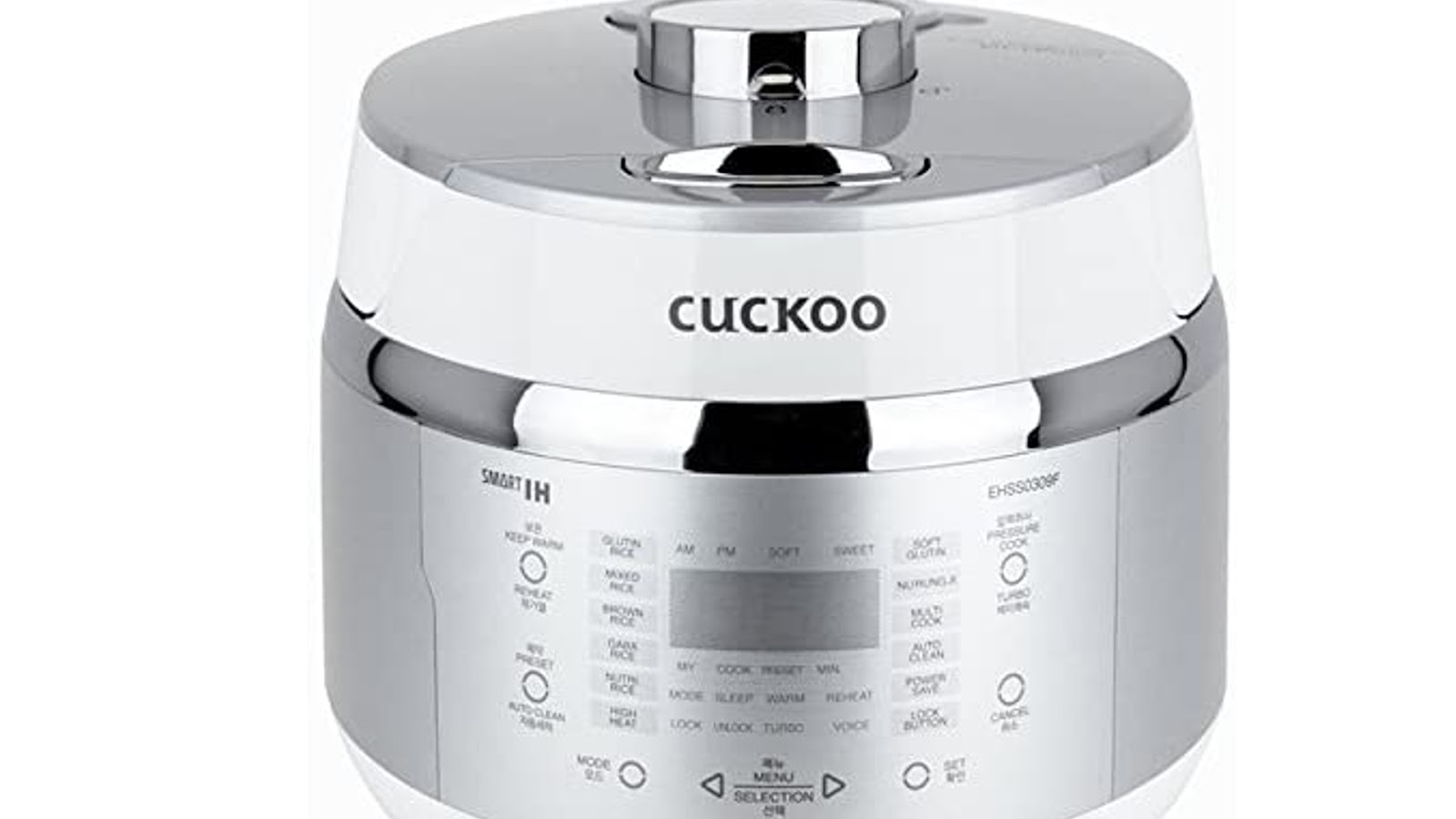 X-wall stainless steel inner pot with 2 atmospheric pressures, plus a full stainless steel interior and stainless steel ventilation pipe system are just some of the cool features of this induction heating rice cooker.
One of the best induction heating rice cookers to be considered, the Cuckoo CRP-EHSS0309F model has a blue LED screen with touch selection menu, double layer cover packing, and a voice navigation feature that supports English, Chinese, Korean languages.
The automatic keep warm & extended keep warm function keeps rice at the perfect serving temperature, so you can serve them perfectly. What you will find with the aesthetics on this rice cooker is the pleasing, unique body structure that suits well with its premium inner build quality.
This is also one of those electric rice cookers that supports brown rice, GABA brown rice and germinated brown rice, other than white rice, for healthier cooking options. A rice paddle and a measuring cup are included in the price when you purchase this rice cooker.
Check this induction rice cooker by clicking here.
---
If you are looking for something bigger than the regular induction heating electric rice cookers, check out the Instant Pot Lux 6-in-1 Electric Pressure Cooker, Sterilizer Slow Cooker, Rice Cooker, Steamer, Saute, and Warmer.
This 6-quart capacity rice cooker is ideal if you are going to host large parties to match the demand for large quantities. It's one touch control feature allows you to change its function depending on your needs.
Cooking ribs, soups, beans, rice, poultry, desserts and more on auto mode allows you to achieve 70% faster cooking time than other electric rice cookers. The one-touch smart programs also allows quick function change from a pressure cooker, rice cooker, sauté pan, steamer, warmer and even to a cake maker.
Expect to cook exceptional rice with this all-rounder induction heating rice cooker.
Grab yours by clicking here.
---
Should you need a small rice cooker instead of those big induction heating electric rice cookers, then this Instant Pot model is what you are looking for. It is a 3-quart rice cooker with 9-in-1 functionality that includes pressure cook, slow cook, rice cooker, yogurt maker, steamer, sauté pan, yogurt maker, sterilizer and food warmer.
It also features an intuitive, simple, improved venting system and improved easy-release steam switch that allows releasing steam easier than ever. Once you close the lid, it will reset automatically.
If you need to know the progress on what you are cooking, an easy-to-read display will provide you with the information on what stage of the cooking program you've reached. Finger-print resistant, stainless-steel sides and dishwasher-safe lid should allow an easier way to clean the rice cooker once done using it.
To get this amazing rice cooker, please click here.
---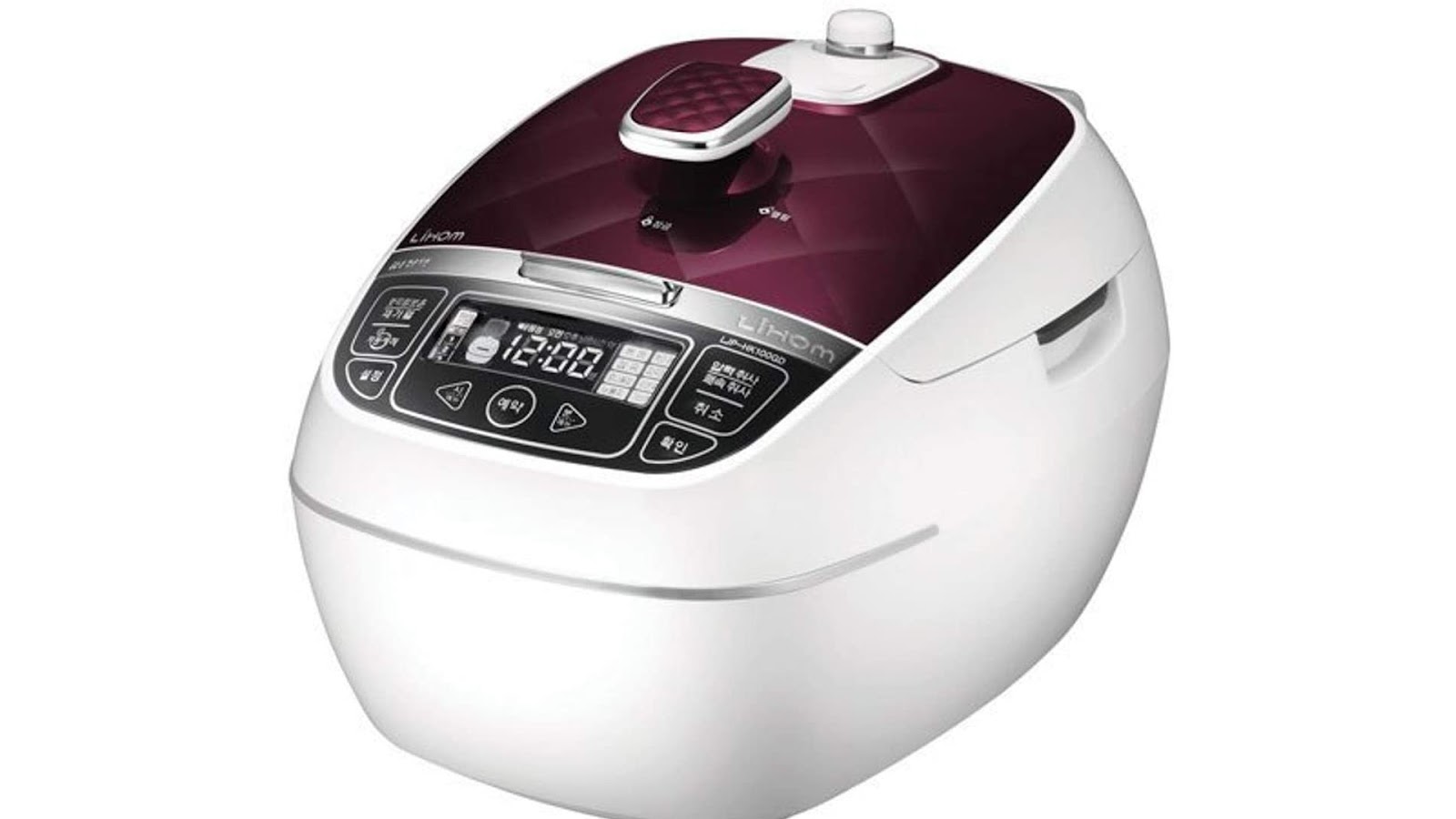 A more advanced induction rice cooker compared to other electric rice cookers will be the Lihom LJP-HK100GDE model. This is due to the voice navigation system that sends an alert to the progress of your cooking, as well as other functions.
It also has a Golden Dimple inner pot design that increases thermal efficiency and a cutting edge heating technology that allows equal cooking of each rice grain. This means you would get a faster cooking process and tastier, exceptional rice.
Expect a durable rice cooker compared to your old rice cooker as it also comes with Diamond Coating. You will notice the inside surface of the inner pot is coated with diamond micro-particles. It is actually more durable and scratch resistant.
You can get this great rice cooker by clicking here.
---
Looking for a rice cooker that has a great induction heating system to cook different kinds of rice such as Japanese rice, White rice, Brown rice? Or do you need to cook Soup, Congee, or Porridge?
The Cuckoo CRP-RT0609FB 6 Cup Twin Pressure Plate Rice Cooker & Warmer will do those jobs easily for you. This is one of the induction rice cookers that offers 16 different functions including: GABA brown rice activation, glutinous, mixed rice, scorched rice, baby food, high pressure and a non-pressure food steamer.
It also features an intelligent Cooking Algorithm that gives you energy-saving cooking temperatures and cooking times by using the selected menu options. Optimal temperature and heat distribution to your food is achievable through its X-wall diamond coated stainless steel inner pot.
Cuckoo is internationally known for superior quality and standards.
Better get a hold of this amazing induction heating rice cooker with precise temperature adjustments by clicking here.
---
How to Select The Best Induction Rice Cooker
Having an induction rice cooker can break the bank as they come with pricier tags compared to those regular electric rice cookers. But it is important to know when to buy one and how to select an induction rice cooker properly.
The first thing that you should be looking for an induction rice cooker would be its build quality. If you are willing to spend a bigger amount of money for an appliance, like an induction rice cooker, make sure that it would last longer to get your money's worth.
Always review the materials being used in the equipment, as well as reviews from trusted sites and real time users of that certain product. But having a good quality doesn't mean you would pay higher, so better check the price tags too.
The second thing that you should be looking at will be the features and functions that it offers. Though some might offer good-to-be-true features, just take into consideration if they are going to be useful for everyday use or future use.
Lastly, take into accounts those small features, such as energy saving, as they could help you in the long run. Features like those would most likely be helpful when it comes to saving money for electric bills and such.
Thanks for reading this post. Hope it helps with your decision in purchasing your own induction cooker for cooking rice and a lot more.
| Product | Brand | Name | Price |
| --- | --- | --- | --- |
| | Panasonic | Panasonic 5 Cup (Uncooked) Japanese Rice Cooker with Induction Heating System | Check Price on Amazon |
| | Zojirushi | Zojirushi NP-HCC10XH Induction Heating System Rice Cooker and Warmer, 1 L, Stainless Dark Gray | Check Price on Amazon |
| | Lihom | Lihom LJP-HK100GDE 10-Cup Rice Pressure Cooker | Check Price on Amazon |
| | CUCKOO | Cuckoo CRP-RT0609FB 6 Cup Twin Pressure Plate Rice Cooker & Warmer with High Heat | Check Price on Amazon |
| | Instant Pot | Instant Pot Lux 6-in-1 Electric Pressure Cooker, Sterilizer Slow Cooker | Check Price on Amazon |
* If you buy through links on our site, we may earn an affiliate commission. For more details, please visit our Privacy policy page.