Chinese Fans is not just a handy tool used to beat the striking heat, but traditional Chinese fans also plays an important part of the culture in China way back 3000 years ago. At present, Chinese fans is very popular not just in China but it is popular everywhere. Since it has been over 3000 years on History, it is not just something used to beat the beat but even more than that. In here, we will learn the history of Chinese fans and also included are some of the best Chinese fans available in the market nowadays.
* If you buy through links on our site, we may earn an affiliate commission. For more details, please visit our Privacy policy page.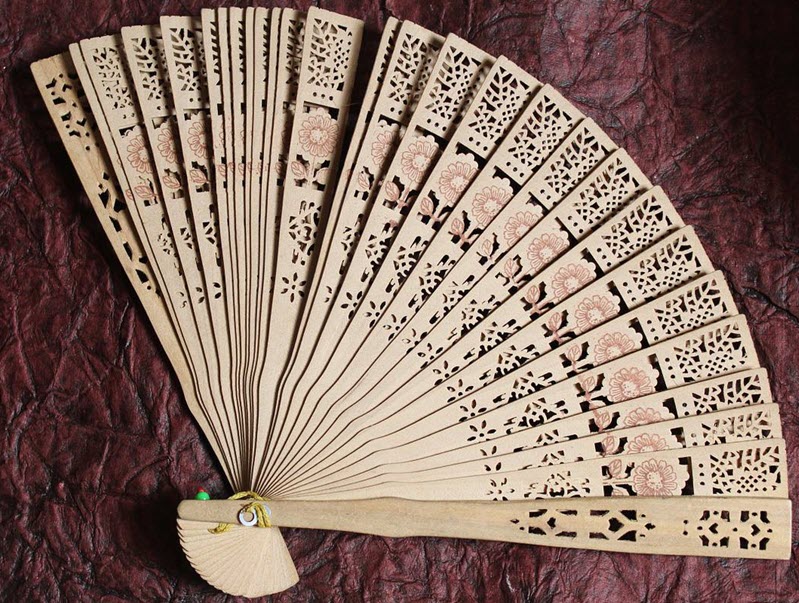 History of Chinese Fans
There are some historians claimed that the Japanese started the folding fans as it was influenced and inspired by bat wings and it was introduced to the Chinese. Others also believed that Chinese culture first invented the fans while Archeologists believed that the oldest folding fan in Asia came from China. It is made from a wooden bamboo and used mostly by royalties especially when on outdoor travels.
Way back 3,000 years ago, during the Shang dynasty the very first fan known as Shanhan were usually tied on a carriage drawn by a horse. It is tied there so as to prevent the heat of the sun from drawing inside the carriage thereby protecting its passengers. Before, the traditional Shanhan is not the same fan as we are using nowadays but as it soon evolved and was turned into Zhangshan, a long handled fan. Zhangshan is a thin but tough made of bird feathers that was used as decorations on the emperors guards. It was until the Zhou Dynasty, way back 2000 years fans are used to cool down from the heat coming from the sun.
Because feather fans are quite expensive and costly to make, feathers fans are only popular and widely used fans among aristocrats.
Then during the Han Dynasty way back 206BCE to 220 CE, Chinese fan made of bamboo fans and hand-woven cattail-leaf fans have been available thereby common people can afford to buy Chinese fans. It is not long until the Song Dynasty way back 960 to 1279 CE that these types of fans continues to be popular.
Around the same time within the Song Dynasty, silk fans is making its way to Chinese culture especially to women inside the imperial palace. The silk fans are designed to be round to bear resemblance to the moon. It is also called "Round fans" or popularly known as Tuanshan. The silk round fans is usually made from either animal bones or made from using bamboo. Silk fans are loved by women as its handles are beautifully engraved with patterns and decorations. Pendants, usually Jade pendants are added to the handles as decoration too.
The center part (main face) of the fan is also designed by either the use of a hand paint or often embroidered to make it more appealing, designs are usually flowers and or beautiful sceneries. The beautifully hand painted silk fans stayed popular in China for a thousand years and it is still considered to be a valued form of art in Chinese Culture up to present.
Technique In Making Folding fans
The Business industry for making folding fans in China had become a popular business in Hangzhou City. Businesses, usually run by a family usually makes few quantities of these fans. The fans are usually sold outside their shop.
A typical Folding fan in Ancient Chine consists of ribs and Panels. The panels is usually made from either silk, paper or any other fabric. Most of the time, the main surface of the folding fan is usually used by artists where they are able to decorate or hand paint the surface either with calligraphy or beautiful sceneries such as the mountains. The ribs of the folding fans on the other hand is usually made from different types of materials such as ebony, sandalwood, mother of pearl, ivory, bones and bamboo. The bamboo is the most common material used for creating the ribs of the folding fans.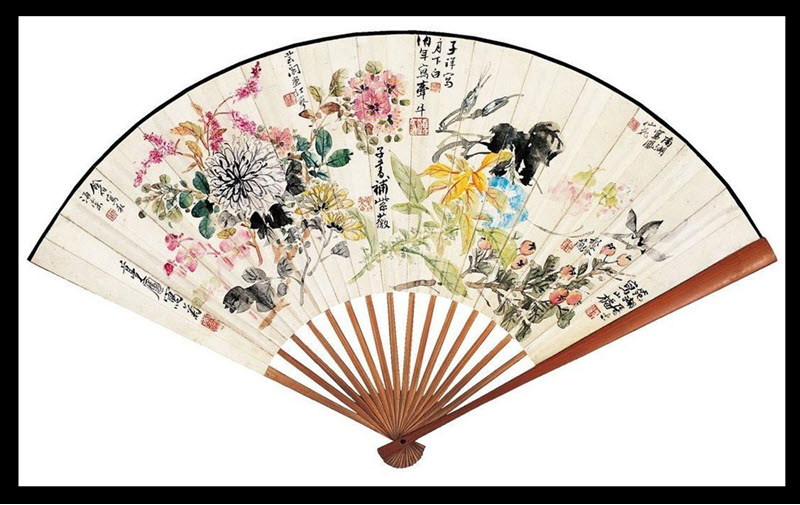 How Fan Painting symbolizes
As mentioned earlier, during the Song Dynasty, it is when silk fans started and it is also at that time where painting the main surface of the fan begins. Artists in China decorated the main surface of the fans with scenes, painting and calligraphies after which they became popular and have been called as "scholar fans" since then,
Paintings of bird and flowers on the fans is believed to be a symbol of being graceful and a symbol of beauty. That is why, these types of artwork is loved and popular amongst women, especially the young ones.
Aside from that, dragons are the preferred artwork with men and an artwork of a beautiful bird or Phoenix are for women.
However in today's modern time, the paintings on the fan does not necessarily give meaning and not as important art form as it was before but there are still people who still prefer to get fans with beautiful designs that maybe for them can bring good luck.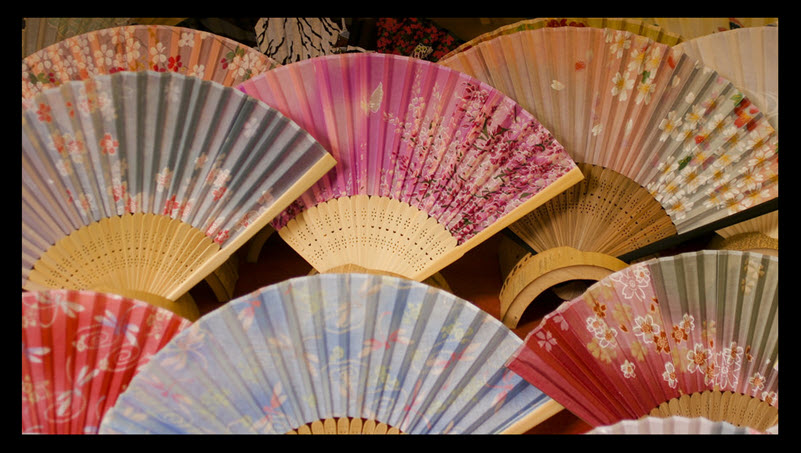 Different types of Chinese Folding Fans
Throughout Chinese history, there are different types of Chinese folding fans. Some of these fans are still available at present.
Folding Fan
Folding fans are hand-held fans that can be folded. Believed to be introduced and made by the Japanese and was later introduced to the Chinese. During the Song and Ming Dynasty, Folding fan remains to be popular.
Feather Fan
A Folding fan is also called Feather fan. It is typically made of bird feathers. Folding fans was introduced during the Zhou dynasty. Since it is expensive to make, as mentioned above the people in the imperial imperial palace as well as the aristocrats usually use this type of fan.
Bamboo Fan
Bamboo fan is popularly known as the Commoner's fan simply because when bamboo fans were introduced it allowed the common people to own a fan since it is not expensive and many common people can get more affordable bamboo fans.
Silk Fan
As mentioned beforehand, silk fan are designed to be round that resembles a moon. It is also during the time when silk fan was introduced that Fan painting also started. Popular amongst women in the imperial palace because of the design and shape of the silk fan.
Paper Fan
Paper Fan is a fan made of paper though the outer portion of the fan is usually layered with oil or lacquer. This is to protect the paper from damages caused by water.
Inscribed Fan
Inscribed Fans are carved with different styles of calligraphy, characters and each of these designs usually symbolizes and have a distinct meaning.
Pam-leaf Fans
Palm Leaf Fan is designed to have a green hue to resemble that of a palm leaf ( as the name of the fan suggests). These are heavy type of fan with long handles.
Best Chinese Fans
Listed below are some of the best Chinese fans available in the market nowadays. Check it out.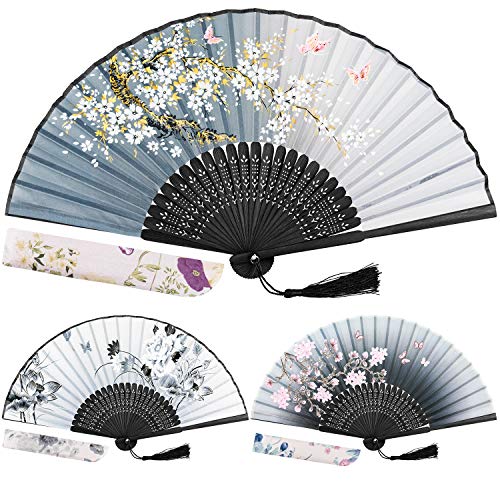 Color: Black Handle
Material: Silk and Bamboo
Fan size: 15 x 8.2 inches (unfold) and 8.3 inches (folded size)
Eaone Chinese folding silk fans is made of silk fabrics. Silk fans are more durable and more elegant to look. The frame and the handle is made of bamboo.
The main face is beautifully painted with combination of flowers and butterflies. The package is a set of folding fans that consists of 3 fans. Each fans have its own fabric sleeve. It also has a tassel pendant to make it more elegant.
Buy it now on Amazon
---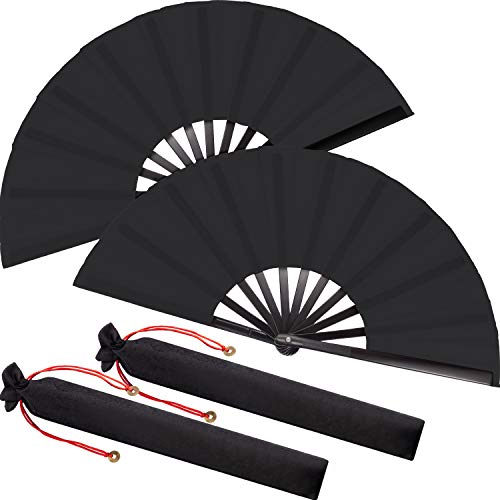 Color: Black
Material: Silk; Plastic
Fan size: 13.4 x 25 inches/ 34 x 63.5 cm (L x W, unfold state)
Maitys Folding Fans are large hand fans that is usually used during stage performances. It can also be used in theatres, cosplay themes, weddings and other occasions that calls for a large hand fans.
It is made of high quality plastic and the face is made of black nylon cloth. The main face is bare and does not have any design to it. It is simply plain black cloth on a plastic handles.
The package includes 2 sets of beautiful large fans.
Buy it now on Amazon
---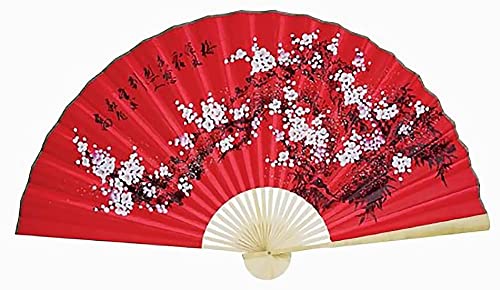 Color: Red
Material: Bamboo
Fan size: 3 x 2 x 35.8 inches
Oriental Decor is a beautiful Chinese wall fan that is designed with Cherry Blossom. Its red hue makes the wall fan look even more elegant. It is mostly used as a decoration on your wall at home.
The cherry blossom design on the fan considered to be an important flower not just in Chinese culture but in Japanese culture as well. Typically symbolizes loves and feminism.
Other Chinese wall fans are also decorated with other designs such as people, landscapes, flowers, and nature.
Buy it now on Amazon
---
Color: Red
Material: Silk, Bamboo
Fan size: 8.3 x 1 x 0.5 inches (folded); 15 x 8.3 inch (unfolded)
These hand held silk folding fan is made from high quality silk fabrics and the frames are made of bamboo. It is designed with a beautiful tassel and includes a pouch made of silk.
It is relatively small in size, therefore easy to carry. And it is lightweight too. Despite being small, it is believed to be durable and strong enough even when used on a daily basis. Since it is compact, you can bring the hand fan anytime and anywhere to keep yourself cool down from the heat of the sun.
Buy it now on Amazon
---
These Sandalwood wooden foldable hand held fans is usually used in parties and special occasion simple because it smells great. These are scented wooden fans that is made of sandalwood.
The package includes 12 packs of Sandalwood scented wooden fans and each fan measures approximately 20 cm or about 8 inches.
Buy it now on Amazon
---
Zolee small folding hand fan are Chinese and Japanese vintage bamboo fans that made of silk fabric and bamboo ribs. Beautiful tassel is also attached to the fan.
The package includes 1 black silk fan with a fabric sleeve to keep the fan safe and protected when not in use.
The fan measures 8.3 x 15 inches (unfolded) and 8.3 x 1 x 0.5 inches (folded). Since it is a compact fan, you can easily bring it with you anywhere inside your purse,
Buy it now on Amazon
* If you buy through links on our site, we may earn an affiliate commission. For more details, please visit our Privacy policy page.