Have you ever wondered how to make Chinese garlic sauce? On Chinese restaurant and Chinese takeout menus, Chinese garlic sauce is very popular and delicious. Traditional Chinese cuisines usually include Chinese garlic sauce. It's a flavorful sauce produced with a few simple components found in our kitchen.
This article explains how to make the perfect Chinese garlic sauce. Scroll down to continue reading if you're looking for a Chinese garlic sauce recipe.
Chinese Garlic Sauce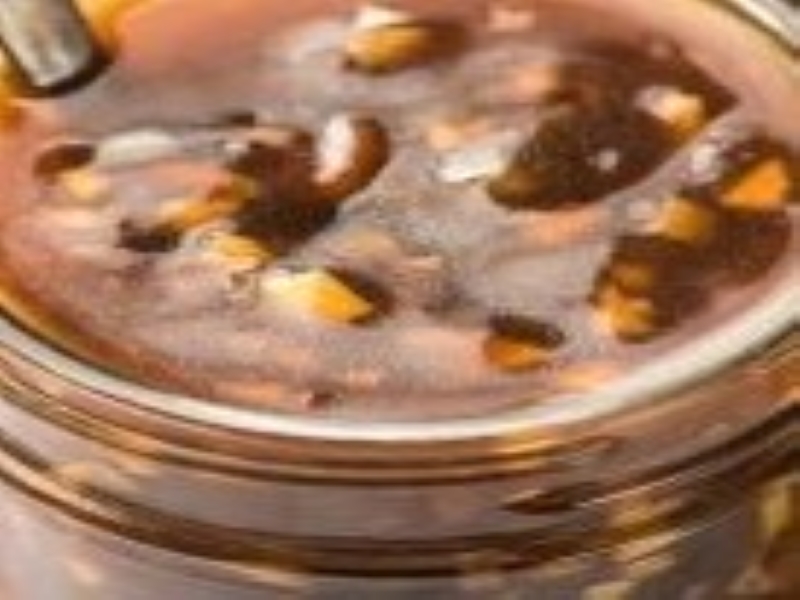 What Is Chinese Garlic Sauce?
Chinese garlic sauce is a rich, flavorful, and fulfilling brown stir-fry sauce. Rice wine, soy sauce, sugar, oyster sauce, and a meat-based broth are the main ingredients. Cornstarch, fresh garlic, and spices like peppers, chile, ginger and sesame oil are other common ingredients.
---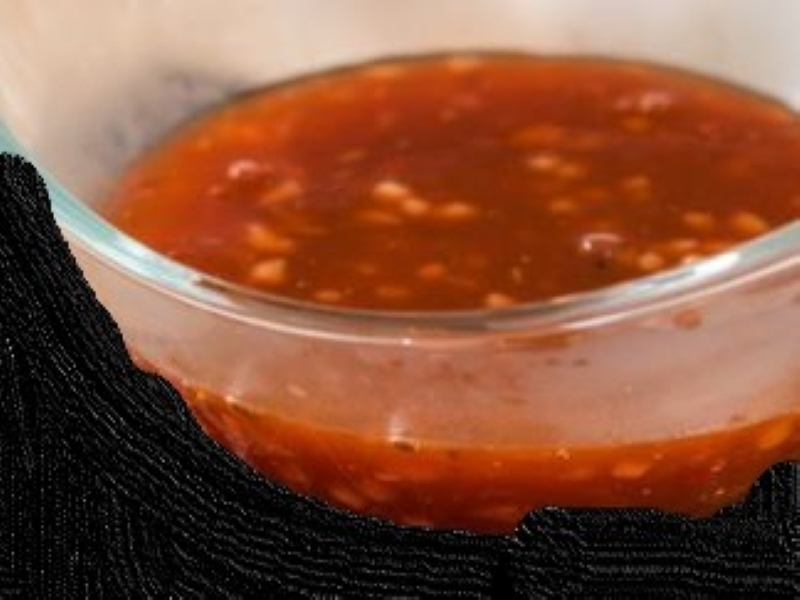 Chinese Garlic Sauce Recipe
Ingredients
1/2 cup chicken broth or you can use vegetable broth if you want a vegetarian Chinese sauce.
3 tablespoon soy sauce ( you can use low-sodium soy sauce/light soy sauce)
2 tablespoon rice vinegar
2 tablespoon maple syrup
1/2 teaspoon sesame oil
1/4 teaspoon red pepper flakes
1/4 teaspoon smoked paprika
1 tablespoon cornstarch
1/2 teaspoon Szechuan peppercorns
2 teaspoon Chinese rice wine
1/2 tablespoon vegetable oil
4 teaspoon fresh garlic, (minced garlic)
2 teaspoon fresh ginger, minced
Instructions
In a medium-sized bowl, mix and whisk together all of the sauce ingredients. Then, set aside.
In a medium saucepan or wok, heat vegetable oil over medium heat. Then, put the ginger and fresh garlic. Sauté for a minute, stirring constantly.
Re-stir the sauce before returning it to the pan. Bring to a boil, then lower to a low heat and keep whisking until the sauce thickens.
Use the sauce right away in a stir-fry, or as a dipping sauce for vegan foods like dumplings or summer rolls. Allow the sauce to cool fully before pouring it into a clean jar.
Put the remaining sauce in the fridge and store it in an airtight container for 4 to 5 days.
---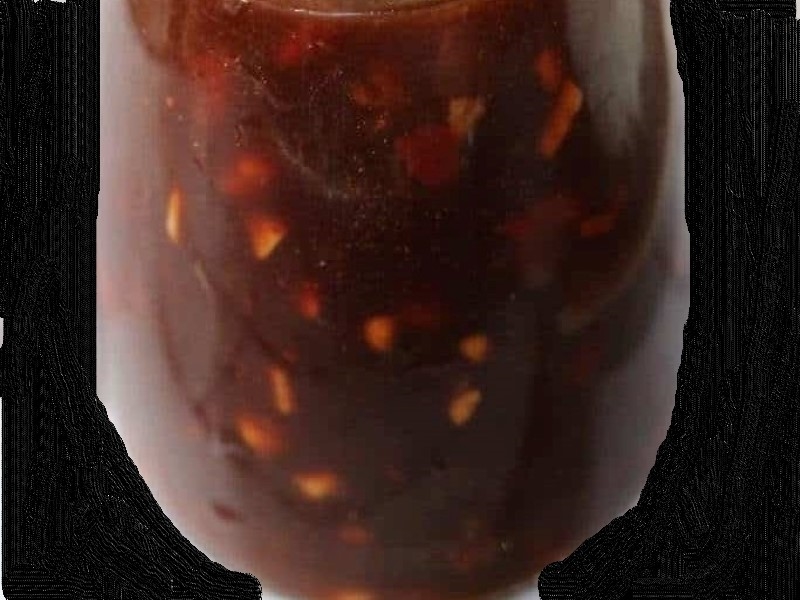 Tips
Put it in the fridge any leftover Chinese garlic sauce in a glass jar with a lid for up to 4 or 5 days.
You may use canola oil or any other vegetable oil you like for cooking.
It's up to you whether you want it hot or not. Slightly increase the number of red pepper flakes if you like hot Chinese or Asian meals. You may also use fresh chilis or season to taste with spicy sauce or Sriracha. You can skip the red pepper flakes and use less fresh ginger if you are sensitive to spicy.
If you're allergic to cornstarch, you can substitute arrowroot flour, tapioca flour/starch, or potato starch instead. Any type of starch will thicken the sauce.
You also have the option to utilize a blend of light and dark soy sauce. Coconut aminos can be used to make a soy-free substitute.
---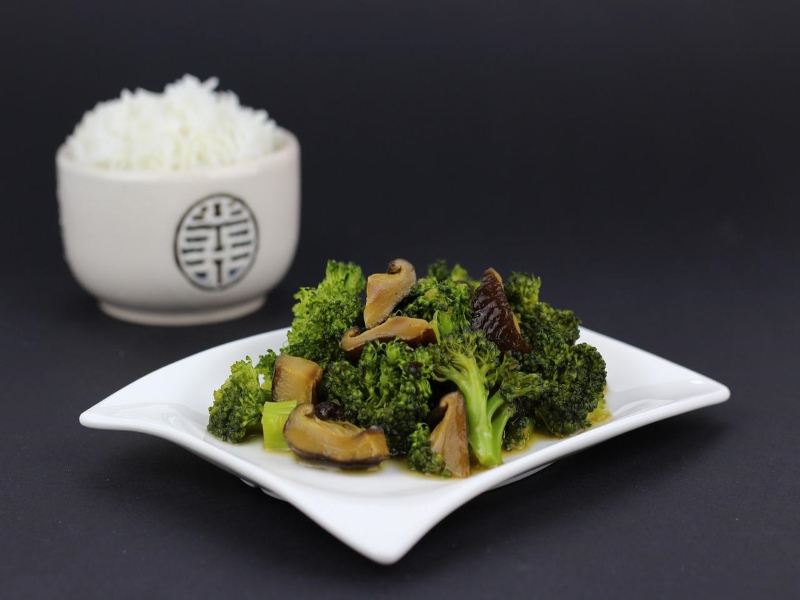 Dishes That Can Be Paired With Chinese Garlic Sauce
Chinese Broccoli With Garlic Sauce
Chinese Broccoli with Garlic Sauce is a simple and tasty side dish that goes well with any Asian meal.
How To Make Chinese Broccoli With Garlic Sauce
Ingredients
2 tbsp vegetable oil
1 Pound Broccoli
1 tsp fresh minced ginger
2 garlic cloves (minced)
1 1/2 tbsp miso paste
2 tbsp water
1 tsp sesame oil
1 tbsp soy sauce
Instructions
Cut the broccoli into bite-sized pieces.
Then, steam the broccoli for about three minutes by placing the broccoli in a microwave dish with 3 tbsp of water. This is the best method to do this. Microwave for 3 minutes on high with a microwave plate on top.
Over medium heat, heat a large nonstick skillet.
Next, pour the vegetable oil, and sautee the ginger and garlic, until aromatic for 15 to 20 seconds.
Fill the skillet halfway with water, miso paste, soy sauce, and sesame oil. Stir regularly for another 15 seconds, or until the sauce has slightly thickened.
Mix in the steamed broccoli, be sure not to spill any of the water from the bowl into the pan.
Serve immediately.
---
Chinese Chicken With Garlic Sauce
This simple Chinese Chicken With Garlic Sauce dish is perfect for any weeknight. Tender chicken breasts or thighs are marinated in a delicious stir fry sauce before being rapidly cooked in a skillet with fresh bell peppers that are chopped.
How To Make Chinese Chicken With Garlic Sauce
Ingredients
2 pounds boneless chicken breast or boneless thighs
8 cloves garlic minced
1/2 cup dark soy sauce
1/4 cup honey
2 tbsp cornstarch
2 bell peppers
1/2 cup scallions, chopped
1 tbsp sesame oil
1 tbsp sesame seeds
Instructions
Slice the chicken into 1-inch pieces. In a big zip bag, put the chicken chunks. Add the garlic, soy sauce, honey, and cornstarch in the zip bag. To coat, close the bag and shake it. Then, put in the fridge for at least 30 minutes or up to 8 hours, to marinate.
Place a big saute pan or skillet over medium-high heat once ready to cook. Bell peppers should be cut into 1-inch pieces and scallions should be chopped as well.
In the same pan, add the sesame oil. Add the bell peppers once the pan is heated. Sear for a couple of minutes.
Combine the chicken and marinade. Stir often and heat for 8-10 minutes, or until the chicken is well cooked and the sauce has thickened. You can add a couple tablespoons of water if the sauce thickens too much. Taste and season with salt if necessary.
Lastly, add onions and sesame seeds to complete. Serve with rice on the side.
---
Veggies With Hot Garlic Sauce
Ingredients
1 large onion, diced
1 cup green capsicum, diced
1 cup yellow bell pepper, diced
1 cup red bell pepper, diced
1 cup mushrooms, diced
1 cup baby corn, diced, cut into half inch pieces
1 Cup zuchinni, sliced, cut into semi-circles
4 tablespoon sesame oil
2 tablespoon cooking oil
8 -10 garlic cloves, fine chopped
1 tablespoon fine chopped ginger
2 tablespoon fine chopped celery
4 whole dry red chilies
2 tablespoon white vinegar
salt to taste
1/2 teaspoon black pepper or to taste
2 tablespoon cornflour or corn starch
4 cups water
1 tbsp spring onion greens, chopped finely
1 tbsp roasted crushed peanuts
1 fresh red chili, chopped finely
Instructions
1. Wash and rinse the vegetables. Then, cut into equal size pieces.
2. Mix cornflour with 1/2 cup water and dissolved. Then, set aside till needed.
3. Brown sugar, red chili flakes, soy sauce, and Sriracha sauce should all be combined. Mix well and set aside until needed.
4. In a skillet or stir-fry pan, heat the cooking oil. Stir-fry all the veggies except the onion for 3–5 minutes on high heat. Be sure you don't overcook your vegetables. Transfer to a bowl and using the same wok, cook the garlic sauce in the same pan.
5. Using the same wok, heat the sesame oil. Then, put the whole red chilies, celery, garlic, and ginger. Stir it for a minute or two.
6. Next, add the chopped onion and stir-fry for a minute or until it becomes translucent.
7. Pour in the white vinegar and thoroughly combine all of the ingredients to glaze the pan.
8. Add the garlic sauce mix after that. Stir everything together. Put water and give the sauce a thorough stir. Add salt and black pepper to taste. Adjust the seasoning according to your preference.
9. Next, add the cornflour slurry or paste and mix constantly to prevent lumps from forming. Stir in the stir-fried veggies once the sauce has thickened. Allow 1–2 minutes for the sauce to boil. Turn the heat off.
10. Spring onion, crushed peanuts, and red chile are used as garnishes to the dish.
11. Serve veggies over fried rice or noodles.
---
Bok Choy With Chinese Garlic Sauce
Ingredients
2 lb of Bok Choy
7 cloves garlic, minced
1 teaspoon Salt
1 tablespoon vegetable Oil
3 tablespoon Vegetarian Oyster Sauce
1 teaspoon of Sesame Oil
2 tablespoon soy Sauce
1 tablespoon sugar
Instructions
Slice the Bok Choy in half to prepare it. If you think that the Bok Choy is still fairly big, slice it again.
Bring a pot of water to a low boil, then add 1 tablespoon of oil and 1 teaspoon of salt. For 3-4 minutes, blanch the Boy Choy. It should be tender yet still crunchy. Then, set it aside.
In a wok, combine the minced garlic, vegetarian oyster sauce, soy sauce, sugar, and sesame oil. Allow for 1-2 minutes to simmer, or until the sugar has dissolved.
Serve the Bok choy with the garlic sauce drizzled on top.
---
Frequently Asked Questions
Is Chinese Garlic Sauce Healthy?
Chinese garlic sauce can be nutritious depending on how it is prepared. It's possible to make the sauce vegan, low in fat and calories, and gluten-free.
How long does Chinese garlic sauce last in the fridge?
If placed in the refrigerator, Chinese Garlic Sauce should last 3-4 days.
What does it taste like?
It is flavorful. It is a combination of sweet, salty, garlicky, and has a hint of spice.