Did you just run out of chicken broth? Do you need chicken broth but you just don't have time to prepare it? Or perhaps, you have a recipe you want to try but you can't use chicken broth as you want to prepare a vegan dish.
| Product | Brand | Name | Price |
| --- | --- | --- | --- |
| | The Organic Gourmet | Organic Gourmet Vegetable Bouillon, Low Sodium, 8 Cubes (Pack of 12) | Check Price on Amazon |
| | Better Than Bouillon | Better Than Bouillon Organic Vegetable Base 16 Oz, Reduced Sodium (Original Version) | Check Price on Amazon |
| | Edward & Sons | Edward & Sons Not Chick'n Bouillon Cubes, 2.5 Ounce Box (Pack of 12) | Check Price on Amazon |
| | ORRINGTON FARMS | Orrington Farms All Natural Vegan Broth Base & Seasoning, Chicken, 6 Ounce | Check Price on Amazon |
| | Kikkoman | Kikkoman Japan Made Soy Sauce, 33.8 Ounce | Check Price on Amazon |
* If you buy through links on our site, we may earn an affiliate commission. For more details, please visit our Privacy policy page.
Whatever the reason you might have, this blog has you covered. We have rounded up some of the best chicken broth substitutes that you will surely love!
Chicken Broth Substitute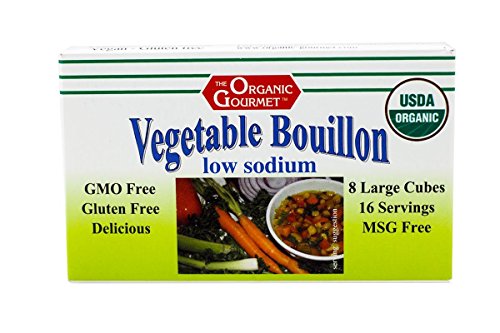 Sodium is just a great element that adds taste to food. However, too much sodium could lead to various medical conditions such as hypertension and heart disease. So, it's great that you have Organic Gourmet Vegetable Bouillon as an option.
This vegetable bouillon is made with palm fruit oil, yeast extract, corn starch, onions, carrots, celery, leek, chicory extract, lovage, pepper, nutmeg, and Curcuma. All ingredients are fresh and organic. There's no gluten, GMO, or MSG in this product.
---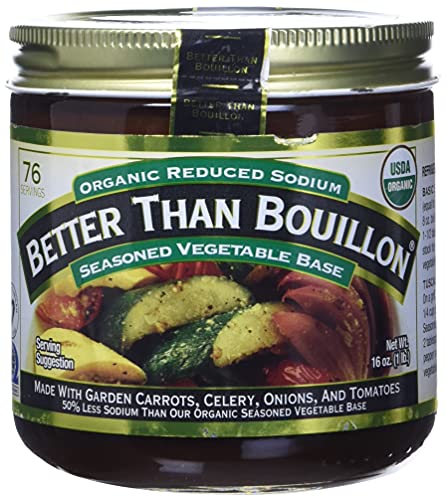 As a vegetable broth, the Better Than Bouillon is an ideal choice for many chefs. One reason is that it is made with fresh and organic ingredients such as celery, garden carrots, onions, and tomatoes.
One thing that you would love about Better Than Bouillon is that it has less sodium content and there are no partially hydrogenated oils. So, it's not too salty and keeps your dish healthy and nutritious at the same time.
---
Not-Chick'n is a great substitute for chicken broth and a perfect addition to your vegan recipe. Its main ingredients include sea salt, yeast extract, organic cane sugar, and organic expeller-pressed palm oil.
Aside from the Not-Chick'n variety, there are other options you can choose from. You can have Garden Veggie, Low Sodium Not-Chick'n, Low Sodium Veggie, and Not-Beef.
Each pack comes with vegan bouillon cubes, which can make satisfying, flavorful, and delicious broth in just a few minutes. All you need to do is add the Not-Chick'n bouillon cube to boiling water. From there, add the water to your soup, stew, or sauce. You'll see how your dish would instantly become a blockbuster.
Not-chick'n is perfect for people who follow special diets such as gluten-free, vegan, kosher, keto, paleo, organic, and low sodium.
---
As a highly rated and popular vegan broth, it is not a surprise that you will get nothing but a delicious treat from this product. You can be sure that this broth is vegan certified, meaning it doesn't contain animal or even animal derivatives.
The ingredients include vegan chicken flavor, sea salt, sodium, yeast extract, carrot powder, turmeric, garlic powder, onion powder, parsley, spice extract, and others.
The Orrington Farms Vegan Broth is a great option if you want to still enjoy meat taste without actually eating meat.
---
Vegan stock powder
Now, if you want to create your vegan stock from scratch and don't want to buy from grocery stores, then this recipe could be your next choice. The vegan stock powder can create a chicken broth that would taste like the original.
So, if you're interested in knowing how to create your vegan stock powder, here are what you need:
Onion powder
Garlic powder
Dried tomato
Sea salt
Raw sugar
Cayenne
Ground black pepper
Dried oregano
Raw sugar
Turmeric
Dried thyme
Dried oregano
Mustard powder
1Celery seeds
Dried parsley
Nutritional yeast
Ground black pepper
Cayenne
We won't go deep into how this vegan stock powder is made. However, the overall process would include the use of a high-powered blender such as the Blendtec blender. This is important to ensure that all the ingredients are mixed well together.
After blending, the resulting mixture should be as fine as cornstarch with no graininess. You should get this consistency after a few cycles in the blender.
---
Homemade vegetable chicken broth substitute
While a vegetable chicken substitute may not taste like the real chicken broth, it can still add a pack of great tastes to your dish. In some cases, if done right, you can even have more delicious food with vegetable broth.
Vegetable chicken broth can also be your homemade chicken broth. Ingredients may include the following ingredients:
Salt to taste
Nutritional yeast (optional)
Pepper to taste
Large onion
Water
Bay leaves
Tomato paste
2 cloves garlic minced
2 medium carrots
Overall, the cooking process would include mixing all the ingredients into a pot. Cooking should be done with a low heat level and the whole process may take up to an hour. Please note that the longer you boil the mixture, the richer the flavor will be.
---
Chickpea liquid
If you don't have time to prepare homemade chicken stock or broth, Chickpea liquid with do the trick. It has the best taste that is almost similar to the real thing. So, to have your broth prepared with Chickpea, all you need to do is soak it in water. The liquid that comes out from it would become the broth.
If you don't know yet, chickpea liquid is already a popular option for people with egg allergies and people who follow a vegan diet or don't eat chicken meat.
---

You can use soy sauce as a substitute for chicken broth. You can imitate the taste of the chicken broth by combining various condiments and ingredients. For example, you can try soy sauce along with white wine, dried herbs, and spices. Even if you don't use chicken broth, your dish would still taste good.
---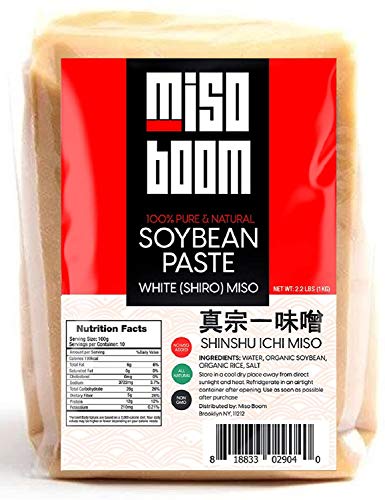 Yes, miso paste is also a great chicken broth substitute. The salty, savory, and umami taste of miso paste makes it a nice ingredient to make your dish tasty even if you don't have your usual chicken broth.
---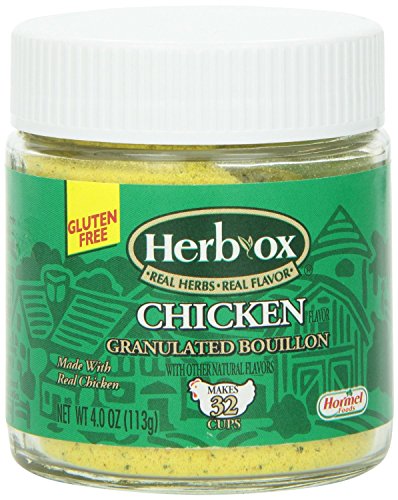 Bouillon granules are almost the same as bouillon cubes. They just differ in their form. The main advantage of bouillon granules is that they easily and quickly dissolve into water.
---
Broth powder is a great way to imitate homemade broth. The broth powder of Frontier Co-op is your go-to substitute because it will make your dish delicious.
The broth powder is made with natural and rich flavor, onion, corn syrup solids, salt, yeast extract, parsley, turmeric, garlic, and celery seed.
Since this product is made with broth powder and because of this, it can easily blend with your dish. The brothy and salty chicken flavor is a nice option for vegan and vegetarian dishes. The broth powder is not just for main dishes, but you can use it for vegetable soups, glazes, and marinades.
---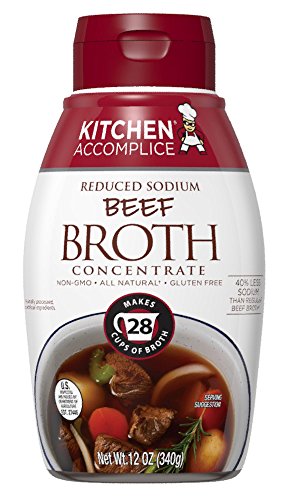 There might be some times that you have thought if it is okay to use beef broth when you are supposed to use chicken broth. Well, in practice, it is always nice to use chicken broth as it leaves a wonderful and robust flavor to your taste buds. However, it doesn't mean that you can't experiment.
Between beef broth and chicken broth, the former has a stronger taste. So, if you're going to use beef broth, then you can simply add more water to dilute the beef broth and make your soup as gentle as chicken broth.
---
Best tips when using chicken broth substitute
There's no doubt that chicken broth has its unique taste. It's a delicious addition to any dish that you may want to prepare. Thus, it is good that you should remember some pointers when using an alternative to chicken broth. Here are some of them:
Check the ingredients of your chosen chicken broth replacement. By doing so, you should have an idea of how it will affect your food. You can also try to check your recipe and see how your substitute would blend into the overall dish.
As much as possible, choose a chicken broth substitute that comes with ingredients similar to chicken broth.
Bear in mind that since you're going to use a substitute, your dish would also change in its taste. When you understand this, you should be able to anticipate the necessary adjustments that you need to do.
Feel free to experiment with various substitutes. Sometimes, you won't get it right the first time. Eventually, your experience will tell you which works and which one doesn't work.
Choose the best chicken broth substitute
There you have it: you just read some of the best chicken broth substitutes that you should consider. Take some time to explore. Feel free as well to check as many recipes as possible. The more you read about how to use chicken broth alternatives, the better your dish would taste.
| Product | Brand | Name | Price |
| --- | --- | --- | --- |
| | The Organic Gourmet | Organic Gourmet Vegetable Bouillon, Low Sodium, 8 Cubes (Pack of 12) | Check Price on Amazon |
| | Better Than Bouillon | Better Than Bouillon Organic Vegetable Base 16 Oz, Reduced Sodium (Original Version) | Check Price on Amazon |
| | Edward & Sons | Edward & Sons Not Chick'n Bouillon Cubes, 2.5 Ounce Box (Pack of 12) | Check Price on Amazon |
| | ORRINGTON FARMS | Orrington Farms All Natural Vegan Broth Base & Seasoning, Chicken, 6 Ounce | Check Price on Amazon |
| | Kikkoman | Kikkoman Japan Made Soy Sauce, 33.8 Ounce | Check Price on Amazon |
* If you buy through links on our site, we may earn an affiliate commission. For more details, please visit our Privacy policy page.