Roast Duck, Melon and Mango Salad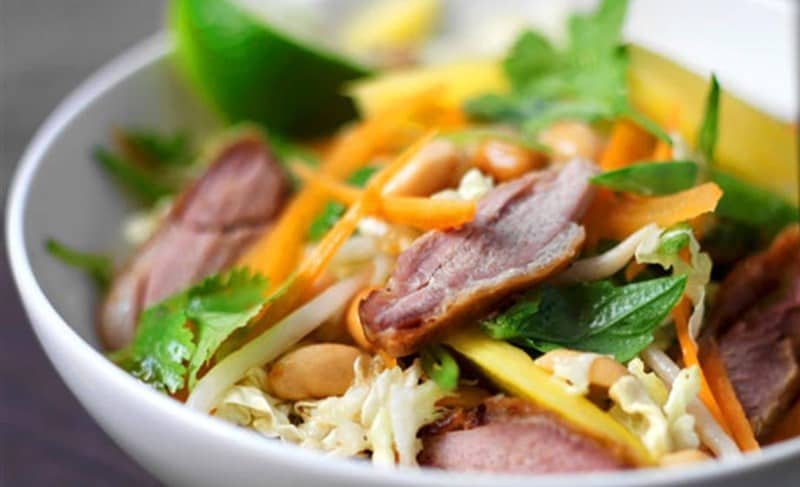 Ingredients
Half roasted duck or boiled chicken
150 grammes (5 oz) honey dew melon
One pear
Half cucumber
150 grammes (5 oz) cantaloupe melon
One mango
120 grammes (4 oz) jicama
3 Tbs coarsely grounded toasted peanuts
2 Tbs toasted white seasame seeds
One coriander plant
Marinade for Duck
Half Tbs light soya sauce
2 tsp fine sugar
One tsp oyster sauce
One Tbs cooked vegetable oil*
Sauce
3 Tbs water
Half tsp salt
One to 2 tsp sugar
Half tsp sesame oil
Half Tbs tomato ketchup
One tsp chili sauce
One-and-a-half tsp cornflour
One-and-a-half Chinese plum sauce or apricot jam
2 tsp vegetable oil
Directions
Remove flesh from duck and cut into fine strips. Cut flesh of melon, mango, cucumber, pear and jicama into fine strips, discarding skin and pulp first.
Arrange each vegetable and fruit neatly around a large serving platter, varying the colours. Put the duck in the centre, after first marinating it in the sauce. Top with a sprinkling of peanuts, sesame seeds and plucked coriander leaves. Chill in the fridge.
Mix all the sauce ingredients together except fro the oil and plum sauce. Heat oil in a wok and add the mixture, stir well till sauce thickens, add plum sauce or apricot jam and turn off heat. Cool in the fridge.
To serve, pour the sauce over the duck at the table and all the guests should toss the salad together.
* The oil should have been used to fry shallots first to remove any rawness of flavour.
Pepper Crab
Ingredients
1 kg Crab
3 tbspn white pepper
1 tspn coriander seeds
1 tbspn minced garlic
1 stalk spring onion ( cut into 1 inch section )
1/2 tbspn cornflour
Seasoning
1/4 tbspn dark soy sauce
1 tbspn light soy sauce
1/2 tspn sesame oil
Directions
Blend white pepper and coriander seeds in a blender until fine.
Wash and clean crabs, discards lung and organs. Chop crabs into 4 pieces. Scald crabs in 250g of hot cooking oil for about 30 secs. Remove from wok.
Stir-fry minced garlic in 2 tbspn of hot cooking oil until fragrant.
Add in 1 cup of water and 2 tspn of blended white pepper and coriander seeds, and mix well. Add seasoning and 1 tbspn of cornflour solution. Bring to a boil. Add crabs and cover the wok. Cook for 5 minutes or until crabs are cooked.
Remove the crabs from wok. Add sectioned spring onion into gravy and stir-fry for 2 minutes.
Serve hot.
Crisp Curried Shrimp
Here's a quick and delicious way to enjoy fried shrimp. Adjust the seasonings to suit your palate.
Makes 2 servings
Ingredients
2 Tbs All-purpose flour
1/2 tsp Curry powder
1/8 tsp Cayenne pepper
Salt
3/4 lb Shrimp (about 12), shelled and deveined
2 Tbs peanut oil
1 bunch Green onions, cut into
2-inch lengths
Lemon wedges for garnishing
Directions
In a bowl combine the flour, curry powder, cayenne, and salt to taste. Add shrimp to flour mixture, tossing to coat.
In a heavy wok heat oil over moderately high heat until hot; saute green onions until almost tender.
Add shrimp to scallions and sauté, stirring occasionally, about 4 minutes, or until shrimp are opaque throughout.
Serve shrimp with lemon alongside rice or over crisp-fried rice noodles.
Chilli Crabs or Lobster
This is a popular dish amongst Singaporeans. It is also a common feature in the menus of famous seafood restaurants (along East Coast and Punggol).
The abundance of fresh chilies and garlic makes this a very spicy and full-bodied dish. Chilli crabs/lobster bears testimony to the great love Chinese have for spicy Malay food.
The real way to eat this dish is with a serving of large square chuncks of bread to dip into the delicious sauce.
Ingredients
Lobster or crabs weighing about 450 grammes (1 lb)
6 fresh red chilies
5 cloves garlic
2 stalks spring onions
One coriander (cilantro) plant
3 Tbs vegetable oil
Sauce
3 Tbs tomato ketchup
One-and-a-half Tbs sugar, according to taste
Quarter tsp salt
One tsp pounded salted brown soya bean paste
One cup water
One-and-a-half tsp cornflour
Half tsp rice or malt vinegar of freshly squeezed lime juice
Quarter tsp dark soya sauce
Directions
Wash uncooked shellfish well, break off the claws and crack the shell by gently hitting it with a pestle. When preparing crabs, chop the bodies in half and then each half into 3 pieces. Wash and retain the shells. When using lobsters, chop off the tail and head, and chop the body, with shell still on, into thumb length pieces.
Plunge head and tail of lobster into boiling water and cook till the shell turns red. Remove from water and set aside for decoration.
Peel garlic and pound coarsely. Pound chilies coarsely too. Or grind in a food processor.
Wash spring onions, discard roots, cut into finger lengths. Cut coriander into one-inch lengths.
Mix sauce ingredients except for the vinegar or lime juice.
Heat wok, add oil and when hot, add the garlic, stir fry for one minute, add chilies, stir fry for another minute and add crab or lobster pieces.
Stir fry for 2 to 3 minutes till shells turn slightly red. Stir sauce, add to the crabs or lobster and stir well for 2 minutes. Cover with a lid and simmer over high heat for 5 to 7 minutes till shells turn a bright red.
Remove cover, squeeze the lime juice over or add the vinegar, stir well and add spring onions. Turn heat off, stir well and serve, garnish with coriander leaves.
Sayor Loday
Ingredients
300 grammes (10 oz) jicama
300 grammes (10 oz) long beans
240 grammes (8 oz) French beans
300 grammes (10 oz) cabbage
4 hard bean curd cakes
180 grammes (6 oz) small prawns, peeled
60 grammes (One-and-a-half oz) galangal, peeled and smashed
One lemon grass, cleaned and smashed
One cup dried prawns, washed, soaked and pounded or ground
20 shallots, peeled
2 tsp shrimp paste (belacan)
One-and-a-half to two coconuts, grated or one-and-a-half cups processed coconut milk
6 cups water
2 tsp salt
One tsp sugar
6-10 dried chilies
One cup vegetable oil
Directions
Cut cabbage into bite-sized pieces. String French beans and cut into finger lengths diagonally. Cut long beans into finger lengths. Peel jicama and shred into finger lengths.
Soak dried chilies till soft for half hour in warm water. Pound till fine. Cut each bean curd diagonally. Place wok over high heat and when smoking, add oil. When hot, deep fry the bean curd cakes till golden. Drain. Remove all but 6 Tbs oil and stir fry the pounded chilies till fragrant. Keep aside.
Mix coconut with half cup water and squeeze for thick milk. Set aside. Mix with remaining water and squeeze fot thin milk. Or mix half cup processed coconut milk with water.
Pound or grind shallots and shrimp paste coarsely.
Place thin coconut milk in a suacepan and turn on high heat. Add shallot mixture, dried prawns, galangal and lemon grass. When boiling, add jicama, long beans, French beans, cabbage and prawns. When boiling again, add bean curd and seasoning. Add thick coconut milk and chilies and oil mixture. Boil 10 minutes and serve.
Stewed Pork in Claypot
Ingredients
450 grams of pork frank
1 tbspn of tamarind paste
2 tbspn of peanut oil
Marinate
2 tbspn of oyster sauce
2 tbspn of light soy sauce
1 tbspn of dark soy sauce
1 tbspn of black bean paste
1 tspn of sesame oil
1 tspn of Shao Shin wine
pepper to taste
1 tspn of minced garlic
1 tbspn of cornflour
Directions
Cut pork into cubes and add in marinate mixture. Set aside to marinate for 30 minutes.
Heat wok up and add in 2 tbspn of peanut oil. Stir-fry marinated pork for 3 minutes.
Pour stir-fried pork into a claypot and add in tamarind paste and a cup of water. Cover claypot and simmer for 1 to 2 hours or until meat is tender and the soup is thicken.
Serve hot with rice.
Smoked Spicy Chicken
Ingredients
1 chicken ( 1.5 kg )
1/2 tsp salt
2 tsp wine
1 tsp sesame oil
Spicy sauce
1 star aniseed
1/2 tsp brown peppercorn
1/2 tsp clove
1 piece cinnamon stick
1 cardamom
1/4 dried tangerine peel
5 cups water
2 tbsp sugar
Smoking ingredients for chicken
1/2 cup Jasmine tea leaf
1/2 cup soft brown sugar
1/2 cup cooked rice
Directions
Wash chicken and remove its legs. Rub chicken cavity and skin with salt and wine. Hang it for 40 minutes.
Bring spicy sauce to the boil until 4 cups of water is left. Strain. Add light soy sauce and sugar. Bring to the boil again. Put chicken in spicy sauce. Simmer over low heat for 20 minutes.
Cover wok with aluminum foil. Put in tea leaf, soft brown sugar and rice. Heat wok. Place an iron rack on wok. Put chicken on rack. Cover with lid. Remove from heat when smoke emits from wok. Bake for 5 minutes. Take out chicken. Brush seame oil on it and allow to cool. Chop up and serve.
Singapore Noodles
Ingredients
1/4 cup cooking oil
4-6 garlic cloves, minced
2 Tbsp slivered ginger strips (optional)
2 qts water
1 tbsp cooking oil
2 tsp salt
4-6 vermicelli nests (rice vermicelli worked great)
2 cups cooked pork, chicken, shrimp or beef, cut-up
1/3 cup slivered green onions
2 tsp crushed red pepper (may be halved)
1/4 cup oyster sauce
3 Tbsp curry powder
2 tsp soy sauce
Directions
Heat first amount of cooking oil in wok or frying pan. Add garlic and ginger. Cook until tender.
Heat water, second amount of cooking oil and salt in a large uncovered saucepan until boiling. Add vermicelli. Make sure nests are covered with water. Turn off heat and let stand.
Add meat, green onion and red pepper to wok. Stir-fry until hot.
Add oyster sauce, curry powder and soy sauce. stir and toss well to mix thoroughly. Drain noodles. Add and toss. May be served now or cover and place in 250F oven to hold until ready. Makes 2 good sized plates if 4 nexts are used, 3 plates if 6 are used.
Mee Siam
Cooking time: 25 minutes
Ingredients
Mee Siam and Sambal
water for scalding vermicelli
1 packet coarse rice vermicelli (Hokkien: bee hoon)
250 9 beansprouts
100 g Chinese chives (Hokkien: koo chye)
500 9 small prawns
3 tablespoons oil
4 firm soybean cakes (Hokkien: taukwa)
5 tablespoons oil
1 large onion, sliced
250 millilitres water
2 tablespoons tamarind powder mi e
4 hardboiled eggs, sliced
Rempah
5 tablespoons dried prawns (pounded separately)
5 large onions
4 cloves garlic
6 candlenuts
20 dried chilies
3 tablespoons belacan powder
1 teaspoon sugar
1 teaspoon salt
Gravy
2 litres water
4 tablespoons tamarind powder
3 tablespoons fried rempah (see method)
2 tablespoons preserved soy beans (Hokkien: taucheo), mashed a little
2 teaspoons sugar
1/4 coconut, grated
150 millilitres water
Directions
Boil a large kettle of water and scald vermi- celli for 10 minutes, longer if necessary to soften until strands are pliable and soft to the touch. Wash and tail beansprouts. Cut chives into 4 cm lengths. Wash and drain. Wash and peel prawns. Heat 3 tablespoons oil and fry firm soybean cakes until brown. Cut into pieces 1 x2x 1/2 cm.
Sambal Heat 5 tablespoons oil and fry pounded dried prawns for 3 minutes. Add all other rempah ingredients except sugar and salt and fry until oil seeps out again. Add sugar and salt and stir once. Remove about half the amount of rempah and put aside. In remaining rempah, add sliced onion and fry for 2 minutes. Add prawns and tamarind liquid and simmer for five minutes. Remove and set aside.
How to Fry Vermicelli Putting all but 3 tablespoons of the reserved rempah in a kwali, fry vermicelli and bean- sprouts for 8-10 minutes, stirring all the time until cooked. Moisten occasionally with tamarind liquid from the gravy allow- ance if vermicelli gets dry during frying. Add about 3 tablespoons of fried soybean pieces and half the chives to this fried vermicelli. Dish up and arrange on a large plate with sliced hardboiled eggs, remaining chives and remaining soybean pieces for garnish.
Gravy Bring tamarind liquid to a boil. Put all ingre- dients in. Adjust seasoning to suit your taste. Serve Mee Siam with sambal prawns and as much gravy as each person wants from a gravy boat.
Source: Terry Tan's Straits Chinese Cookbook
---
Opor Sotong
Ingredients
1 kg sotong (squid) – cleaned and cut
thumb size piece galangal (laos) – bruised
2 lemon grass – bruised
salt to taste
msg (optional)
several lime leaves
a few spoonful graded coconut – roasted
oil
grind the following:
4 cloves garlic
1 red onion
1/2 tea spoon tumeric (or powder)
some dried chilies – soaked
2 tablespoon ketumbar (coriander) powder
1 teaspoon jintan puteh (cumin) powder
Directions
Heat oil in wok and fry ground ingredients till fragrant, add coconut milk and season with salt and msg. Cook till thick, add sotong and cook for several minutes till it's done.
Bak KutTeh
Ingredients
1 1/2 kg pork spareribs
1 tbsp sugar
3 tbsp cooking oil or lard
˝ tsp pepper
2 tsp salt
2 cloves garlic
1 tsp preserved brown soya bean
1 tsp dark soya sauce
1 tsp peppercorn
1 inch long cinnamon bark
2 segments star anise
1 1/2 Litres water
Garnishing Ingredients:
fried crispy shallots
Chinese crispy crullers (Yu-Char-Koay)
Preparation of Ingredients:
Cut spareribs into bite-size pieces and marinate with pepper and 1 tsp salt for ˝ an hour.
Pound the preserved brown soya bean.
Smash the garlic.
Cut the Chinese crispy crullers into ˝ inch pieces.
Ingredients
In a pot, bring water to a boil.
Heat 2 tbsp oil in wok. Then fry the spareribs until well-browned. Set aside for use later.
In a clean wok, heat remaining oil. Add sugar and carameilze until light brown. Then add the smashed garlic and preserved brown soya bean. Stir fry for 30 seconds. Add in the spareribs, dark soya sauce, peppercorn, cinnamon, star anise and remaining salt. Continue to stir fry for another 30 seconds.
Remove from heat and toss into the pot of hot boiling water.
Allow the consomme to boil on high heat for 10 minutes. Then reduce the heat and allow it to simmer for 1 to 2 hours or until the meat is tender.
Dish consomme onto a serving bowl. Garnish with fried crispy shallots and Chinese crispy crullers.
Chwee kueh
Chwee kueh, a popular local dish, is actually rice flour pudding that is traditionally a Teochew's snack.
These round rice puddings by themselves are plain and tasteless and so you have to eat them with shredded preserved radish toppings (otherwise known as 'chye poh' in dialect) cook with vegetable oil to bring out the fragrant of rice flour. A little bit of home-made chili will add some spice to an otherwise simple snack.
In Singapore, most Chinese Singaporeans like to start their day with chwee kueh as breakfast. Hence, it's a common sight to see well-dressed executives with one hand holding their leather brief case and the other holding an oily plastic bag with the tasty chwee kueh in it.
Delicious and cheap, the chwee kueh is normally sold in a pack of four or six. These are the normal amount enough to fill your stomach.
If you were to ask any Singaporean, the best and well-known chwee kueh is at Tiong Bahru Market, Stall "Jian Bo Shui Kueh" at Blk 83, Seng Poh Road #01-15E. With four chwee kuehs costing around $1.00, that explains the long queue at the stall ! Well, the best stuff is definitely worth waiting for!
Ingredients:
* 1 cup rice flour
* 2 cups water
* 1 heaped tbs corn flour
* 3 tps oil
* 170g Lard
* half tsp salt
* 2 tsp sesame seeds
* 2 cloves garlic
* 200g chopped, preserved, salted radish
* pepper
* soy sauce
Method:
To cook rice cake
* Mix two types of flour with water
* Add salt and 1 tsp of oil, beat well
* Stir mixture over low heat till it thickens, keep stiring to prevent lumps
* Arrange steel moulds in a bamboo steamer over boiling water and steam empty moulds for 5 mins
* Pour mixture into moulds and steam for 10-15 mins or till well cooked
* Remove from bamboo steamer and leave to cool for 10mins before serving.
Note: test the constituency of the rice cake mixture first by steaming 1-2 moulds. If rice cake is too hard, add more water to mixture. If rice cake is too soft, add more rice flour.
To cook the radish
* Toast the sesame seeds till golden brown
* Dice the lard, wash and drain
* Fry lard, garlic and remaining oil in a saucepan until brown
* Discard garlic and lard
* Add radish to remaining oil, cook over low heat for 30mins, stirring occasionally to prevent burning
* Add sesame seeds, stir well. Add pepper, soy sauce to taste
To serve
* Remove rice cakes from moulds after 10 mins of cooling
* Place a spoonful of cooked radish onto each rice cake
* Serve with chili sauce.
Chris Choo August 2000
Chicken/Cucumber Broth (Huang Quar Gai Tong)
——————————————————————————–
Really just a warm up for spicy dishes to follow, this hot first course to a meal in Singapore is delicate, warming, and puts 6 people in the mood for the next course.
——————————————————————————–
Ingredients
1 uncooked chicken breast, boned, skinned, and sliced into paperthin strips
1 Tablespoon egg white, lightly whipped
6 cups chicken stock
1/4 teaspoon sugar
1 Tablespoon soy sauce
1 cucumber, peeled and seeded and cut into a julienne
3/4 teaspoon dark sesame oil
salt and finely ground white pepper, to taste
Mix chicken strips into the egg white and set aside. Pour chicken stock, sugar, and soy sauce into a large saucepan and bring to a boil. Stir in the chicken strips and the cucumber sticks and bring the stock back to a boil. Immediately stir in the sesame oil, salt, and pepper–ladle into bowls–and take to the table.
Singapore Curry Puffs
Ingredients
For the Pancakes
1 cup "All Purpose Flour"
2 eggs (set 1 aside and beat lightly)
2/3 cup milk
2/3 cup cold water
For the Filling
5 tbs corn oil
1 medium size red onion – chopped
8 oz lean beef – minced (alternative: chicken)
2 carrots – grated
1 parship – grated
1 tbsp tomato paste
2 tsp curry powder
1 tsp corn starch
2/3 cups beef stock (chicken if using minched chicken)
Enough vegetable oil for deep frying
Directions
To prepare pancakes:
Sift flour into a bowl
Make a well in center and add egg
Gradually stir in milk and beat well until smooth
Stir in cold water and beat well
Pour batter into a pitcher, set aside
Heat a little oil in a small skillet and pour off excess
Pour a little batter into skillet, swirling skillet to spread batter evenly over bottom to make a thin coating
Fry until 1 side is golden brown then flip over to do the same
Repeat with remaining batter, adding more oil pan each time, to make 8 pancakes
To prepare fillings:
Heat 2 tablespoons oil in a saucepan adding onions, parsnip and curry powder
Cook gently 5 minutes, stirring constantly
Add tomato paste and mix well
Blend cornstarch with a little stock
Add remaining stock to ground beef mixture and bring to a boil
Add corn starch mixture and cook 2 minutes, stirring constantly
Simmer mixture 10 minutes
Lay pancakes, cooked-sides up, on a flat surface
Spread filling in a 2″ horizontal lines across center to within 1-1/2″ of side edges
Fold these side edges over mixture and then fold remaining top and bottom edges over to cover filling
Brush with egg and fold pancakes in half
Chill for about 1 hour
Half fill a deep fat fryer or saucepan with oil
Fry folded pancakes, 4 at a time, 2-3 minutes or until golden brown and heated through
Drain on paper towel
Serve on an attractive flat plate, garnish with carrot strips if desired. Makes about 4 to 6 serving.
Steamboat Sizzler
Recipe by Amy Beh
Ingredients
Plain soup stock:
2 chicken carcasses, clean and remove fat
4 litres water
2 stalks spring onionSeasoning:
1 tbsp salt
1 tsp sugar
Dash of pepperTomyam soup stock:
2 chicken carcasses, clean and remove fat
3 stalks lemon grass, smash
4cm piece galangale, smash
12 cilipadi
2 coriander roots (white part only)
2 tomatoes, quarter
3 limes, squeeze for juice
5 kaffir lime leaves
1 bouillion tomyam-flavoured chicken stock cube
4 litres water
Seasoning:
1 tbsp sugar
1 tbsp salt
2 tbsp nampla (fish sauce)
250g deboned chicken fillet, cut into thick slices
250g fish fillet (red snapper, garoupa or pomfret)
600g mud crabs, halved
500g large prawns, keep shells intact
300g squid, clean and cut into thick round slices
300g cuttlefish, cut into thick slices
200g abalone mushrooms
200g button mushrooms
150g fish balls
150g sotong paste balls
2 pieces soft beancurd, cut into big cubes
1 packet Japanese tofu, slice into thick rounds
200g sea-cucumber, thinly slice
150g spinach (tung woh)
150g Chinese white cabbage (wong nga pak)
150g red carrots, cut into desired shapes
200g glass noodles, soak
200g fresh wantan noodles, scaldDip sauce:
1/2 cup chili garlic sauce
1 piece red fermented beancurd, mash
2 tbsp lime juice
Directions
Plain soup stock: Bring water to a rolling boil in a stock pot. Add the chicken carcasses and spring onion, and bring to a boil. Then lower the heat and simmer for 1 1/2 to 2 hours. Then add seasoning and strain the stock into the steamboat.
Tomyam soup stock: Bring water to a rolling boil in a stock pot. Add chicken carcasses, lemon grass, galangale, cilipadi, coriander roots and tomatoes. Let the soup boil again. Lower the heat and simmer for one and a half to two hours. Then add kafir lime leaves, lime juice, tomyam-flavoured chicken stock and seasoning. Strain stock into steamboat.
Note: If the steamboat comes with dual compartments for soups, you can have both types of soups in the steamboat at the same time. If it comes with only a single section, you can opt to have the plain soup first followed by the tomyam soup later.
Arrange all accompanying ingredients neatly on a platter. To serve, bring the stock to a boil in the steamboat. Add in your desired ingredients. Cover and bring to a boil again.
Dish out in individual soup bowls and serve with the sauce dip. Last to serve will be the glass noodles or the wantan noodles or any fresh yellow noodles.
To prepare the fresh wantan noodles: Scald the noodles in boiling water. Remove, dip into a basin of cold water. Strain and place on a plate. Add a dash of light soy sauce and sesame seed oil.
To prepare the dip sauce: Combine all the dip sauce ingredients in a mixing bowl.
Chicken with Dried Chillies
Here's a recipe which I find is very popular.
Ingredients
1 chicken (or use chicken thighs)
20 – 30 dried chilies (the big dark colored ones – I think they are called oil chilies)
4 garlic – slice fine
4 slices ginger
1/2 tsp cornflour
dash of pepper
1/2 tsp sugar
1 Tbs soy sauce
Chinese wine
Sauce
1 tsp cornflour
8 Tbs water
2 Tbs dark soy sauce
1 – 2 Tbs sugar
Directions
– Season chicken with salt and all the ingredients listed above (not the sauce) for half an hour
– Put 5 Tbs oil in the pan and fry the dried chilies till almost black and aromatic.
– Add garlic and ginger slices halfway. Remove.
Heat oil to fry the chicken for a few minutes until almost cooked before pouring in the sauce. Turn off heat as soon as the sauce starts boiling.
– Spring onions, carrot slices or whatever you like can be added at the end of cooking time (to add colour and to stretch the dish if you are having more mouths to feed).
– Leftovers can be used to make fried beehoon (remove the dried chilies and rinse them out in hot water which can be used as stock for the beehoon).

"Bak kwa" (Bee Cheng Hiang)
Ingredients
1 kilogram lean pork
For Gravy: 1 1/4 tblsp.fish gravy
175 gram sugar
1/8 tsp.five spice powder
1 tblsp.lard
1/2 tblsp.rose wine
1 1/2 tblsp.soy sauce
1/8 tsp.pepper
1 tsp.MSG
1/2 tsp.saltpetre
Directions
Slice pork thinly. Season with gravy. Arrange thin pieces of pork onto a big flat plate with small holes (for ventilation) such that they become a big layer of sliced pork. Leave the pork to dry. When dry, cut it into squares (about 10 cm in length). Barbecue the square pork slices with burning charcoal until both sides are golden in colour. The barbecued slices can be stored in the freezer for up to several weeks
Char Kway Teow
Char kway teow, which means "fried flat noodles," is a popular and cheap dish found in Malaysia and Singapore. Hearty and filling, it started out as a poor laborer's meal. Over time its popularity has spread. Char kway teow was originally stir-fried in lard and it got a reputation as unhealthy. But using vegetable oil makes a much healthier dish with much of the flavor. Other spellings: chow kueh teow, char koay teow, char kuay teow.
3 to 4 servings
Oil — 1/4 cup
Garlic, minced — 2-3 cloves
Sambal oelek (chile paste) — 1-2 tablespoons
Chinese sausages, sliced into rounds — 1-2
Shrimp, peeled and deveined — 1/2 pound
Fresh rice noodles — 1 pound
Soy sauce — 1/4 cup
Brown sugar — 1 tablespoon
Eggs, beaten — 2
Mung bean sprouts — 1 cup
Scallions, chopped — 3-4 each
Method
Heat the oil in a wok or heavy-bottomed pot over high flame. Add the garlic and sambal oelek and stir fry for about 30 seconds. Add the Chinese sausage and shrimp and stir fry until shrimp is almost cooked through.
Reduce heat to medium and stir in the rice noodles, tossing them to heat through. Scrape the bottom of wok or pot frequently to minimize sticking. Then stir in the soy sauce and brown sugar and stir in to season the noodles.
Scoop the noodles away from the center of the wok or pot and pour the beaten egg into the cleared space. Let the egg cook until just set, and then stir into the noodles.
Add the sprouts and scallions and continue to cook, tossing frequently, until the sprouts are just cooked through. Adjust seasoning and serve.
Variations
Authentic recipes use a mixture of dark and light soy sauce to give a darker color to the finished dish. Use 3 tablespoons dark soy and 1 tablespoon light soy sauce.
If you can't locate fresh rice noodles, you can use dried rice noodles. Place 1/2 pound noodles in a large bowl and pour in boiling water to cover. Let set 20 minutes, stirring occasionally, drain and use in recipe as directed.
Use 3-5 minced hot chilies in place of the sambal oelek if you like.
If you can find Chinese chives, use them in place of the scallions.
Other possible additions: shallots (add with garlic), chopped chicken meat, squid, clams, cockles, crab meat or tofu (add with shrimp), shredded Chinese cabbage, bok choy, spinach or other greens (add with sprouts).
Add 1-2 tablespoons oyster sauce instead of the sugar if you like.