You are in a Thai restaurant and thinking of getting Thai noodles for dinner, but you are not sure what kind of Thai noodles to order. That's okay. If you are craving for Thai noodle dishes, we can help you decide which type of noodles to order. There are several types of noodles you can select from Thai restaurants. This article will talk about the most popular Thai noodles that will definitely satisfy your taste buds. If you want to learn more about them, scroll down and keep reading.
Thai Noodle Dishes
Pad Thai
Also known as phad thai, phat thai. It is a delicious type of stir fried rice noodle dish that is popular in Thailand, and served as street food. Pad thai is categorized as a national cuisine in Thailand.
Flat rice noodles, shrimp, peanuts, a scrambled egg, and bean sprouts, and other vegetables, are commonly used in making this Thai rice noodles. In a wok, all the ingredients are fried. When the dish is done, it's tossed in pad Thai sauce, which gives it that tangy, salty flavor with a hint of sweetness.
Pad Thai noodle dish was invented in the mid-20th century. However, stir fried rice noodles were brought to Thailand from China many years ago.
---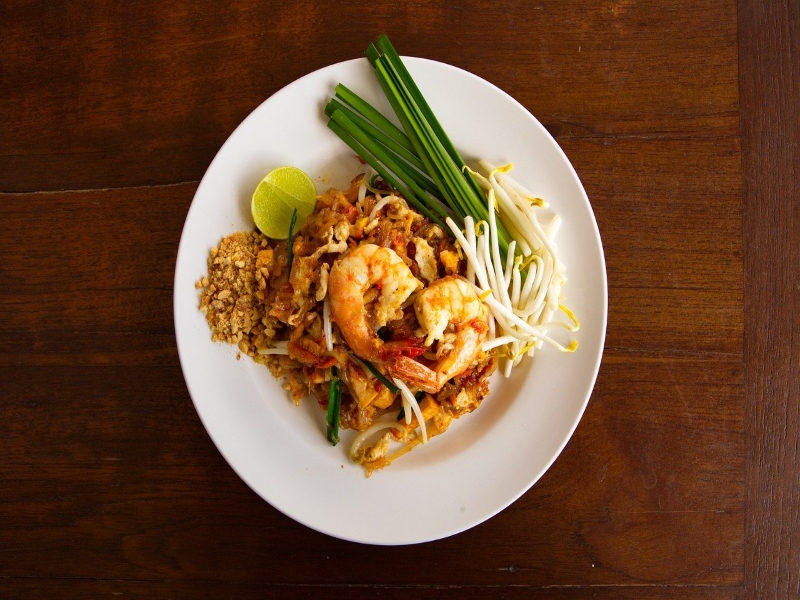 Recipe Pad Thai Noodles
Ingredients for Pad Thai
8 ounces rice noodles
12 medium raw shrimp (cleaned shells removed)
1 tablespoon tamari
3 tablespoons vegetable oil or canola oil (divided)
3 cloves garlic, finely chopped
1 teaspoon grated ginger
1 large egg
2 cups bean sprouts
2 green onions, sliced
1/3 cup roasted peanuts (unsalted)
1 tablespoon freshly squeezed lime juice
Ingredients for Sauce
3 tablespoons brown sugar
1/4 teaspoon cayenne pepper
1 tablespoon tamarind puree
2 tablespoons fish sauce
1 tbsp oyster sauce
Instructions
In a large bowl, place the rice noodles and add boiling water into the bowl. Soak the noodles until they are soft but still firm and a little crunchy texture. Do this for about 5 minutes. Then drain and rinse noodles in cold water. To obtain the chewy rice noodles later when fried, the rice noodles must be undercooked at this stage.
Mix the sauce ingredients in a bowl. Mix 3 tablespoons brown sugar, 1/4 teaspoon cayenne pepper, fish sauce, and the remaining sauce ingredient in a mixing bowl. Mix thoroughly and taste until you achieve a tangy sweet-sour taste.
Next, heat 2 tbsp oil in a large skillet or non stick frying pan over high heat. Add garlic and onion, and ginger cook for 30 seconds. Then, add the shrimp. Stir-fry the shrimp for 2 minutes, or until they are appear plump and pink.
Push the ingredients to the other side of the pan and add egg on the other side. Scramble the egg for 30 seconds, and drizzle oil if needed. Then, mix into shrimps.
Add the noodles, bean sprouts, tofu, and the sauce.
Stir fry everything together for 1 and a half minute, or until the sauce has been absorbed by the noodles.
Add half of the peanuts. Mix, and remove from heat. Add half of the peanuts. Mix, and remove from heat.
Serve immediately, sprinkle the remaining peanuts. You can also squeeze some lime juice over the top to flavor.
---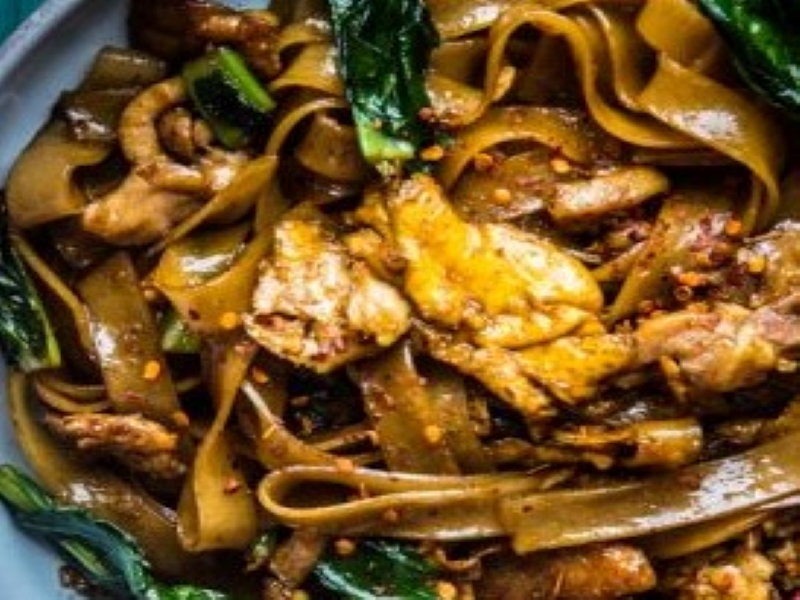 Pad See Ew
Pad see ew is a stir-fried noodle dish popular in Thailand. It is easy to find among street food vendors, and it is also common in Thai restaurants worldwide. It is also known as phat si-io or pad siew. Pad see ew is also sometimes called as kuaitiao phat si-io, which refers to the use of fresh flat rice noodles as the primary ingredient.
The noodle dish is cooked in a wok, which allows the black soy sauce added at the end of the cooking method so it can stick to the noodles to achieve a charring and caramelizing effect. Pad see ew may appear burnt, yet the charred smoky flavor is the dish's defining attribute.
Pad see ew translates to "fried with soy sauce"". Several varieties and recipes of this noodle dish can also be found in other countries. It's quite similar to Malaysian and Singaporean char kway teow, as well as Cantonese chow fun. Pad see ew is typically stir-fried dry and cooked with beef, whereas the aforementioned meals are typically served in a thickened sauce and have a milder flavor.
Pad see ew is cooked with light and dark soy sauce, garlic, broad rice noodles, Chinese broccoli/regular broccoli, egg, and tofu or thinly sliced meat (pork, chicken, beef, shrimp, or mixed seafood). It's usually topped with freshly ground white pepper.
---
Khao Soi
Khao soi or khao soy is a delicious egg noodle dish which is a specialty of Northern Thailand. The noodle dish is a delectable coconut soup that combines a variety of regional influences to create a genuinely outstanding dish. The main ingredients of this dish are hand cut rice or egg noodles, coconut milk, curry soup base. The dish is quite similar to Myanmar's Ohn no khao swè.
The soup is served with flat egg noodles and a meat of your choice, which is commonly pork, chicken, or beef. A handful of crisp fried noodles and chopped cilantro are sprinkled on top. Fresh lime, chilis, pickled cabbage, shallots, and other vegetables are usually added to the dish.
Versions of Khao Soi
Lao Khao Soi
Lao khao soi is made of clear pork, chicken, or beef broth topped with a minced pork meat tomato sauce, tomatoes, garlic, and fermented bean paste. It is a hand sliced rice noodle soup.Fresh herbs are always added to the dish. Steamed rectangular sheets of rice flour batter are used to make Lao khao soi noodles, which are then rolled and sliced into wide rice noodle ribbons. This noodle soup is a specialty of the Northern Thailand and Burma.
Northern Thai khao soi or Khao Soi Islam
It is a soup-like dish made with a mixture boiled egg noodles and of deep-fried crispy egg noodles, shallots, pickled mustard greens, lime, ground chilies that are fried in oil, and meat with curry-like sauce that has coconut milk. This dish is similar to modern Burmese ohn no khao swè.
---
Mi Krop
Also known as Mee Krob, meaning "crisp noodles". It is a spicy Thai dish made of deep-fried noodles. It is made with thin rice noodles and a sauce that is mostly sweet but can be balanced with an acidic flavor. The sour/citrus flavor prominent in this dish often comes from the peel of a Thai citrus fruit called som sa, a type of citron.
The noodle dish's base is made up of crispy fried vermicelli noodles. A sweet and sour sauce is produced by combining lemon or lime juice, fish sauce, tomato paste, kaffir lime leaves, chilis, and sugar with the noodles.
The noodles are combined with a protein source. Pork meat, fried tofu, fried shrimp, or a combination of the proteins can be used as proteins. Scallions, bean sprouts, chopped cilantro, chilis, and fried egg strips can all be added to the dish.
---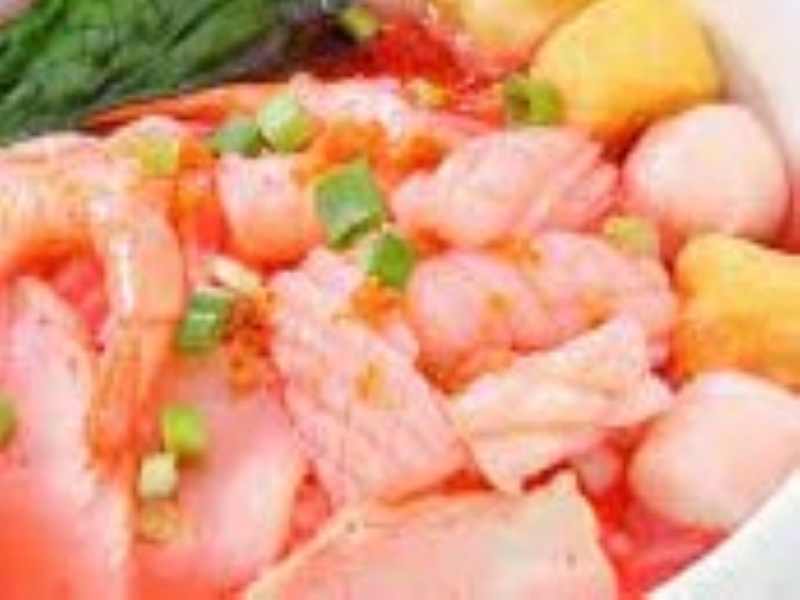 Yen Ta Fo
Yen ta fo has a unique pink colored soup due to the use of fermented bean paste, which may be supplemented by food coloring. The soup is composed of several varieties of noodles served in chicken or pork broth seasoned with spicy fermented red bean curd. Squid, fish balls, fried tofu, shrimp, and the leafy water morning glory are all garnished on top of each bowl of this absolutely delicious soup.
Yen ta fo is a popular Thai dish prepared in traditional Thai restaurants and sold at various street booths.
---
Boat Noodles
Also known as Kuai-tiao ruea. It is a strong-flavored Thai-style noodle dish. The dish is usually served with meatballs and pig's liver, and it is made with pork and beef, as well as dark soy sauce, pickled bean curd, and other seasonings. The dish is seasoned with a mixture of pig/cow blood, salt, and other spices. The soup has a similar color to beef noodle soup but is thicker due to the addition of blood. In most cases, it is served in a tiny bowl.
Garlic, fried garlic, radish, cinnamon, parsley, bean sprouts, morning glory, and Thai chili flakes are among the other ingredients in Kuai-tiao ruea. There are various types of noodles used in boat noodle, such as thin rice noodles, egg noodles, sen yai (big noodles), and sen lek(small noodles).
---
Pad Woon Sen
Pad woon sen is a classic Thai noodle soup. Its main ingredient is a silky glass noodles stir-fried with carrots and cabbage. The dish is sprinkled with Thai bird chili and cilantro. Prior to cooking, the noodles should be soaked first.
Water, oyster sauce, sugar, fish sauce, soy sauce, and white pepper are used to make the sauce. Garlic, eggs, onions, bean sprouts, spring onions, other vegetables, and chicken (optional) are also frequent ingredients to this type of Thai noodles. The dish should be topped with sliced chili peppers and cilantro before serving.
---
Sukhothai Rice Noodles
Sukhothai rice noodles is a Thai-style rice noodle soup. It is made up of rice noodles, stock, and toppings, and it's almost served with a thin form of noodle known as "sen lek". The toppings are nearly entirely made up of sliced pork or a sweet pork-based broth, ground pork, and crackling.
The primary ingredients are little pieces of salted turnip, smashed peanut, and thinly sliced green beans. The flavor is sweet and subtle with a hint of lime, with a dressing of fish sauce and powdered chilli. Sukhothai rice noodles is typically served alone or with a broth.
---
Khanom Chin Nam Ya
Khanom Chin Nam Ya is a thick and spicy Thai noodle curry made with fresh rice noodles (khanom chin), coconut milk, white fish, and a thick curry paste made with turmeric, fresh ground chilis, shrimp, garlic, and lemongrass. Fresh vegetables, fried chilis, and lemon basil are also added to the dish. It's traditionally served with hard-boiled eggs on top.
---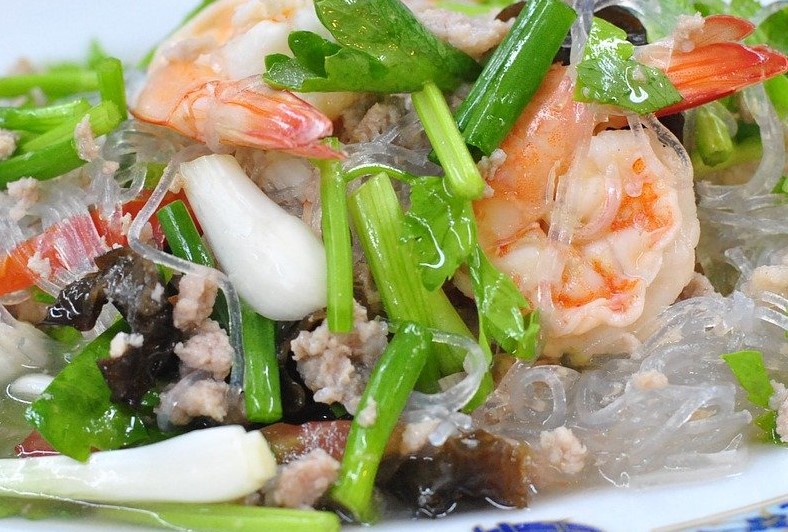 Yom Wun Sen
Yom wun sen is a type of glass noodle salad in Thailand. The dish has a crunchy texture and unique flavor. Glass noodles, fried garlic, lime juice cilantro, chili peppers, dried shrimp, fish sauce, onions, Chinese celery, and roasted peanuts are used to make this meal. For extra flavor and protein, ground beef or pork is added to the dish. Normally, it is served lukewarm or cold and this is best seller during summer.
---
Bami Haeng
Bami haeng is a dish made with wheat noodles. Originally, this is a chinese dish, but is now popular in Thailand. The noodles is prepared by using egg noodles, with pieces of braised duck and often with blood tofu. The soup is served separately.
---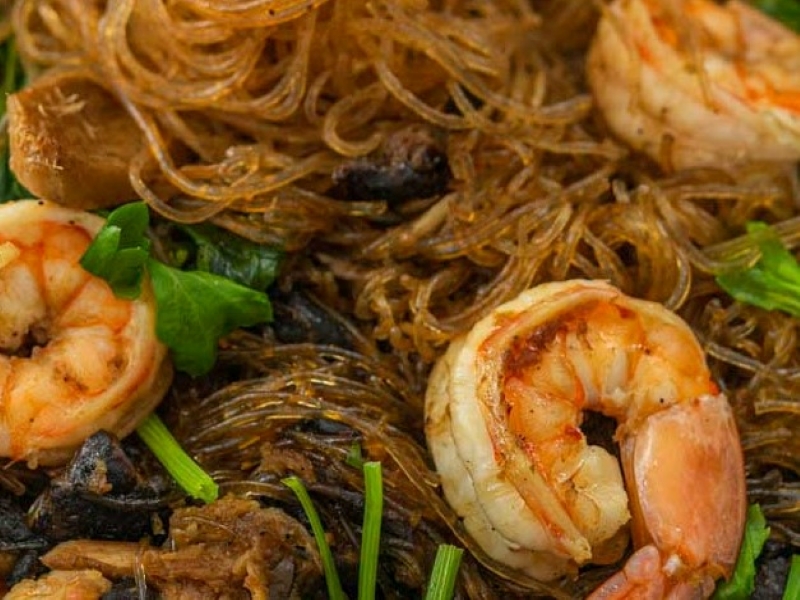 Goong Ob Woon Sen
Goong ob woon sen is a basic Thai-style stir fried noodles. Glass noodles and whole shrimps are the primary ingredients. The dish is typically made with freshwater shrimp or tiger prawns, and topped with peppercorns, ginger, coriander, and soy sauce. Ideally, this dish is prepared using clay pot.
It is thought that this dish was made under influenced of Chinese cuisine. Today, it is one of the most popular dish in Thai seafood restaurants.
---
Conclusion
With that said, you can't go wrong with any of these dishes because they are all wonderful. These Thai noodles are appetizing and will definitely satisfy your cravings.