The main difference between pad see ew and pad thai is the type of noodles being used. Pad see ew uses flatter and wider rice noodles while pad thai often uses thin fresh rice noodles. Apart from this, there are still a lot of things these two delicious Thai noodles differ from each other. Read this post about Pad See Ew vs Pad Thai to learn.
Pad See Ew vs Pad Thai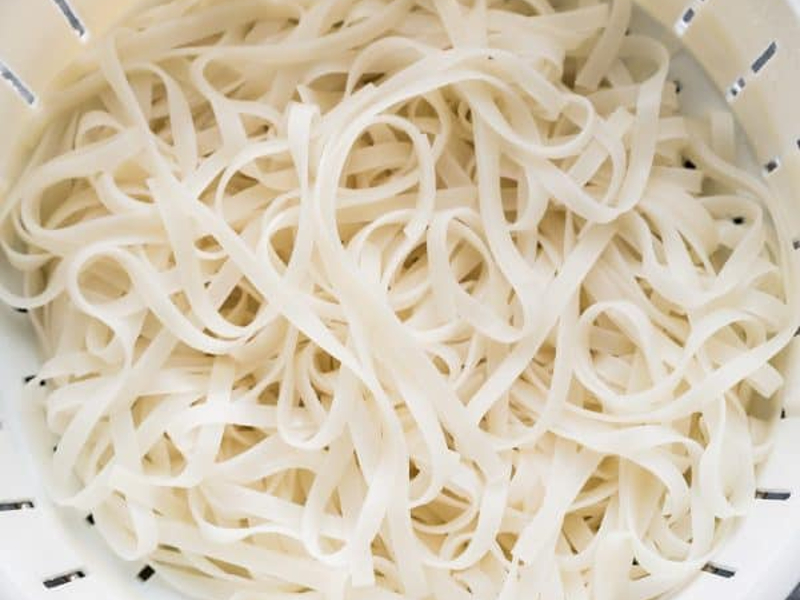 PAD THAI NOODLES
---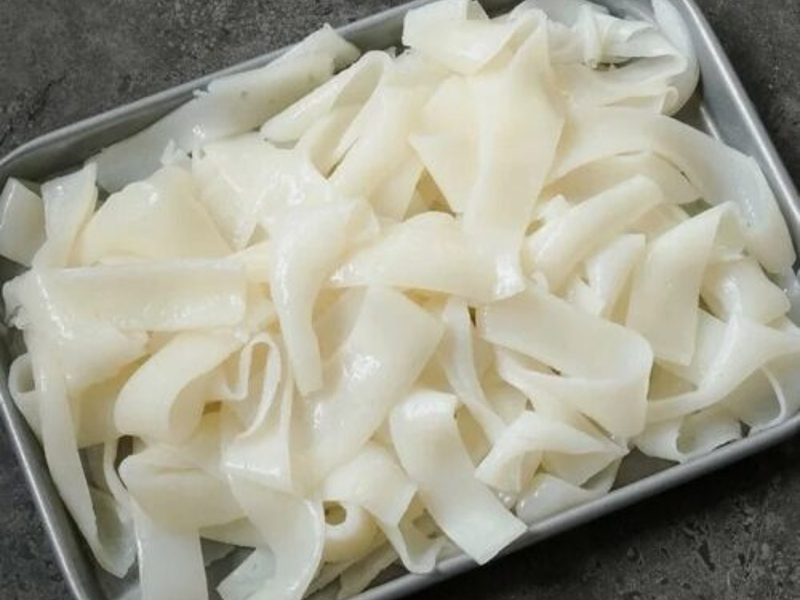 PAD SEE EW FLAT RICE NOODLES (Sen Yai )
---
MAJOR DIFFERENCES
As what was previously mentioned, the main difference between pad see ew and pad thai is the noodles used. Pad see ew uses a wider and flatter rice noodle, while pad thai is usually made with thin rice noodles. Additionally, these two Thai cuisines are also distinct in terms of the sauce, toppings, taste, and nutritional value.
1. SAUCE
Pad see ew's primary sauce flavor is soy sauce while pad thai uses tamarind sauce.
Pad see ew's sauce is made of savory thai soy sauce, tangy white vinegar, sweet oyster sauce, and nutty dark brown sugar, while pad thai sauce is made with oyster sauce, salty fish sauce, tamarind, and brown sugar.
---
2. TOPPINGS
Pad thai rice noodles include a variety of vegetables and are often seasoned with chopped peanuts. You can also squeeze fresh lime or add lime juice to your pad thai. On the other hand, pad see ew may include broccoli, scrambled eggs, and any variety of leafy greens.
---
3. TASTE
Since these Thai foods use different ingredients, it also follows that they are different in taste.
Pad thai's flavor is focused on a sweet-savory blend. It is somewhat nutty, salty, and a little bit sweet. Depending on the ingredients being used, pad thai can also smell fishy. But overall, pad thai tastes superb.
Pad see ew is also savory, salty, and sweet. Compared to pad thai, its taste is darker and deeper. Pad see ew has a chewier texture since pad see ew noodles are wider than pad thai that uses thinner rice noodles.
---
4. NUTRITIONAL VALUE
Pad thai contains calories, fat, sodium, carbohydrates, fiber, sugar, and protein. Meanwhile, pad see ew is rich in vitamins and minerals. It also contains Magnesium, Selenium, Zinc, Vitamin D, Phosphorus, Vitamin B6, and iron.
Basically, both noodle dishes are healthy but Pad see ew's calorie content is fewer than pad thai.
And in terms of popularity in the US, pad see ew is less known in America than pad thai.
Read further to know more about these Thai dishes.
---
PAD SEE EW
Pad see ew is a stir-fried noodle dish commonly prepared and eaten in Thailand. The name pad see ew means "fried with soy sauce"". Thus, one of its main ingredients is the dark soy sauce (si-io dam).
Pad see ew is not only a popular street food, but also a most requested dish in Thai restaurants all over the world.
This traditional Thai dish is often prepared in a wok. It uses black soy sauce as the main seasoning. The soy sauce is added at the end of the cooking process so it will stick to the noodles and achieve the charred smoky flavor of this Thai noodle dish.
Other ingredients used in making pad see ew are light soy sauce known as si-io khao, this is similar to a regular soy sauce, broad rice noodles (kuaitiao sen yai), garlic, egg, Chinese broccoli, tofu, thinly sliced meat (pork, chicken, shrimp, beef, and other seafood), and ground white pepper (to garnish).
Aside from the noodles, Chinese broccoli, also known as Gai Lan, is the key authentic ingredient for this Thai dish. If Chinese broccoli isn't available, you can replace it with broccoli and spinach.
Traditionally, pad see ew does not contain chili peppers, and it is not supposed to be spicy. But since most Thai restaurants do offer varieties of chili sauces, you can customize your stir fried noodles and add some spice if you wish to.
Pad see ew is also called kuaitiao phat si-io. This shows the utilization of fresh rice noodles being the dish main ingredient. But there are also times where thin rice noodles (sen mi phat si-io) is being used. In Southern Thailand, egg noodles (mi lueang phat si-io) are used for their version of Pad see ew noodle dish.
The type of noodles this traditional dish uses is called Sen Yai, similar to the noodles being used for pad kee mao, also known as the drunken noodles.
Sen Yai are actually hard to find. Unlike other noodles which can be purchased in most stores, these noodles are only available in a specific Thai grocery store. So if you are planning to prepare pad see ew dish but don't have Sen Yai noodles on hand, you can replace it with the following:
Fresh Rice Vietnamese NoodlesThese types of noodles are usually made of mung beans, also known as bean threads, cellophane noodles, glass noodles, or vermicelli. They are sold in different sizes and shapes, and do not come in noodle shapes. These noodles are a bit wider, so it's recommended to cut them into two inch wide threads.
Pad Thai Noodles or Dried Rice Using this alternative for your pad see ew requires you to dehydrate the noodles separately, and drain before adding to your menu. The only downside of using these noodles over fresh noodles is that they don't absorb the sauce quite well. But overall, these noodles will still make you a tasty gravy pad see ew dish.

EASY PAD SEE EW RECIPE
Ingredients: 2 eggs, 6 stalks Gai Lan sliced into small pieces, 6 oz boneless and skinless chicken, 3 cloves of garlic, minced2 tbsp vegetable oil, 1/2 lb fresh or dried wide rice noodles
For the sauce:2 tbsp water, 1 tbsp brown sugar, 1 tbsp white vinegar, 2 tbsp oyster sauce, 1 tsp fish sauce, 1 tbsp dark soy sauce, 2 tbsp light soy sauce.
Directions
In a large bowl, mix all sauce ingredients.
Prepare the noodles in a separate pot and cook them for about a minute or two.
In a large wok, heat oil over medium heat. Add the garlic and saute until the smell becomes aromatic. Add the chicken and cook for about 3 minutes, or until almost cooked through.
Move everything to the other side, then crack the eggs and scramble. Add the sauce, noodles, and the Chinese broccoli.
Flip all the ingredients and let it cook for a minute or two. Make sure the noodles are coated and caramelized uniformly. Serve while hot.
---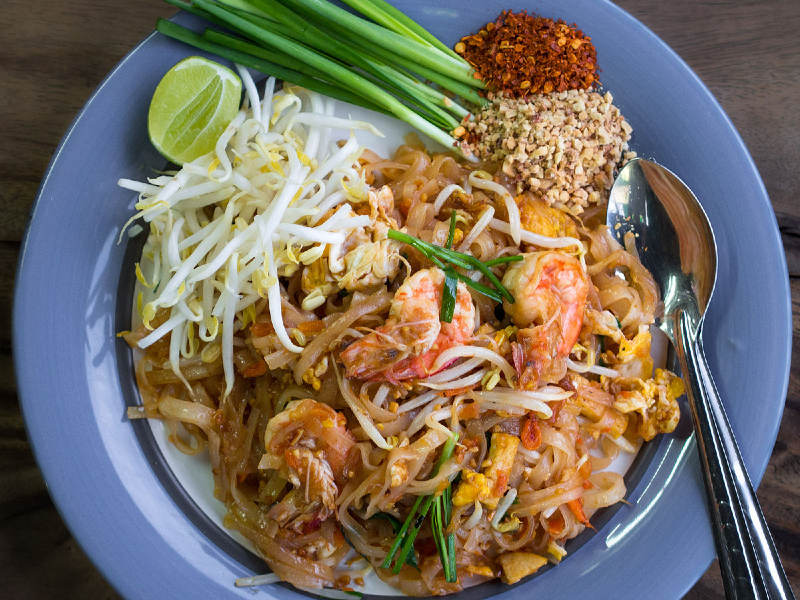 PAD THAI
Pad thai, also known as phat thai or phad thai, is a stir-fried rice noodle dish usually eaten as a street food. Pad thai was originally called Kway Teo Pad (Thai-style fried noodles).
This Thai food is commonly made with rice noodles, scrambled egg, crushed peanuts, shrimp, bean sprouts, and other vegetables.
The cooking method being used in preparing pad thai is stir frying. The ingredients are fried in a wok and then tossed in a pad Thai sauce when done. This gives pad thai a sweet and tangy salty flavor.
The ingredients used for making this Thai cuisine are easy to find. These ingredients are available at any Thai grocery stores or local asian grocery store.
Pad Thai was invented in the mid-20th century in China and was introduced to Thailand centuries ago. But an author claimed that this stir fried rice noodle was actually invented in Thailand by Plaek Phibunsongkhram, in the 1930s.
This Thai cuisine is also listed in the top five for the world's most delicious foods in 2011.
TIPS TO SOFTEN PAD THAI FRESH NOODLES
In a large bowl, place the noodles and soak them in hot water for 3 minutes.
After the said time, rinse the noodle with cold tap water.If you want to try
EASY PAD THAI RECIPE

Ingredients:1/4 cup roasted peanuts, chopped2 green onions, thinly sliced, Freshly ground black pepper1 lb. shrimp, peeled and deveined, 2 pcs eggs lightly whisked, 2 cloves garlic, minced, 1 bell pepper thinly sliced, 2 tbsp. vegetable oil, 1/4 tsp. cayenne pepper, 1 tbsp. soy sauce, 1 tbsp. fish sauce, 2 tbsp. brown sugar, 2 tbsp. lime juice, 8 oz. wide rice noodles, salt
STEPS
1. Boil water in a large pot, add salt. Add the noodles until done. Then drain.
2. Using a small bowl, mix the lime juice, fish sauce, soy sauce, cayenne pepper, and brown sugar. Then set aside.
3. In a different large non-stick pan, heat oil over medium high heat. Add the bell pepper and cook for about 4 minutes or until softened. Add the garlic and cook for about a minute or two.
4. Add the shrimp and season with pepper and salt. Cook until the color of the shrimps turn pink.
5. Move the vegetables and shrimps to the other side. Pour and scramble the egg. Then mix with the veggies and shrimps. Add the cooked noodles and carefully toss to combine.
6. Pour the lime juice and flip to coat the noodles.
7. Garnish with roasted peanuts and green onions and serve.
And that's pretty much about pad see ew and pad thai dishes. I hope that this post has helped you one way or another. Thank you for reading!