Have you ever tried Thailand meals and enjoyed eating their Spicy Thai dishes served in Thai restaurants? While Thai foods are popular for its many spicy thai dishes, not all dishes are extremely spicy and hot there are also other non-spicy Thai food available in the country that you may want to try. In today's guide, we have gathered some of the spiciest Thai dishes popular in Thailand.
Spiciest Thai Dishes
Thailand is considered to be one of the most popular country serving spicy dishes. They believed that since spicy foods makes you sweat, it is a way of cooling down the body from hot weather in Thailand.
So what makes Thai dishes spicy? The main ingredients for making Thai food spicy are chili and ginger. A chemical called Capsaicin found in chilli peppers is what's making the dish become hot and spicy when eaten, while the a chemical called Gingerol found in ginger is making the dish become spicy. Though the intensity of Ginger's spiciness mellows down after it is cooked, it will on the other hand becomes intense when ginger is dried.
Most of Thailand spicy dishes are added with hot chilli peppers (locally grown), and the two most popular chilies that are used in Thai cuisines are Prik Jinda (Long red Chilies) and Bird's Eye Chili.
While spicy Thai foods are served all over the country, the Southern part of Thailand serves most of the hottest dishes. Aside from that, it is where the tourist attractions are located, you will also find southern Thai cuisine uses more coconut milk, seafoods and Bird's eye Chili as their ingredients.
You will notice in here that the word "Gaeng" is often used to describe the food, it is because Gaeng in Thailand refers to a liquid (both soup and curry).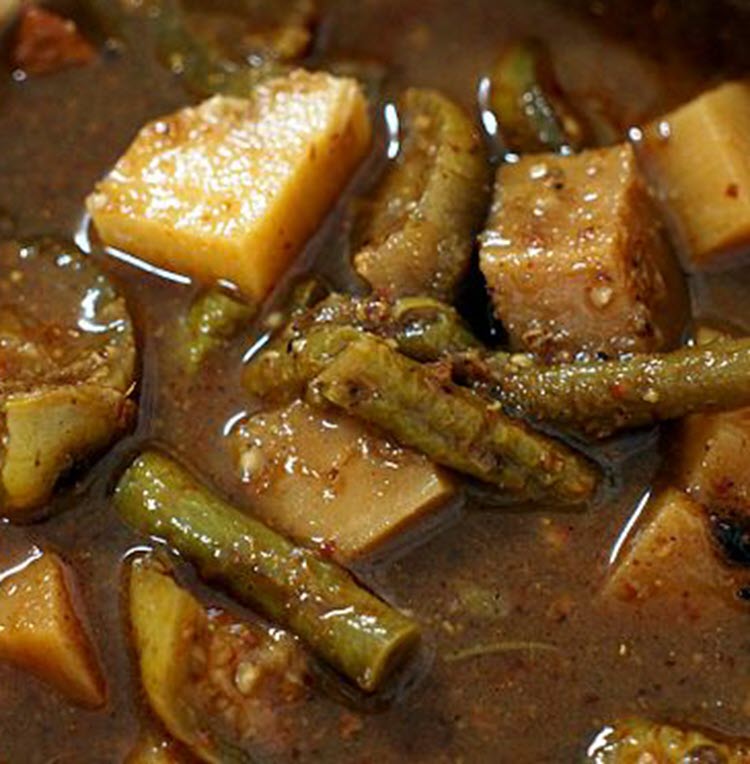 Spicy Gaeng Tai Pla
The first on the list of the Spiciest Thai food is the Gaeng Tai Pla. A super spicy curry made with fermented fish entrails, pickled fish bladder called Tai Pla is what the soup is made of. Don't be surprised of how this curry looks (brown curry), but despite that the food tastes actually good. Although it is made of fish entrails, it does have slight of a fishy taste but its actually delicious with a very intense umami flavor.
Gaeng Tai Pla is mainly made out of fish and vegetables such as cucumbers, Thai eggplant and long beans. The level of spiciness with Gaeng Tai Pla usually becomes intense the more you eat the food, therefore make sure to also take a few small bites of the vegetables included to counteract its spiciness.
You should try this spicy curry in Thailand made with fermented fish intestines for an experience of a lifetime.
---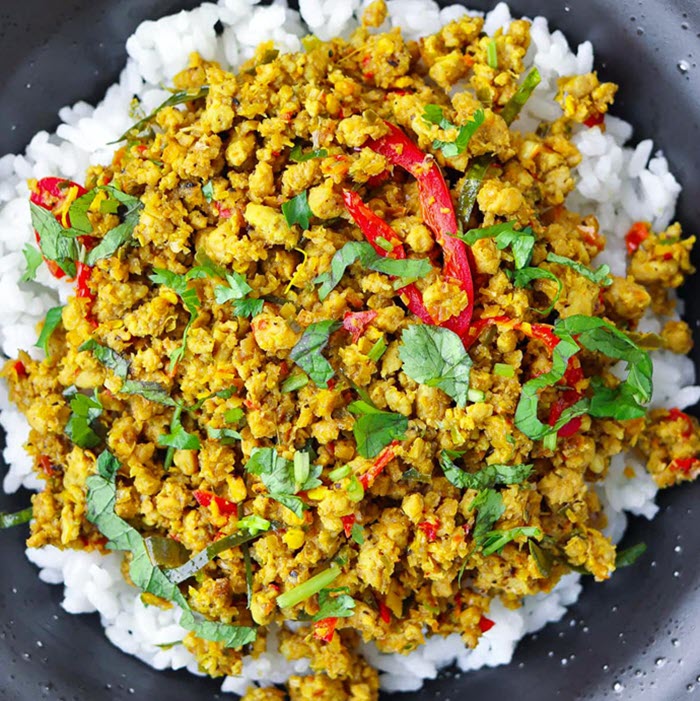 Khua KLing
Khua KLing is another popular Spicy Thai dish in Southern Thailand. The dish is a spicy, dry-fried curry paste made of meat and Thai red curry paste. This Thai food is one of the favourite spicy Thai food not only among locals but tourists as well.
The term Khua simply means cooking with little or no water at all, while Kling means tossing or stir frying the dish using a wok. Since Khua Kling dish is a dry curry, there is no need to use too much oil. Most Thai dishes are cooked with the spicy sauce, but with Khua Kling the style of cooking the dry is meat will automatically seasoned the meat.
The dish is prepared with minced pork but you can also use either a turkey or beef, or ground chicken as an alternative.
The ingredients of the curry paste used in Khua Kling includes lemongrass, garlic, turmeric, galangal, salt, chili, and shrimp paste. For the roasted meat, the ingredients are as follows: meat (pork, chicken and beef), Thai curry paste and kaffir lime.
If you really want to try this Thai food, there is a popular restaurant in Bangkok Thailand called Khua Kling Sod that serves Khua Kling as their signature dish. To make the dish more fragrant, Kaffir lime leaves is usually added.
---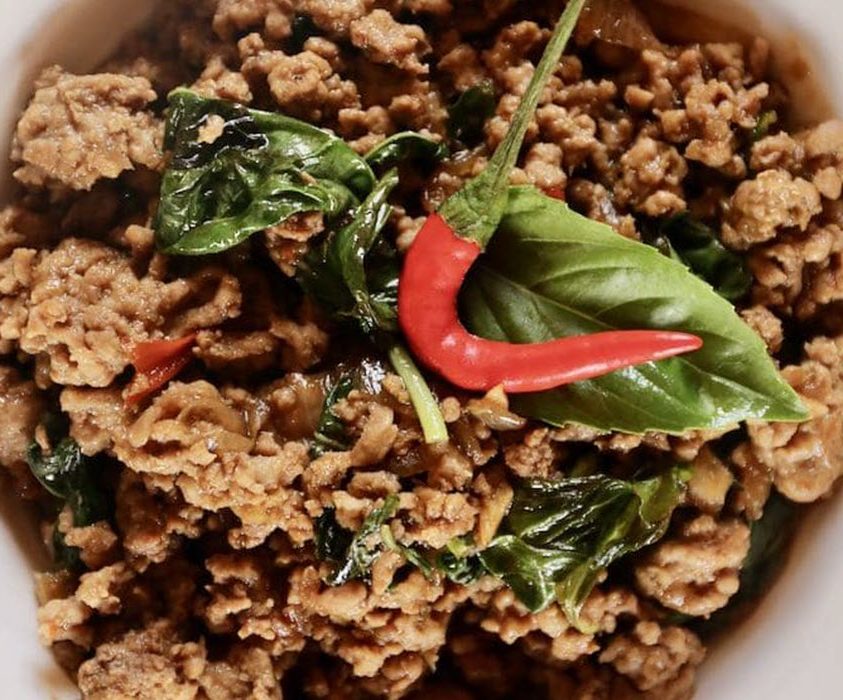 Pad Kra Pao (Phad Kaphrao)
Pad Kra Pao or Som Tam is also known as Thai Basil Stir-Fry food. A very popular spicy Thai food other than Pad Thai. It is made of Basil, garlic, chili, oyster sauce and other seasonings. It is very easy to prepare, most likely known in Thai as a "fast food" dish.
Pad in Thailand means Fried, while Kra Pao means Holy Basil (its main ingredient)
Pad Kra Pao is also serve in Thai restaurants, and for customer satisfaction the level of spiciness with this food is intensely spicy. Though you can always request for a lower level of spicy, less chile of course, since it usually takes a few seconds to make this food.
When ordering Pad Kra Pao, it is usually served over steamed rice then topped with a Thai-style fried egg. Additional ingredients of this dish includes carrots, baby corn, mushrooms, banana peppers and bamboo shoots.
---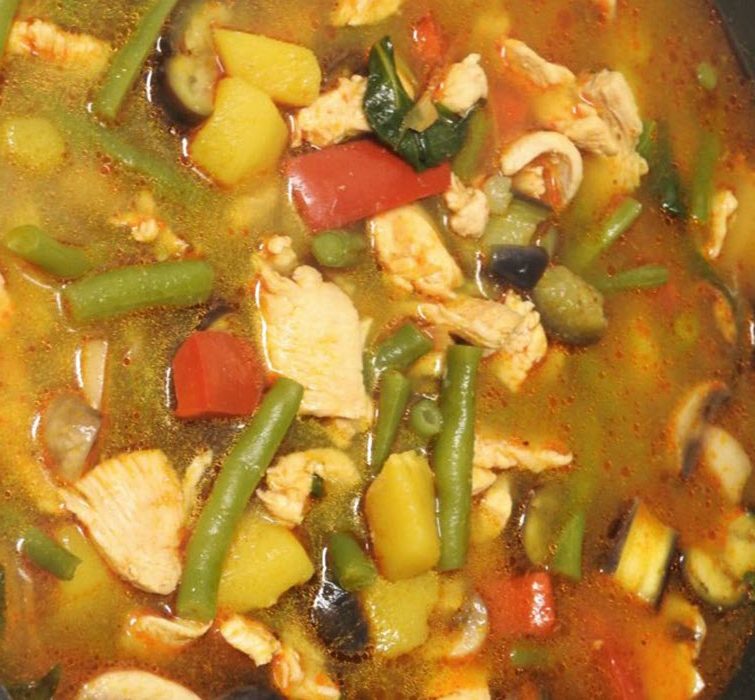 Gaeng Pa
Gaeng Pa literally means Jungle curry in Thailand. It is called as such simply because the dish originates from the forest areas of the country.
While most traditional Thai curries uses coconut milk since coconut milk is not abundant in the forested regions. But rather, the Thai curry has a watery texture instead of the traditional creamy texture. And since it does not contain coconut milk, it is much more spicier.
Gaeng Pa is intensely spicy and also a watery curry with a full taste. Other ingredients added to this dish includes lemongrass, green peppers corns, galangal, pea eggplant, chili and garlic.
---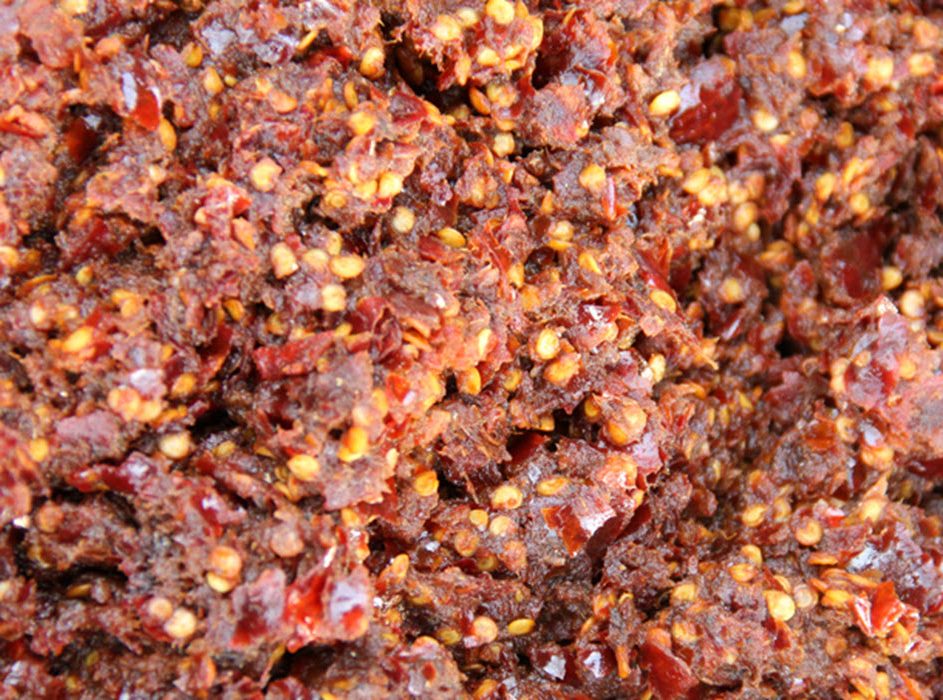 Nam Phrik
Nam Phrik is another spicy Thai food. It is a spicy sauce or dip made with chillies, garlic, fish paste, lime and shallots and it is usually combined with fresh vegetables or meat such as fish, poultry meats and even seafoods such as shrimp.
When eating this dish, you have to dip the vegetables, meat and fish to this spicy dipping sauce. Although the level of spiciness of this dish varies according to one's preferences by using different sorts of chili peppers if you want to either increase or decrease the intensity of the spice.
---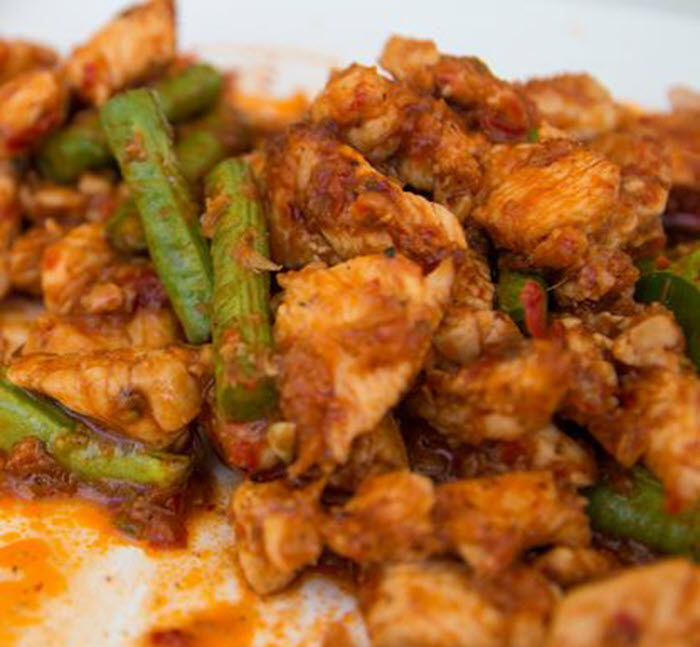 Pad Prik Gaeng
Thai Cuisines are mostly about curry dishes and almost all curries in Thailand have coconut milk. The coconut milk is often used to decrease the spiciness of Thai dish but there are also Thai dishes that does not contain coconut milk and one of the dish is called Pad Prik Gaeng.
Pad Prik Gaeng Moo Grob is made as Stir fry crispy pork with Thai red curry paste. While some of Thai dishes level of spiciness varies with the amount of chilies used, but with Pad Prik Gaeng the level is extremely spicy because this Thai curry dish is usually made in large batches.
---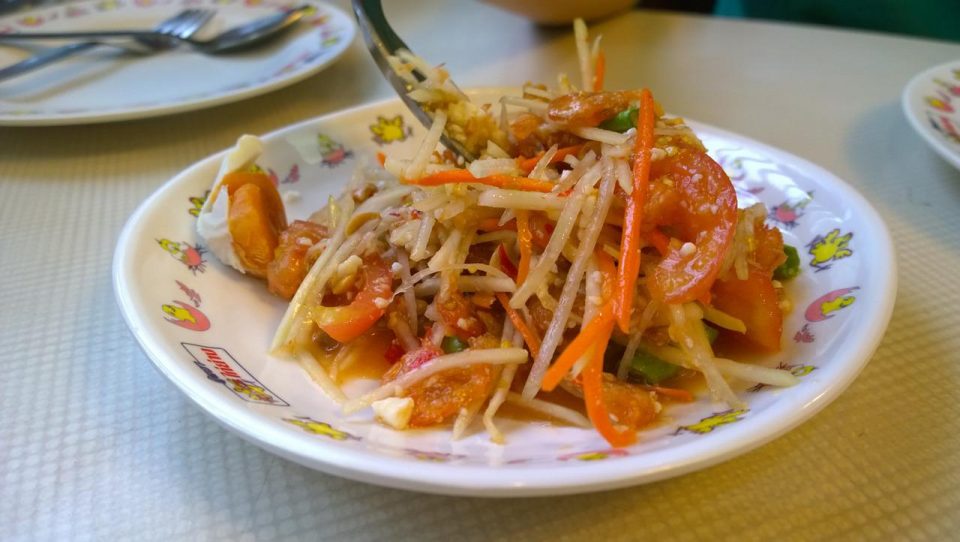 Som Tam
Som Tam is Thailand's popular salad. This green papaya salad is also considered one of the spiciest Thai dishes. It is made of green papaya and spicy Chilli pepper. This salad is perhaps the perfect balance between salty, sour, sweet and spicy.
The level of spiciness with Som Tam varies since you can easily adjust by simply decreasing or increasing the amount of chilies or how many chillies you add to the mortar since the ingredients will be mixed by pounding on the mortar. This papaya salad has a tangy flavor due to the pounded mixture of lime juice, fish sauce, salt, coconut sugar and hot chillies.
There are different variations of Som Tam that are added with different ingredients such as fermented fish sauce, fresh water snails, bamboo shoots and pickled crabs. Not your usual leafy salad right?
---
Tom Yum Nam Khon Pla
Tom Yum is also known as Thai Fish Soup. The word Tom Yum or Tom yam comes from the word Tom which refers to the boiling process of a dish, while the word yam or yum means mixed. Therefore, Tom Yum or Tom Yam is a mixture between flavors of hot and sour.
Thai's Tom yum dish are made in two ways, the most common one is Tom Yum Nai Sai wherein it contains coconut milk and the other one is Tom Yum Nam Khon or Tom Yum soup, clear soup with no coconut milk and more spicier than the first one.
Tom Yum is a spicy soup with ingredients and herbs added such as kaffir lime leaves, galangal, chillies, lemongrass, mushrooms and coriander.
---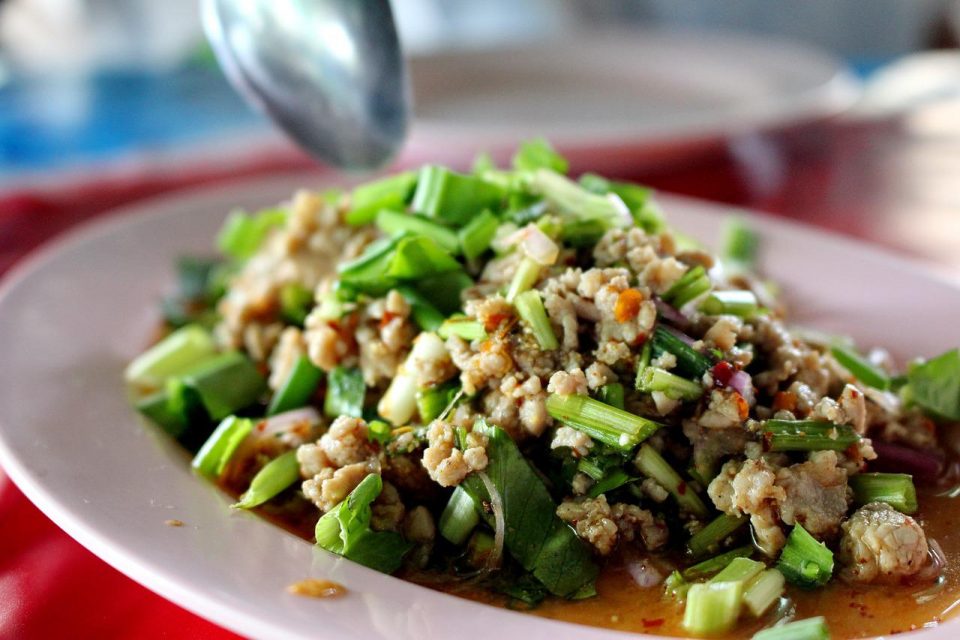 Laab
Laab in Thailand is also known as Larb or Laap which can be used interchangeably. It is another popular Thai salad in Thai Cuisine.
Laab is not your typical salad in most western countries that consists mostly of vegetables and dressing, but rather Laab is made with minced meat and herbs for its to be spicy.
Laab generally comes from Lao but in Isaan region and northern region have different variations. Issan Laab have more extreme flavors and even spicier than Northern Laab which is more darker and with lots of herbs used.
Laab is usually served in Thai restaurant as an appetizers and sometimes as a main course especially when served together with other non-northern Thai dishes.
---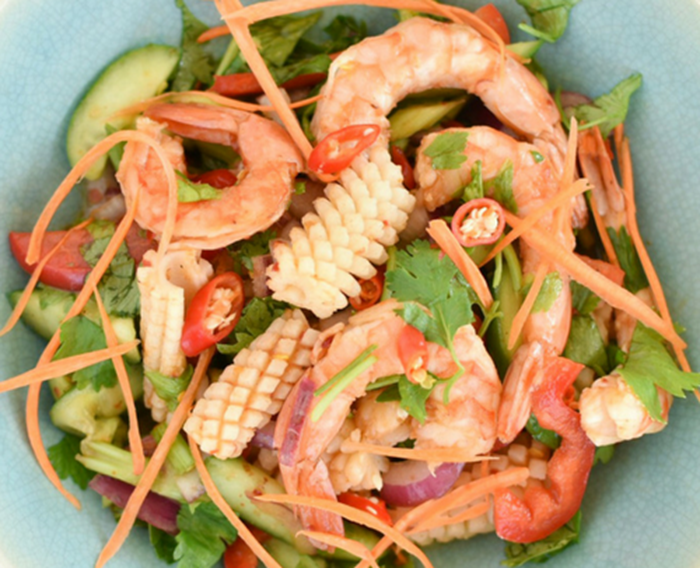 Yum Talay
Yum Talay is another spicy food in Thailand. Since as previously mentioned, yum means mixed or spicy. Therefore. Yum Talay is a mixture between spicy and sour. The dish is a popular spicy salad in Thailand. It is made with different varieties of seafood such as squid.
Making the salad is pretty simple, all you need to do is to dip the seafood in lukewarm water making sure not to overcooked the seafood. Then with finishing touches of dressings, the dressing used is what's making the dish spicy.
---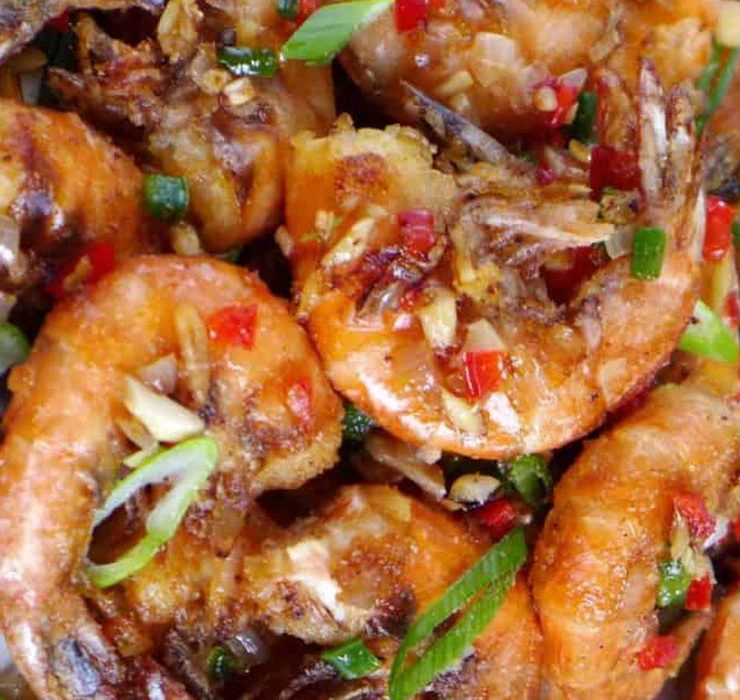 Gung Kua Phrik Klua
Gung Kua Phrik Klua is another spicy food in Thailand. It is a stir-fried spicy shrimp mixed with two main seasonings such as chillies and salt.
This simple dish is served in most Thai restaurants. To enhance the natural sweetness of the shrimp (its main ingredient), pepper and fish sauce is often added. Typically served with a bowl of rice.
Frequently Asked Questions
What is hot spice in Thai food?
Most popular dishes in Thailand contains sometimes one but mostly several ingredients to make it spicy. The spicy sensation as you bite Thai foods is due to the mixture of ingredients such as Chili peppers, garlic, ginger and sometimes peppercorn. Though, Chili peppers is the most common ingredient used.
Is Thai food really spicy?
Generally, Thai Food is spicy wherein it is popularly known for but Thai dishes aren't always spicy. There are other Thai dishes that are not spicy, the traditional and classic dishes but when it comes to Authentic Thai food one should expect the dish to be spicy.
Final Thoughts
There you have it, a list of some of Spicy Thai foods you can find. Eating spicy food in Thailand is not a new experience for Thai locals, but for tourist it can be a whole new experience as the level of spiciness can be mild but can also be up to the highest level. We hope that this guide has helped you understand and decide which spicy Thai dishes you will try to satisfy your taste buds.
From the list of spicy Thai foods mentioned, which one have you tried and which one is your favorite. Let us know what you think.