Below is the list of the best pad Thai sauce to buy online.
Pad Thai is a commonly eaten dish in Thailand. This traditional rice noodle dish is made with stir-fried vegetables and protein glazed with salty, sweet, and tangy pad Thai sauce. The most common proteins used in preparing pad Thai are pork, chicken, shrimp, tofu, and beef. You can also add lime juice and pepper for a perfect blend.
* If you buy through links on our site, we may earn an affiliate commission. For more details, please visit our Privacy policy page.
The name Pad Thai literally means "Thai stir fry". And to make the dish more flavorful and satisfying, you can complement the ingredients with pad thai sauce. You can either use a homemade pad Thai sauce, or you can buy a pre made sauce online.
In this post, we will review some of the best pad Thai sauce you can buy online.
Before we reveal these sauces that are available in the market today, let us first know the common ingredients in making this sauce. Just in case you want to make your pad Thai sauce from scratch, then you should know the ingredients needed.
What Are the Pad Thai Sauce Ingredients
Tamarind is the signature ingredient of a traditional pad Thai sauce because of its distinct and complex flavor. In fact, it is very in demand in South East Asian cooking.
Tamarind has a sweet and sour taste. Authentic pad Thai sauce intensifies the tamarind's remarkable flavor with oyster sauce, brown sugar or palm sugar, and fish sauce.
And since not all pad Thai sauces have red or orange color, paprika or ketchup is being used to enhance its shade.
The chefs of most traditional street food pad Thai make use of shrimp heads in their pad Thai recipes because of its fishy flavor, and the red or orange color the shrimps emitted to the dish.
Meanwhile, chefs in North America utilize ketchup or paprika to mimic the pad Thai sauce red color.
How Does Pad Thai Sauce Taste
Most Pad Thai from Thailand obviously have fishy flavors as Thai chefs prefer to use prawns as protein, and fish sauce and oyster sauce for the pad Thai sauce. Their pad Thai sauce also has a tangy flavor because of the tamarind.
If you are a vegetarian, or you simply don't want fish or oyster sauce, you can prepare a vegan pad Thai sauce.
Instead of fish sauce, you can use a plant-based all-purpose savory seasoning to bring out its umami flavors.
Meanwhile, pad Thai sauces in North America are more likely to have a more sweet and salty flavors than the authentic pad Thai served in Thailand.
What To Use When Tamarind Is Not Available For Your Pad Thai Sauce
Since tamarind isn't available in all supermarkets or grocery stores, you can use ketchup as the best substitute. Though tomatoes do not have the same flavor as tamarinds, they can still make your pad Thai dish flavorful because of its sweet and savory taste. To add some extra tang to your dish, simply add a small amount of rice vinegar.
Now, if you don't want to make your own pad Thai sauce or you don't have time making one for your recipes, you can simply visit your nearest one stop shop or buy one online. Here are some of the best pad Thai sauces you can use when cooking your favorite pad Thai recipe.
7 Best Pad Thai Sauce You Can Buy Online
If making pad Thai sauces isn't your thing, you can use store bought pad Thai sauce. We have listed some of the best pad Thai sauces that will surely make your food irresistible.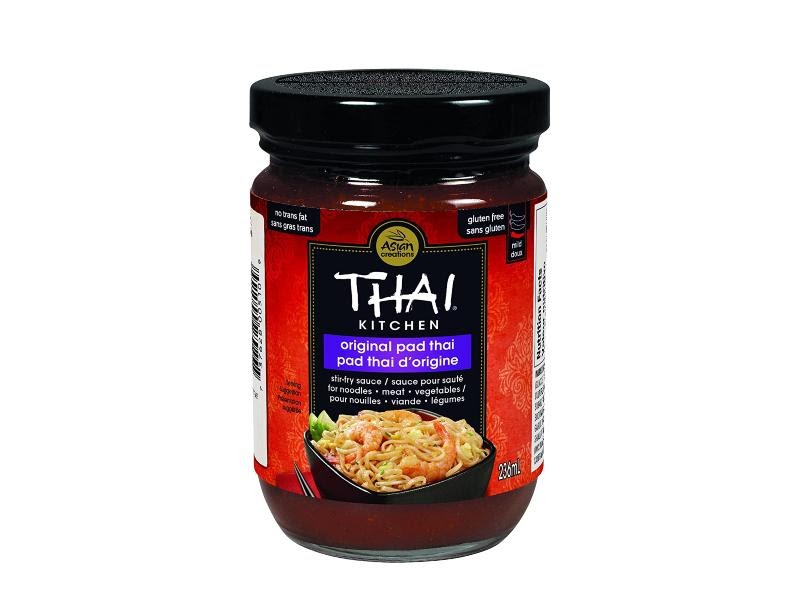 The Thai Kitchen gluten free pad Thai sauce has a sweet and tangy flavor. Its classic flavor works best not only for pad Thai recipe, but also for salads and other Thai food.
If you are on a gluten free diet, this brand is definitely perfect. Thai Kitchen is perfect for pad Thai dishes or any stir-fried dishes. And the product is packaged in a glass jar.
To order online, visit Amazon.
---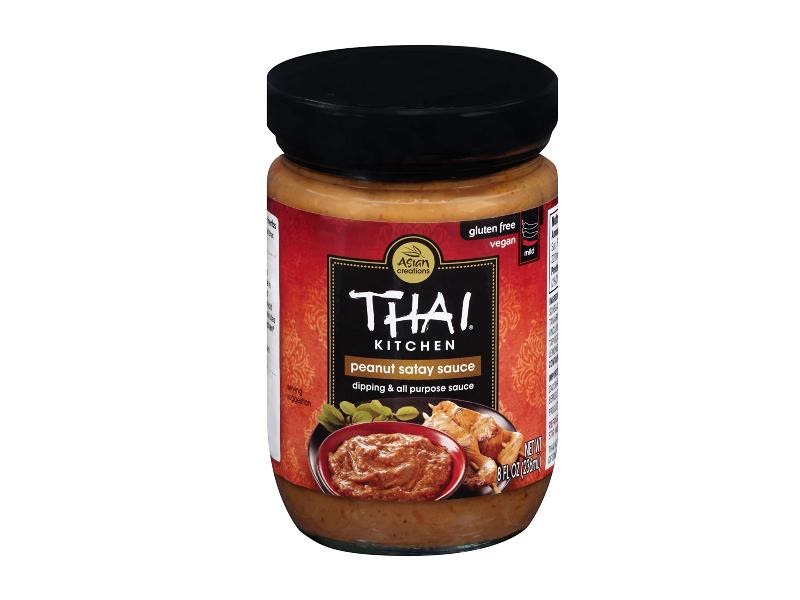 Peanut satay sauce is flavored with fresh-roasted peanuts, spices, and coconut milk. This versatile sauce that is packaged in a glass jar, can be served as a cooking sauce, dipping sauce, or glaze it to your stir fry rice noodles. This brand with a classic flavor of southern Thailand, is also gluten free and should suit best to your vegan diet.
Coconut milk, water, sugar, soybean oil, peanuts, sesame seeds, tamarind, garlic, green onion, spices, and lime peel are some of the ingredients of the Thai Kitchen Gluten Free Peanut Satay Sauce.
To order, visit Amazon.
---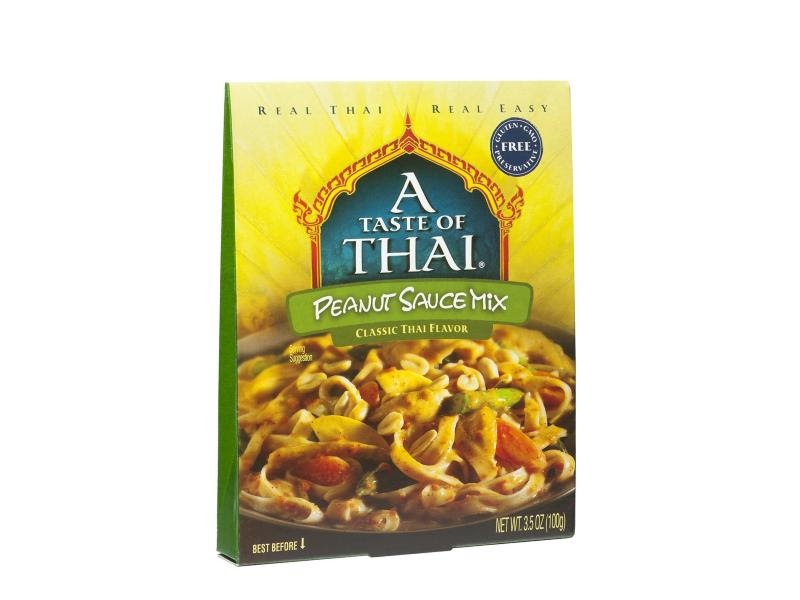 The brand A Taste Of Thai with a flavor of peanut sauce mix, has no added preservatives, no trans fats, and is gluten free. It can be used as a pasta sauce or cooking sauce. This sauce doesn't have strong flavors or exotic flavors. Thus, this Thailand product is perfect for those who have sensitive palettes.
A Taste of Thai Pad Thai sauce also has a sweet and tangy flavor and has no fishy kicks since the ingredients used do not include fish sauce or oyster sauce.
For price details and to place your order, check Amazon.
---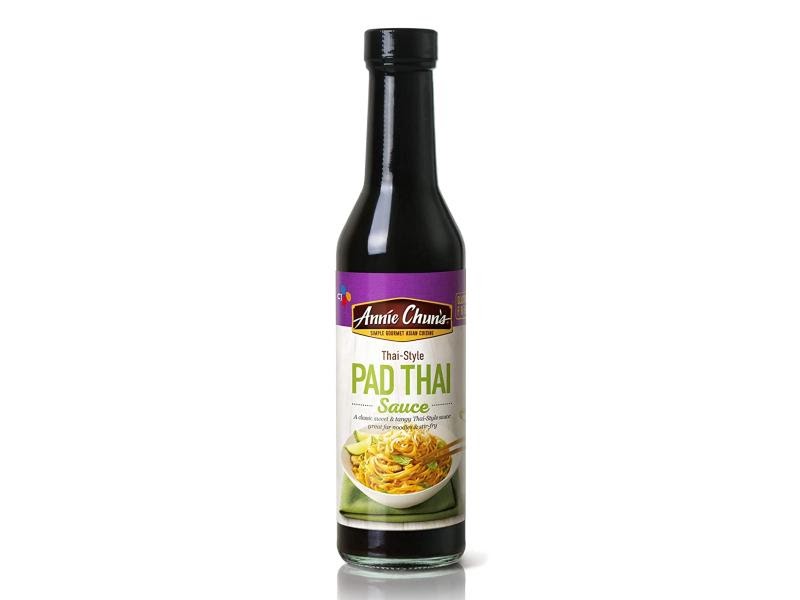 Annie Chun's Pad Thai sauce is perfect for delicious Asian recipes such as rice noodles, seaweed snacks, and ramen. This brand is free of high-fructose corn syrup, and is also gluten free.
This pre-made pad Thai sauce contains fish sauce, so it is not recommended for a vegetarian and has a seafood allergy.
To order online, visit Amazon.
---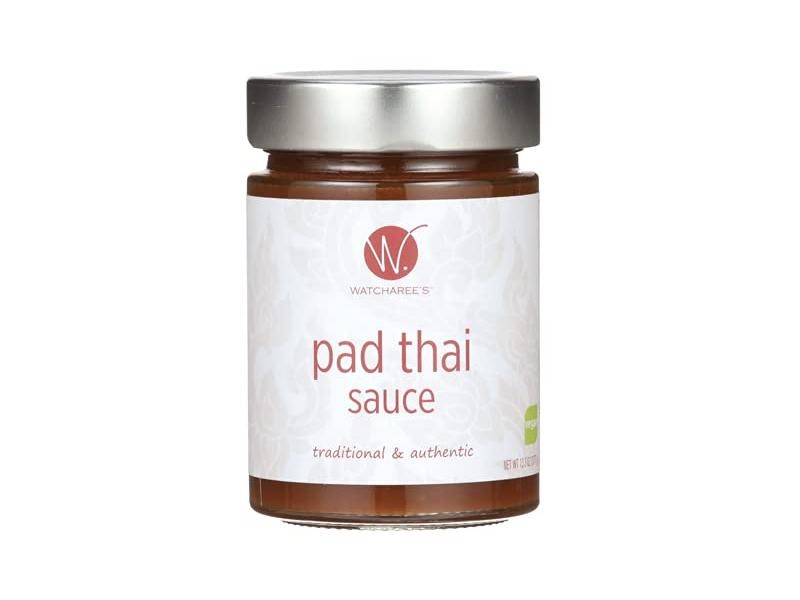 WATCHAREE'S Pad Thai Sauce is made from authentic and fresh ingredients such as palm sugar, tamarind, dried red chili, garlic, and other other standard ingredients.
It is gluten free, non-GMO, vegan, and has no added preservatives, food colors or artificial flavors.
This versatile pad Thai sauce can be used in seafood dishes, barbecue dippings, or for marinades.
It is also considered as the best vegan pad Thai sauce since various seafood ingredients are removed to make a plant-based pad Thai sauce.
To order, visit Amazon.
---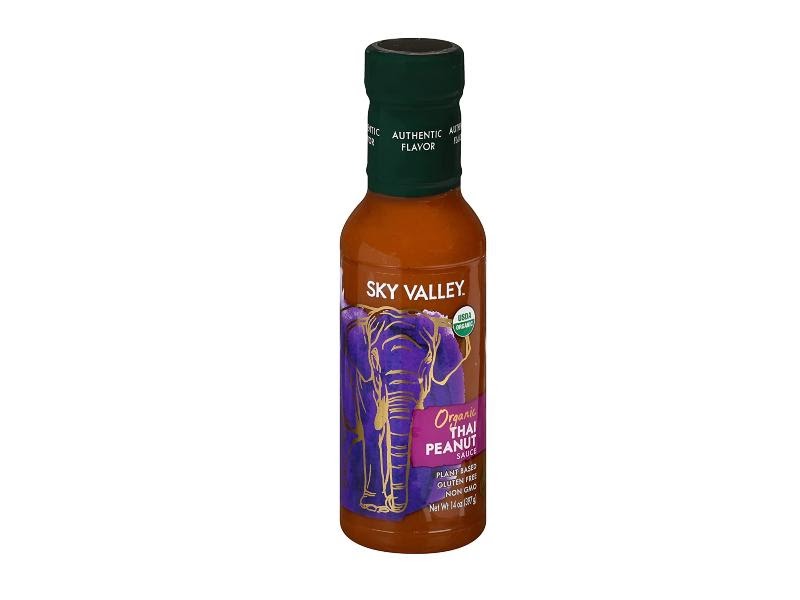 Sky Valley Organic Thai Peanut Sauce is an affordable sauce made with ginger, organic crushed peanuts, and other spices. This gluten free sauce can be used as a dipping sauce for your cooked spring rolls, satay, pad Thai noodles, chicken barbecue, vegetable dishes, or as marinades.
This creamy sauce has a sweet and tangy flavor perfect for any delicious Thai inspired dishes.
Unlike other pad Thai sauces that are packed in a jar, this brand is packaged in a bottle. Its price varies depending on its size.
For further information about its price, visit Amazon.
---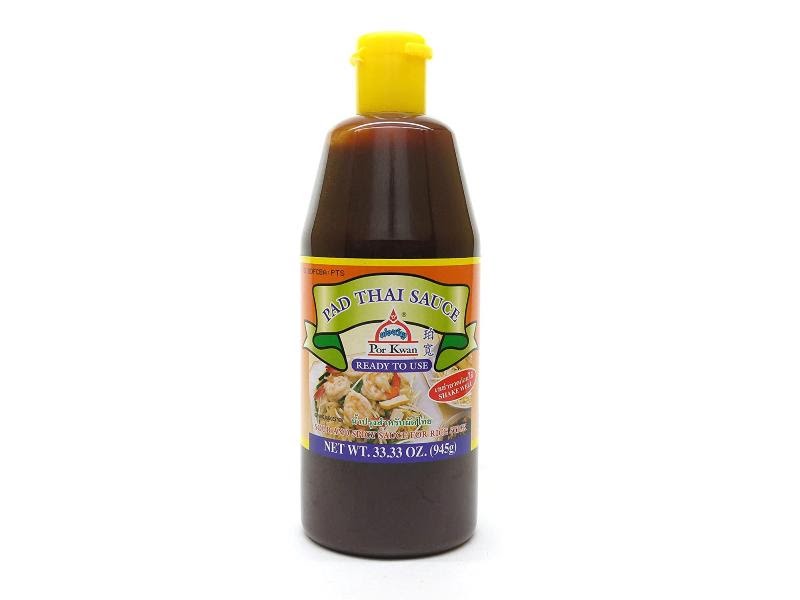 If you are looking for the most authentic pad Thai sauce, Por Kwan should be your best option.
Though this sauce has no tamarind, it still provides the classic Thai flavor of a pad Thai sauce.
It is made from crushed peanuts, dried shrimps, vinegar, salt, liquid tamarind, and vegetable protein. And there are no added artificial colors or preservatives.
Thus, this pad Thai sauce is full of fishy flavor.
If you are a food expert and love to cook different Asian-style cuisine, this authentic sauce is worth a try.
---
How To Prepare A Traditional Pad Thai without A Pad Thai Sauce?
If you are still new to this pad Thai recipe and want to try the authentic recipe without using a store bought pad Thai sauce, the cooking process of cooking a traditional pad Thai starts with frying the shrimp, then adding the soaked dried rice in the wok. Then add the additional ingredients such as bean sprouts, red chili peppers, palm sugar, eggs, fish or soy sauce, and dried shrimp. (The ingredients may vary depending on your preferred pad Thai recipes).
For you to have a clearer picture on how pad Thai is prepared, here is one of the known Pad Thai recipes.
Ingredients:
1 Lime, sliced into wedges
1 tablespoon paprika
2 cups bean sprouts
1/2 cup chopped fresh chives
1 1/2 teaspoons of salt
1 cup roughly ground peanuts
4 beaten eggs
1 1/2 tablespoons of white sugar
1 1/2 teaspoons minced garlic
2 tablespoons of vegetable oil
2 skinless and boneless chicken breast halves, sliced into thin strips
2 tablespoons of tamarind paste
1/4 cup of distilled white vinegar
12 ounces dried rice noodles
1/2 cup white sugar
Procedure:
Pour boiling water in a large bowl or pot and soak rice noodles for 45-60 minutes, then drain.
In a hot saucepan, flick vinegar, sugar, fish sauce, and tamarind fish and bring to simmer over medium heat. Then remove the saucepan.
In a wok or frying pan, heat 1 tablespoon of vegetable oil over medium-high heat. Add the thinly sliced chicken, cook and mix for 5-7 minutes or until the chicken is cooked. Remove the frying pan from heat.
In a large frying pan or wok, heat the remaining vegetable oil, add the minced garlic. Add the beaten eggs and mix for 2 minutes or until the eggs are nearly cooked. Then add the cooked chicken and the rice noodles. Carefully stir the mixture.
Add the tamarind mixture, salt, sugar, and cook for 3-5 minutes or until the noodles are tender. Add the peanuts and cook for 2 minutes. Add the chives, bean sprouts, paprika, and lime wedges for the finishing touch.
And that covers everything. Hope this information has helped you one way or another. Feel free to share this post to your family and friends who love pad Thai cuisine. Thanks for reading!
* If you buy through links on our site, we may earn an affiliate commission. For more details, please visit our Privacy policy page.