Thailand's national dish, a staple of the country's diet, is a rice noodle dish called Pad Thai. This stir-fried rice noodle dish is typically served as a street food. The cheap but delicious food is made with noodles, shrimp, scrambled egg, peanuts, bean sprouts, and other vegetables.
Aside from this dish, there are still other popular recipes whose main ingredient is made with different types of Thai noodles. These noodles differ in textures, shapes, and ingredients.
Continue reading as we introduce you to these types of noodles.
DIFFERENT TYPES OF THAI NOODLES
Noodles are the main ingredients of the most staple and delicious foods in Thailand. Dishes such as Pad See Ew, stir fried rice noodles cuisine, boat noodles, Pad Thai, pink noodle soup (Yen Ta Fo) with fish balls or fried fish rolls, Sukhothai Rice Noodles Sukhothai rice noodles, and Northern Thai khao soi or Khao Soi Islams, are among these dishes.
Most of them are sold by street vendors, but are also available in traditional Thai restaurants.
Listed below are the most common types of noodles used in making popular Thai noodle dishes.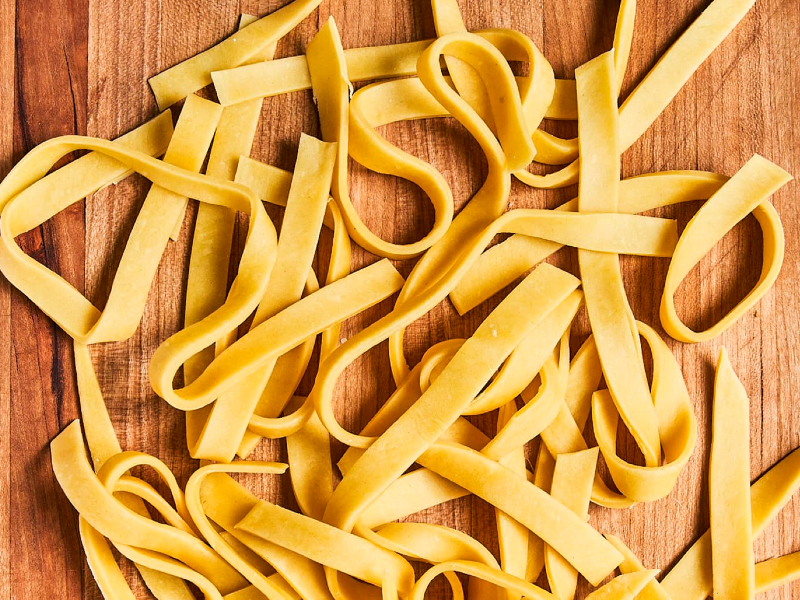 1. EGG NOODLE
These yellow, rich, and savory flat egg noodles are made from eggs, flour, water, and salt. Aside from Thai cuisine, these noodles are also popular in other Southeast Asian countries like China, Vietnam, and Japan.
The nutritional content of the Bah Mee or egg noodles is the same as regular pasta, but a bit lower in carbs, calories, and protein. However, egg noodles have a richer flavor and more umami compared to other noodles due to its protein content from the egg yolks.
POPULAR NOODLE DISHES WITH EGG NOODLES: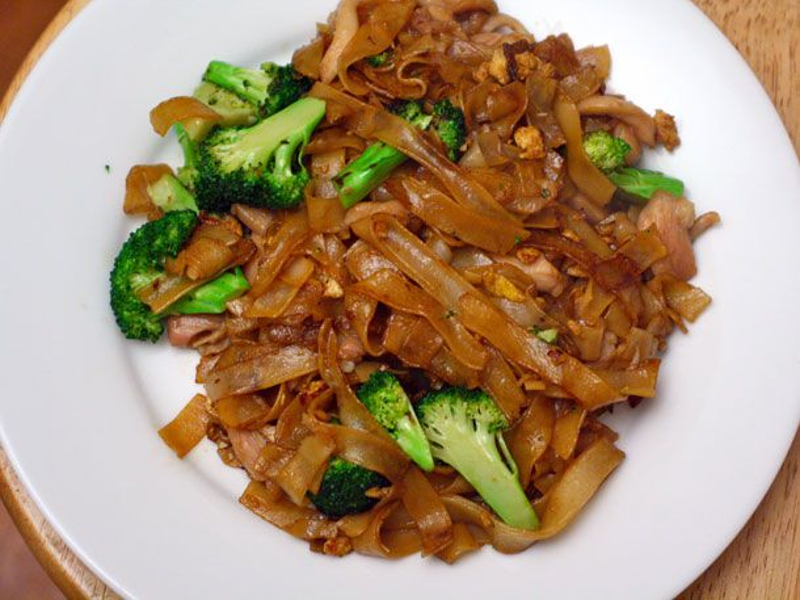 A. PAD SEE EW (THAI STIR FRIED NOODLES)
Pad See Ew or known as "stir fried soy sauce noodles", is a popular street food dish in Thailand. It is traditionally made with Sen Yai fresh rice noodles, but can also be made with egg noodles.
It is among the Thai noodle dishes that is very healthy as it predominantly consists of proteins from the noodles used, and other ingredients such as chicken or pork meat, eggs, and some vegetables.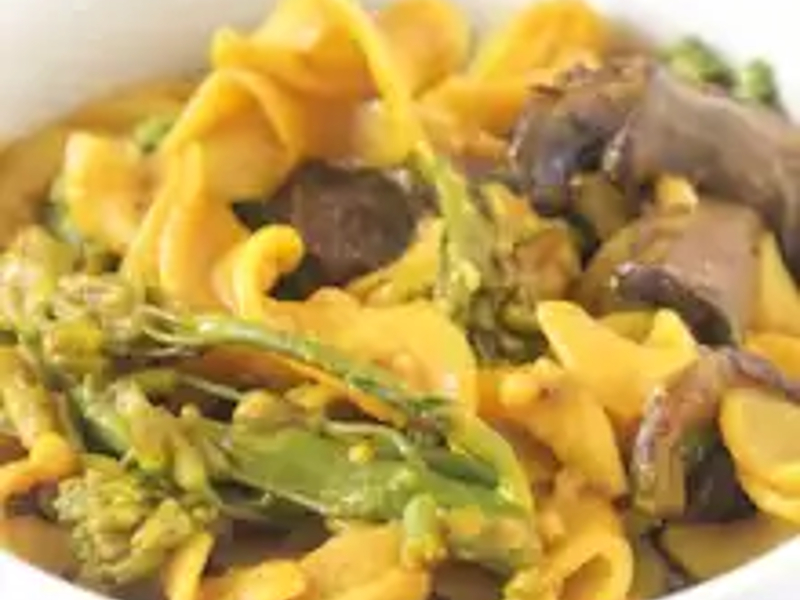 B. THAI CURRY EGG NOODLE STIR FRY
This noodle dish is gluten-free, vegan, and goes well with fresh vegetables. It is made of egg noodles, broccoli, yellow mustard seeds, chicken or vegetable broth, olive oil, turmeric, ground cumin, mushrooms, fried garlic, cilantro, ginger, and curry powder.
---
2. BEAN THREAD NOODLES/ WOON SEN
The bean thread noodles, also known as cellophane noodles, silky glass noodles, or mung bean noodles , are made from ground mung beans (starch and water). This type of noodle is mild in taste, with slippery texture, and transparent appearance.
Glass noodles are also used in other Southeast Asian cuisines like Chinese and Vietnamese cuisine.
These noodles are generally sold in dried form and often used in soups, stir-fried dishes, as well as spring rolls.
POPULAR DISHES WITH GLASS NOODLES OR BEAN THREAD NOODLES
a. GLASS NOODLE SALAD (YUM WOON SEN)
This dish is made of glass noodles, ground pork, fish sauce, roasted peanuts, ground pork, Chinese celery, tomato, julienned onion, garlic, cilantro, Thai chilies, and dried or fried shrimp.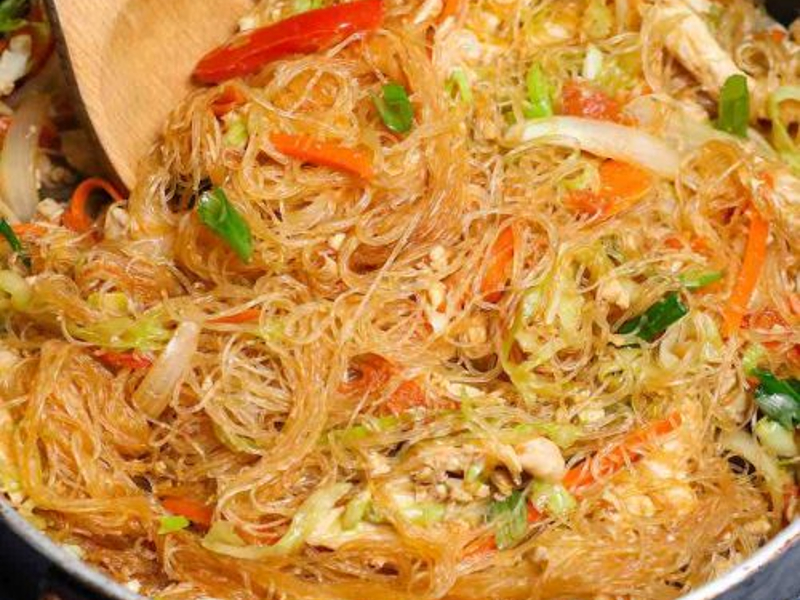 b. THAI PAD WOON SEN (THAI GLASS NOODLE STIR-FRY)
Thai Pad Woon Sen is made with stir fry sauce which is made from chicken stock or vegetable stock, soy sauce, fish sauce, hoisin sauce, brown sugar and red pepper flakes, glass noodles, chicken bread or firm tofu, red onion, garlic, vegetable oil, mushrooms, red bell paper, lime juice or lemon juice, and fresh cilantro leaves.
---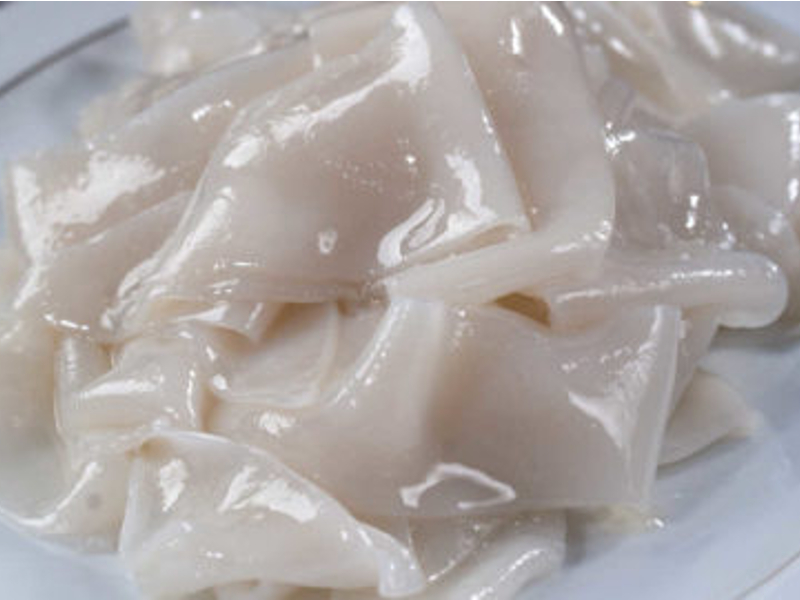 3. WIDE RICE NOODLES/ SEN YAI NOODLES
These broad rice noodles are made from rice flour and water. They are wide in shape, and are soft and tender. The wide rice noodles are usually used in making classic dishes like Guay Tiew Nam, the famous Phad See Ew (Drunken Noodles), and other stir-fried noodle dishes.
POPULAR DISHES WITH WIDE RICE NOODLES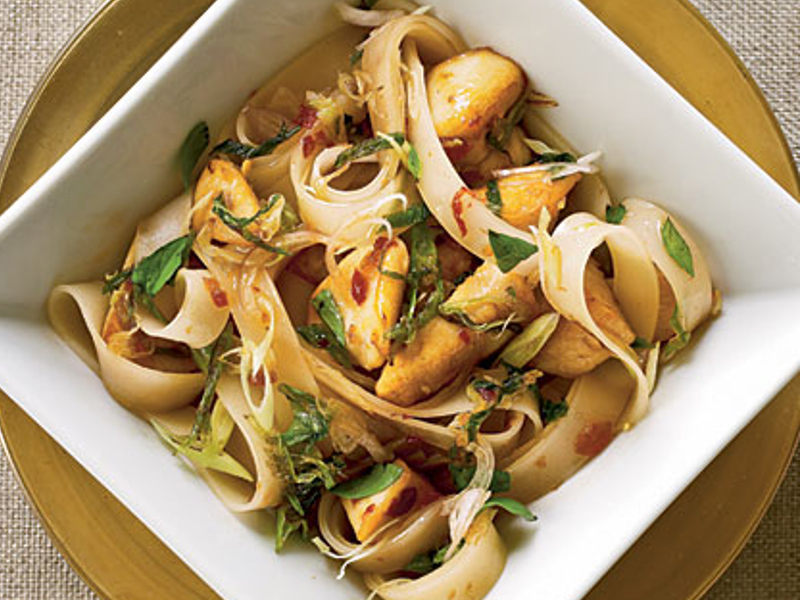 A. THAI WIDE RICE NOODLES WITH CHICKEN
This Thai noodle dish is made of fresh lime juice, skinless and boneless chicken breast, wide rice noodles, brown sugar, and water.
B. PHAD SEE EW
This stir-fried noodle dish is a famous dish in Thailand. It is often sold by street vendors.
---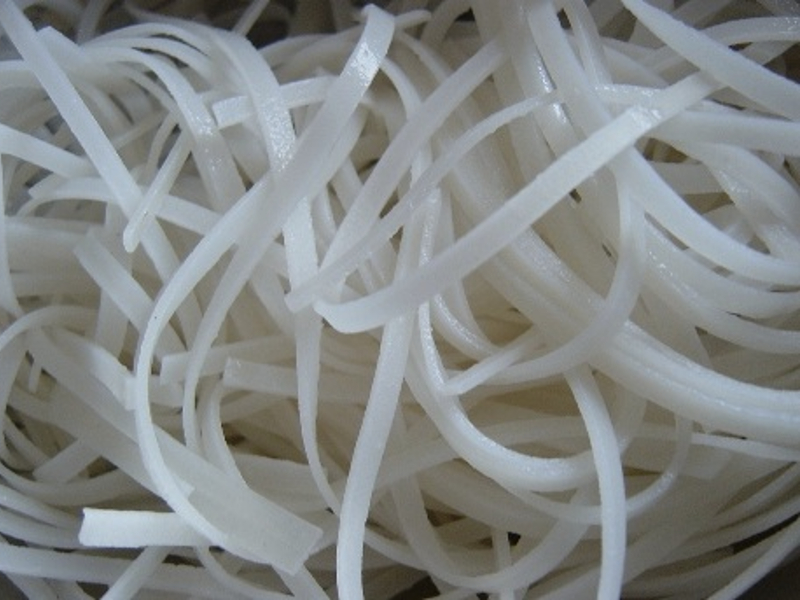 4. THIN RICE NOODLES/ SEN LEK
These Thai rice noodles are made from rice flour and water. They are usually soft, thin, and tender. The term Sen literally means noodles, and Lek means small in Thailand.
Sen Lek noodles, which are about the size of linguini, are a versatile type of rice noodles. They can be used in Thai dishes with broth, steamed, fried, or in making spring rolls.
POPULAR THAI DISHES WITH THIN RICE NOODLES: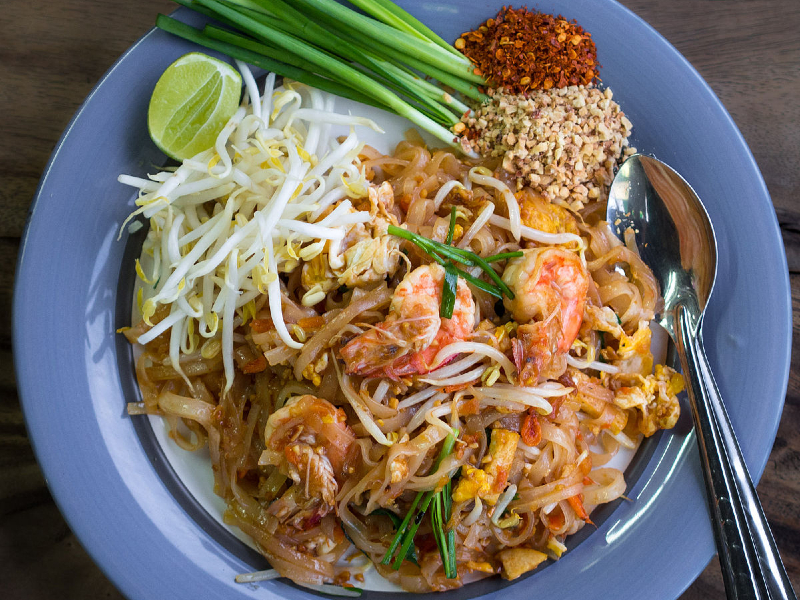 A. PAD THAI
Pad Thai is a crisp fried noodles made with thin rice noodles, peanuts, bean sprouts, scrambled eggs, dried shrimp, and pad Thai sauce. It is among the Thai noodle dishes both locals and tourists cannot resist.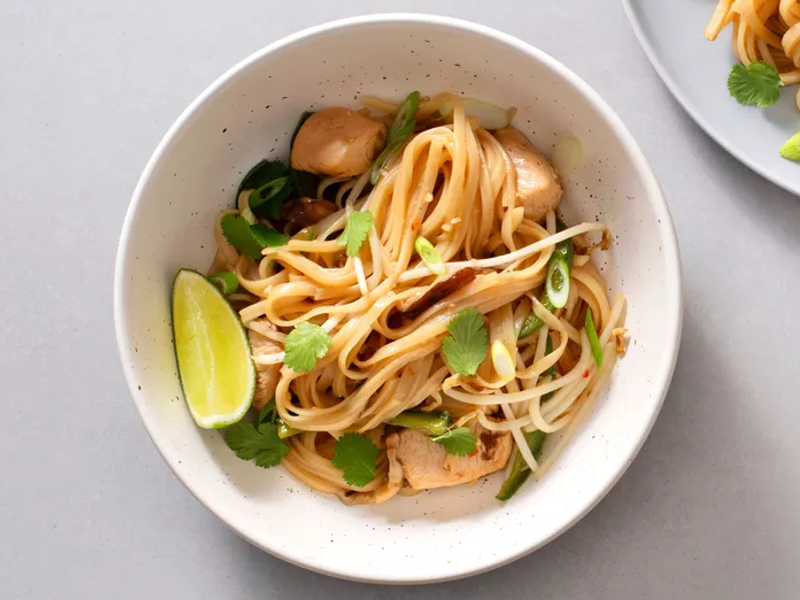 B. Thai Fried Rice Noodles
This delish Thai dish is primarily made of thin noodles, added with shiitake mushrooms, bean sprouts, orange pepper, and chicken or fried tofu.
And to boost the rice noodle's flavor, add a special Thai sauce. It is definitely a delicious and healthy dish, with low fat and gluten-free you ought to try.
---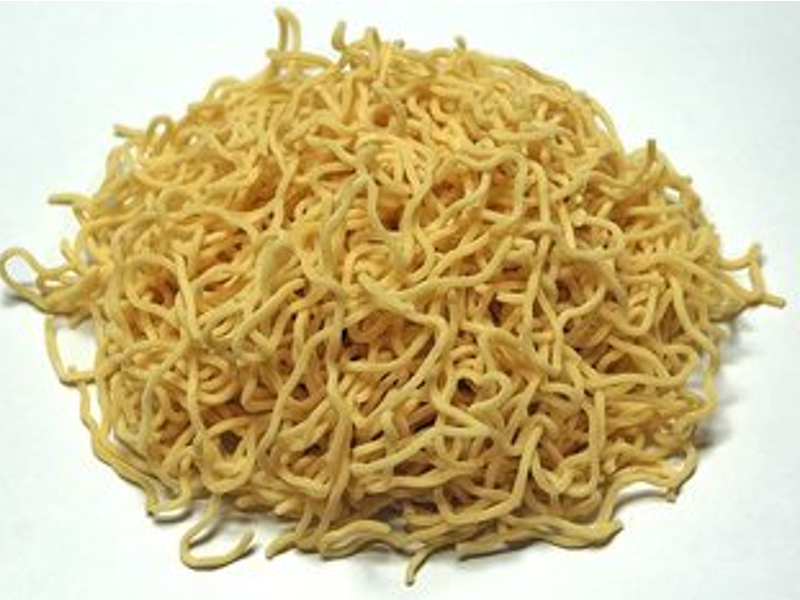 5. CURLY NOODLES/ MAMA NOODLES
Curly noodles are a type of ramen noodles made from rice. Unlike the typical Thai noodles, curly noodles or mama are curly.
These yellow color instant noodles are usually used in different Thai dishes like stir-fried dishes and noodle soup. Curly noodles are often fried in a wok along with vegetables, oil, pork, or shrimp.
POPULAR THAI DISHES WITH CURLY NOODLES: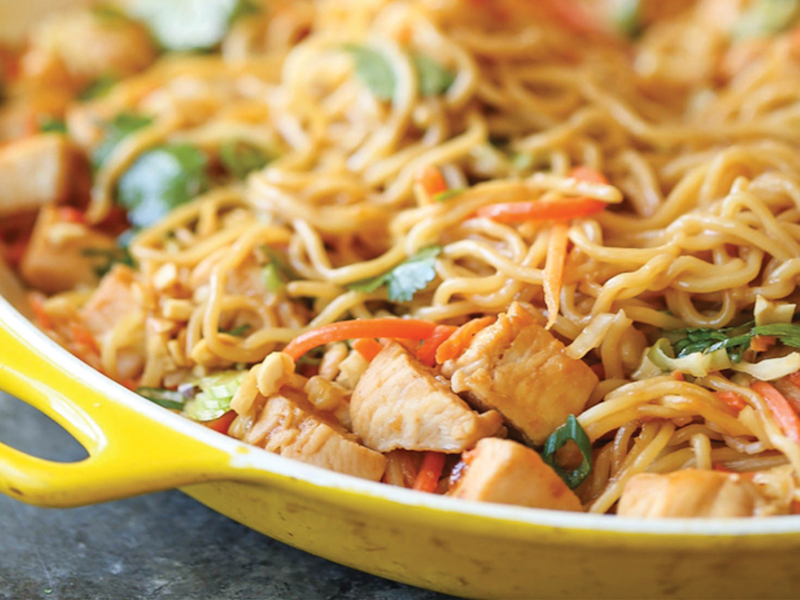 a. THAI PEANUT CHICKEN NOODLES
This easy to prepare Thai dish is made of boneless and skinless chicken breast, cabbage, carrots, green onions, fresh cilantro leaves, peanuts, peanut butter, soy sauce, garlic, honey, ginger, rice vinegar, sesame oil, and its main ingredient Curly Noodles.
B. THAI CURLY COCONUT CURRY NOODLES
This noodle soup dish is a comfort food that is fast and easy to prepare. It is fresh and packed with flavor that your taste buds resist.
Its ingredients include low sodium vegetable broth, organic coconut milk, curry powder, Asian garlic chili sauce, mushrooms, red pepper, scallions, jalapeno, Kosher salt, cilantro and lime wedges for garnish, and the curly noodles.
---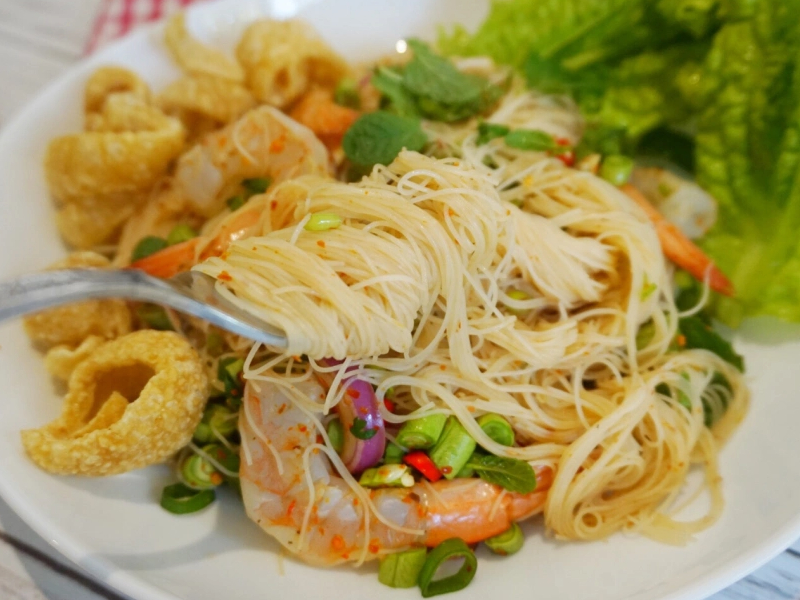 6. VERY THIN RICE NOODLES/ SEN MEE
These tender, soft, and very thin rice noodles are made from rice flour and water. This type of rice vermicelli noodles are thinner compared to Sen Lek noodles.
They were created during the invasion of the wheat-eating people of northern China.
Sen mee noodles are often used in stir-fried noodle dishes, soup, and salad.
POPULAR THAI DISHES MADE WITH VERY THIN NOODLES: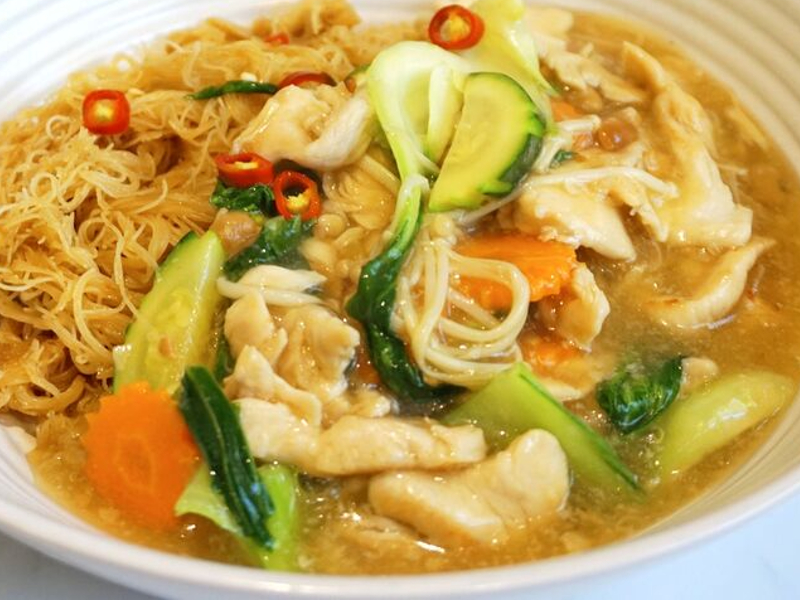 A. SEN MEE RAD NA (THAI THIN NOODLE)
This Thai-Chinese noodle dish is made with stir-fried noodles covered with sauce.
The ingredients in making this dish include sen mee rice noodles, chicken or pork, soy sauce, oyster sauce, sugar, dark soy sauce, tapioca flour, chicken stock, baby corn, carrot, bok choy, mushroom, garlic, salted soy beans, cooking oil, and red chili with vinegar.
B. YUM SEN MEE PLARA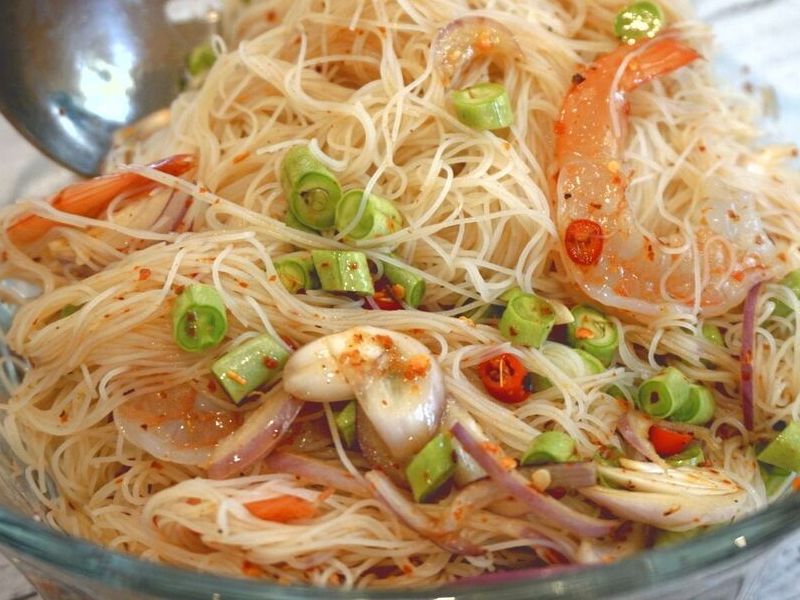 Yum sen mee plara is a salad made of very thin noodles and anchovies sauce. To prepare this mouth-watering salad, you need Sen Mee noodles, green prawns, long beans or snake beans, sliced chili peppers, spring onion, shallot, coriander, mint leaves, anchovies sauce, fish sauce, palm sugar, lime juice, and ground chili.
These noodles served with pork crackling or prawn crackers are definitely scrumptious and enticing.
---
FREQUENTLY ASKED QUESTIONS:
WHAT IS THE HEALTHIEST TYPE OF THAI NOODLES?
Technically, all types of Thai noodles are healthy but the nutritional content of every noodle depends on the type of cuisine it is being used and the ingredients added.
Most traditional Thai cuisine which are made with noodles are undoubtedly healthy since most of these dishes are largely based on lean proteins, vegetables, fresh herbs, and spices. 
WHAT YEAR WERE NOODLES WERE INTRODUCED TO THAILAND?
It is believed that noodles were invented in 1938 during World War II.
It became Thailand's staple food when the country suffered a shortage of rice due to floods and military action.
WHO INTRODUCED NOODLES TO THAILAND?
According to history, the noodles were brought to Thailand by the Chinese traders from mainland China.