A trip to a country would not be complete without trying some local dishes. Especially in countries with rich food history, just like the Philippines. They are known for their famous cuisines such as adobo, lumpia, sinigang and sisig.
This country offers a lot to treat your cravings for some delicious food. Now, let us talk about one dish that's very popular among locals, the pancit or Filipino noodle dishes.
What Is a Filipino Pancit?
Also spelled as pansit, pancit refers to the various popular recipes in the Philippines that use noodles as the main ingredient. Based on the type of noodles used, you can taste different flavors of the Filipino pancit.
The names of the Filipino noodles could also vary, as well as the method of cooking. But one thing notable with these Filipino noodles is the addition of calamansi, a small citrusy-lime fruit, as a flavor enhancer. It is usually placed on top of the cooked noodles and is sliced already.
How Did Pancit Reach The Philippines?
Chinese merchants are responsible for the introduction of noodles to the Philippines. Since then, Filipinos have integrated their own ways in innovating noodle dishes using local ingredients.
Noodle restaurants, locally called as panciteria, are a common establishment in the Philippines today. Thanks to the Spanish regime who took over the Philippines for 300 years. You can find Chinese-based dishes at a Spanish-named restaurant.
Pancit symbolizes long life in the Philippines, that is why you can find them being served during birthday celebrations. Noodles can also be a star on other occasions.
Though it is made up of noodles, Pancit isn't really considered as a full meal in the Philippines. Rather, they are served as a snack or locally known as merienda.
Eating pancit is more enjoyable when served with other dishes. But be careful when eating these noodles as you are not allowed to slurp it loudly, unlike other Asian countries where slurping on noodles is pretty normal.
Filipino Noodle Dishes
What Are The Popular Filipino Noodle Dishes?
If you are checking for some Filipino pancit that you want to try, or if something piqued your interest in checking this Filipino food, then check out our recommendations below.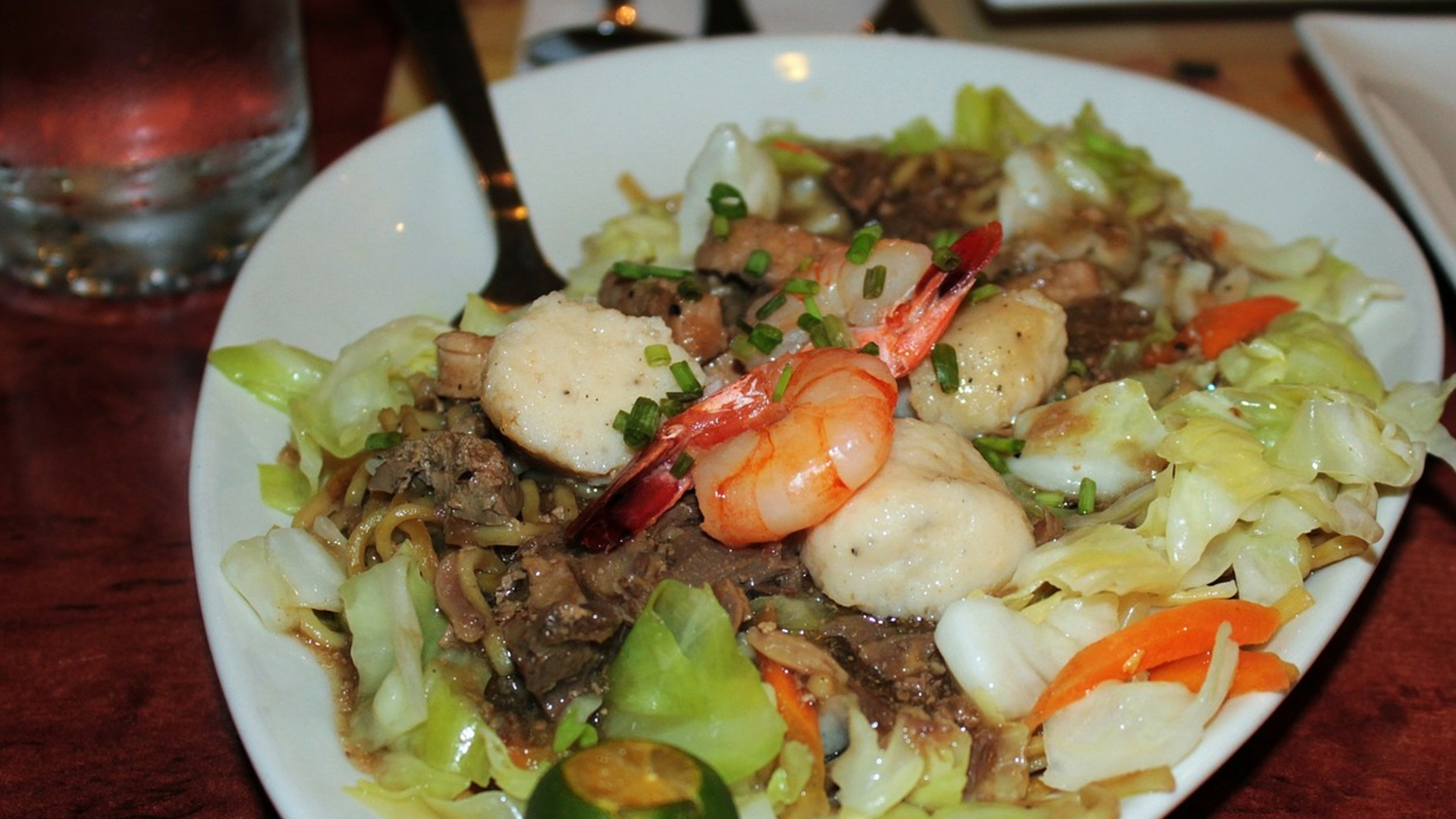 Pancit Canton
Filipino homes and restaurants couldn't agree more that pancit canton is one of the most popular noodles out there. This pancit dish is made using egg noodles that are stir fried. Various ingredients, such as cabbage, carrots, garlic, onions, meat and more.
Other variations might include pork liver, shrimps and sliced fish balls added into the noodles and stir frying them. Just like lo mein noodles, pancit canton is also seasoned with soy sauce and sliced calamansi is placed on top of the cooked noodles.
---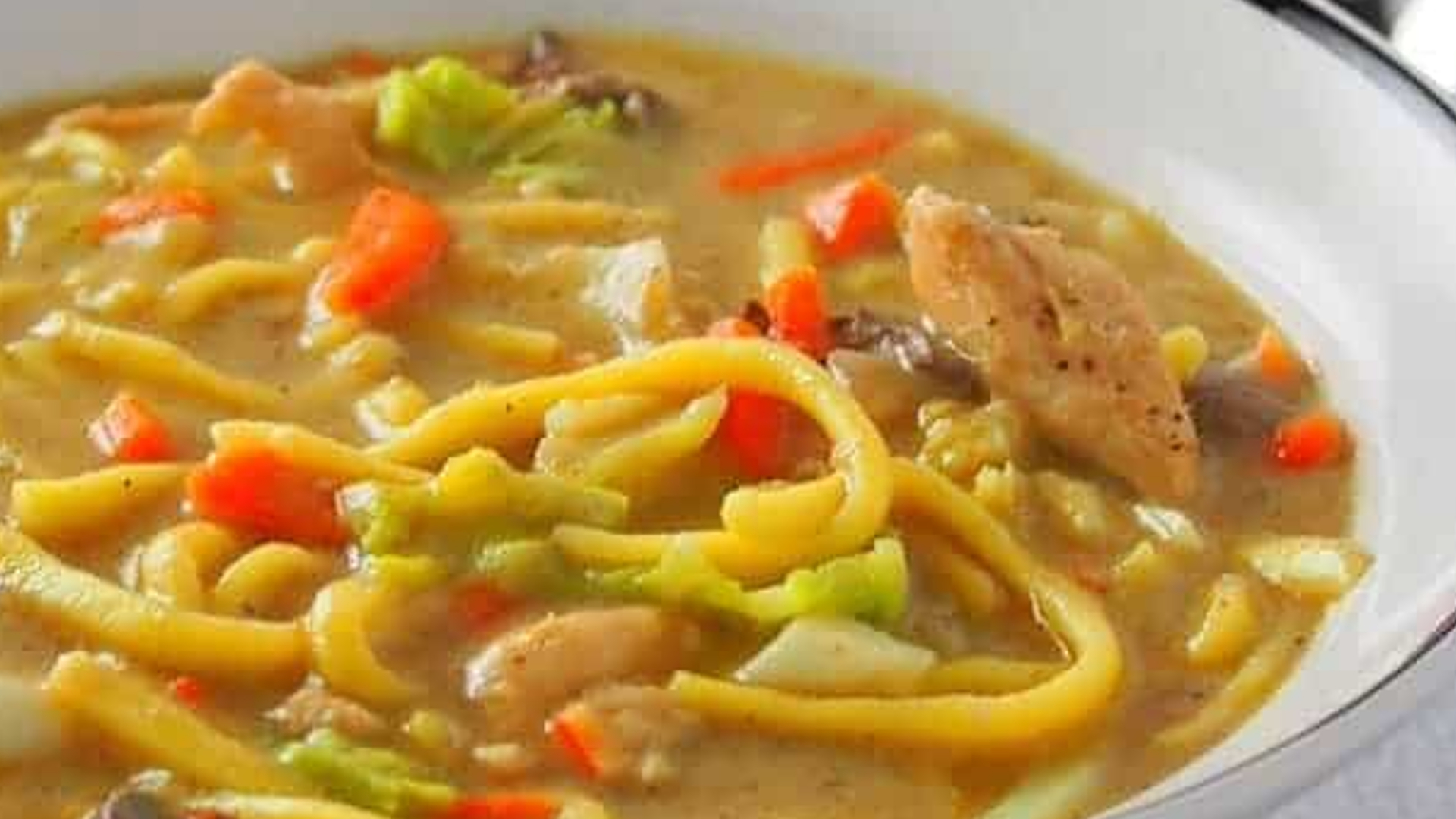 Lomi
Are you a fan of udon noodles from Japan? Then check out this Philippine version. Lomi is a popular Filipino dish that is made with thick egg noodles, braised in a thick soup with cabbage, carrots, and mushrooms. The famous lomi is found in the province of Batangas and is usually added with slices of pork, shrimp, and kikiam.
Lomi can be rich and thick since there could be a recipe that adds egg into the soup. Lomi is derived from a Chinese word that means braised noodles. It can be best enjoyed with fresh calamansi and labuyo, a kind of chili pepper that is well-known in the Philippines, to add a little to medium heat.
---
Pancit Palabok
Also known as luglog in some parts of the country, pancit palabok is a treat for people who love pancit. It is made from rice stick noodles that are cooked into a rich and thick sauce. It is commonly flavored with shrimp and an atsuete (annatto seeds) gives color to the savory sauce.
The thin rice noodles are then topped with cooked shrimp, bite size pieces of smoked milkfish, chicharon or fried pork rinds, and chopped spring green onions. Some recipes may add sliced boiled eggs as well.
Another famous version of pancit palabok is the pancit malabon. This recipe uses thicker rice sticks noodles than the thin rice sticks noodles on the regular palabok. Pancit malabon is topped with sliced napa cabbage, stewed squid, shrimp and chicharron.
---
Misua Meatball Soup
Known as the Filipino noodle, misua is an angel hair flour noodle. The misua noodle soup is an ingenious Filipino combined misua that is composed with the Spanish dish known as albondigas (meaning meatballs) to make this Filipino food.
To create this original Filipino dish, the misua noodles are cooked in a broth with pork meatballs. Locals would often add shrimp and patola or sponge gourd or loofah to this dish. You might find it being served during the rainy season.
---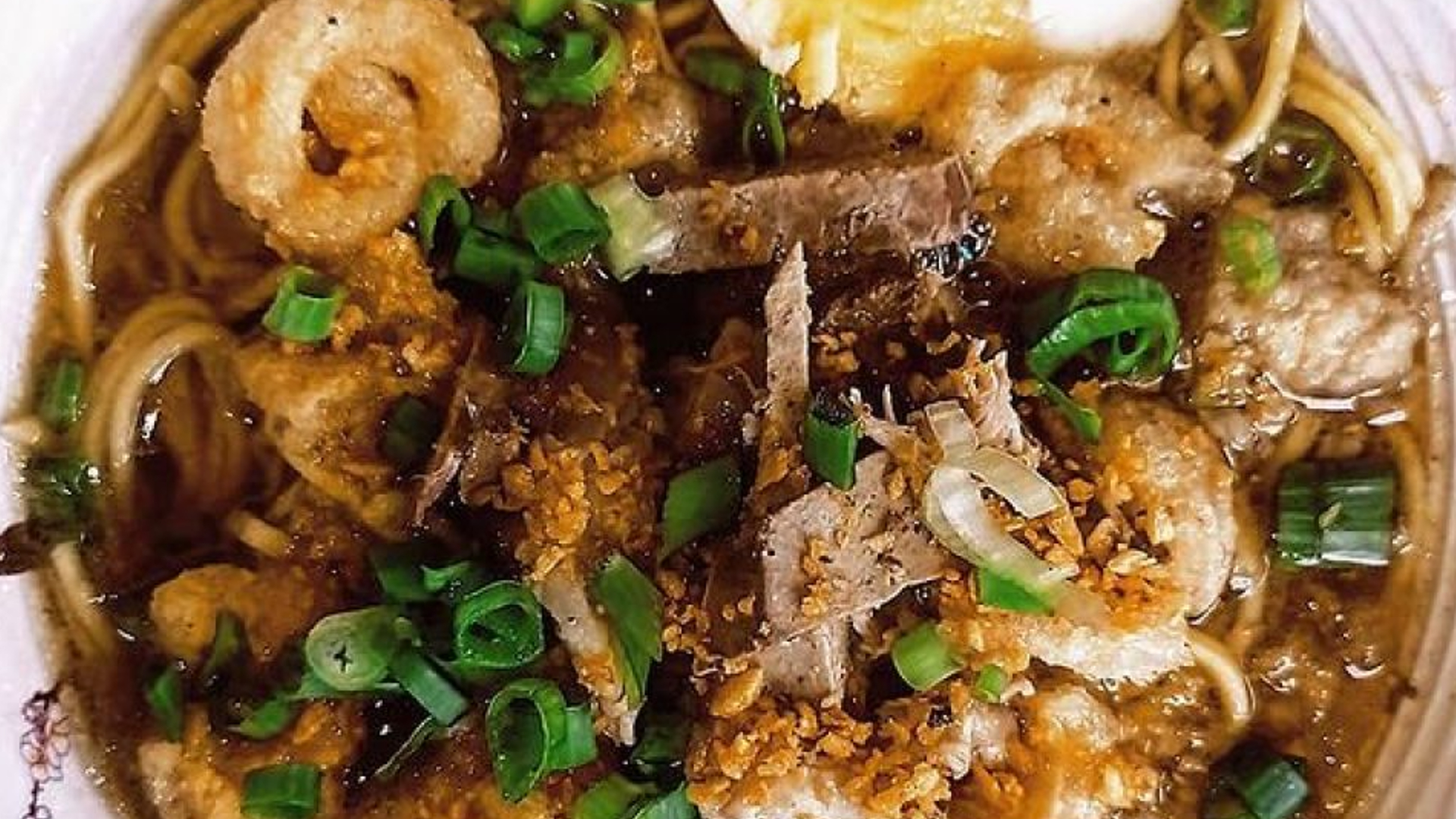 Batchoy
This is one of the most popular Filipino noodle dishes. It is made with egg noodles served in a flavorful broth made from pork and beef. Pork skin, braised pork meat, liver and intestine plus beef bone marrow are also added into this Filipino dish.
The La Paz batchoy is one of the best versions of this egg noodles recipe. To bring out the best flavor, fried minced garlic is also added right before serving. Try out this Filipino pancit recipe.
---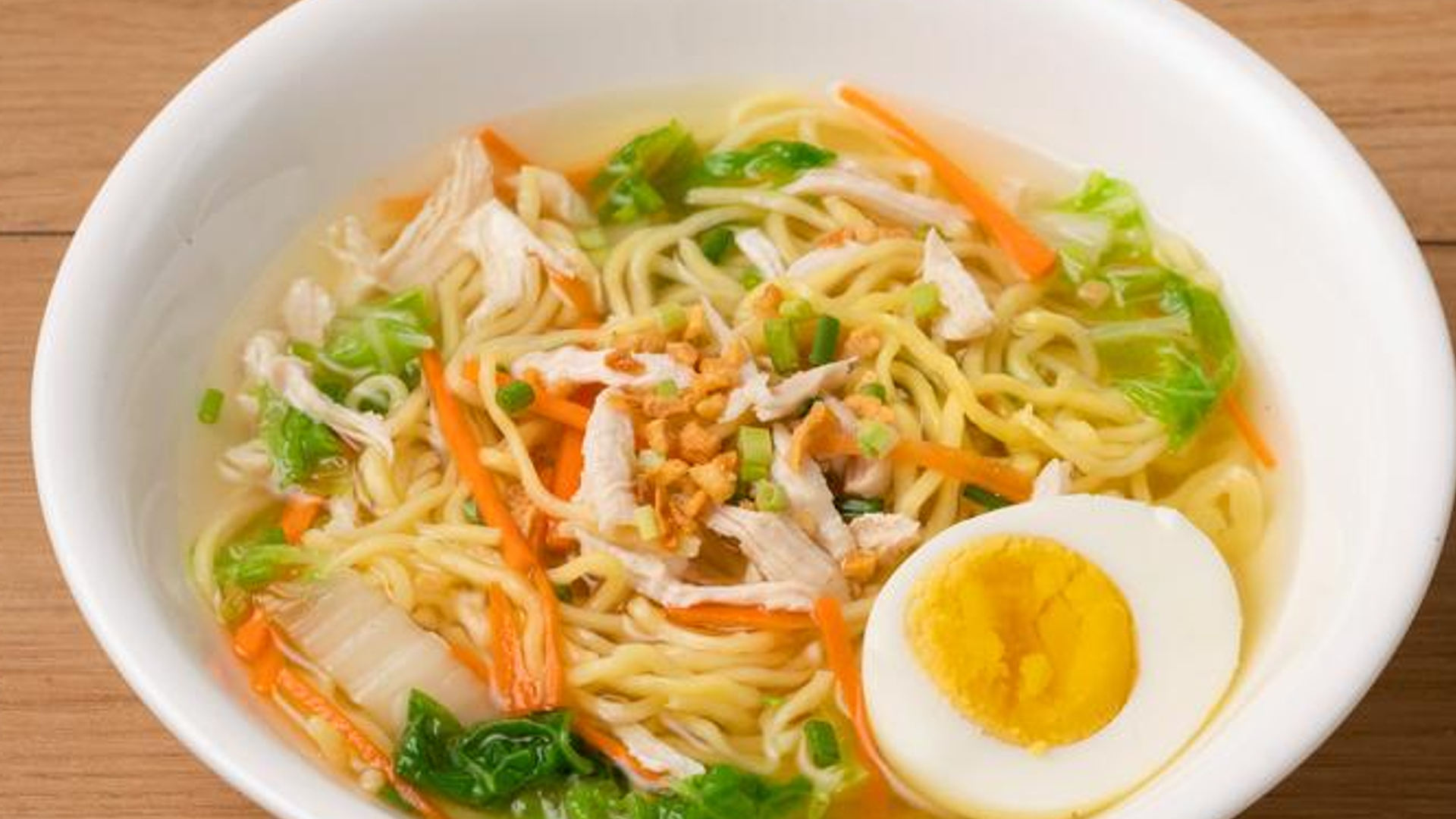 Mami
Mami is a noodle dish derived from a Chinese phrase meaning "pork noodles". However, in the Filipino recipe, beef or chicken broth is commonly used.
Beef or chicken broth (chicken stock) are added to the egg noodles. This flavorful Filipino dish is served with slices of napa cabbage, hard boiled egg and shredded chicken or beef. Wontons are also used as an alternative for hard boiled eggs.
You may top it with a green onion that is chopped before serving. Check out some great recipe on how to recreate this chicken or beef flavored mami.
---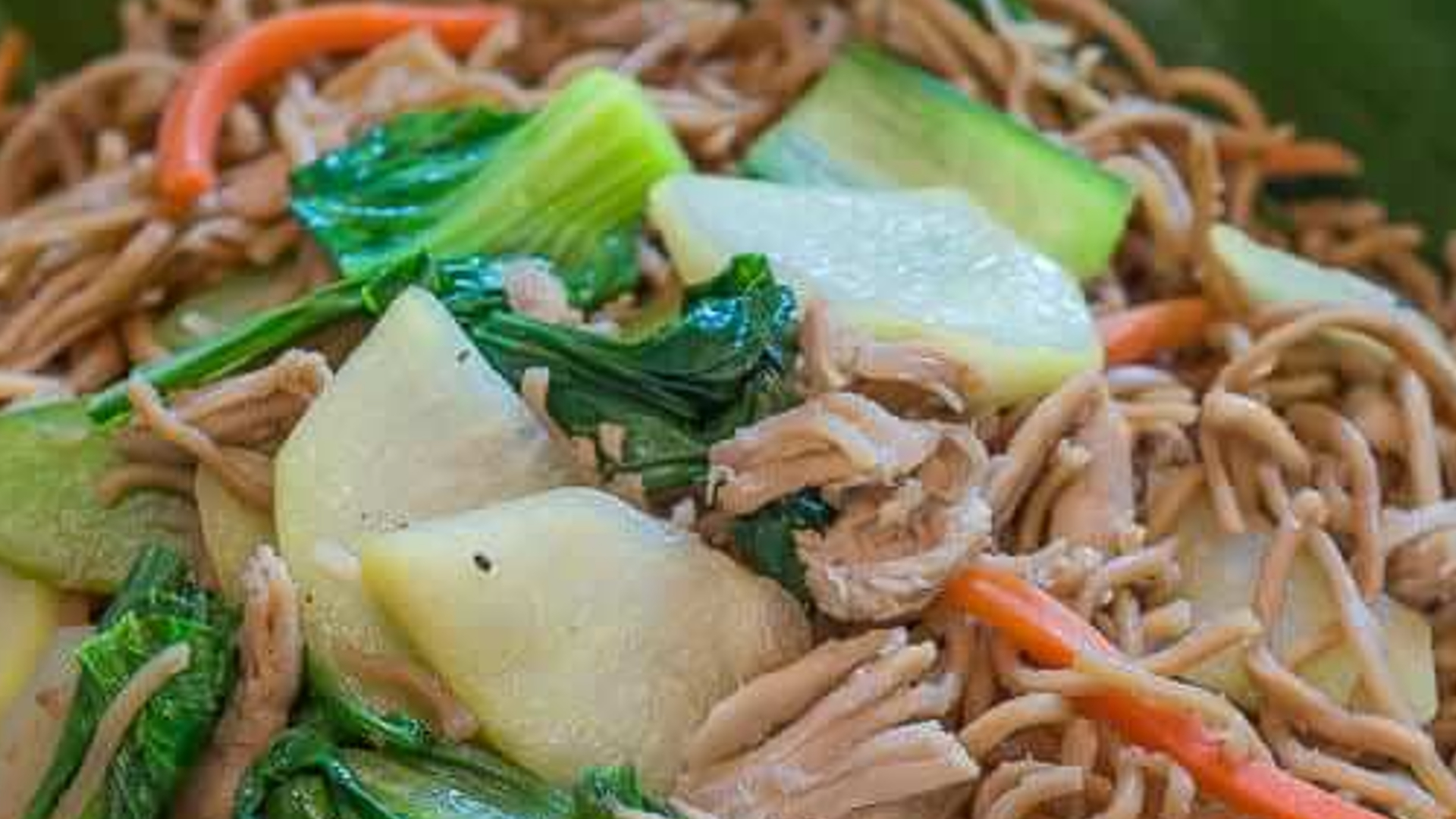 Pancit Habhab
Pancit habhab is a traditional dish in the Philippines served on a banana leaf. You don't need utensils to eat this one of amazing pancit noodles. All you need to do is put the banana leaf near your mouth and take a mouthful bite into the stir fried egg noodles.
It also uses an easy recipe. You will need to stir fry egg noodles with pork, carrots, cabbage and chayote. Flavor it with soy sauce or oyster sauce. It is almost similar to the pancit canton, however, instead of using calamansi as its sour source, pancit habhab uses vinegar.
If you'll visit the Philippines soon, try out the pancit habhab in Lucban, Quezon province as they offer the most authentic experience. Their amazing recipe will start from scratch to give you great tasting pancit noodles.
---
Pancit Bihon
Along with Chicken adobo, pancit bihon is a popular pancit dish in the Philippines during birthday parties and other occasions, such as fiesta. This dish is made with stir fried vermicelli noodles, cooked with a variety of other ingredients.
There are different variations of the pancit bihon such as the vegetarian version, where different kinds of vegetables are stir fried into the vermicelli noodles. Cabbage, garlic, green beans, snow peas, yellow onion and green onion are stir fried into the oil/sesame oil before adding the dry pancit noodles or bihon noodles soak in water.
Non-vegetarian versions may add cooked chicken or other meats into the dish. Making pancit bihon is very simple, but it tastes great. Soy sauce and oyster sauce are added for flavors.
---
Pancit Choco En Su Tinta
It is usual for a Filipino family to gather around and eat together. This is why some of them have created their own recipes of noodles and this classic Cavite dish also called "Pancit Pusit" is one of them.
It uses rice noodles that are cooked with squid and squid ink, providing its unusual and beautiful black color. Sometimes fish sauce is added as a flavor enhancer to cook pancit pusit. Cabbage, carrots, chili, kinchay (Chinese celery) and chicharon are topped on this Filipino noodle dish before serving.
Pancit pusit will get its citrusy flavor from the kamias fruit called bimbing. Chicken breast or shrimp can also be added for some additional protein source.
---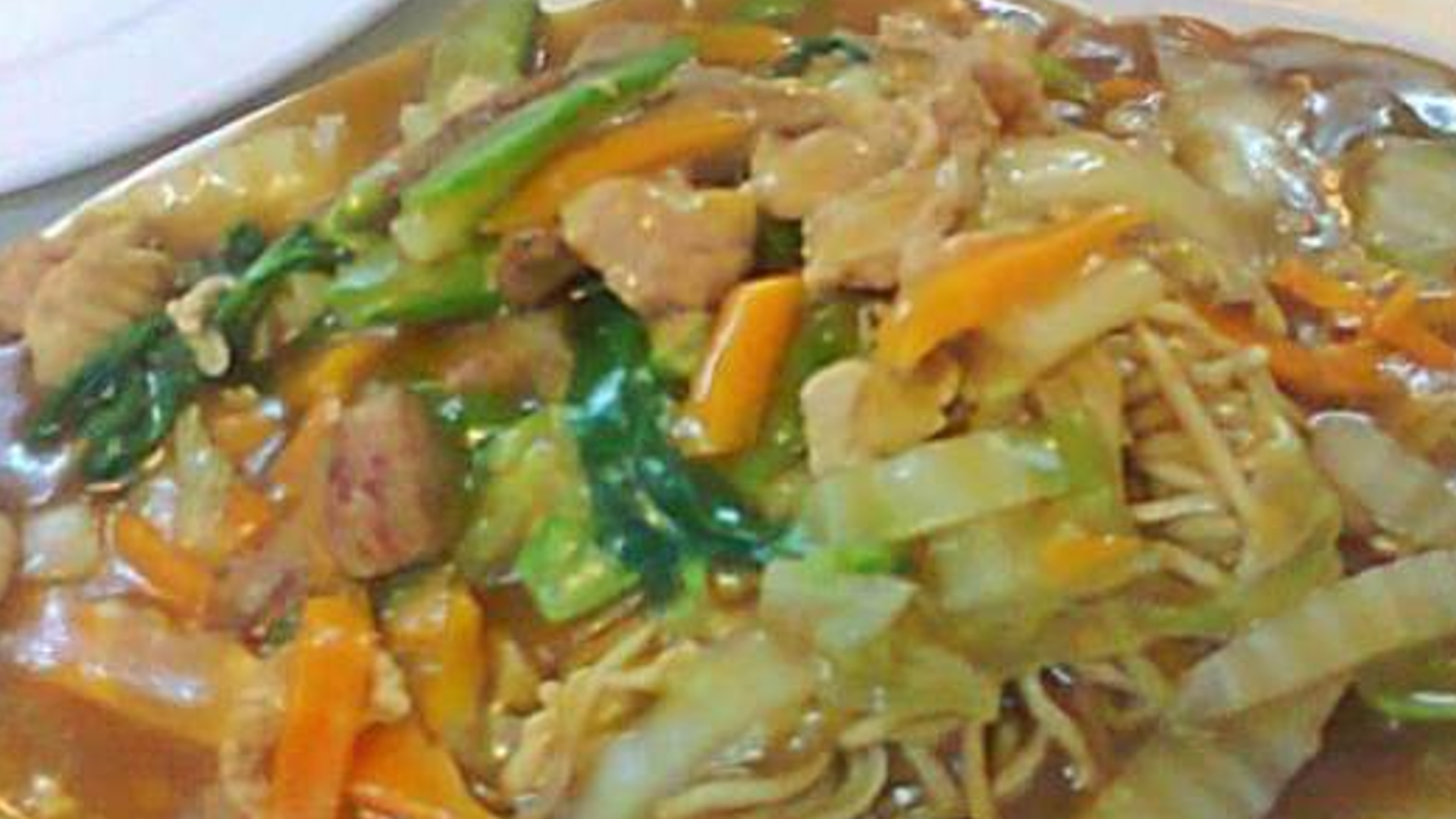 Pancit Henoy
Another original creation from the Philippines, this pancit uses both egg noodles and rice noodles cooked in broth with shrimps, calf livers, white and napa cabbage, and patola. You'll get its thick texture from the rice flour added into the broth.
If you ever wanted to try this while in the Philippines, it may be hard to spot in restaurants. But try visiting Cavite as this dish originates in that place and is named after one of the Filipino heroes, General Emilio Aguinaldo.
---
What Other Pancit Noodles To Try?
It sounds amazing that one country, like the Philippines, has so much to offer. From its rich history, to the amazing culture and delicious food.
Those are just a few of the recommended noodles found in the Philippines, but there are so many for you to discover once you visit their country. It can be more fun as they can be cooked on the same pan, and if you're lucky enough, you can see how it is being made.
Better check them out should you visit the country soon.