Do you want to try some vegetarian Singaporean dishes? There are plenty of wonderful vegetarian Singaporean dishes. Below is a list of the most popular Singaporean meals. Singaporean cuisine comprises both unique dishes and those that, despite sharing names with dishes from other cuisines, have grown to imply something special in Singapore.
Singaporean Vegetarian Dishes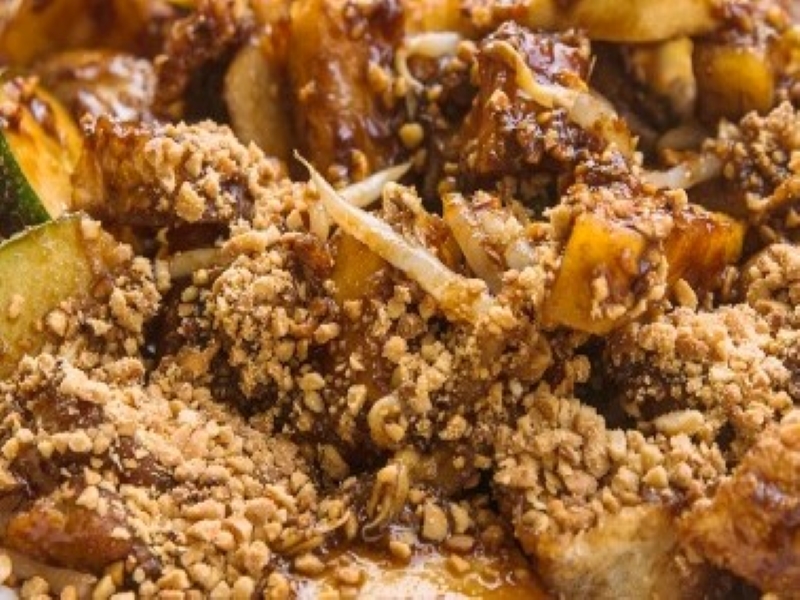 Chinese Rojak
Rojak, also known as Rujak, is a Javanese salad dish popular in Indonesia, Malaysia, and Singapore. It is a savoury fruit salad. A salad made up of fruit and vegetables, such as sliced cucumber, pineapple, mango, bean sprouts, banana flower, turnip, ginger, dough fritters and fried bean curd, served with a spicy palm sugar dressing is the most popular variation in all three nations. Because of the sweet, hot, and spicy dressing created from crushed chilli, palm sugar, prawn paste, and peanuts, it's commonly referred to as tangy and spicy fruit salad.
Water, belacan, sugar, chilli, and lime juice make up the dressing. Some vendors add shrimp paste (hae ko in Hokkien), tamarind, or black bean paste to the mix, but others don't. The components are cut into bite-size pieces and mixed with the dressing in a bowl, then topped with crushed peanuts and a dash of ground or sliced torch ginger bud, bunga kantan in Malay.
---
Dosai
South Indian flavourful crepe made with rice flour that is thin and crunchy. The original version is generally served with dhal (lentil stew), vegetable curry, and coconut chutney, although masala dosai, which are stuffed with potatoes, vegetables, and spices, are also available.
---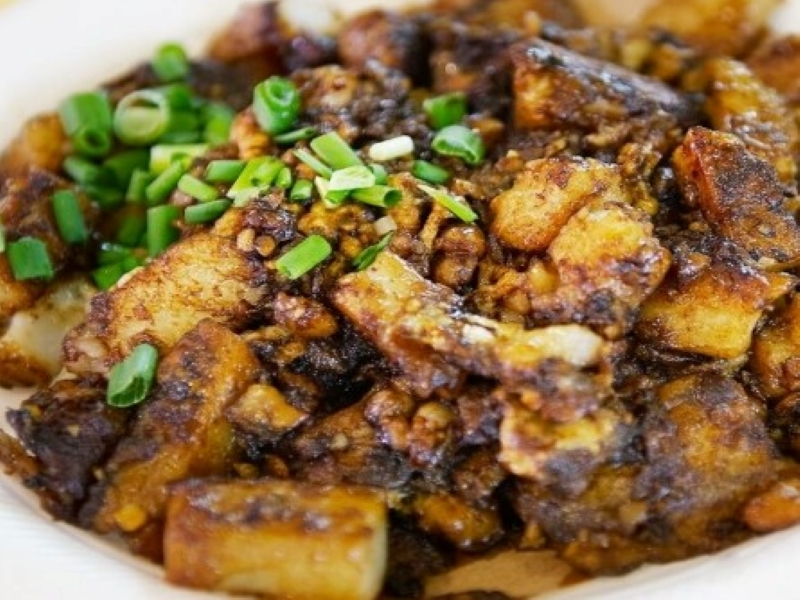 Carrot Cake
The carrot cake of Singapore doesn't contain any carrots. Their version of carrot cake is produced from a mixture of flour, white radish, rice and water that is cooked into cakes and does not contain any carrots. Eggs, pickled radish, garlic, and spring onion are diced and stir-fried with these cakes. Other additions include shrimp or sliced mushroom, and you will generally have a choice of "black", which is fried with sweet soy sauce or "white", which is plain. For an added kick, ask for a dash of chili powder.
---
Chendol
Chendol is an iced sweet treat made of green rice flour jelly droplets, coconut milk, and palm sugar syrup. It's ubiquitous throughout Southeast Asia, and it's especially popular in Singapore. Additional toppings, such as diced jackfruit, sweetened red azuki beans, or durian, can be placed on top of the green jelly.
In Singapore, sweetened red beans are commonly added, and the dish is served in a bowl rather than a glass. Gula melaka is the name for palm sugar that is often added as a dark syrup.
The influence of Singapore and the West has resulted in a variety of chendol varieties, such as chendol with vanilla ice cream or durian on top. This delectable dessert is a sweet treat that will keep you cool and satisfied during the hot summer months.
---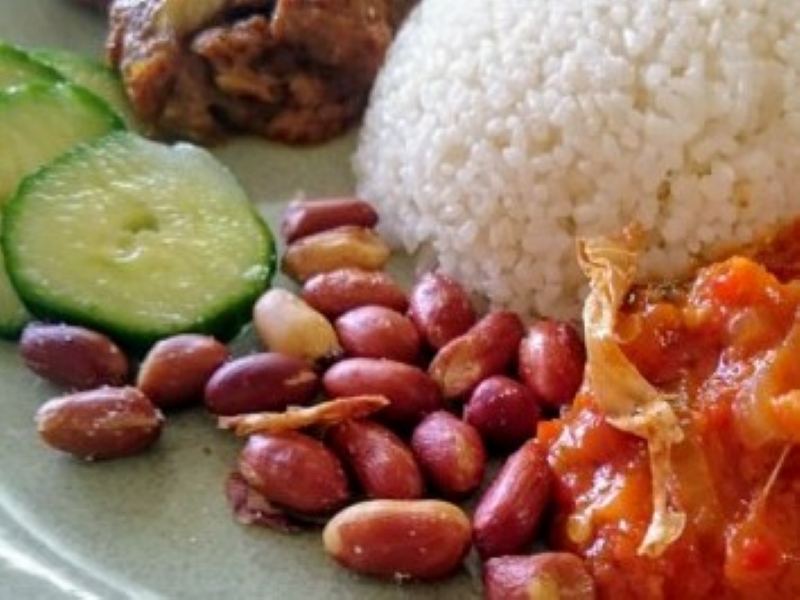 Vegetarian Nasi Lemak
Nasi lemak is a Malaysian meal made up of aromatic rice cooked in coconut milk with pandan leaves. It is also a traditional dish in nearby locations with large Malay populations, such as Singapore.
When compared to other nasi lemak variations, the sambal (chili sauce or paste) of the nasi lemak is sweeter and less spicy in most Singaporean Malay variations. Because the sambal is such an important part of the nasi lemak, it's best if it's not too hot so it doesn't overshadow the coconut rice and other components. This dish's sides include ikan bilis (anchovies), peanuts, and an omelette or fried egg, which is identical to the Malaysian version, however the inclusion of a boiled egg is less typical in the Malaysian version. A variation made with long grain basmati rice is occasionally available. In comparison to other varieties, Singaporean Nasi Lemak is frequently green in color.
---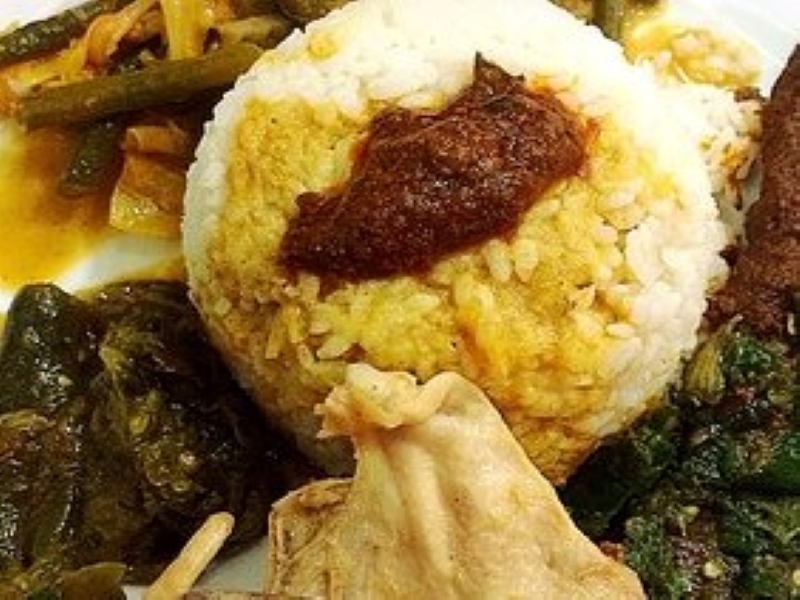 Nasi Padang
Nasi padang, also known as Padang rice, is a steamed Minangkabau rice dish from West Sumatra, Indonesia, that is eaten with a variety of pre-cooked items. It takes its name from Padang, the capital of West Sumatra province. It is Sumatra's most famous export and the Minangkabau people's greatest contribution to Indonesian cuisine, consisting of a little banquet of meats, fish, veggies, and spicy sambals served with plain white rice.
It comprises of a portion of steaming white or yellow (turmeric-flavored) rice served with a variety of meat or vegetable dishes. Sayur lodeh or vegetable coconut curry, sambal tofu-tempeh or spicy tofu and fermented beans, bergedel or potato cutlet, and achar or pickled carrot and cucumber are perfect combinations. Although this is accessible at most food booths in Singapore, authentic versions can be found in Kampung Glam and Geylang.
---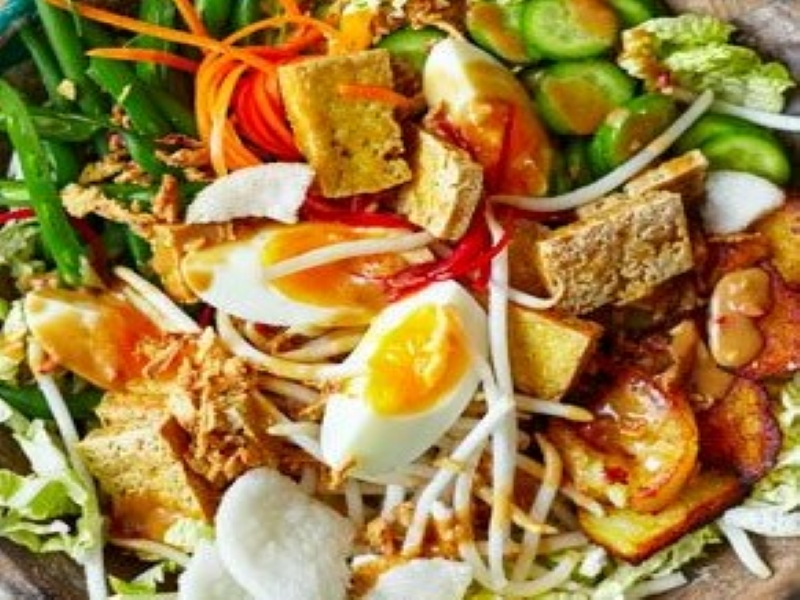 Gado-gado
Gado-gado is an Indonesian-style salad made out of raw, slightly cooked, blanched or steamed green vegetables, hard-boiled eggs, boiled potato, fried tofu and tempeh, bean sprouts, steamed rice cakes with a spicy peanut sauce dressing, and topped with crispy tapioca crackers. It's a hearty and nutritious salad.
---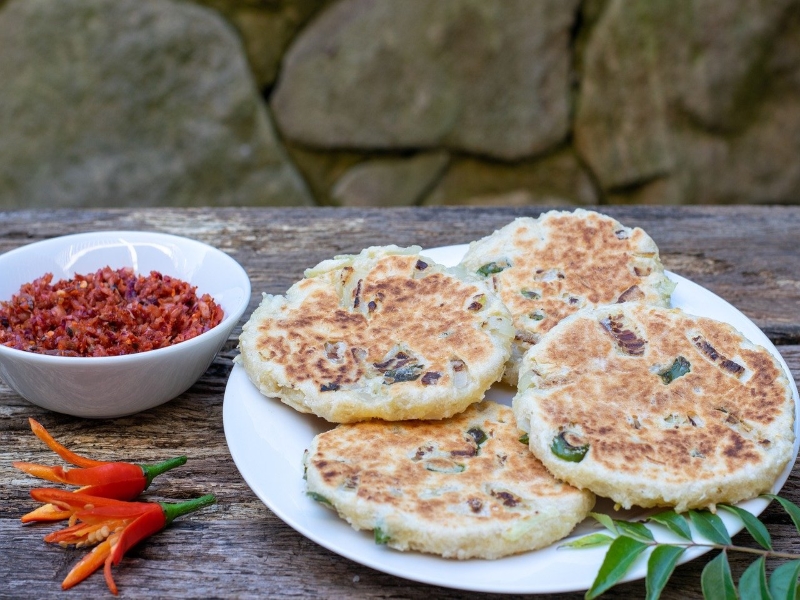 Roti Prata
Also known as roti canai, roti chenai and roti cane. It's an Indian flatbread dish that's popular in Southeast Asia, particularly Singapore. It's commonly served with dal or other forms of curries, but it can also be made with a number of sweet or savory components like meat, egg, or cheese in a variety of sweet or savory versions. Roti Prata is a light and fluffy puff pastry pancake that is flipped and spun to absorb air before being pan-fried till crispy golden brown.
The dish is typically served with curry because it's an Indian specialty, but you can now get creative varieties with cheese, mushrooms, and even banana and chocolate for a sweet version! It's perfect with a mug of hot, frothy milk tea.
---
Mee Goreng/Nasi Goreng
In the Malay-speaking cultures of various nations, such as the Southeast Asian states of Brunei, Malaysia, and Singapore, mi goreng is a spicy fried yellow noodles or stir fried rice.
Mee goreng is frequently connected with Indian Muslim cuisine in Singapore, which is recognized for its frequent usage of ingredients such as lamb or mutton. Seafood, bean sprouts, coriander, and a sambal (spicy chilli relish) sauce made up of twelve spices and herbs were cooked with seafood, bean sprouts, coriander, and a sambal (spicy chilli relish) sauce developed by restaurant owners of Chinese ethnic origin for their restaurant in Punggol during the 1970s.
---
Vegetarian Bee Hoon
Vegetarian bee hoon is a Singaporean noodle dish which comprises vegetarian spring rolls, fried tofu skin, and mock meats made from gluten. Usually, this vegetarian food is fried first and put in a large container, when an order is placed, other cooked ingredients are added to the bee hoon. They're not prepared with meat at all, but rather with flour. If you're running a food stall selling both vegetarian and non-vegetarian street foods, focus on the vegetable dishes, which should be plentiful. Vegetable meals can be cooked in a variety of tasty ways! It's a filling dishthat may be eaten at any time of day.
---
Vegetarian & Vegan Hainanese Chicken Rice
This famous dish can now be prepared without the addition of chicken. That portion is taken care of because the incredibly firm pressed tofu/beans used delivers a flavorful bite just like chicken. You don't have to worry about the protein because tofu is also high in protein, so the lack of chicken doesn't mean you're missing out on anything. It's simple to prepare and great to eat.
---
Ice Kachang
Ice Kachang, which literally means "bean ice," and is also known as ABC (acronym for air batu campur, which means "mixed ice", is a Malaysian dessert popular in Malaysia, Singapore, and Brunei.
This dessert is available in many Southeast Asian coffee shops, hawker centers, and food courts. Ice kachang is regarded as one of Malaysia's most distinctive meals, and it has been included in numerous publications. Layers of red beans, jelly, sweet corn, and attap chee (palm seeds) are layered on top of a mountain of shaved ice, which is then topped with various colors of sweet syrup and a final drizzling of sweetened condensed milk.
---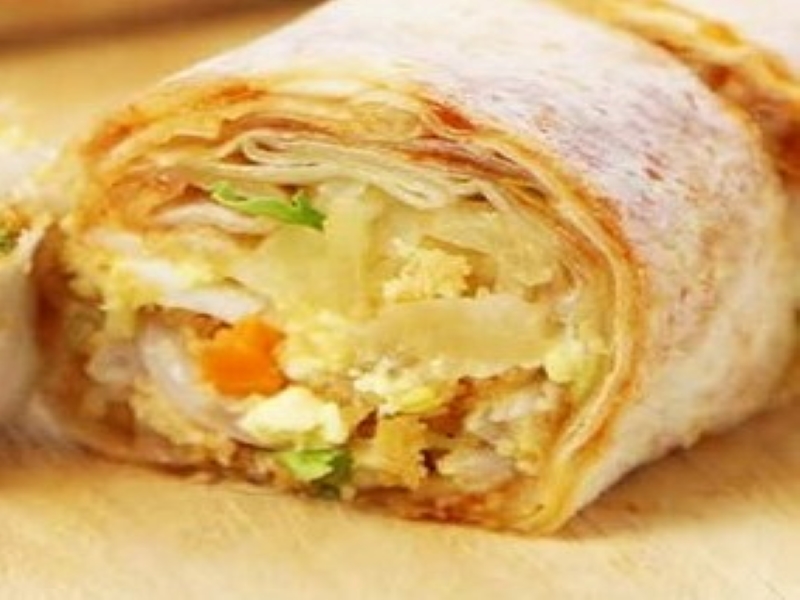 Popiah
Popiah is a fresh spring roll in the Fujianese/Teochew style. Popiah is a soft, thin paper-like crepe or pancake prepared thin wrappers stuffed with bean sprouts, turnip, jicama, shredded carrots, and other fillings.
Making the wrapper requires the creation of a very wet and thick dough. A ball of this dough is held to the right hand, then swiftly "rubbed" on a hot steel plate in a circular pattern, and lifted. Through this method, a very thin coating of the wet dough sticks to the plate and starts to cook. Using the dough ball and a dabbing technique, the top portion of the crepe is normally cleansed of extra dough bits. When the batter has been fully cooked, it is pulled off of the hot steel plate before being taken. The rubbing is typically done over two or three plates at once, which allows the baker to continuously produce crepes and gives the proper time for each crepe to be properly cooked. The rubbing is often done over two or three plates simultaneously, which enables the baker to continually create crepes and offers the required time for each crepe to be thoroughly cooked.
The filling is typically grated and steamed, and the popiah is topped with a sweet-spicy bean sauce consisting of soy sauce and hoisin sauce, as well as an optional chilli paste. This is a nutritious snack because it is served fresh rather than fried.
---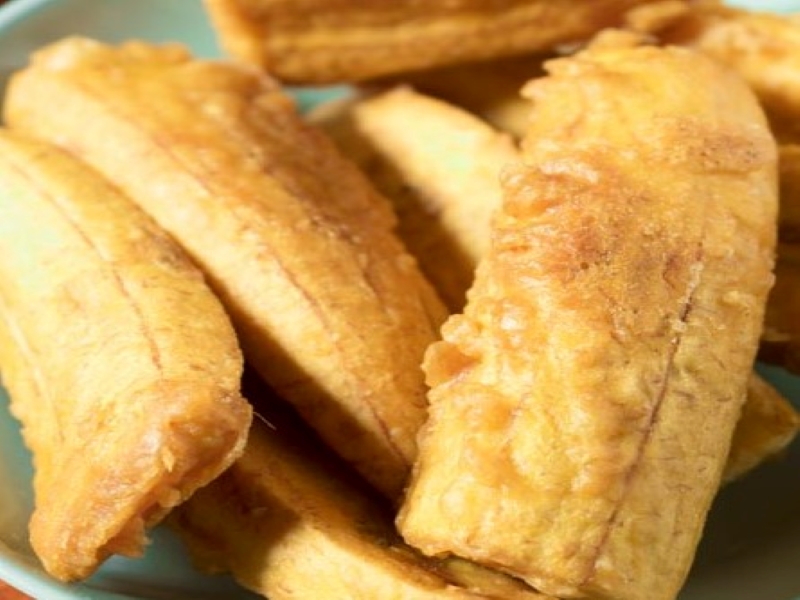 Goreng Pisang
A banana fritter is a fritter created by deep frying battered banana or plantain in hot oil. It is a common dish in Southeast Asia and the Indian subcontinent.
These hot deep-fried banana fritters are a popular snack dish. The finest goreng pisang vendors use pisang raja, which are small, sweet bananas. Vegetarian restaurants now sell finer dessert versions of goreng pisang, which may include vanilla ice cream, chocolate sauce, or cinnamon and icing sugar.