Craving for spicy Indian dishes? Have you ever wondered which dishes are the hotter ones from India? Aroma, flavor, and spice come naturally when it comes to Indian cuisine. There are hot dishes and then there are intensely or super hot dishes. Without the use of spices, Indian recipes are incomplete. Spices provide anti-inflammatory and digestive benefits in addition to their flavor.
A list of the spiciest Indian dishes are listed below. If you are interested in this topic, scroll down and continue reading.
Spiciest Indian Dishes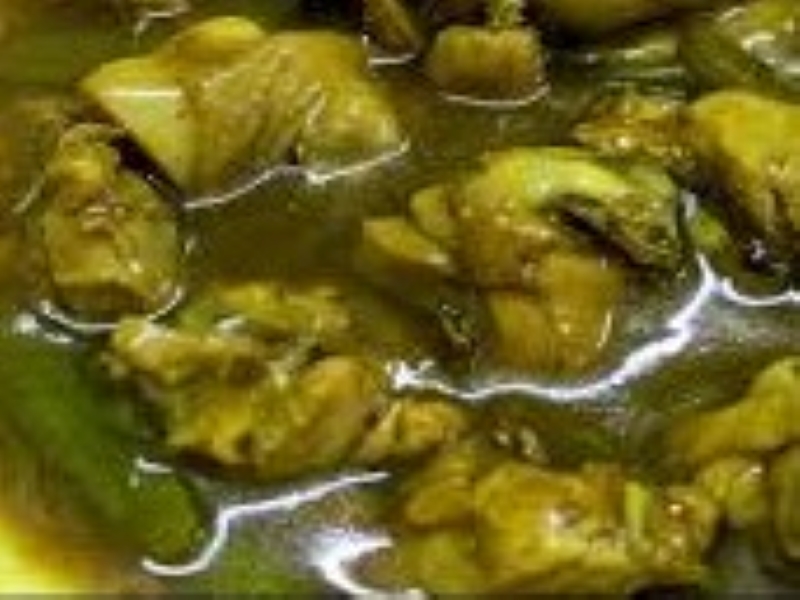 1. Andhra Chilli Chicken
Andhra Chilli Chicken is a spicy dish from the cuisine of Andhra Pradesh that is cooked using green chillies. This is definitely a spicy food. This boneless chicken dish is a terrific starter or side for their well-known biryani. The chicken is either deep-fried, stir-fried, or marinated. The massive amounts of green chilies used to spice up the flavor are what give it its spicy flavor and green color.
Chilies are not only used to flavor Andhra chilli chicken, but they are also one of the major elements in this recipe. Just one taste of this spicy food will leave you lightheaded from the spiciness.
---
2. Kozhi Curry
In Kerala, the Kozhi curry is among the spiciest and hottest chicken curries you will ever have. This spicy curry, which is made using green and red chilies with coconut as the foundation, is a treat for spice enthusiasts. To give the spicy chicken curry an equal amount of heat, the chilli powder chicken marinade is sautéed in oil and then tempered in coconut oil. You will undoubtedly sweat from eating this spicy Indian food.
---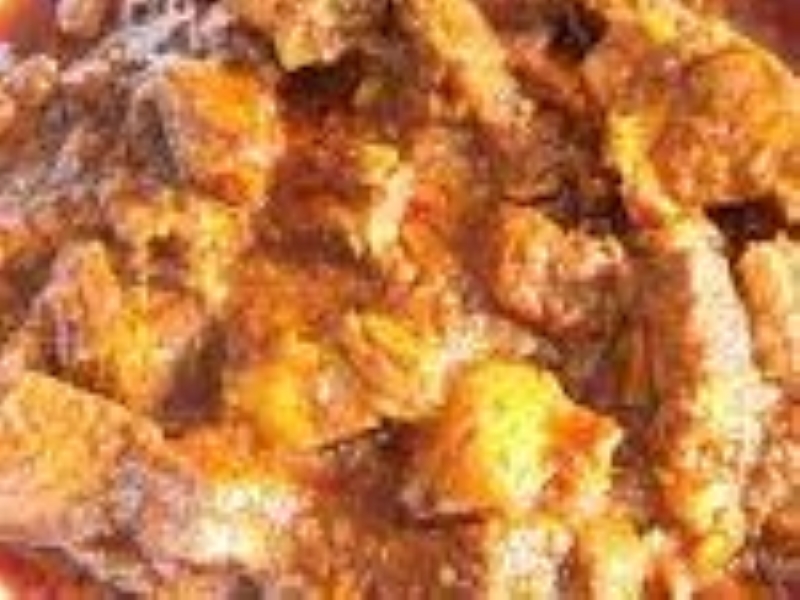 3. Pork Vindaloo
Based on the Portuguese dish carne de vinha d'alhos, vindaloo or vindalho is an Indian curry dish with origins in Goa. Pork vindaloo is widely known as a hot, spicy dish and is frequently seen on the menus of Indian restaurants and curry houses across the world in its British Indian form.
One of the spiciest and hottest meals you'll ever eat in Goa is pork vindaloo.
Traditionally, this dish is cooked with pork and heavily spiced with vinegar, meat, pork fat, jaggery, and Kashmiri chilies. Although pork is the primary ingredient in the classic recipe, it has also been made using beef, mutton, prawns, poultry, lamb, veggies, and tofu.
Outside of India, where it is almost always available on Indian restaurant menus, this spicy Indian cuisine has grown in popularity. By adding vinegar, potatoes, and chili peppers to the typical "medium spiciness" restaurant curry, vindaloo served in restaurants in the United Kingdom is not the same as the vindaloo dish as it is known in India.
Vindaloo is one of the spiciest dishes available on British Asian menus where it is served, although British Bangladeshi restaurants have innovated the tindaloo, which is a quite different dish that originated in Bangladesh. In the 1970s, Bangladeshi restaurants in Britain gave rise to the British variant. Vindaloo is considered a predecessor to phall.
---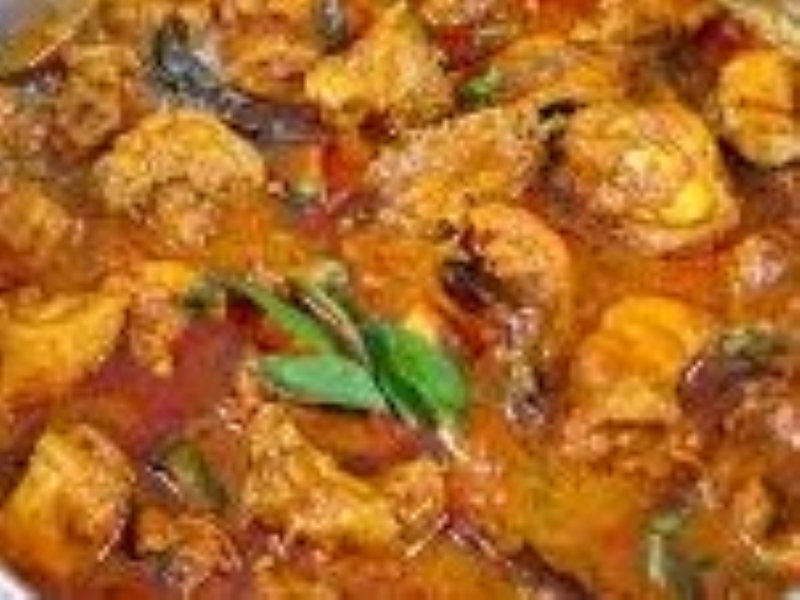 4. Chicken Chettinad
A traditional Indian dish from the Chettinad region of Tamil Nadu is chicken Chettinad or Chettinad. It is made out of chicken that has been marinated in yogurt, turmeric, and a paste that comprises red pepper flakes, garlic, kalpasi, coconut, poppy seeds, cumin seeds, coriander seeds, fennel seeds, black pepper, crushed almonds, onions, and gingelly oil. With boiling rice or paratha and garnished with coriander leaves, it is typically served hot.
This Chettinad delicacy is a favorite among locals and is likely to blow your taste buds away.
---
5. Saoji Chicken Curry
A another Indian spicy food is Saoji Chicken Curry. This spicy delicacy originates in Nagpur, one of India's hottest cities. It is believed that all varieties of chili powder and household spices are used to make this Nagpur specialty. Saoji Chicken Curry is a superb combination of the spiciest ingredients you can imagine.
---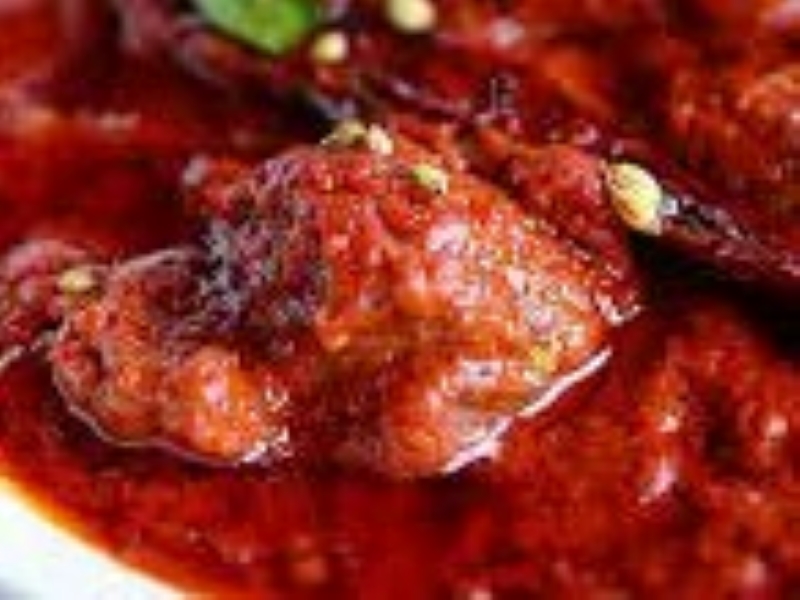 6. Laal Maans
This spicy Indian food literally means "red meat". A popular meat dish from Rajasthan, India, is laal maans. It is a spicy mutton dish made with fiery spices including red Mathania chilies and yogurt. This fiery mutton curry is commonly quite spicy and loaded with garlic. The gravy, which is typically consumed in the summer with wheat chapatis or bajra, a millet grown in Rajasthan and consumed in the winter season, can be either thick or liquid. Your taste buds can be burned out by the spices used in this delicious dish.
---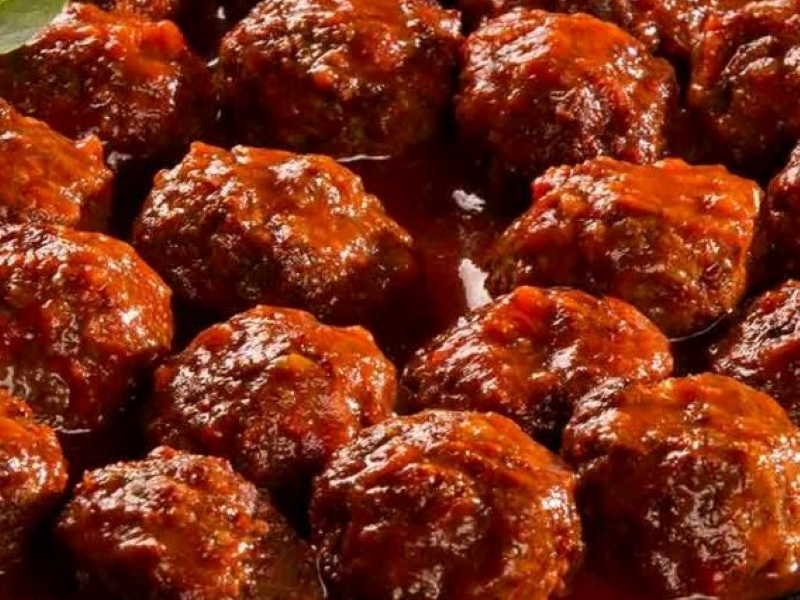 7. Rista
One of the spiciest dishes in India is Rista. This mouthwatering cuisine originates from Kashmir. Lamb flesh is used to make this fiery lamb meatball curry. Generous amounts of red chilli powder, ginger, tomato, garlic, and other spices give this gravy its spicy flavor. The cooking method, not the meatballs, is what makes it so hot. Rista is ready to be enjoyed with buttery naan or jeera rice. This recipe will undoubtedly warm both your spirit and your palate on a chilly winter day.
This dish's meat is first hammered using a unique wooden hammer inside of a log of wood, after which it is rolled into tender, juicy meatballs that are then added to the curry. This is a significant dish of the Kashmiri Wazwan.
---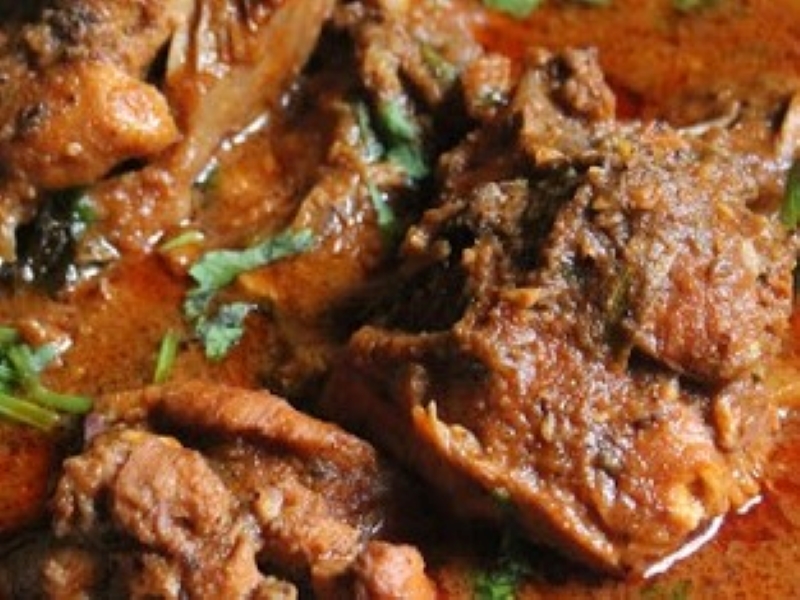 8. Kolhapuri Chicken
Kolhapur in Maharashtra is renowned for its spicy cuisine and skillful use of spices.
This chicken curry is a highly flavorful dish that strongly pronounces the tastes from the south-western region of India, Kolhapur. It is bold and spicy.
Dried red chillies, garlic paste, and cloves are used to marinade this hot dish. This mouthwatering non-vegetarian, spicy food is prepared to bring out the spiciness to perfection.
---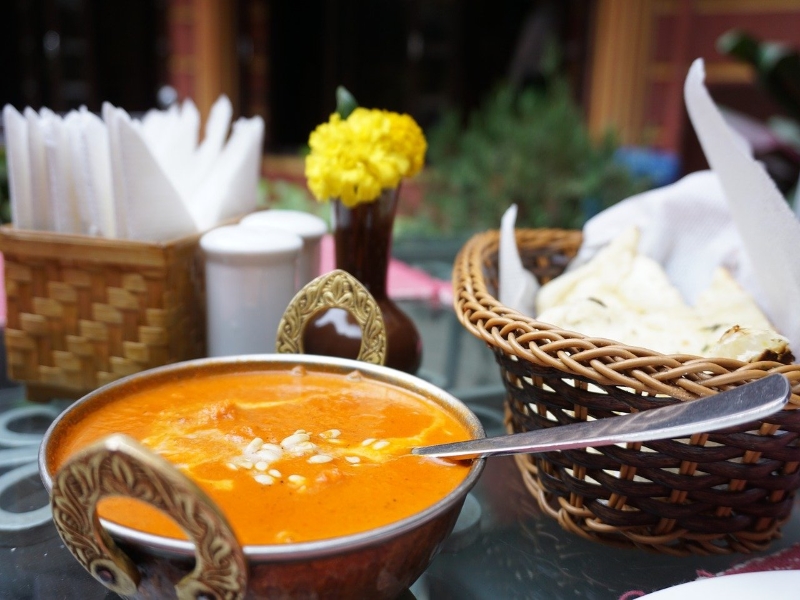 9. Phaal Curry
Phaal Curry is one of the hottest forms of curry regularly available, even hotter than the vindaloo, using many ground standard chilli peppers, or a hotter type of chilli such as scotch bonnet, habanero, or Carolina Reaper. This spicy Indian food can also be made using Bhut Jolokia, the hottest chilli in the world. Typically, the dish is a tomato-based thick curry and includes ginger and optionally fennel seeds. The distinction of being the spiciest curry in the entire world belongs to phaal curry. Every food enthusiast's "list of spicy Indian foods to try" includes phaal curry. Indeed, this is definitely the hottest curry.
---
10. Naga Pork Curry
Naga pork curry, a deliciously spicy dish, is another fiery Indian cuisine that made the list. The Bhut Jholokia chili, which is native to Nagaland and as mentioned above, the hottest chilli in the world, is used in this recipe. Pork, bamboo shoots, exotic spices, and of course Bhut Jholokia are used to make Naga Pork Curry. Although pork is used in this dish, you may also serve the curry using chicken or fish. The spicy cuisine lovers will enjoy the naga pork curry since it is bursting with flavors and spices.
---
11. Misal
The state of Maharashtra in Western India is home to the spicy food known as misal. The dish is traditionally consumed during breakfast, as a noon snack, or occasionally as a single dish dinner, frequently as a component of misal pav. It continues to be a popular snack since it is simple to make, uses inexpensive ingredients, and is nutritious. Misal has a variety of flavors, from mild to severely spicy. There are also many other types. Misal is another well-liked street snack. The food is consistently served hot.
The dish comes from the Western Maharashtra/Khandesh border. Maharashtra's Nasik and Ahmednagar districts as they exist now.
This Indian dish mostly made up of the spiciest dry red chillies, green chillies, and black pepper powder combinations.
---
12. Mirchi Ka Koota
Cooking green chillies, turmeric, and amchur powder with milk and a little sugar will produce this delicious delicacy known as Mirchi Ka Koota. Rest assured that the milk is not attempting to obstruct your experience with the spice. This spicy Indian meal, a classic Rajasthani dish, pairs well with puris and chapatis.
---
13. Madras Curry
Madras, a city in southern India, is where Madras curry is claimed to have its origins (now Chennai).
When you choose Madras curry, you will receive meatballs with a rich red sauce. Meat, garlic, turmeric, pepper, coriander, cumin, and a lot of chilies are the main ingredients in this dish. A frequent symptoms of overindulging in this spicy Indian food is a runny nose, watery eyes, and a sweaty face and body.
Madras curry, however, comes in a wide variety, and cooking in India is more of a home practice than a cuisine. You may make this dish either vegetarian or with meat. Local or readily available ingredients are essential to regional Indian cuisine. The characteristic flavors of Madras curries can be produced in a variety of ways, but they typically include red color, toasty spices, sour-sweet fruitiness from tamarind, a faint liquorice flavor from anise, ginger, a variety of other spices (such as sweet ,flavorful and earthy), and salty, sweet, and sour flavors. Chilies or a chili-paprika combination, as well as the orange color of turmeric, are used to create the red color. Lemons, limes, or vinegar can add more sourness.
The spices go well with the savory flavors, which might also include asafoetida, onion, or garlic. The spice combo could also include black peppercorns, coriander, and garam masala.
Fresh curry leaves and fresh coriander are other common used components.
---
14. Bhut Jolokia Curries and Chutneys
The hottest chilli in the world is the Bhut Jolokia, as was already stated. You must mentally and physically prepare yourself before starting to consume curries and chutneys cooked with these chilies because they will also likely somewhat affect your brain cells.
---
15. Spicy Aloo Sabji
A lot of vegetarians like a spicy, sour sabzi that is prepared with boiling aloo. Simple ingredients like coriander powder, lemon juice, turmeric, and chilli powder are used to prepare this spicy Indian dish, which is simple to prepare but can also easily burn your tongue a little.
---
16. Kashmiri Chicken
Another spicy dish, Kashmiri Chicken Curry, is delicious. However, there is a hint of sweetness in this.
---
How To Cook Kashmiri Chicken Curry
Ingredients
500 gm chicken
4 cup butter
2 tsp cumin seeds
2 tbsp green chilli sauce
1 1/2 tbsp garlic paste
3 tbsp oil, refined
1/4 cup raisins
1 1/2 tbsp ginger paste
2 large chopped tomato
1 1/2 cup hung curd
2 cup coconut milk
4 tbsp meat masala
2 cup coriander leaves
water
10 leaves curry leaves
2 tsp black mustard seeds
1 tsp mustard seeds
2 red chili, dry
Instructions
You should marinate the chicken first. Begin by combining raisins and meat masala in a grinder jar and process until a fine mixture forms. The marinade is then made by combining chopped tomatoes, hanging curd, salt, and raisin paste with ginger and garlic paste. The ingredients should be thoroughly combined. Marinade the chicken pieces for an hour.
Then, cook the marinated chicken once. Heat oil in a deep-bottomed, non-stick pan over medium heat. Add the marinated chicken pieces to the pan after the oil is heated enough, and cook for 2 to 5 minutes. After that, add salt and green chili sauce along with enough water to make the curry the required consistency. Cook the chicken until it is soft and tender, stirring to thoroughly combine all the ingredients.
Add coconut milk to the pan when the chicken has has been cooked,  then continue to cook the chicken for another 5 minutes or so. Prepare the tempering right away. Take a different pan and heat one tablespoon of oil in it for the same. Add the mustard seeds, curry leaves, black mustard seeds, and dried red chilies after the oil is heated enough. Pour the cooked tempering over the cooked chicken.
Serve warm and  with steamed rice or paratha as desired.
Conclusion
Knowing which Indian dishes are the spiciest has given you an idea of the kind of spicy cuisine is ideal for you. Whatever you decide will unquestionably satisfy your craving for Indian food. Thank you for reading this post.