Sauces are an important part of many cuisines around the world. Indian condiments are a must-have ingredient in any Indian cuisine. Sauces are suitable for both sweet and spicy foods.
Sauces such as tomato-based sauces with various types of spice combinations, like tamarind sauce, coconut milk/paste-based sauces, and chutneys are used in Indian cuisines. Although Indian cuisine has many regional variants, many sauces and gravies employ a seasoned mixture of ginger, finely chopped onions, and garlic paste as the base. In Indian sauces, various cooking oils, ghee, and/or cream are also common ingredients.
Today, we are going to talk about the most popular Indian sauces. If you want to learn more about these delicious types of Indian sauces, scroll down and continue reading.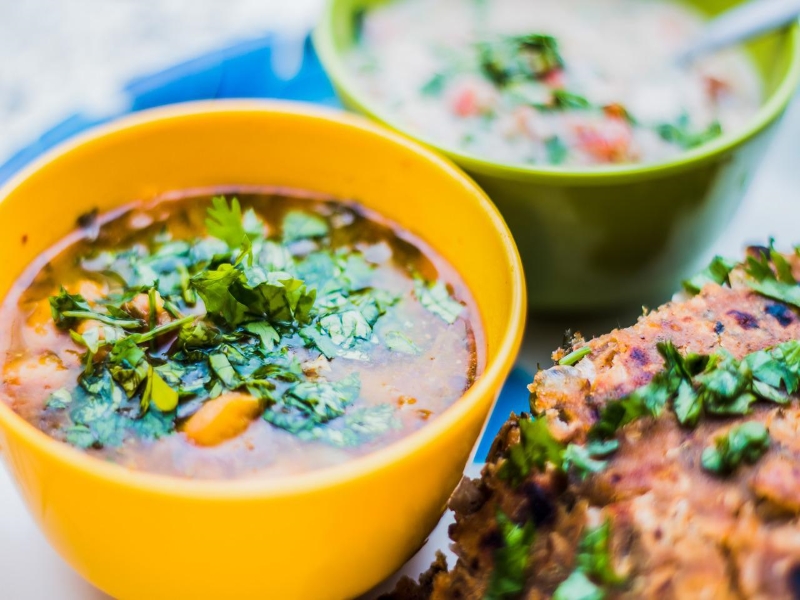 Indian Sauces
Chutney
A chutney is a type of spread common in Indian food. Tomato relish, yogurt or curd, ground peanut garnish, spicy coconut chutney, cucumber, spicy onion, or mint dipping sauce are just a few examples of chutneys.
The name chutney comes from the Hindi word chaṭnī, which means to lick or to eat with appetite. In India, the term chutney is used interchangeably to describe both fresh and pickled foods, but the word is only used for fresh foods in a few Indian languages. A different name, achaar, refers to sour/spicy pickles that are rarely sweet and often contain oil.
Chutneys in India can be prepared with pickles that have matured in the sun for up to two weeks and stored for up to a year, or they can be made fresh from fresh ingredients and stored in the fridge for a couple of days or a week.
A mortar and pestle or an ammikkal can be used to grind chutneys (Tamil). Spices are added and pounded in a specific order, and the produced wet paste is sautéed in vegetable oil, most generally gingelly/sesame or peanut oil. To save time, electric blenders or food processors can be employed.
Fenugreek, coriander seeds, cumin, and asafoetida are all common spices used in making chutneys.
Chutneys are the Indian cuisine's flavor enhancers. They can be sweet or spicy, chunky or creamy sauce, and they usually contain a mix of fruits, herbs, and vegetables.
Varieties Of Chutney
Mint Chutney
Also known as Hari or green chutney. The most common Indian chutney is mint chutney, which can be prepared in a variety of ways.
Green mint is a little granular, spicy, green combination that is generally paired with chaat, and Indian snack, and other deep-fried Indian snacks, such as samosas, to add heat and freshness.
Imli Chutney or Tamarind Chutney
Many chutneys include tamarind to to provide a lovely fruity zest. This is a basic chutney that is best made with a tamarind block that has been rehydrated to extract the acidic flavor. This chutney is generally served with chaat or as a dip for nibbles.
This type of chutney is tangy, sweet, smooth, and reddish brown, and it's the kind of chutney that people either love or dislike because of the sour yet very sweet flavor sensation that comes with eating tamarind. It is also best paired with chaat.
Beetroot Chutney
Beetroot chutney is a bright and colorful way to use beetroot. It has a fantastic crunch from the roasted urid lentils, as well as warmth from the cumin and ginger.
Timater (Tomato) Chutney
This tomato based sauce is spicy, tangy chutney matches well with breakfast Indian food, like as idli, dosa, vada, and paniyaram.
This tomato chutney is simple to make and requires only a few supplies that you will always have on hand. Aside from the tomatoes, a small amount of onion is added to provide flavor.
This spicy tomato chutney is a must-try. Reduce the number of green and red chilies used to obtain a mildly spiced tomato chutney. The seeds of dried chilies should always be discarded because they lower the spicy intensity.
Coconut Chutney
This is a basic coconut chutney that is popular in South India. The key components are coconut, roasted chana dal, green chile, and curry leaves.
It has a paste-like white appearance and a mild, moderately bitter taste. It tastes well with almost any South Indian food, such as vada, dosa, and the like, but especially idli.
Peanut Chutney
Peanut chutney is a creamy, delectable South Indian chutney that pairs well with idli, dosa, vada, and other morning items.
---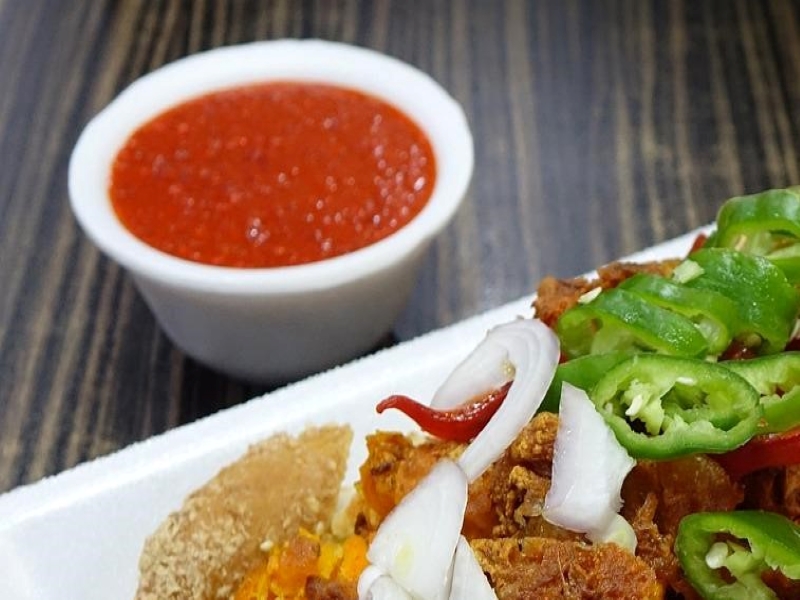 Achaar
Achaar is an Indian pickled dish produced from a range of vegetables and fruits preserved in brine, vinegar, or edible oils with various Indian spices.
Fruits like mango and plums, as well as vegetables and meat, are the key ingredients. Chili powder, oil, spices, fennel seeds, mustard seeds, and fenugreek are also recommended.
The spices are typically cooked in oil, but they can also be cooked in an acidic substance like lemon juice or vinegar before being added to the pickling ingredient.
Varieties Of Achaar
Amb Ka Achaar Or Green Mango Pickle
Unripe or young, small green mangoes are preserved in oil and spices for this dish. Carrots and chilies are examples of other veggies that can also be used.
Pachranga Achaar
Pachranga Achaar is a mixed pickle made with mango, lotus root, turnip, carrot, red chillies, cumin, and ginger. It has a sweet, earthy, spicy, and tangy flavor. It goes well with any Indian food. It is commonly found in South Asian grocery stores and several Indian restaurants.
Nimbu Ka Achaar or Lime Pickle
The limes can be preserved in oil or in their own juices to make this sour and spicy pickle. The peel softens and absorbs the spices, producing a flavorful and tactile experience.
It's impossible not to like this because it's Indian food's counterpart to sweet and sour sauce. Nimbu Ka Achaar, which goes well with any rice meal, has a lot of sweetness, which is balanced off with chiles, ginger, and mustard seed.
Carrot And Chilli Pickle Achaar
This is more like a fresh pickle that gives your curry a nice crunch. It's fresh and citrusy, but it only lasts a couple of days as opposed to the oil-based pickles above.
---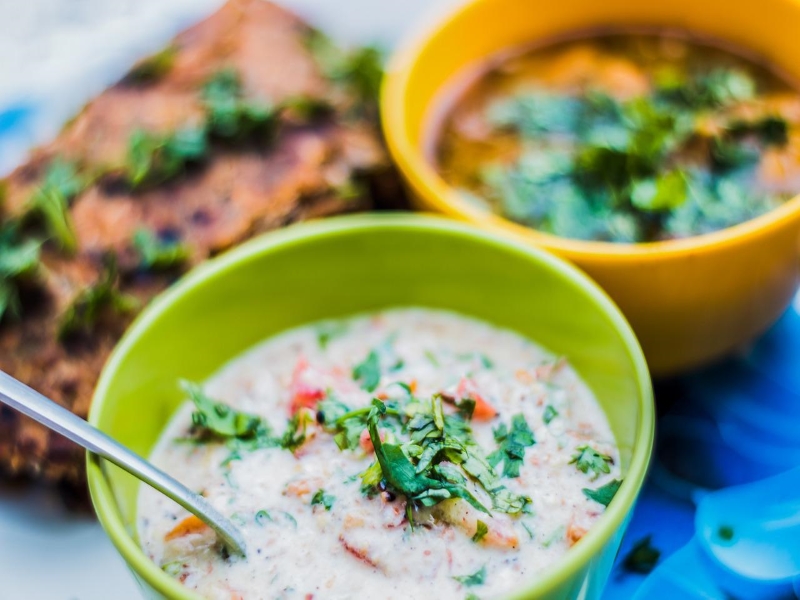 Raita
Raita is a sort of Indian condiment made from dahi or yogurt, also known as curd, and raw or cooked veggies, sometimes fruit, or, in the case of boondi raita, fried droplets of batter prepared from besan (chickpea flour, typically known as Gram Flour).
In western cuisine, the nearest equivalent is a side dish or dip, or a prepared salad. It's usually termed as a condiment, but unlike typical western condiments like salt, pepper, mustard, and horseradish, which make foods spicier, dahi or raita has a cooling impact that contrasts with the fiery curries and kebabs that are common in Asian cuisines. Some types of flatbread are served with raita, chutneys, and pickles in Indian cuisine.
Ground coriander, roasted cumin seeds, mint, cayenne pepper, chaat masala, and other herbs and few spices, such as green chillies can be added to the yogurt.
Varieties Of Raita
Kheera Raita Or Cucumber Raita
Cucumber Raita is a raita variety that can be prepared as a salad or a dip. It is produced by combining finely sliced cucumber, green chilies, and dahi (yogurt), as well as finely chopped tomato and onion if desired.
It is particularly common during the warmer months because it helps to cool off.
Cucumber adds to the yoghurt's cooling effects. This is a delicious side dish, especially if you don't like spicy curries. Mint is occasionally used, and the cucumber might be finely diced or grated.
In Indian cuisine, it is frequently served as a side dish to accompany the main entrée.
Boondi Raita
Boondi are little fried gram flour balls that are soaked in milk before being put to yoghurt. The boondi balls are available in most Indian supermarkets. A little cumin and chili powder are usually added as well, which brings a lot of flavor.
Palak Raita or Spinach Raita
The color is due to the cooked spinach, and the flavor comes from a combination of fried cumin seeds, mustard seeds, and asafetida. The incredible mixture of flavors is a must-try.
---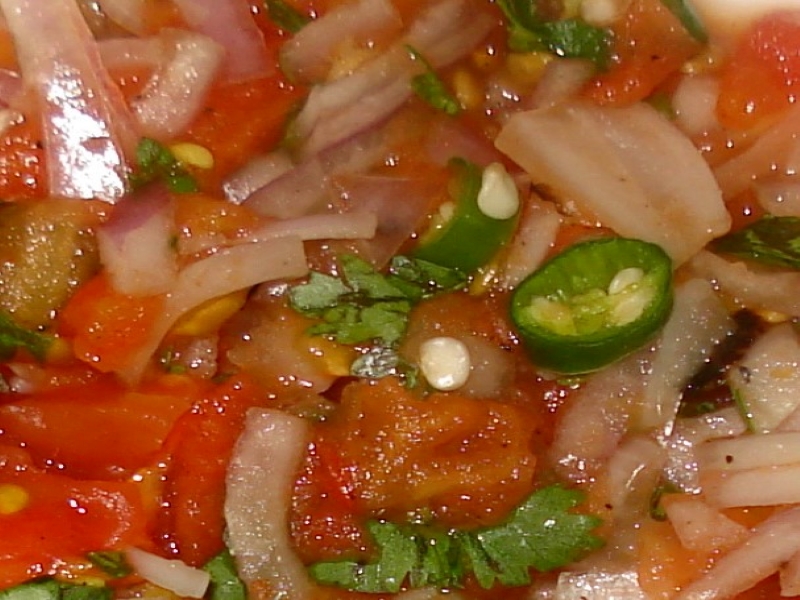 Kachumber
Kachumber, also known as cachumber, is an Indian salad made of fresh diced tomatoes, cucumbers, lemon juice, onions, and occasionally chili peppers. Many other Mediterranean and Middle Eastern salads with the same components are comparable to this one.
Varieties Of Kachumber
Tomato Kachumber
The most typical kachumber salad is Tomato Kachumber. It is made of using finely chopped cucumber, tomatoes, onions, and coriander to create a beautiful collage.
Mango Kachumber
The sweetness of the mango combined with the heat of the chilli provides a sensual treat that's ideal for summer barbeques.
---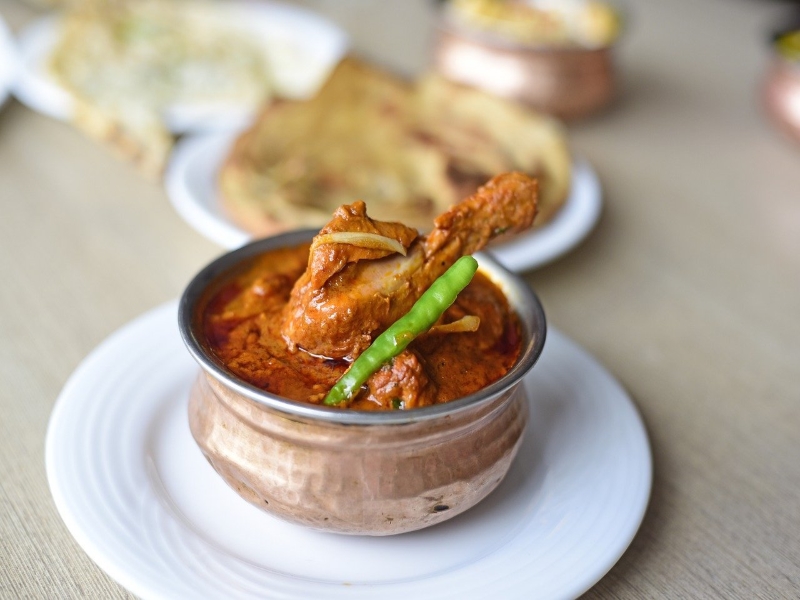 Few Indian Curries With Indian Sauces
Chicken Tikka Masala
One of the most popular and frequently available Indian dishes is chicken tikka masala.
A spicy curry sauce with roasted marinated chicken chunks is one of the most popular Tikka Masala dishes. The spiced curry is orange in color and creamy.
Kashmir Curry
Kashmiri cuisine is a fusion of Mughal, Kashmiri Pandit, and Muslim cooking cultures. Chicken, garam masala, and dried fruits are basic ingredients in Kashmiri curry. It is a mildly spicy curry with a lot of flavor and a creamy consistency.
Dahi Wala
The chicken in Dahi Wala curry is marinated in yoghurt for at least two hours. It is then cooked with tomatoes and spices. For chicken enthusiasts, Dahi Wala is a nutritious and refreshing alternative. The yoghurt not only gives the dish a creamy touch, but it also improves the flavor. Butter chicken is comparable to Dahi Wala.
Jalfrezi
Jalfrezi is a spicy food that has meat, fish, paneer or vegetables, stir-fried and served in a thick spicy sauce with green chilli peppers.
Balti Curry
Balti curries are made quickly over high heat in the style of a stir-fry, with vegetable oil instead of ghee, and any meat off the bone. A classic one-pot Indian curry, which is cooked steadily all day, is very different from this mixture. Balti sauce is made with garlic and onions, as well as turmeric and garam masala.
Mughlai Curry
This mild curry is rich, creamy, and spiced, with a lot of nuts, cream, spices, and aroma. Mughlai curry is a milder version of other Indian curries that is typically served on special events.
Bombay Curry
Because it is typically made with chicken, this curry is usually referred to as Bombay chicken curry. It's a mild chicken stock created with the whole chicken. The bones and skin are removed after the meat has been prepared. The spices, desiccated coconut, and vinegar are then added.
Madras Curry
Madras curry, often known as Madras sauce, is a red curry sauce with a lot of chilli powder. Raita is frequently served as a side dish to the entrée.
Bhuna Curry
A Bhuna curry is prepared by frying onions and tomatoes in a large quantity of oil until the oil starts to leave the pan's sides. The meat is then added and simmer in its own juices. The technique to a fragrant and finger-licking delicious Bhuna is to leave out the water, and let the spices and onion provide all of the flavor. This is a dry curry with a lot of rich, spicy flavors.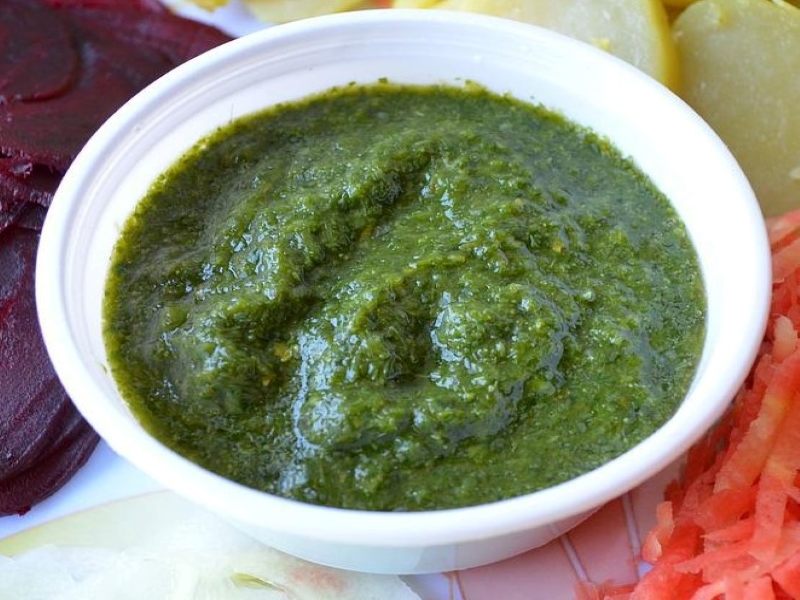 How To Make Mint Chutney
Ingredients
Fresh mint leaves
Lemon juice
Cilantro
Green chilies
Chaat masala
Instructions
Remove the mint leaves off the stems and discard them. Allow the leaves to soak for 5-10 minutes in a basin of water, allowing the dirt to settle at the bottom. Then gently remove the leaves, remove the excess water, and place them in the blender jar.
Keep the stems of the cilantro. However, around 12 inch or more of unclean end stems should be trimmed and discarded. Then, soak for 5-10 minutes in water, then remove and place on the blender.
Next, ingredients such as sugar, salt, ginger, green chilies, lemon juice, chaat masala should be added to the blender jar.
Blend till everything is smooth. Transfer it to a dish and serve.
Conclusion
With that said, these popular traditional sauces are undoubtedly perfect to any meal. These Indian sauces satisfy your taste buds and enhance the flavor of your dishes. They are all flavoful, and they're even better when shared with family and friends. Thank you for reading this post.