In Laos, its staple food is sticky rice or also known as Khao Niaw. Dishes in Laos is similar to dishes in Thailand and in Vietnam in relation to the flavor and the ingredients used in Laotian cooking. In every Laotian meal, there should always be soup that is made from different varieties of vegetables and meat. Food is definitely the most important activity in Laotian's everyday living. Meat dishes are also popular in Laos, that is why in this post we have gathered some of the most popular Laotian meat dishes available.
Popular Laos Meat Dishes
As mentioned, Sticky rice or Khao Niao (Niaw) is the staple food in Laos, where Khao means rice and Niao means sticky. As a matter of fact, Laotians are considered to be the most sticky rice everywhere in the world. Therefore, with any meat dishes or any other dishes made from Lao cuisine sticky rice always accompanies the dish.
Lao Meal typically consists of sticky rice, Larb and Tam Mak Hoong. Larb is considered to be a famous dish in Laos. It is a mixture (often spicy) of meat and fish that has been marinated using different varieties of herbs and spices. While Tam Mak Hoong refers to the spicy green papaya salad.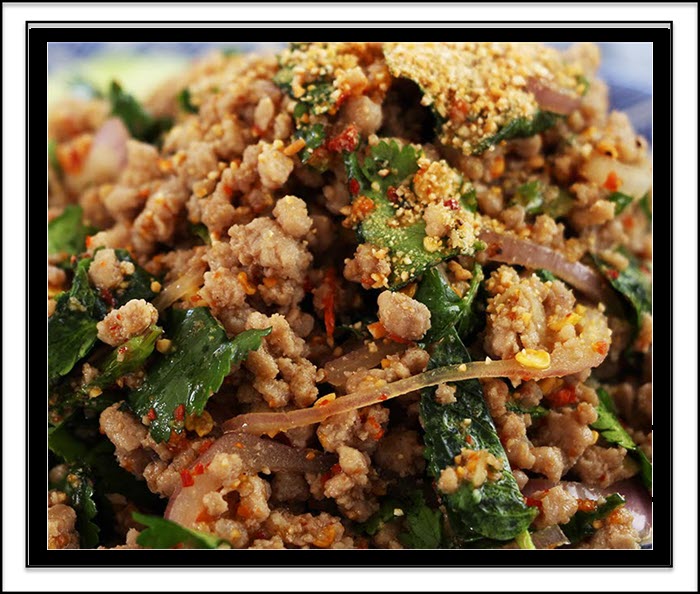 Larb (Minced Meat Salad)
Larb or also called Laab and sometimes called as Laap (English word) is considered to be the national dish in Laos. It is a type of minced meat salad.
There are different Larb or Laap variations that is made from different meats such as beef, chicken, duck, chicken, fish and pork.
The term Laap used in this dish simply refers to the meat that was prepared after its was butchered, therefore considered to be fresh. Though these are often eaten raw. But, there the Laap meat that can also be fried, but mostly eaten raw. If you want the fried version or the raw version, you can simply ask the chef according to your cooking preferences. Fish sauce will then be added to the meat along with fresh herbs such as cilantro, Laos mint, chili, garlic and green onions. Lime juice and sticky rice powder should never be forgotten, this will definitely highlight the Larbs signature taste and flavor.
---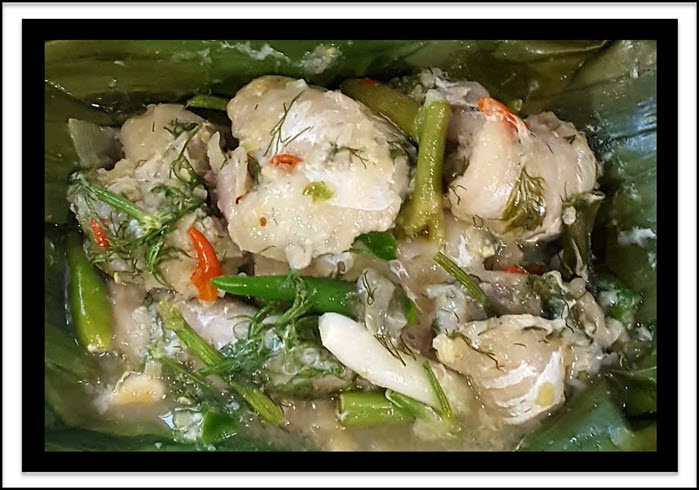 Mok Pa (Steamed Fish)
Mok Pa is a steamed fish is a banana leaf wrap or sometimes in Taro leaves. It is typically tied using bamboo strings.
To make Mok Pa, ingredients such as kaffir leaves, green onions, lemongrass, fish sauce, green chilis, and shrimp paste are mixed together with the steamed fish.
In steaming banana leaves, the wrapped fish should be placed on a steamer basket. Once porous, it will then penetrate the dish.
Steamed fish is best paired with Laos Staple food which is the sticky rice.
---
Khao Jii Pate (Baguette Pate)
Khao Jii Pate is a Laotian comfort food. A baguette sandwich that is commonly found in the streets of Laos. It is also referred to as a French bread because of its influence from French.
This Baguette based sandwich is similar to Vietnamese Banh Mi, a staple food in Vietnam that is think, crispy and soft.
In preparing this Lao Food, it is split lengthwise and is then filled with ingredients such as thick layers of pork liver pate, either pork or lao sausage, grated carrots, papaya, onions, cucumbers and cilantro. Most of the time, chili sauce or what is known as Jeow Bong (Lao Chili paste).
Baguette Pate is often served during breakfast or lunch and considered to be an easy-to-go Lao foods.
---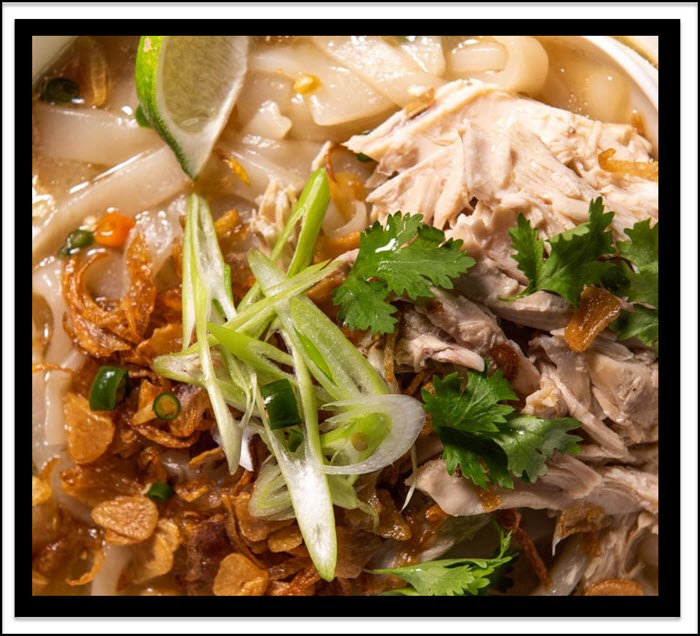 Khao Piak Sen (Rice Noodles)
Khao Piak Sen is a rice noodle soup in Lao. It is similar to Udon, in terms of its consistency but with Khao Piak Sen it is made of rice instead of wheat (Udon).
Another Lao comfort food that is often sold on the streets. Khao Piak Sen is made with either pork or chicken meat. Additional ingredients includes galangal, garlic, shallots, coriander leaves (chopped), bean sprouts and lime fruit.
Rice noodle dishes usually takes some time to make the broth for this noodle soup. Also, you can add sugar, chili powder, fish sauce, chili sauce and or soy sauce according to one's preferences.
---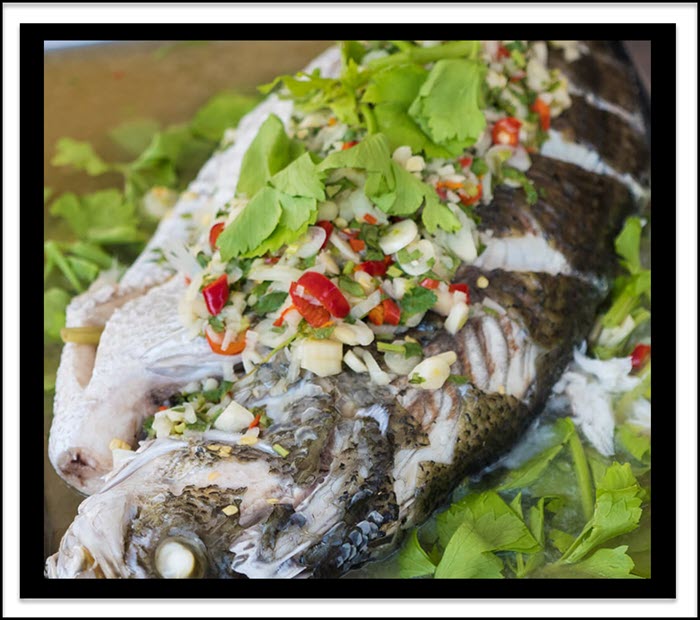 Pa Mak Niao (Steamed fish with Sour sauce)
Pa Mak Niao is another steamed fish popular in Lao. It is made with fresh water fish mixed with citrus.
In making Pa Mak Niao, the vegetables, rice and the fish are steamed in a bamboo baskets. A staple food in Lao that you must try when visiting Lao.
---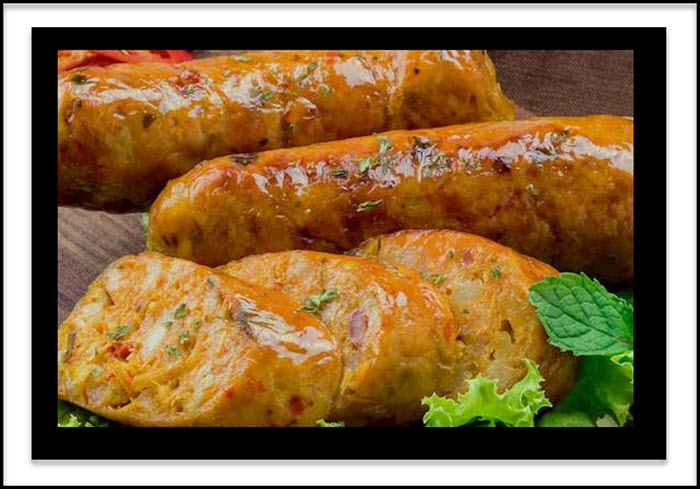 Sai Uah (Lao Sausage)
Sai Uah, Sai Oua or Sai Gok is a flavorful dish in Laos. These are grilled pork sausage that is filled with spices and herbs.
These Lao sausage is made from mixtures of skin, pork belly and mince meat. Other ingredients are also added such as green onions (chopped), Galangal (diced), Kaffir lime leaves, lemongrass, cilantro leaves, dill and of course fresh chili peppers.
There are different varieties of these sausages that varies with Lao regions (north to south). In the north, from the Luang Prabang Laos is wheresausages are popular. There are two types of Lao sausages, one that is made from using chopped fatty pork and another one that is made using pig's blood that is mixed with pork.
Another variety is the sour sausage wherein sticky rice is added to the mixture though it usually takes a few days before it becomes sour. Another variety called Sai Oua Krouaille which is a black spicy buffalo sausage generally found in Luang Prabang Laos.
---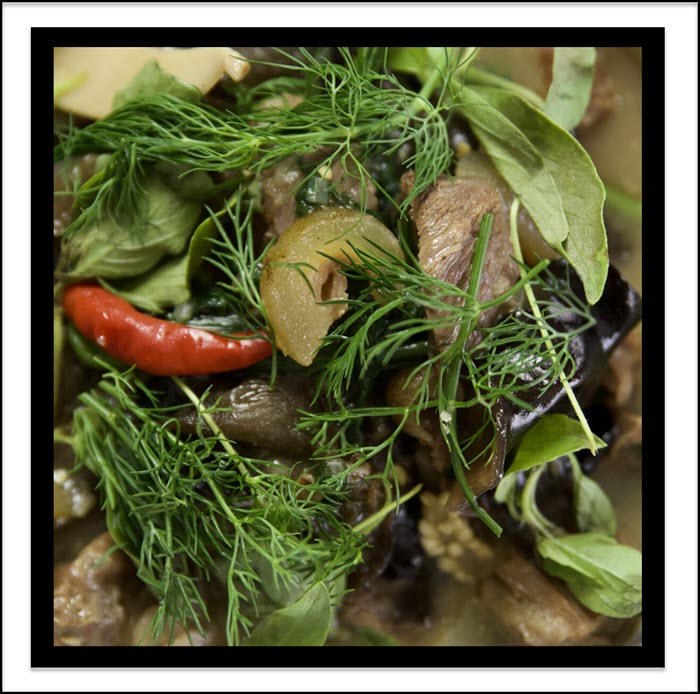 Or Lam (Lao Stew)
Or Lam is a traditional Lao Stew from Luang Prabang. It is characterized as a mild spicy stew.
Or Lam or pronounced as Aw Lalm is usually prepared using animal fat. The is made from beans, eggplant, chilies, basil, wood ear mushrooms, cilantro and green onions. Although a distinctive ingredient with Or Lam is the chili wood called Sakkhan that ideally gives that pepper taste of the stew.
Different varieties of meat is used to make Lao Stew and that includes either dried buffalo skin, chicken and beef.
---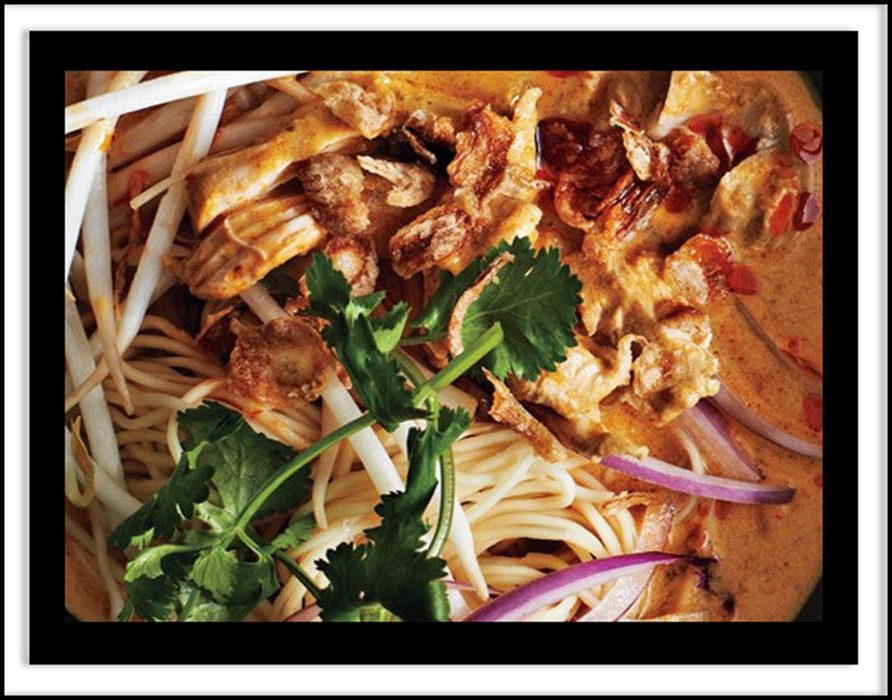 Khao Soi
Khao Soi or Khao Soy is a dish that is made from steamed rectangular sheets of rice flour batter. Typically, the steamed rice flour sheets are rolled and then sliced to make rice noodles.
Although this dish is also served in Thailand, the only differs between Lao and Thailand version is that in Lao coconut milk is not used.
The minced pork used in preparing Khao Soi is often slow cooked for a few hours.
---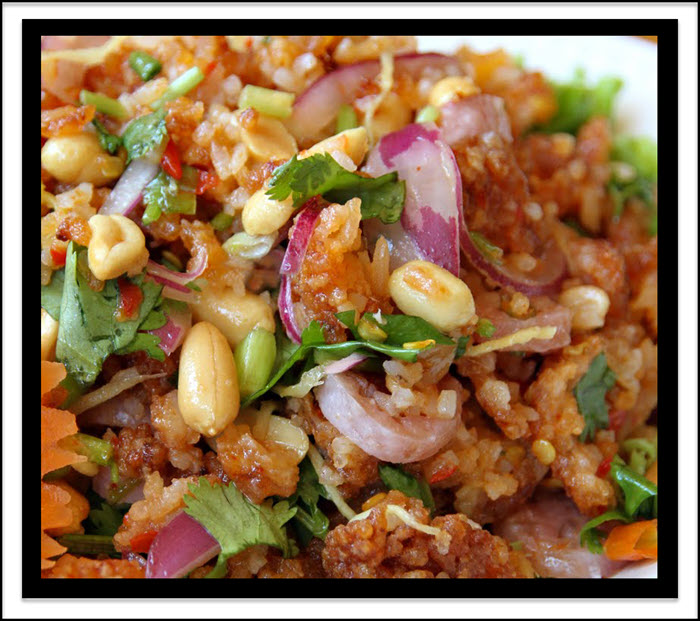 Nam Khao Tod (Crispy Rice Salad)
Nam Khao Tod is one of Laos traditional dishes, but also a popular dish in Northern Thailand.
It is actually a salad that is made from deep fried rice balls. Chunks of pork sausages (sour) are also added along with peanuts and grate coconut. Other ingredients includes fish sauce, and dried chili peppers.
A traditional way of eating Nam Khao Tod as a lettuce wrap. The wrap is usually filled with mixtures of the ingredients in making Nam Khao Tod then to wrap it up topped with dried chilis and herbs.
---
Pa Ping Thop (Grilled stuffed chili river fish)
Pa Ping Thop or Pa Ping Top is a delicious and healthy dish that is made from using fresh herbs and spices that are stuffed into the fresh fish. After stuffing the fresh fish, it is then grilled.
The fresh fish is sliced lengthwise then filled with mixture of stuffing that includes ginger, garlic, shallot, lemongrass and red chili. These stuffing are usually blended using mortar and pestle. Additional stuffing includes spring onions and coriander leaves.
Best served with vegetables that are boiled and of course, with green chili sauce as dipping sauce.
---
Mok Gai (Steamed Chicken)
Mok Gai is a Lao food that is made using chicken wrapped in banana leaves. Aside from the chicken, ingredients such as lemongrass, garlic, lime leaf, dill, shallot, spring onions and red chili are added to the banana leaves.
Once mixture is wrapped in banana leaves it is then steamed. The steaming process usually takes about 30 minutes.
---
FAQs
What is a traditional dish in Laos?
The traditional dish is Laos is what they call as Laap or sometimes called Larb. The minced meat salad can either be eaten cooked or raw. Different type of meat are used such as beef, pork and even fish in Citrus.
What is Laotians food flavor preference?
Lao usually cook their food with dill and mint, and would prefer to use fresh greens. Laotians do not usually like foods that are sweet but rather loves foods that have a bitter taste and often with flavors of herbs on Lao meals.
Conclusion
The most popular meat dishes in Laos is mentioned in this post. The lists includes various dishes that you must try when you are visiting Lao. The foods are incredibly delicious that you don't want to miss.
From the meat dishes mentioned, which ones have you tried and which one is your favorite? Let us know what you think.