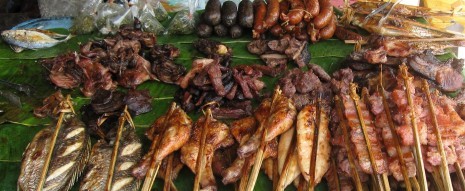 Meat recipes from Laos included;
Aioan Chua Noeung Phset Kretni (Stir Fried Chicken With Mushrooms)
Serves. 4-6
Ingredients
6 dried Chinese mushrooms
1 small roasting chicken
4 cloves garlic, crushed
l/2 teaspoon finely grated fresh ginger
2 tablespoons oil
1 cup water
2 teaspoons sugar
2 tablespoons chopped fresh coriander leaves
Directions
Soak mushrooms in hot water for 30 minutes. Squeeze dry, cut off and discard stems, cut caps into quarters if they are large. Cut chicken into small pieces with cleaver, chopping through bones as well. Fry garlic and ginger in the hot lard or oil for a few seconds, then add chicken and stir fry until colour changes. Add mushrooms, water and sugar, cover and simmer until chicken is cooked. Sprinkle with chopped coriander and serve with rice.
Kai Lao – Laotian Chicken
Serves. 6
Ingredients
1 x 1.5 kg (3 lb) roasting chicken
11/2 teaspoons salt
2 cloves garlic, crushed
1 tablespoon oil
2 medium onions, finely chopped
250 g (8 oz) mince meat
1/2 teaspoon salt
1/2 teaspoon ground black pepper
1 fresh red chili, finely chopped
1 tablespoon chopped fresh coriander leaf
l/2 cup uncooked rice
1 cup thick coconut milk
2 cups thin coconut milk
Directions
Wash and dry chicken well, then rub it inside and out with salt and half the crushed garlic. Heat oil in frying pan, fry remaining garlic and onions with the mince meat. Season with salt, pepper and chili. When meat has been fried well. add coriander powder, rice and thick coconut milk. Bring to simmering point, then reduce heat,cool mushrooms.
Chop the onion finely. Put the oil in saucepan large enough to hold the amount of liquid. Add onion and fry gently for 5 minutes, stirring frequently. Add mushrooms, coriander and cummin and continue to stir for a few minutes. Add salt and pepper, then cover saucepan, turn heat very low and allow to cook for 10 minutes, lifting lid and stirring two or three times.
Add hot water and stock cubes and bring to the boil. Simmer I0 minutes. Add milk and allow to come to the boil once more, stirring occasionally. Mix cornflour with cold water and add to the soup off the heat, then return to heat and stir constantly until it boils and thickens. Serve immediately, sprinkled with coriander leaves.
Sousi Pa Fish With Coconut Cream
Serves. 4
Ingredients
500 g (1 lb) fish fillets
2 large dried chilies 1
5 cloves garlic
3 tender lemon leaves
1 slice fresh laos or l teaspoon laos powder ***
2 stalks lemon grass, finely sliced,
or 2 strips lemon rind
1 cup thick coconut milk
3 cups thin coconut milk
1 tablespoon fish sauce
2 tablespoons chopped roasted peanuts
springs of fresh basil
5 or 6 small dried chilies
oil for frying
Directions
Wash fillets and cut into serving pieces. Remove stalks and seeds from large dried chilies and soak in hot water for 10 minutes. With mortar and pestle poundthe chilies garlic, lemon leaves, laos, lemon grass or lemon rind to a paste. (An electric blender can be used, but it may be necessary to add a tablespoon or so of thick coconut milk to facilitate blending to a paste.) Heat the thick coconut milk in a saucepan until you see the oil floating on top.This takes about 10.15 minutes on low heat. Add pounded or blended mixture and fry until cooked, stirring constantly. Add pieces of fish and turn them in themixture, then add thin coconut milk and fish sauce and simmer for 10 minutes. Add peanuts just before end of cooking. Serve garnished with basil and small whole dried chilies that have been fried for a few seconds in hot oil. 
***Laos is a form of ginger. Other names for it are galangal, Java root, galingale, or lengkuas. If you can't find it, use 5 ml of powdered ginger mixed with 1 ml of powdered cin- namon.
Steamed Fish With Young Ginger
Serves. 3-4
Ingredients
750 g ( l 1/2 lb) fresh fish fillets or steaks
about 125 g (4 oz.) fresh young ginger root
juice of l lemon
2 tablespoons peanut oil
1 tablespoon sesame oil
6 cloves garlic, finely sliced
3 tablespoons sesame seeds
2 tablespoons soy sauce
banana leaves or aluminium foil
Directions
Wash and scale fish. Scrape skin off ginger and slice very thinly, then cut slices into very fine slivers (almost threads). Marinate ginger in strained lemon juice while preparing remaining Ingredients.
Heat oils in a small pan and fry sliced garlic slowly, taking care not to let it burn. Slices should be pale golden. Pour oil and garlic over the ginger. In same pan dry fry the sesame seeds until golden brown. Add to ginger/garlic mixture. Add soy and mix well then sprinkle over fish fillets and steam in individual leaf or foii packages for 15 minutes.
Stuffed Chicken with Nutty Cinnamon Rice
Serving Size : 4
Ingredients
2 tsp oil
2 cloves garlic — crushed
1 onion — finely chopped
1 tsp fennel seed
1/2 tsp chili pepper — crushed
1/2 tsp ground cinnamon
8 ozs ground pork
2 tbl peanuts, oil-roasted — finely chopped
2 tbl long-grain rice — uncooked
3/4 c coconut cream
1 tbl fresh mint — chopped
2 chickens
1 2/3 cu coconut cream
2 c water
2 tsps fish sauce
1 tsp curry powder
2 red chiles — chopped
peanuts — chopped (extra)
Directions
Heat the oil in a wok or a frying pan, add the garlic, onion, fennel seeds, chili and cinnamon stir fry until aromatic. Add the ground pork, stir fry until the pork has changed colour. Stir in the peanuts and rice, stir until combined. Add the coconut cream, bring to the boil, cover, reduce heat to low, cook for 10 minutes, remove the lid and stir in the mint; cool.
Spoon this stuffing mixture into the cavities of the chickens, forcing any remaining stuffing under the skin around the necks. Sew the cavity openings or secure with toothpicks. Secure the legs with kitchen string and tuck the wings behind the backs. 
Combine the extra coconut cream, water, fish sauce and curry powder in saucepan large enough to just fit both chickens, Bring to the boil, add chickens, simmer covered for about 45 minutes or until the chickens are cooked through. Turn the chickens once during cooking. 
Remove the chickens from the pan, keep warm. Return the pan to the heat, simmer the pan juices uncovered over medium heat for about 15 minutes or until thickened slightly and reduced to about 1 1/2 cups liquid- the mixture will form a light sauce. Using sharp kitchen scissors and a sharp knife, cut down the centers of the chickens. Serve with the sauce, sprinkle with the sliced chilies and extra chopped peanuts if preferred. Per serving: 3305 Calories; 277g Fat (74% calories from fat); 126g Protein; 91g Carbohydrate; 475mg Cholesterol; 838mg Sodium
NOTES : Serve with a soup and a salad to complete the meal.
Channam Touk Beef Salad
By Saangthong Indavong, Keo Ornpaeng, Ai Vongpanya, Yong vankham
The name of Lao recipe is Chanam Touk. In English it is Beef Salad. We are Lao from Laos. We cooked this recipe in Lao for New Years, and wedding ceremonies. But in the U.S.A. , we cook it for Christmas and Thanksgiving. It is expensive to buy.
Ingredients
1/6 cup fai
1 1/3 cup mint
1/4 cup Mien cilantro
1/2 cup chives chopped
1/6 cup lemon basil
2 cups chopped cilantro
1/3 cup lime leaves
1/2 white onion
3 stalks lemon grass sliced
10 chiles arbol minced
1 head garlic
8 pounds boneless beef chuck, cooked and chopped
2 limes cut in half
Salt to taste
1 1/2 teaspoon red pepper powder
1 1/2 teaspoon MSG (optional)
2 teaspoons black pepper
3 1/2 teaspoons fish sauce
1/4 cup rice powder
6 cups bean sprouts
Directions
1.Fai, Mint, Chives, Lemon Basil, Chopped Cilantro, Lime leaves put in the same bowl. 
2. In a separate bowl add sliced onion, lemongrass, chiles and garlic minced. 
3. Put Chopped meat in large bowl.
4. Squeeze lime into meat add salt, Red pepper, MSG, Sprinkle Black Pepper.
5. Add onion garlic mixture. 
6. Mx well
7. Add fish sauce.
8. Mix well. 
9. Add rice powder.
10. Mix well . 
11. Add Bean Sprouts 
12. Mix well 
13. Add Cilantro Mixture 
14. Mix well 
15. Eat with lettuce and rice
Chicken Soup with Coconut milk
Ingredients
2 inches of galanga root
5 stalks (the bottom 6 inches) of lemon grass
5 loation leaves (these smell like celantro and look like dandelions)
5 kaffir (lime) leaves (lime zest as alternarive)
some small green chilis
2 cups of angle (look like oyster) mushrooms
4 cups of coconut milk
1lb chicken breasts (in mouth sized pieces)
Directions
Boil the milk in a pan until the oil starts to separate, add the greens, then the chicken, some fish sauce, and the juice of one lime.
Nok Kho Hum Sai Kalampi (Braised Quail w/ Cabbage)
1 fresh quail, plucked, gutted, washed and sprinkled with salt and ground black pepper
5 straight-bulbed spring onions, crushed and stuffed into the bird (tie the bird's feet and wings to its body using wire) butter, the size of a hen's egg
1 cabbage, cut into quarters
ground black pepper
chopped coriander leaves
pig's bone broth
Directions
Put the butter in a cast-iron pot and put the pot on the fire. When the butter is hot, put in the bird. Turn it from side to side until it is nicely golden all over. Then add enough pig's-bone broth or other clear soup to cover the bird. Put in the quarters of cabbage, cover the pot and leave it until the broth has largely evaporated and the bird and cabbage are well cooked. The liquid remaining should be just enough to keep the bird from drying out
Take the bird out of the pot and divide it into the breast and leg parts. Dress these on the centre of a platter and arrange the quarters of cabbage around them. Use the liquid left over in the pot as sauce, and garnish the dish with ground black pepper and chopped coriander. Serve it with Jaew Sam. From: TRADITIONAL RECIPES OF LAOS by Phia Sing, ISBN 0 907325 60 2
Or Lam Nok Kho (Quail Stew)
Ingredients
1 dried quail, matured until almost mouldy, divided into separate breast & leg parts, washed and put on a plate
7 round eggplants
5 lg fresh green chili peppers
1 stalk lemon grass
3 straight-bulbed spring onions
sa-kahn cut into pieces about 5 cm long and 5 cm thick-about 10 pieces-washed
3 young shoots rattan, cooked by being placed directly on a charcoal fire and peeled so as to leave only the soft part, which is to be cut into pieces 2 cm long and washed
1 bunch phak tam nin picked over, keeping only the leaves and tops, which are to be washed
dill, washed and Cut into pieces about 2 cm long
spring onion, the green parts, cut into pieces about 2 cm long and washed sweet basil leaves, washed
1 piece of crisp-fried pork skin, cut into squares of 5 cm and put on a plate padek
salt
2 yards long beans, cut into pieces about 2 cm long
Directions
Put 2 metal jugfuls (2 pints) of water in a pot and place it on the fire. Add the prepared bird, the eggplants, the chili peppers, the spring onions, the lemon grass, the so-kahn and salt. Cover and let it boil.
Add the padek in a padek basket suspended in the soup. When the eggplants and the chili peppers are done, spoon them out and pound them. Put this mixture back in the pot. When it returns to the boil add the phak toni nin and the yard-long beans. When all is done, add the pieces of pork skin and the chopped coriander leaves, taste and check the saltiness.
Serve in a bowl, garnished with the chopped spring onion leaves. Accompany the dish with young cucumbers and older eggplants and other fresh vegetables (e.g. salad leaves, watercress, etc.).
***Note: In cooking this Or Lam, you can also add Duk Moo Sam La (pork bones which have been kept for some time in the broth) if you fear that it will not be 'nua' (flavoursome enough).
You may also add other kinds of vegetables (when you are cooking the stew), but be careful not to use too many because the Or Lam Nok Kho will then turn into Or Moo (Pork Stew) or Or Phak (Vegetable stew). From: TRADITIONAL RECIPES OF LAOS by Phia Sing, ISBN 0 907325 60 2 Pa Ling Sousi Haeng (Piquant Fried Catfish)
Pa Ling Sousi Haeng (Piquant Fried Catfish)
Ingredients
6 slices pa ling (a name applied to two members of the pangasid family of catfish, one of which, PANGASIUS NASUTUS)
5 dried red chili peppers-pick off the stems, take out their cores and soak them in water
7 sm shallots, peeled
1 fully grown coconut, split open-grate the meat and squeeze two extractions of coconut milk from it
chopped spring onion leaves
chopped coriander leaves
Kaffir lime leaves
salt
fish sauce
ground black pepper
pig's-bone broth or any other clear soup or meat stock
Directions
Fish preparation: scrape off the mucus from the skin of the fish and cut slices about I cm thick-wash and salt these, fry them in pork fat until they are a good golden colour, then set them aside on a plate.
Put the first extraction of coconut milk in a wok on the fire and leave it until the cream separates. Add the kheuang hom and leave simmering over a hot fire stirring occasionally, until the ingredients give off a good aroma. Then add the pig's-bone broth or other clear soup and leave the wok over a low fire until the liquid has reduced somewhat.
Next, add the fish sauce and a considerable quantity of the second extraction of coconut milk, followed by the fish slices back and forth so that they absorb the liquid. Add the Kaffir lime leaves and the chopped spring onion leaves. Transfer the contents of the pan to a platter, garnish them with ground black pepper and chopped coriander leaves, and serve.
NOTE: Sousi Haeng should not have much liquid or juice. There should only be enough to keep the Slices of fish moist. When dished up, the liquid should cover the bottom of the platter, just enough so that when the platter is tipped the liquid will flow from one side to the other. That is called haeng (dry). From: TRADITIONAL RECIPES OF LAOS by Phia Sing, ISBN 0 907325 60 2
Sousi Pa Gnon (A 'Hot' Dish of Small Catfish)
Ingredients
6 pa gnon (catfish)
1 fully grown coconut
2 dried chili peppers soaked in water
7 sm dried chili peppers soaked in water
Kaffir lime leaves
spring onion leaves
chopped coriander leaves
ground black pepper
salt
fish sauce
Directions
Fish preparation: scrape off the mucus from the skin, gut the fish, cut off and discard the heads and tails, wash the fish and salt them.
Coconut preparation: split open-grate the meat and squeeze two extractions of coconut milk from it, keeping the first extraction Separate from the second one-quantity, one soupbowl of each
Put the first extraction of coconut milk in a wok on the fire until it becomes creamy. Then add the "kheuang hom" and fry it until it gives off a good aroma. Add the fish gently, stir thoroughly, then add fish sauce and the second extraction of coconut milk. When the fish are cooked, taste and check the saltiness. Add the Kaffir lime leaves. Transfer to a serving-dish, garnish with the chopped spring onion leaves and coriander and ground black pepper, and serve. From: TRADITIONAL RECIPES of LAOS by Phia Sing, ISBN 0 907325 60 2
Yall Dip (Fresh Spring Rolls)
Ingredients
[bordar]
3 oz

1 lb

1 cup

1 cup

1 cup

1 cup

1 package

Somen noodles (optional)

Shrimp (peeled and cooked) (or 1 lb ground pork or turkey)

Mesclun

Fresh bean sprouts

Cilantro leaves

Mint leaves

Dried rice paper (25 pieces)
Method
Bring 3 cups water to a boil on high heat

Add noodles, stir well, and turn the heat to medium and cook for 3 minutes

Rinse with cold water and drain well in a strainer for 30 minutes

(If using ground pork or turkey, add the meat to a nonstick wok or pan. Cook on medium heat and stir constantly until dried, 8 minutes (do not brown) and let cool 5 minutes)
Transfer to a food processor and chop 20 seconds, set aside

Get ready to roll:

Line up bowls of cooked shrimp (or meat), noodles, sprouts, mesclun, cilantro, mint, and large bowl of hot water from faucet (change water as it gets cool)

Line up 3 large plates

Dip one sheet of rice paper in water for 5 seconds, hold up to let the excess water drip out, 5 seconds

Carefully place it flat on a large plate

Repeat for 2 more times

Wait for a minute to allow the paper to get soft (The first paper should be ready to roll) (as you finish rolling each one, dip another paper)

On the end near you, place 2 shrimp, 3 tablespoons of noodles, 4 leaves mesclun, 10 bean sprouts, 6 cilantro leaves, and 4 mint leaves

Fold over the end near you, roll over once, fold 2 sides toward each other, hold it tight, and roll over toward the other end

Serve with Peanut Sauce
Ua No Mai (Stuffed Bamboo Shoots)
Ingredients
5 small

7 small

2

2 tbsp

1 piece

Bamboo shoots (no mai lai or no mai bong)

Shallots (pounded)

Eggs

Flour

Pork (including some fat) (the size of the palm of a hand) (minced)

Salt

Fish sauce

Ground black pepper

Chopped spring onion leaves

Pork fat

Method

Boil the bamboo shoots until they lose their (bitter) taste, then cut off all the hard outer layer and cut the trimmed shoots into sections 8 cm long – after this use a needle to make slits in them lengthwise, but leaving the ends of each section intact

Mix together in a large bowl the minced pork, the pounded shallots, ground black pepper and 1 tbsp of the flour and mix all this thoroughly

Add salt, fish sauce and some of the chopped spring onions and mix again, taste to check the saltiness, and add more of the chopped spring onion

Stuff the mixture into the slit-open bamboo shoots and wrap these in pieces of banana leaf

Use a bamboo holder to grill the packages until they are cooked, then open up the banana leaf coverings and leave the contents to cool

Heat some pork fat in a wok

Beat the eggs in a bowl with salt and some flour mixed in

Dip the cooked bamboo shoots in the egg mixture and fry them in the hot fat until they are nice and golden

Place them on a platter to serve
Stuffed Chicken
with Nutty Cinnamon Rice
Ingredients
2 tsp

3 cloves

1

1 tsp

1/2 tsp

1/2 tsp

8 oz

2 tbsp

2 tbsp

3/4 cup

1 tbsp

2

2 cups

2 tbsp

1 tsp

2

1 2/3 cup

Oil
Garlic (crushed)
Onion (finely chopped)
Fennel seed
Chili pepper (crushed)
Ground cinnamon
Ground pork
Peanuts (oil-roasted and finely chopped)
Long-grain rice (uncooked)
Coconut cream
Fresh mint (chopped)
Chickens
Water
Fish sauce
Curry powder
Red chiles (chopped)

Coconut cream (extra)
Peanuts (chopped) (extra)

Method

Heat the oil in a wok or a frying pan, add the garlic, onion, fennel seeds, chili and cinnamon and stir fry until aromatic
Add the ground pork, and stir fry until the pork has changed colour
Stir in the peanuts and rice, stir until combined
Add the coconut cream, bring to the boil, cover, reduce heat to low,
cook for 10 minutes, remove the lid and stir in the mint and cool
Spoon this stuffing mixture into the cavities of the chickens, forcing any remaining stuffing under the skin around the necks
Sew the cavity openings or secure with toothpicks
Secure the legs with kitchen string and tuck the wings behind the backs
Combine the extra coconut cream, water, fish sauce and curry powder in saucepan large enough to just fit both chickens
Bring to the boil, add chickens, simmer covered for about 45 minutes or until the chickens are cooked through
Turn the chickens once during cooking
Remove the chickens from the pan, and keep warm
Return the pan to the heat, simmer the pan juices uncovered over medium heat for about 15 minutes or until thickened slightly and reduced to about 1 1/2 cups liquid (the mixture will form a light sauce)
Using sharp kitchen scissors and a sharp knife, cut down the centers of the chickens
Serve with the sauce, sprinkle with the sliced chilies and extra chopped peanuts if preferred
Serve with a soup and a salad to complete the meal
Steamed Fish
with Young Ginger
Ingredients
750 gm

125 gm

1

2 tbsp

1 tbsp

6 cloves

3 tbsp

2 tbsp

Fresh fish fillets or steaks

Fresh young ginger root

Lemon (juice)

Peanut oil

Sesame oil

Garlic (finely sliced)

Sesame seeds

Soy sauce

Banana leaves or aluminum foil

Method

Wash and scale fish
Scrape skin off ginger and slice very thinly, then cut slices into very fine slivers (almost threads)
Marinate ginger in strained lemon juice and set aside
Heat oils in a small pan and fry sliced garlic slowly, taking care not to let it burn (Slices should be pale golden)
Pour oil and garlic over the ginger and set aside
In same pan dry fry the sesame seeds until golden brown
Add to ginger/garlic mixture
Add soy and mix well then sprinkle over fish fillets and steam in individual leaf or foil packages for 15 minutes
Sien Savanh (Lao Beef Jerky)
Ingredients
1 lb

3 cloves

1 tbsp

1 tbsp

2 tbsp

1 tbsp

1 tsp

1 tsp

5 cups

Beef flank steak (thinly sliced into long strips) 
Garlic (grounded) 
Ginger (chopped and then grounded) 
Soy sauce 
Sesame seed 
Sugar 
Salt 
Black pepper 
Vegetable oil

Method

Put the beef strips in a large bowl
Add garlic, ginger, soy sauce, sesame seed, sugar, salt, and black pepper
Mix well and marinate for at least two hours
Then put the beef strips on a tray and dry in the sun for an entire day, turning the strips occasionally to make sure both sides are dried
When the beef strips are dried to your preference, then heat the oil over medium heat and deep fry the beef strips until lightly crispy to crispy (according to your preference)
Drain and serve with warm kao neel and jeo maak len