Laos cuisine is known for having delicious dish, although most of these dishes are non-vegetarian. However, even if most of the dishes are non-vegetarian it does not necessarily mean that vegetarian dishes does not exist in Laos. In this post, we have gathered some of the most popular Laos vegetarian dishes that you should try.
Popular Laos Vegetarian Dishes
By simply modifying the ingredients used can turn non-vegetarian recipes into Laos Vegetarian recipes. Listed below are the most popular Laos dishes that mostly are non-vegetarians but can be vegetarian dishes as well.
Sticky Rice (Kao Niao)
Sticky Rice or also known as Klao Niaw. It is a common Lao food that many Laotian loves to eat. In fact, most Laotian every meal definitely includes sticky rice paired with a dipping sauce.
Laotian usually put the sticky rice in a small basket and usually eats the rice using the hands. To add flavor and taste, it is dipped in a dipping sauce. The dipping sauce is usually made of eggplants, tomatoes, peanuts and different kinds of vegetables. Often, the dipping sauce contains fish sauce.
Preparing sticky rice is relatively easy. Below is a step by step guide on how to prepare the sticky rice.
Wash and Soak

in a bowl, place raw sticky rice. To measure the amount of uncooked rice, the ratio should always be one half to one cup of uncooked rice for each person.

Wash briefly the raw sticky rice. This is to remove impurities from the uncooked rice.

Add water into the bowl and make sure the water level is at least 1 inches above the rice.

Soak for 6 hours.

Use Steamer

Drain off excess water from the rice.

In a steamer, pour at least 1/3 level of water. A maw nung is usually used, it is an aluminum steamer pot. Bring water on steamer to boil.

Place sticky rice in a Conical Bamboo steamer then place on maw nung.

The steamer should not come in contact with the boiling water. This is to prevent the rice from being soggy.

Steam Rice

Allow rice to steam for approximately 25-30 minutes.



Store Rice

Once rice releases sort of a sweet and nutty flavor, remove the steamer from the heat. Place in a cloth. You can also use banana leaf instead. Then, release steam from rice by flattening the rice using a wooden paddle.

If sticky baskets are used, divide the rice and make a small balls then serve.

For left over sticky rice

Left over sticky rice is usually not stored in the refrigerator though you can alternatively place it in a plastic bag to be put in the fridge. You can re-steam it later on if you need to consume it.
Vegetarian Laap (Larb)
Larb is usually considered as the unofficial national dish in Laos, it is actually a meat salad. It is a mixture of stir fry pork, chicken or beef. This is the non-vegetarian version.
However, for Laos Vegetarian recipes, it uses mushrooms. The mushrooms are used to replace the meat. It is actually a perfect meal for a light lunch. The mushrooms are sautéed and then mixed with green leaves or other vegetables. The mushroom mixture is for the vegetarians.
Laap is especially famous in food stalls or restaurants in Laos, basically available everywhere. But since Laap has both the vegetarian and non-vegetarian versions, make sure to indicate in your order which version you are ordering to avoid confusion.
---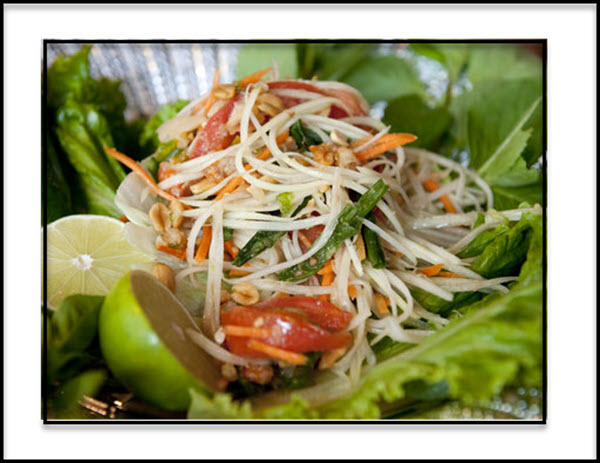 Green Papaya Salad
If you are craving for fresh and delicious vegetarian dish in Laos, you should definitely try the Green Papaya salad dish. It is not only famous in Laos but in other Southeast Asian countries too such as in Thailand and Vietnam.
Green Papaya Salad is best served with Sticky rice, that way sticky rice flavor will also intensify when mixed with the salad.
Although there are restaurants that served this salad dish with fish sauce, make sure to inform the chef ahead of time if you do not want fish sauce mixed with your salad dish.
---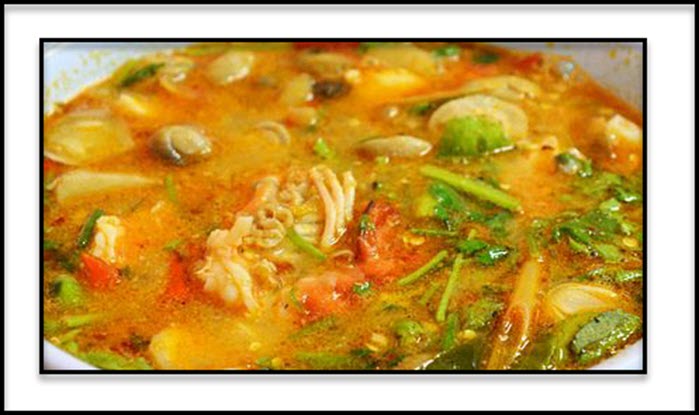 Tom Yum Soup
Tom Yum Soup is a traditional soup from Thailand, which is Laos neighboring island. It is a hot and sour Thailand soup.
The non-vegetarian version of this soup is usually cooked with seafood such as shrimp or with meat, however there is also a vegetarian version with Tom Yum Soup.
In this Laos vegetarian Recipe, lemon grass for that fragrant spice is usually mixed with the soup. The main ingredients with Tom Yum soup includes lemongrass, Kaffir lime leaves, and Galangal. There are also other special ingredients such as lime juice, sugar, fish sauce, tomatoes and cilantro leaves. Fish sauce can be excluded if you want.
Tom Yum Soup is actually a combination between Laotian Cuisine and Thai Cuisine where the word Tom Yum comes from Thai words Tom which means boiling and Yam which means mixed.
---
Laos Baguette
If you love to eat fast foods, you should give Laos Baguette a try. There are different Laos Baguette variations such as Beef Baguette, Chicken Baguette, Pork Baguette and the Vegetarian Baguette.
If you are looking for Laos Baguette Vegetarian recipe, you can replace beef, meat and chicken with different kinds of vegetables and add some pickles too.
---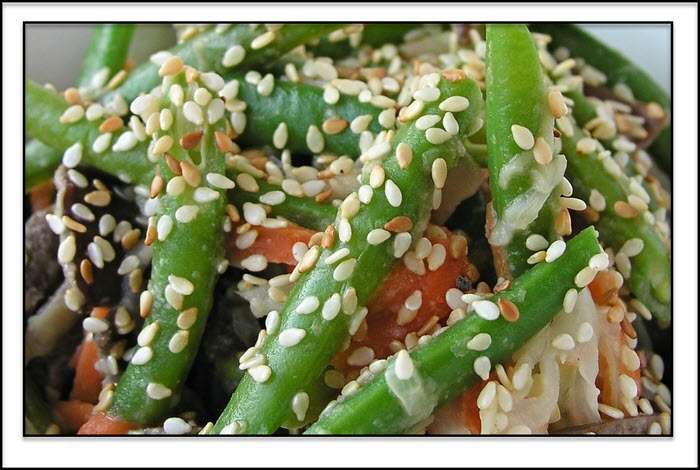 Cooked Vegetable (Xoup Phak)
Xoup Phak is a traditional dish in Laos. It is a healthy dish that is easy to make and easily accessible. In fact, cooked vegetable dishes in Laos can be found everywhere in Laos, from food stalls to restaurants.
Since it is a vegetable dish, it is definitely vegetarian and vegan friendly. No need for modifications since the ingredients used does not include meat, seafood or fish.
---
Laotian Coconut Cakes (Khanom Krok)
Laotian Coconut cakes is also called Kanom Krok or Khanom Krok, a popular street food. It is a delicious cake found in stalls outside but not on restaurants.
It is similar to pancakes but it is made with coconut milk, sugar and rice flour. Its rich and full texture is from the coconut milk mixed with sugar. Food stalls typically sells this type of street food in packs of 4 to 5 pieces per order. The cakes are usually placed in a banana leaf.
---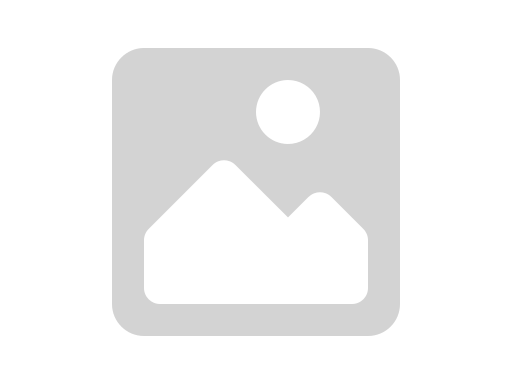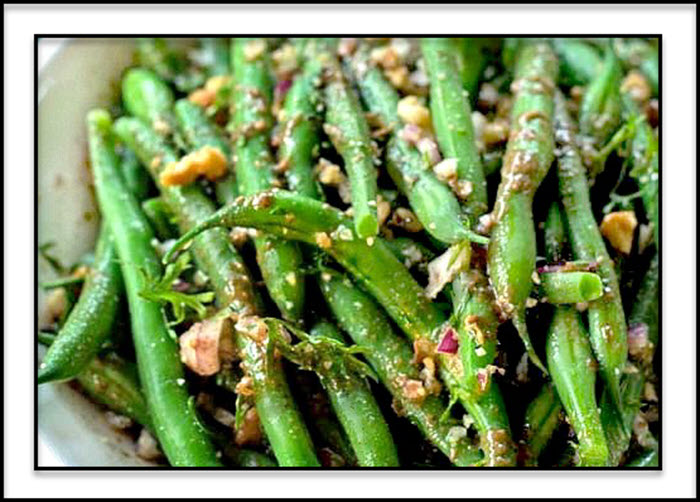 Steamed Green Beans (Ahka Salad)
Akha Salad is similar to the common food which is the Soop Pak. Akha Salad is usually made either using ginger or sesame seeds but neither both are used together. Though whether ginger or sesame seeds are used, each dish still gives that delicious flavor and taste.
Ingredients for making Ahka Salad includes green beans, sesame seeds (ginger as an alternative), mint leaves, soy sauce, sawtooth herb (coriander as a substitute), spring onions (finely chopped), Vietnamese mint leaves and coriander plants.
---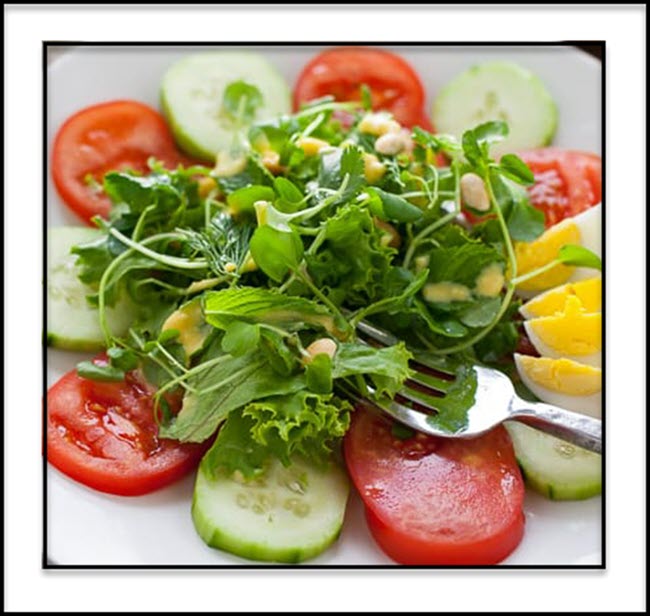 Watercress Salad
Watercress Salad is similar to Luang Prabang. There are different varieties of watercress salad ranging from oily salad to very sweet.
The dressing used with watercress salad uses a limited amount of oil. The taste of this salad has a balance between sour, sweet and salty taste.
Ingredients used includes watercress (Chinese celery leaves), eggs, mesclun, coriander leaves, mint leaves, cucumber and tomatoes.
---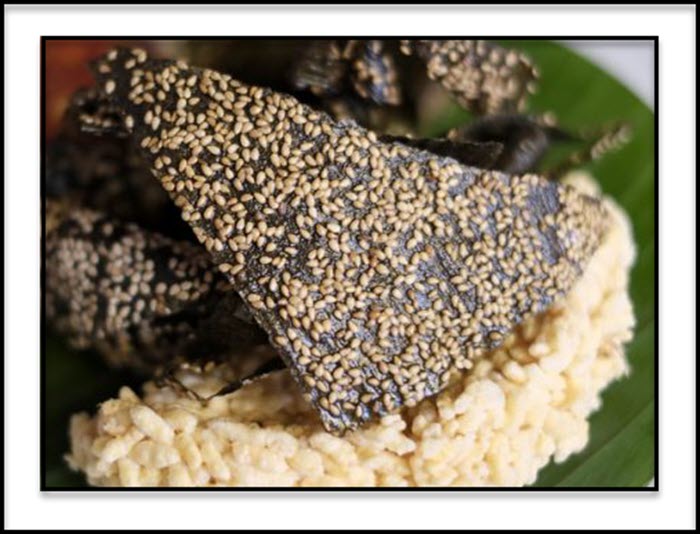 River Weed ( Rock Algae)
Kaipen is a Laos vegetarian snack that is made from using river weed, garlic, sesame seeds and vegetables. The strands of river grows are typically served as dried thin sheets or often served as sheets that are simmered in a spicy sauce.
These dry sheets are then cut into small squares. To add flavor, the sheets are garnish with tamarind and ginger juice. To add aroma, sesame seeds, garlic and tomatoes are also added. Garlic are fried until golden brown.
---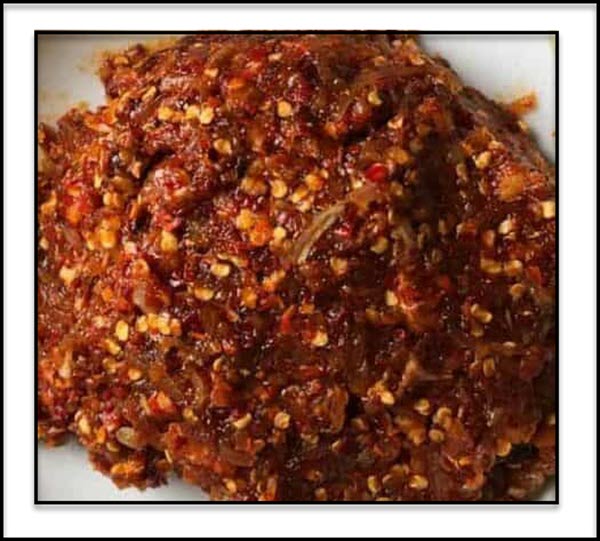 Jeow Mak Pet (Young Green Chilli)
In this vegetarian dish, the chilies and garlic are pre cooked. It is made from small chilies (green and red), but if you want a milder version you can use the long ones (long green chilies). Hence, the younger the chilies are, the lesser the hotness it can give.
Ingredients used includes chilies, cloves of garlic, chicken stock powder, salt, coriander and water. A mortal or food processor will be used to mixed all the remaining ingredients.
---
Lao Vegetable Soop (Soop Pak)
As mentioned before hand, Akha Salad is similar to Soop Pak. It can either be a stew or a cooked vegetable salad. Although this one is more like a salad than a stew.
Lao vegetable soop is made from using different varieties of boiled or steamed vegetables. Topped with sesame seeds which adds flavor to the entire dish.
Ingredients used includes Cabbage, cauliflower, bamboo shoots, long beans, sawtooth herbs, garlic, red chilies, ginger, sesame seeds, soy sauce and water.
---
Conclusion
As mentioned, most Laotian cuisines are composed mostly of meat and seafood. But modifications to the ingredients can be made if you want to make the non-vegetarian versions into a vegetarian dish.
If you happen to be in Laos and wanted to try their vegetarian dishes, you can choose from the lists mentioned above. Let us know which one you've tried and which one is your favorite.