Vegetarian recipes are popular in Bangladesh, and vegetarian dishes and vegetarian snacks are mouth watering delicacies indeed. Whilst greatly influenced by the largely vegetarian cuisine of West Bengal, there is perhaps a greater emphasis on meat in Bangladeshi cooking.
[toc title="Vegetarian Recipes List:" title_tag="strong" list="ul" depth="1″]
Masoor Daal (Lentil)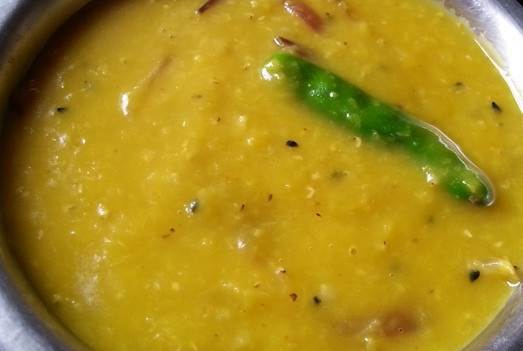 Ingredients
masoor daal (lentil) 1 cup
peya(n)j (onion) 1 medium/sliced
jiraa (cumin seeds)1/2 tsp.
halood (turmeric powder) 1/2 tsp.
laban (salt) to taste 1 tbsp.
ka(n)chaa lankaa (green chili) 1
Directions
Wash and boil daal in 2-1/2 cup of water. Mash the daal when completely done. Heat 3 tbsp. of oil. Roast cumin seeds until red Add the sliced onions and fry until golden brown.
Pour the mashed daal into the wok and add turmeric powder, salt, and green chili. Let daal simmer for atleast 10 to 15 minutes. The more you simmer, better it tastes.
This recipe is submitted by Krishna Ghosh
Saak-er Ghanto
recipe by Sanhita Mallick
Ingredients
1 cup of eggplant, diced
1 cup of pumpkin, diced
1/2 cup of Potato, diced
1/2 cup of radish, diced
3 cups of spinach, roughly chopped
1/2 teaspoon of Panchforan
1/2 teaspoon of ginger paste
1/2 teaspoon of turmeric powder
1 teaspoon of mustard paste or powder
1 red chilly, halved
1/2 teaspoon of sugar
salt, to taste
2tablespoons of oil
8-10 pieces of Bori,deepfried, optional
Directions
Heat the oil in a saucepan, and add the red chilly and panchforan.
When the seeds turn brown, add potato and radish. Stirfry for 2 minutes.
Add pumpkin and eggplants and stirfry for a further 2 minutes.
Add the chopped spinach and stirfry the whole mixture for 2-3 minutes.
Add turmeric powder, half cup of water, salt, sugar and mustard paste/powder.
Cook , covered, on medium to low heat until the potato and radish are done.
Mix the deep fried Boris. Serve in room temperature. Note # You can omit or substitute any vegetable that you like. Sweet potatoes, beans etc. also go well.
# Spinach can be substituted with other leafy vegetables- but the amount should be adjusted.
#The dish should be dry- so adjust the amount of water accordingly.
Phulkopir Baati Jhal
Recipe by Sanhita Mallick
Ingredients
1 cup of potato, diced
1 cup of cauliflower flowerets, almost similar size as potatoes
2 teaspoon of freshly ground mustard paste
1 medium size tomato, quartered
1 green chilly
1/2 teaspoon of turmeric powder
salt, to taste
Directions
Mix all the ingredients in a small saucepan, and add a cup of water.
Cook covered, on low heat, until the vegetables are done.
Serve in room temperature.
Note:
#This dish should have some gravy- add some more water if needed.
Bengali Spinach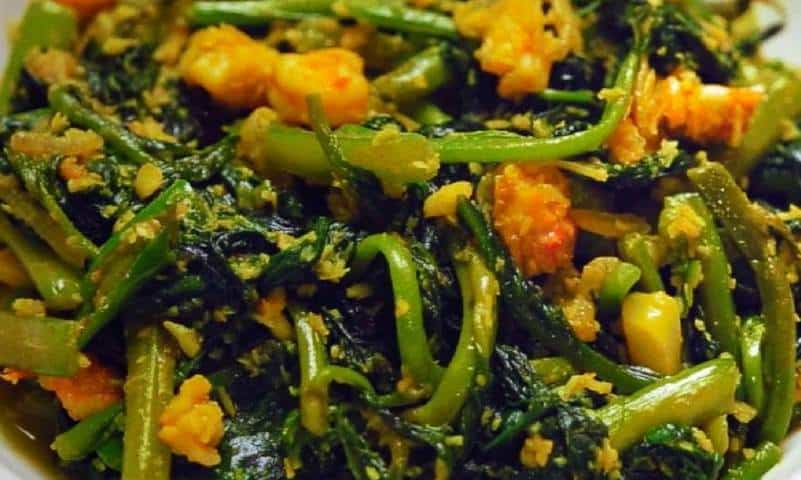 recipe by Swagato BasuMallick.
Ingredients
(for a serving size of 4-5)
2 packets frozen spinach, thawed
1″ cube of ginger, finely diced
Shukhno lonka (dry red chili) – 3
Dash of Hing (Asafoetida)
Potatoes – about 4 medium-large ones
Kasoori Methi (Dried fenugreek leaves)
Mouri/Saunf (Fennel seeds)
Salt to taste
Directions
Cut the potatoes into small pieces, and then either lightly boil them or microwave them for about 8 min. Heat oil, preferably in a wok or kAdAi. To the hot oil, add ginger, hing, and fennel seeds. Add the spinach, and fry on a high flame. After about 5 min of frying, add salt, the dried chilies, and the potatoes. Mix evenly, and add the kasoori methi – then fry for a few minutes. At this point, you might add a little water if you so desire.
Serve hot and enjoy !!
Shukto
This recipe is submitted by Krishna Ghosh
Ingredients
kaachkola (plantain ) 1
mulo(radish/daikon) 1 cup
aloo(potato) 1 medium
begun(eggplant) 1 medium
uchche(bittergourd) 1 (slice thinly)
shorshe(mustard seeds) 1-1/2 tbsp.
methi(fenugreek seeds) 1/2 tsp.
posto(poppy seeds) 2 tbsp.
salt to taste 1 tbsp.
Directions
Soak 1 tbsp. of each mustard seeds and poppy seeds in warm water. Cut plantain, radish, potato and eggplant lengthwise (about 2″ long). Heat 1/4 cup of oil in a wok. Fry the eggplant pieces, set aside. Fry the bittergourd slices, and set aside. In the remaining oil, roast 1/2 tsp. each of fenugreek seeds and mustard seeds. When mustard seeds start to pop, add to it the plantain, radish(mulo), and potato and stir fry in medium heat.
As you stir the vegetables, blend the soaked mustard seeds and poppy seeds and about 1″ long fresh ginger root, all in a blender into a smooth paste. After stir frying vegetables for about 5 to 7 minutes, add the blended mixture to the vegetables and stir constantly for about 2 minutes. Add salt. Also, add the fried bittergourd slices and eggplant pieces. Add now to the "shukto" about 1/2 cup of hot water and cover wok for about 5 minutes, stirring occassionally and check if the vegetables are cooked or not. When vegetables are all cooked, pour on top about 1 tsp. of either butter or ghee. Serve with rice.