Nepalese cuisine includes a wide range of cuisines based on ethnicity, soil, and climate, all of which are influenced by Nepal's cultural diversity and geography. Persimmons, apples, mangoes, tangerines, kiwis, and nuts are among the fruits grown in Nepal, and they are used in local desserts. Dessert is not a well-known concept in Nepali cuisine, although desserts made with milk, yogurt, and cheese are frequently consumed as stand-alone meals for breakfast. Grated carrots, semolina, rice, corn, or puffed lotus seeds are sometimes substituted for flour, semolina, rice, corn, or puffed lotus seeds. Today, we are going to talk about the most popular Nepali dessert recipes. If you want to learn more about these delicious desserts, scroll down and continue reading.
Nepali Desserts Dishes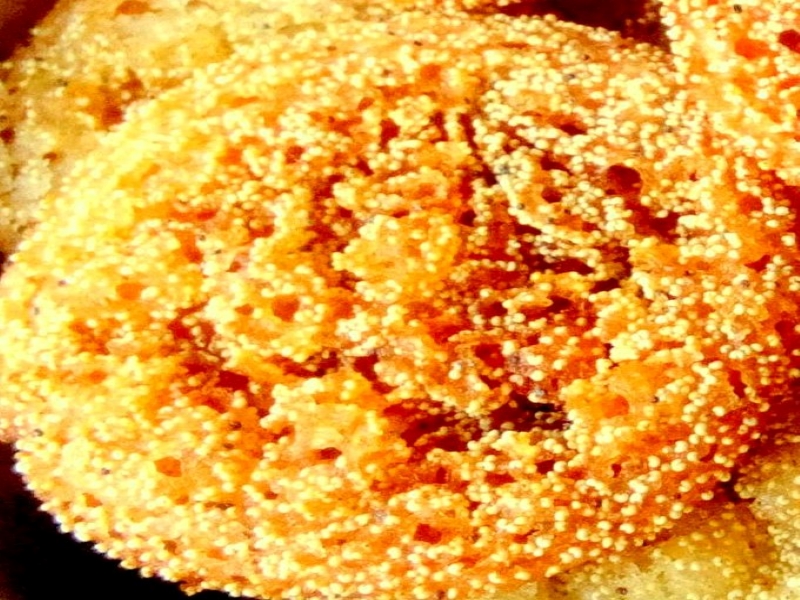 Anarsaa
Anarsaa is a kind of rice cookie, that is typically made at festivals. The rice flour, sugar, and ground dry fruits ingredient mixture is held overnight to ensure appropriate mixing. This bread has a crisp texture thanks to rice flour, and the nutty taste comes from poppy seeds. The dough is formed into circles by hand and deep fried.
These old fashioned sweet rice patties are consumed at festivals, family gatherings, and as a mid-afternoon snack.
---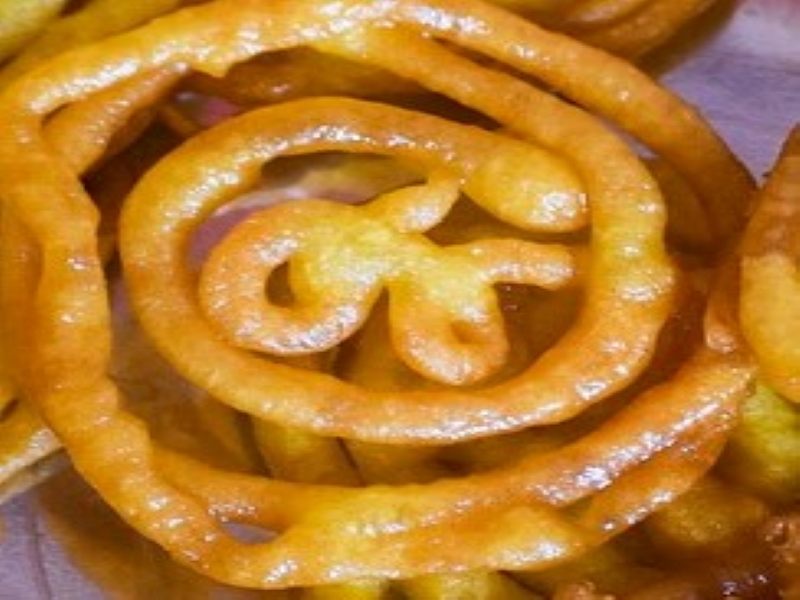 Jerry/Jeri
Jerry is created by deep-frying a batter of maida flour, which is plain flour or all-purpose flour, into pretzel or circular forms and then soaking them in sugar syrup (saffron syrup). It is one of Nepal's most favorite desserts for many occasions or ceremonies. Jerry is highly sweet due to its sugar syrup coating.
Individuals go to sweet shops to buy this delicacy during festivals, such as Tihar and Dashain.
Jerry is also typically served with a cup of tea for breakfast or soft bread. However, at Newa sweet shops, jerry is paired with swari, a soft Nepali bread, to make jerry-swari.
---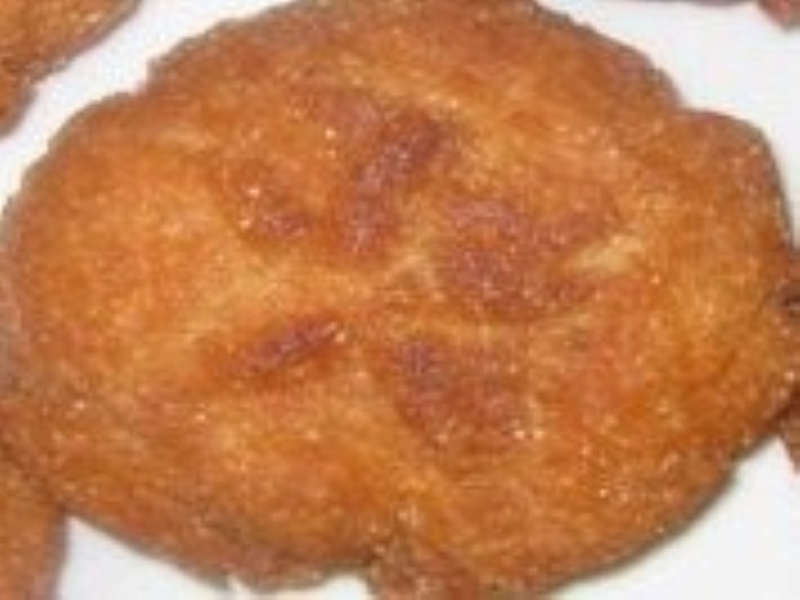 Khajuri
These Nepali sweets are delicious buttery traditional cookies, that are well-known in Nepal. Flour, sugar, and clarified butter are used to make the khajuri dough. The dough is formed into little round, slightly curved patties after being rolled into a ball, like a small bowl. A vertically lined design is created by pressing the back side of the cookie into a wooden khajuri press. It is then fried until crisp in clarified butter. The khajuri press impression is retained in the cookies after they have been fried.
Khajuri is a typical tea time sweet snack in Kathmandu, and these flaky fried cookies are available in a sweet shop.
Khajuri, is traditionally baked during the Chhath Parva or Tihar festivals. This sacred offer is infused with Nepalese tastes. This delicious treat is made with refined wheat, milk, ghee, and salt.
---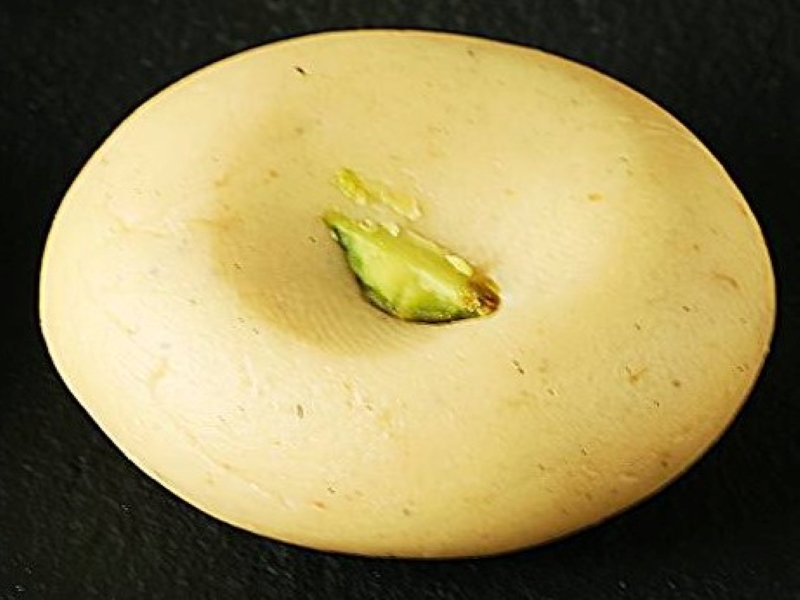 Peda
A simple Nepali dessert made form from sugar and sweetened condensed milk or khuwa is Peda. It is normally formed like a circle and covered with traditional flavors like pistachios or almonds.
Its key ingredients are khoa, sugar, and traditional flavorings such cardamom seeds, pistachio nuts, and saffron, which are usually produced in thick, semi-soft chunks. It comes in a variety of colors, from creamy white to caramel. Whole milk, sugar, green cardamom powder, and chopped pistachios can also be used to make this Nepali food. The term peda can also refer to a spherical made from any doughy substance, such as wheat or khoa.
Traditional Indian sweets such as peda became highly popular in Nepal as Indian sweet store chains and confectioners opened up. Because peda is affordable and widely available, it is a common sweet offered to the gods. Pedas are frequently served to the sculptures of gods in temples around Nepal.
---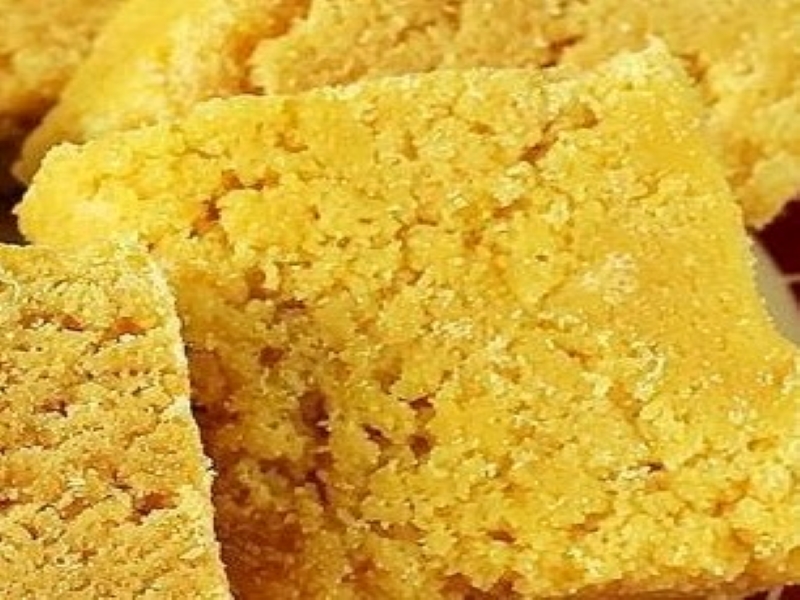 Gud Pak
Also spelled as Gud-paak. Gud Pak is a typical delicacy made with flour, brown sugar, assorted nuts, and edible gum. The Nepali food has the appearance of a thick brown paste that is incredibly tasty and melts in your tongue.
Generally speaking, gud-paak is a sweet treat that is commonly given to new moms in the Kathmandu valley as a healthful snack. This dessert is frequently prepared with a khuwa foundation. Made from cow's or buffalo's milk or goat or sheep's milk, khuwa is blended with dried fruits or nuts such almonds, cashews, coconuts, pistachio, dates, and fox nuts (makhana) and topped with watermelon seeds and dry grapes or raisins. Spices like cinnamon, cloves, and cardamoms are sometimes added to enhance the flavor.
---
Motichur ko Laddu
Also spelled as Motichoor laddu. Motichoor laddu is produced from fine boondi and tiny balls that are baked in ghee or oil. This laddu dish originated in north India.
Motichoor laddu is a round festive treat prepared with sugar syrup and chickpea flour droplets. It is golden yellow and granular. There are only a few steps to making this sweet. The chickpea flour is first mixed into a batter. The batter is then put into heated oil using a flat perforated spatula or jhanjar to create small pearl-like droplets called boondi. These drops are deep-fried before being soaked in saffron-cardamom syrup and rolled into round balls. This type of dessert is time consuming, and requires considerable skill or ability and talent, but the savory result is worth it.
---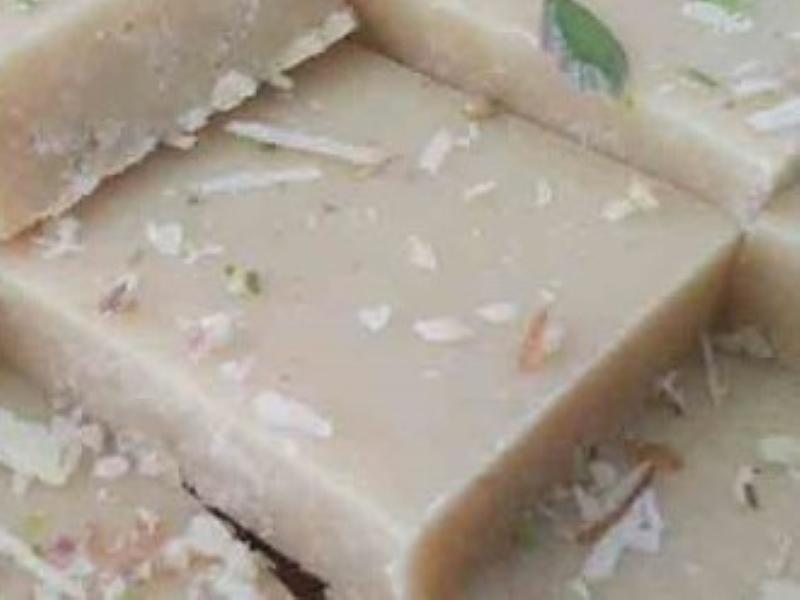 Khuwa Barfi
Khuwa barfi is a sweet milk-based fudge topped with pistachios. It has a pistachio flavor. Typically, condensed milk can be used to create barfi, but is more common in Nepal to make barfi using khuwa, which is why it is known as khuwa barfi. Although sugar-free khuwa barfi is now available, the traditional milk-flavored khuwa barfi remains the most popular.
Milk, flour, and sugar are used to make these diamond-shaped Nepali sweets. It is also flavored and topped with a variety of dried fruits. There are various types of barfi, such as besan barfi, which is made of gram flour, kaju barfi, which is made of ground cashew nuts, pista barfi, made of with ground pistachios, and sing barfi, made of peanuts.
---
Rasbari/Rasbhari
Rasbari is a traditional milk-based treat that is popular throughout Nepal and the Indian subcontinent. These traditional sweets, which originated in Bengal, has become well-known in Nepal.
Rasbari are tiny white milk balls that are generally dipped in a sweet syrup. It is a favorite at get-togethers and parties, and it's frequently given as a dessert on special occasions.
Rasbari is not extremely sweet because it is made with milk, and many people choose it to satisfy their sweet tooth. The method for creating this traditional dish is comparable to that for making curd from milk. To make rasbari, lemon juice is added to boiled milk, which is then drained and formed into little balls before being fried in boiling sugar syrup.
---
Kheer
Also known as kheeri, payesh, payasam or phirni. Kheer is a sweet delicacy and a type of wet pudding popular in India. It is often made with boiling milk, sugar or jaggery, and rice, but it can also be made with daals, bulgur wheat, millet, tapioca, vermicelli, or sweet corn. Grated coconut, cardamom, raisins, saffron, cashews, pistachios, almonds, or other dry fruits and nuts are commonly used, while pseudograins have recently gained popularity. It is usually eaten as a dessert, and they are absolutely delicious.
These popular sweets have many various recipes and ingredient variants in Nepal.
---
Yomari
Yomari, also known as yamari, is a specialty of Nepal's Newar community. It's a steamed dumpling with a rice flour exterior and sweet contents like chaku on the inside. It has a teardrop shape and is both culturally and religiously valuable. The delicious treat is a major feature of the Yomari Punhi festival and plays an essential role in Newa civilization. According to some, the Yamari's triangle shape is a symbolic portrayal of one half of the Shadkona, Saraswati's and wisdom's emblem.
---
Lakhamari
Lakhamari is a variety of Newar sweet. Flour, butter, sugar, and other components are used to make it. It comes in different shapes and is given different names based on the shape. In several Newar subcultures, it is customarily given to wedding guests. Prior to the event, the groom must give 'lakhamari' to the bride's family, which will be sent along with the marriage invitation card. The lakhamaris, on the other hand, will only be sent to close family. Lakhamari can be kept dry for several days.
A spiral of decreasing rings is one of lakhamari's most notable shapes. This form of lakhamari is generally made during festival seasons and served as a puja offering. They can be crunchy or soft, with older generations preferring crunchier variants and newer generations preferring softer versions.
---
Juju Dhau
Dhau is a type of yogurt made by Nepalese Newars. Clay pots are usually used to make it. It's also possible to make it with plastic cups. Juju dhau is the most well-known and tasty type of dhau, thanks to its rich flavor and thick texture. In Nepalese Bhasa, juju dhau literally translates as "king yogurt." It is the delicacy of the Bhaktapur town.
---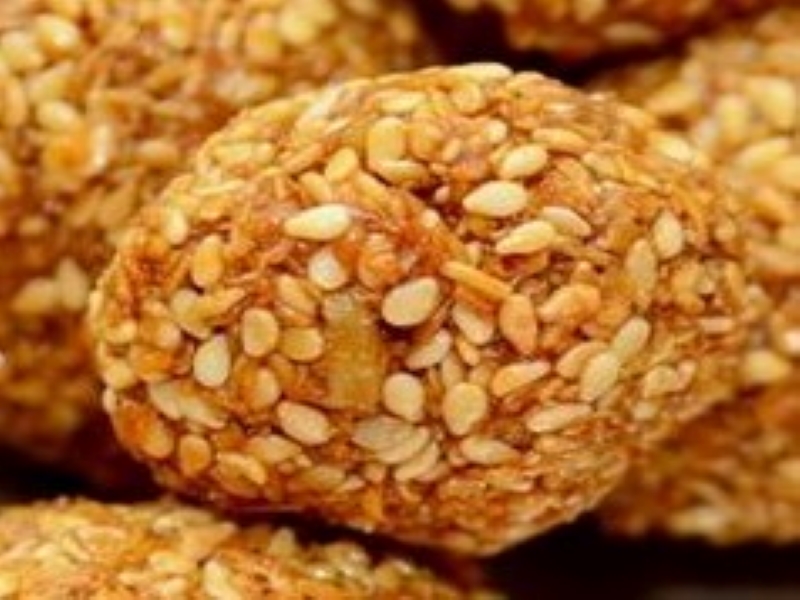 Til ko Laddu
Laddu, often known as laddoo, is a circular Indian dessert. Flour, fat such as ghee/butter/oil, and sugar are the primary ingredients in laddus. Laddus are commonly made using gram flour, but they can also be made with semolina. Chopped nuts and/or dried raisins are sometimes included. The types of ingredients used in each recipe may differ.
Laddus in Nepal can be topped with a various ingredients such as fenugreek, coconut, pistachio, and so on. Til, which is roasted sesame seeds, is one of the most popular toppings, and this varriant of laddu is known as til ko laddu. It is one of the most important sweets during the Maghe Sankranti celebration, which occurs on the first day of the Nepali month of Magh.
---
Kulfi
Kulfi is a frozen dairy treat that originates back to the 16th century in the Indian subcontinent. It is a traditional delicacy from the Indian subcontinent that is commonly referred to as "traditional Indian ice cream." Outside of India, Nepal is a big fan of it.
Kulfi is a type of Indian ice cream that is richer and creamier than ice cream. It comes in a variety of flavors. Mango, cream (malai), rose, cardamom (elaichi), saffron (kesar or zafran), and pistachio are among traditional flavors. Apple, orange, strawberry, peanut, and avocado are some of the more recent flavors. Kulfi, unlike ice cream, is not whipped, which results in a rich, solid dessert that is comparable to frozen custard. As a result, it is sometimes regarded a separate frozen dairy-based dessert category. Kulfi melts more slowly than ice cream due of its density.
---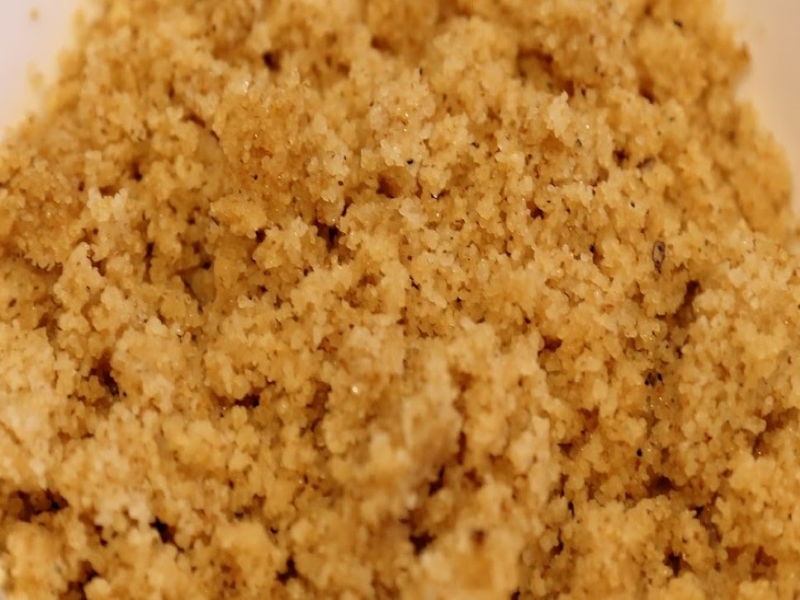 Suji ko Haluwa
There are many different varieties of haluwas, such as maida ko haluwa or gajar (carrot) ko haluwa and , suji ko haluwa is one of the most popular in Nepal.
Suji ko haluwa's vital ingredient is semolina, also called as suji in Nepal. Ghee is used in large amounts in the creation of suji ko haluwa to give it a smooth consitency. It is a popular snack among young kids. Haluwa is frequently used as a prasad offering to the gods, however maida ko haluwa is preferred above suji ko haluwa when utilized as a sacred offering. Generally speaking, Semolina, ghee, sugar or honey, and occasionally milk are the only ingredients in the basic recipe. Dried or fresh fruits, almonds, shredded coconut, and other toppings are all options.
---
Conclusion
With that said, the wide range of desserts has its distinct flavor and texture. It may entice you to try Nepali cuisine. These exquisite Nepalese delicacies can definitely satisfy your sweet tooth.