Chinatowns are not built in China, but rather outside the country. Chinatown is a district of an immense non-Chinese town predominated with Chinese citizens or an ethnic enclave of Chinese individuals located outside China. In this post, we will talk about the biggest Chinatowns in the US.
China is the world's most populous country. This country in East Asia is also officially known as the People's Republic of China.
China is the largest of all Asian countries which nearly occupy the entire landmass of East Asia.
Hence, there are also other countries being inhabited by large populations of Chinese individuals like the US.
The Chinese American community is the largest foreign Chinese community outside Asia. In fact, Asian American population as of 2010 reached approximately 3.8 million ( as per Community Survey of the US Census).
According to US government records, 325 Chinese immigrants first arrived in 1820 to perform menial labor. And as the year goes by, Chinese laborers and immigrants in the US increase.
To build strong communities and keep the ethnic heritage of their county, Chinatown was established. This community served as a safe haven and the second home for Chinese people in the US. This is a place where Chinese people can worship in a traditional temple and a place to shop for their native foods.
Chinatowns in the US had emerged. These give the people the opportunity to experience the Chinese culture. Whether you are a Chinese, American, or from other foriegn country, here are the best Chinatowns that you can visit in America.
BIGGEST CHINATOWN IN THE US
Major cities all over the world have their very own Chinatown. Since the population of Chinese Americans rapidly increased, numbers of Chinese neighborhoods were also built in the country. Here are some of the biggest Chinatown in the United States.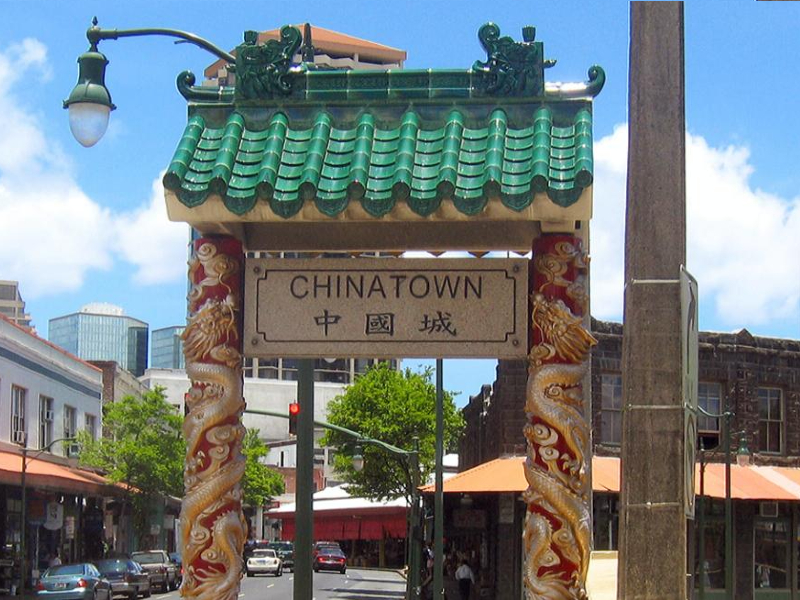 HONOLULU
The Chinatown Historic District is one of the oldest Chinatowns in the US, a neighborhood of Honolulu, Hawaii. It is known for its Chinese American community.
Honolulu's Chinatown first emerged in 1860. It is made of ethnic diversity of Asian merchants, including Thai, Vietnamese, Filipino, Japanese, and Korean. The shops are open during the day where tourists can enjoy the fresh tropical fruits and various fish. Street vendors selling varieties of products from ornaments to different types of vases.
During the evening, you can hop from one club to another. Street events are also present.
If you are hungry and want to taste some Chinese foods, you can visit the Little Village Noodle House and Mike's Noodle House. They offer delicious and interesting dishes. If you are craving for seafood, Yee Hong Pavilion will surely satisfy your cravings.
---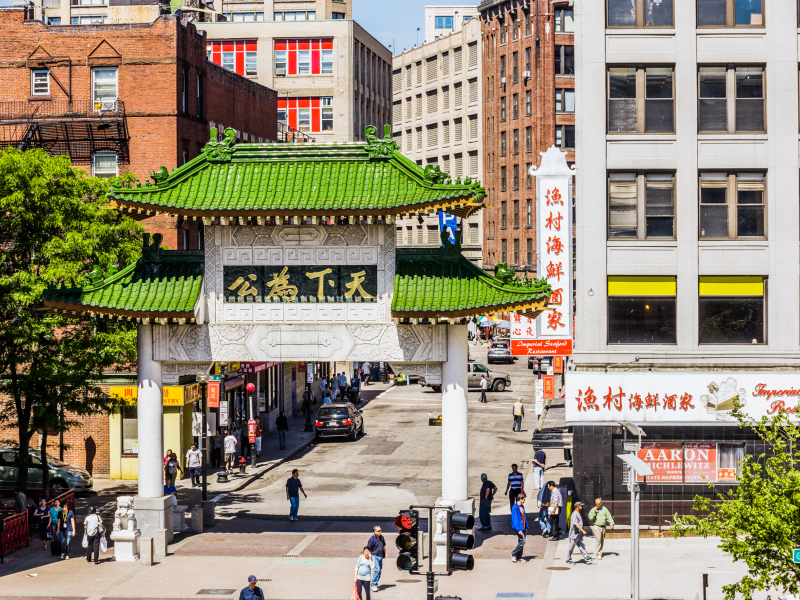 BOSTON

Boston's Chinatown is a community located in downtown Boston, Massachusetts. Due to the high population of both Asians and Asian Americans in Boston, several Chinese and Vietnamese restaurants are built in Chinatown.
It is among the highly populated residentials in Boston and acts as the biggest center of Southeast Asian and East Asian cultural life.
Boston's Chinatown is among the largest Chinese communities outside New York City.
It consists of Asian eateries, bakeries, food markets, and gift shops. New luxury apartment buildings are also visible in this community.
The entrance of the community highlights a river-inspired fountain, a square that draws chess players, and plants originated from Asia.
The restaurants, dim sum palaces, and other food stores in Chinatown exclusively sell authentic Chinese food, herbs, spices, and various Asia products. Additionally, the number of establishments selling Chinese bakery products has expanded, along with Japanese, Taiwanese, and Hong Kong styles.
---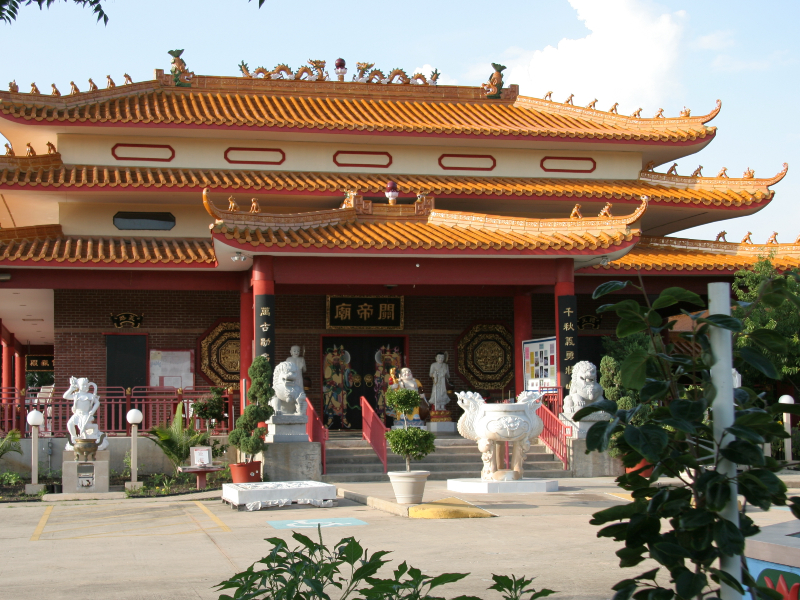 HOUSTON
Houston Chinatown is a neighborhood in Southwest Houston, Texas, United States. But the old Chinatown is located within the East Downtown Houston district close to the George R. Brown Convention Center.
In the 1980s, Chinese living in Southwest Houston and Fort Bend Country increased. Those immigrants were far away from the old Chinatown. Hence, first businesses of the new Houston Chinatown opened in 1983.
Houston Chinatown is often called Asiatown rather than Chinatown due to its wide ranging cultures from Vietnamese to Korean. You can also visit the Hong Kong City Mall that offers an innumerable selection of stores, shops, and restaurants.
This diverse Chinatown has restaurants that serve various types of cuisines, which include Hong Kong, Taiwanese, Filipino, Chinese, Indonesian, Japanese, Laotian, Korean, Vietnamese, Thai, and Malaysian. You can also see restaurants run by ethnic Vietnamese that specialize in Louisiana-style crawfish.
A lot of Chinese holidays with official events are observed in Chinatown. And if you want to visit this community, you need not to worry about the transportation as the Metropolitan Transit Authority of Harris County, Texas (METRO) has provided local bus services to the neighborhood.
---
LOS ANGELES
Chinatown in Los Angeles California is a festive destination for shopping and dining. It became a commercial center in 1938 for Chinese and other Asian businesses. The community has pagoda-style buildings with dim sim houses, red lanterns house traditional Chinese restaurants, bakeries, specialty grocery stores, and gift shops.
You can also see Taoist Thien Hau Temple, dark bars, and small art galleries in this community. Another popular attraction in the neighborhood is the Thien Hau Temple.
Los Angeles Chinatown has served as the settings for a number of Hollywood films, like Rush Hour, Gangster Squad, Strange Days, Hard to Kill, 15 Minutes, and others.
There are also events that were celebrated in Los Angeles's China town including Chinese New Year Parade, Lantern Festival, Mid-autumn Moon Festival, and among others.
---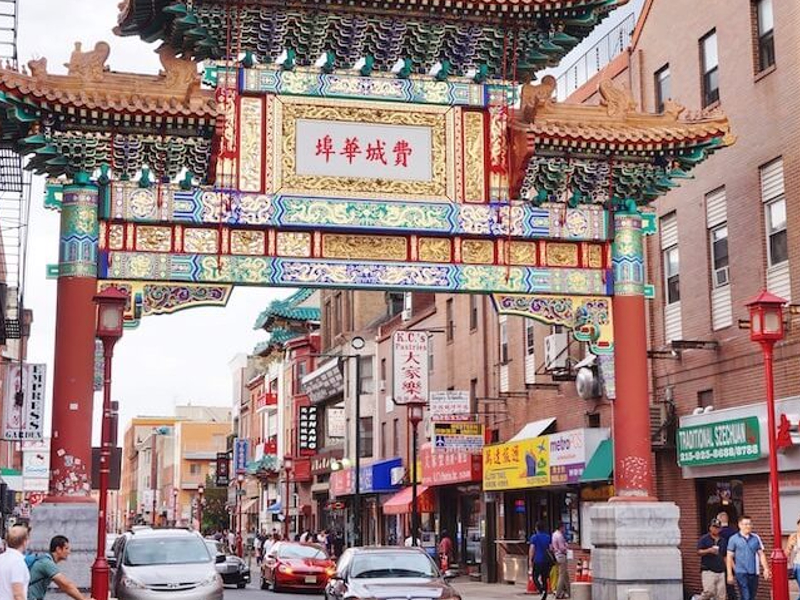 PHILADELPHIA
Philadelphia Chinatown was originally settled by Cantonese immigrants in the mid-19th century. The community is packed with stores and restaurants that promote Hong Kong, Fujianese, Cantonese, Taiwanese, and Northern Sichuan cuisines and cultures. The Philadelphia Chinatown continuously increases its ethnic Chinese population.
The Chinatown Friendship Gate at 10th and Arch Street symbolizes the cultural exchange and friendship between the Chinese sister city of Tianjin and Philadelphia.
The community also has hotels and a Convention Center where visitors can stay if they plan to stay several days to explore the place which is densely packed with Asian grocery stores, food court and restaurants, cafes and shops.
---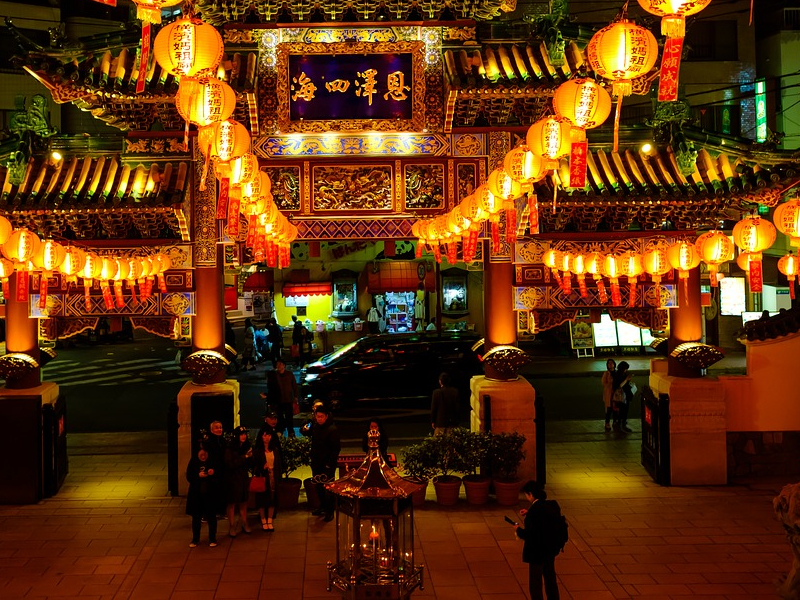 SEATTLE
Seattle Chinatown, also known as Chinatown-International District of Seattle, consists of a cultural blend of Japanese, Chinese, and Vietnamese residents. It also houses Filipino residents.
The International District was established in 1999 by City Ordinance 119297.
What you can see in this Asian-American community are dim sum restaurants, noodle houses, sushi spots, karaoke bars, gift shops, markets, and massive Asian grocery and specialty stores which offer varied food choices.
CID is also among the eight historic neighborhoods in the city.
Seattle's Chinatown is definitely worth visiting not only because it is rich in Asian cultures, but also due to its notable landmarks and businesses in the area. These include the Wing Luke Museum of the Asian Pacific American Experience, Panama Hotel, Kobe Terrace, Hing Hay Park, Danny Woo International District Community Garden, and others.
---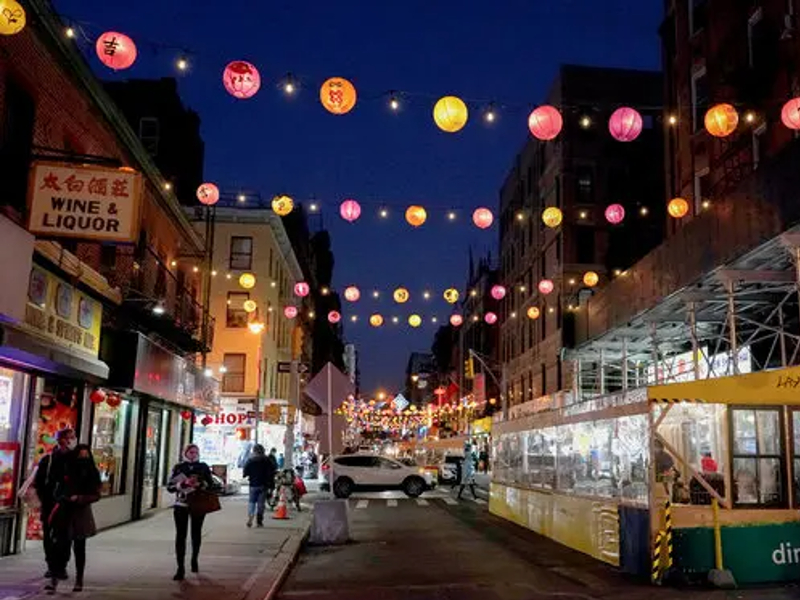 NEW YORK CITY
Manhattan's Chinatown has the largest Chinese population among the Chinatowns in the Western Hemisphere, and is known to be the largest Chinatown in the US. The community is located in Lower Manhattan, New York City, having an estimated population of 100 thousand Chinese individuals.
This lower Manhattan neighborhood is also among the oldest Chinese ethnic enclaves, and is part of the National Register of Historic Places.
Among the tourist attractions you should look forward to when planning to visit this New York's Chinatown are the Chinese and Southeast Asian restaurants that serve hand-pulled noodles, pork buns, and dumplings. The sidewalks are also packed with vendors selling herbs and spices, fresh fish, and other local foods.
You can also find a lot of souvenir stores, herb shops, and bubble tea shops in Manhattan Chinatown.
---
CHICAGO
Chicago's Chinatown is located in the SouthSide of Chicago, at the heart of Cermak Road and Wentworth Avenue. The community is also among the fastest growing Chinese communities in the country.
The neighborhood has shops, dim sum spots, teahouses, cafes, and restaurants that serve Asia food.
If you visit Chicago Chinatown, don't forget to check out the Lao Sze Chuan restaurant. This family restaurant serves authentic and spicy dishes, which is claimed to the America's best Chinese take-out restaurant. Jing Fong restaurant is also worth a try.
There are also various services that can cater to people who are interested in learning Chinese culture like speaking Cantonese.
Aside from the authentic decor, gifts, and other souvenirs which are available at the Chinatown Bazaar, you may want to explore some of the famous museums in the city like the Chinese American Museum of Chicago.
Transportation is also not a problem when you visit Chicago Chinatown. You can travel from one place to another via a water taxi.
---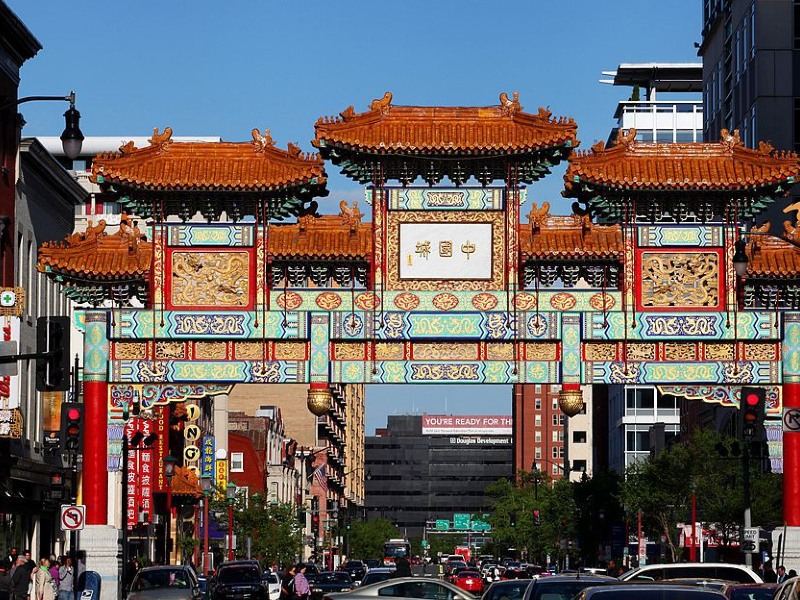 WASHINGTON DC
Washington DC's Chinatown was once a home of countless Chinese nationalities. However, these numbers have shrunk to not more than 300 in the year 2017.
The first Chinatown was built in the Federal Triangle, but after 1931, it was relocated to the H street place.
A Chinese gate was also constructed at 7th Street over H street and around 1997, notable landmarks like an entertainment arena and the Capitol One Arena were remodeled in the location.
Businesses and establishments were tenanted and renovated along with the development of the Verizon center. In a short period of time, the place was turned into a retail-residential-office environment. Restaurants, shops, a bowling alley, and a cinemax complex made the community a vibrant spot for shopping, entertainment, and nightlife.
Washington DC's most prominent businesses like Chinese and Asian restaurants are owned by Asian American families.
Among these popular businesses are Eat First, Chinatown Express, Tony Cheng's seafood restaurant, Ming's restaurant, Full Kee, the Wok & Roll, Mongolian BBQ, and other restaurants that usually offer Asian food.
---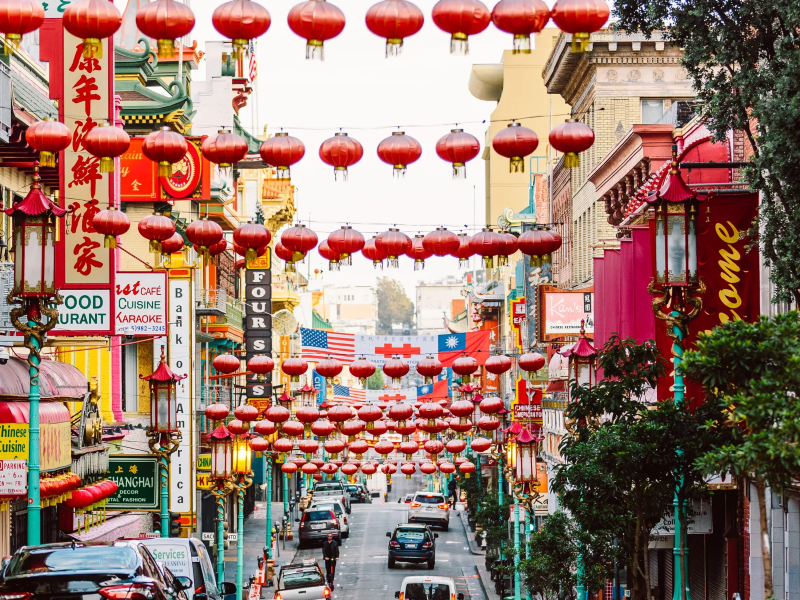 SAN FRANCISCO
San Francisco Chinatown is the oldest Chinatown in North America and among the largest Chinese enclaves outside Asia. It was established in 1848 and played and important role in the culture and history of ethnic Chinese immigrants in North America.
San Francisco's Chinatown is located at Grant Avenue and Stockton Street in San Francisco, California. It is filled with various tourist shops, fish markets, restaurants, temples, and bakeries.
San Francisco Chinatown offers innumerable Asian cuisine. You can visit Golden Gate Bakery that offers egg tarts or the oldest dim sum house in the country, Hang Ah Tea Room. If you are into a vegan diet, then Hunan Homes Restaurant is the right place for you.
The neighborhood also has several parks, churches, two hospitals, and various infrastructure. The community has also been acclaimed as a main tourist attraction which attracts more visitors every year compared to the Golden Gate Bridge.
Most immigrants prefer to stay in Chinatown because the place maintains its rich culture from their own customs, languages, to the places of worship and social clubs. Additionally, Chinatown offers very affordable housing.
---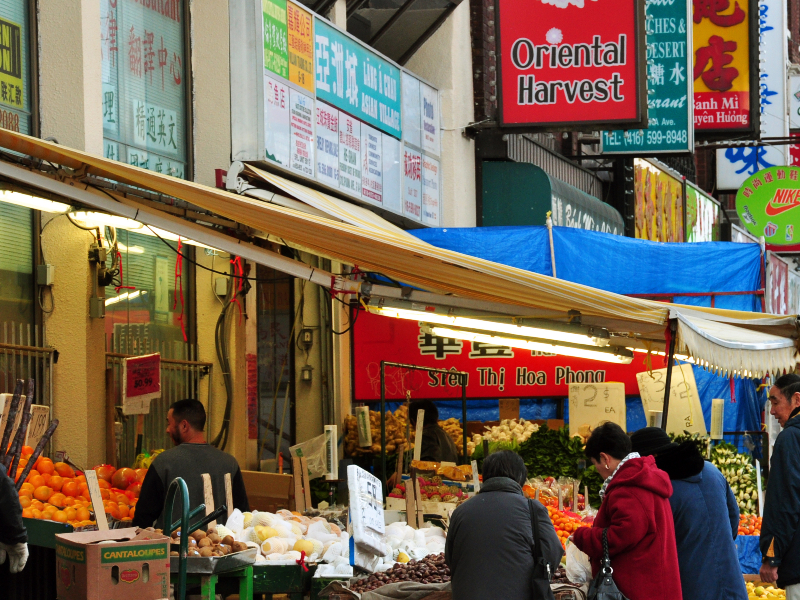 TORONTO
Toronto Chinatown, also known as West Chinatown or Downtown Chinatown, is a Chinese community centered in the downtown core of Toronto, Ontario.
Toronto's Chinatown hosts various Thai, Chinese, Japanese, and Vietnamese restaurants that serve shrimp dumplings, ocean seafood, and spicy dishes.
This large immigrant community is known for its delicious Chinese food, food court, bustling streets, and colorful signage.