One of the latest generation's favorite drinks is bubble tea. This drink comes in different flavors, and is available in cafeterias and bubble tea shops across the globe. But if you want to try making bubble tea at home, this post should give you the idea on how it will be done. Read on!
WHAT IS A BUBBLE TEA?
Bubble tea, also known as boba milk tea, is a tea-based drink originated in the early 1980s in Taiwan. And this drink becomes a trendy beverage almost every young generation can't resist. It is usually made of chewy tapioca balls or boba pearls, sugar syrup, fresh milk, toppings like red bean, fresh fruit, aloe vera, coconut jelly, or grass jelly, with few ice cubes.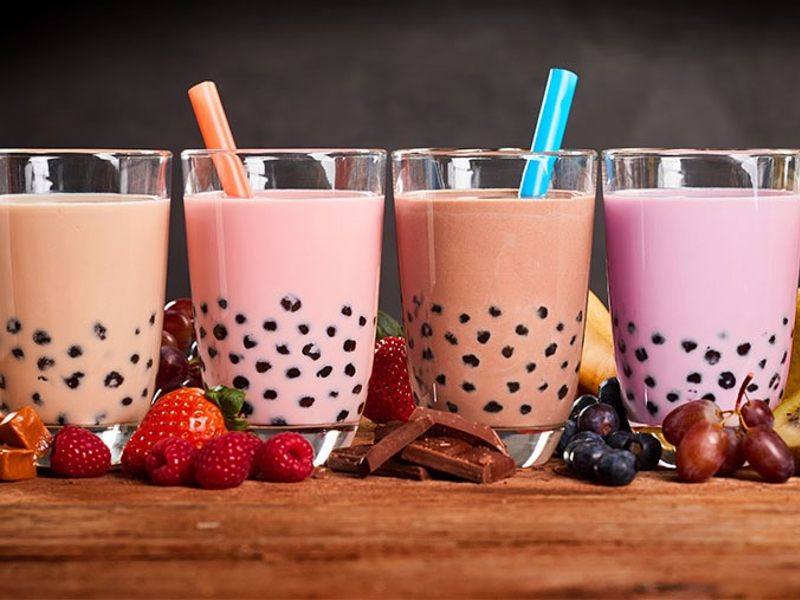 The bubble tea is made of two main components. These are the tapioca pearls and the tea. The tea is the base of the drink and the pearls are the garnish.
The bubble tea bases are usually milky and sugary caffeine-filled teas. Some use green tea like matcha, hojicha, and jasmine.
Classic versions such as Oolong milk tea and Jasmine milk tea are becoming popular as well. These teas without boba have dominated the menu in most boba shops in Hongkong, China, and Taiwan.
Other variations of bubble tea toppings include salted cream cheese, honey boba, rose petals, sweet potato balls, and more.
Other toppings of the classic bubble tea includes the following:
taro balls
coconut jelly
egg pudding
sago
BENEFITS OF MAKING BUBBLE TEA AT HOME
Even though bubble tea vendors are almost everywhere, there are still various reasons as to why you should make bubble tea at home.
First, making your own bubble tea gives you the assurance that you are making yourself a delicious and healthy drink. For all we know, most store-bought bubble tea may contain ingredients that are not good for our health.
These include unhealthy chemical sweeteners, hydrogenated palm oil, and PCBs or polychlorinated biphenyls that may affect the immune system, reproductive system, nervous system, and other health issues.
And of course, when you make your own bubble tea, it's a guarantee that it will cost you less than buying them from bubble tea shops.
You can also make your tapioca pearl drinks more resourceful, control the calorie content depending on your current diet, and add ingredients of your choice.
You can even make everything from scratch instead of buying boba kits for your homemade bubble tea.
---
BOBA KITS YOU CAN BUY AT GROCERY STORES OR ONLINE
Before we move on to our easy boba tea recipe, here are some BOBA KITS you can buy at your nearest grocery stores or online: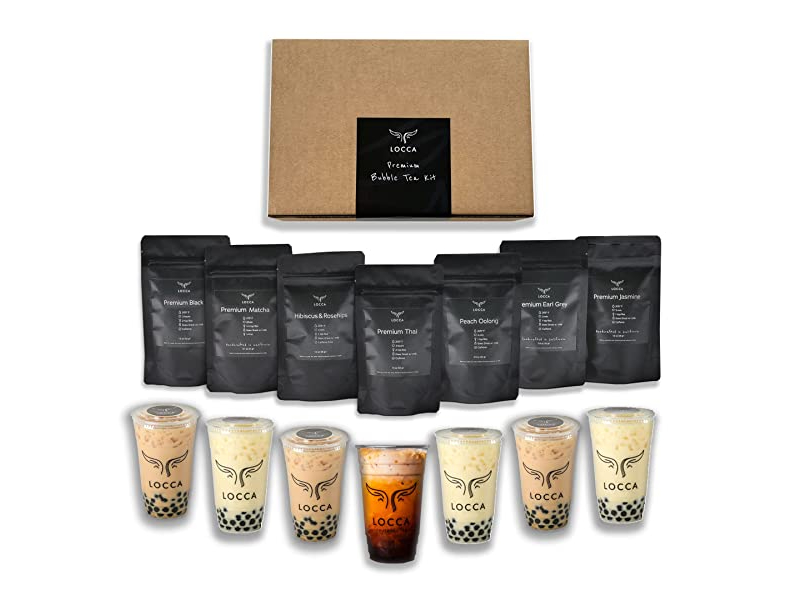 This milk tea kit is made of 7 premium loose leaf tea flavors, 2 large bags of boba (14oz), 40 boba straws, and recipe cards. These flavors include black or Jasmine tea, Thai, Organic Matcha (Premium Grade), Organic Earl Grey Lavender Tea, Organic Hibiscus Rosehips Tea, and Organic Peach Oolong Tea.
This Boba kit is crafted in California, and the boba pearls are chewy and delicious. These tapioca pearls are vegan and gluten free, and made with quality ingredients, so it's a guarantee your boba tea is a healthy tea.
The Boba kit comes in an environment-friendly packaging and can also be a perfect delicious beverage gift for some you love!
Buy it now on Amazon
---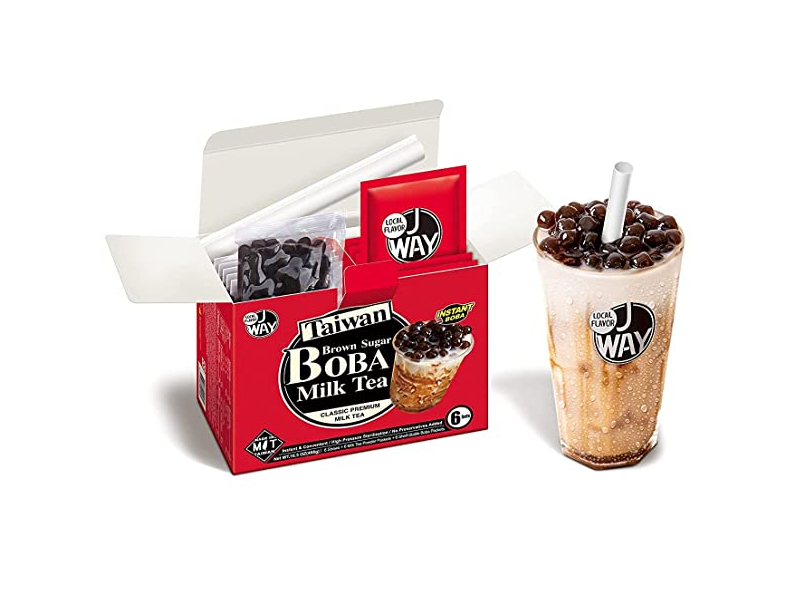 This Boba kit features the original Taiwanese bubble tea made of delicious fresh brown sugar boba pearls, classic milk tea, and extra wide paper straws.
This tea variety weighs 50 grams and comes in powder form.
What makes this bubble tea healthy is that it is made with preservative free instant tapioca pearls coated in brown sugar syrup.
The kit is very convenient and easy to use, and is ready in not less than a minute. To prepare your boba tea, simply microwave the boba packet, add hot water to the milk tea powder in your favorite cup, add the ice and heated boba. Your boba tea that is made with the finest ingredients is now ready to serve!
Along with the 6 individually wrapped portions of brown sugar flavored boba are the 6 classic milk tea packets and 6 extra wide paper straws.
Now, if you have plenty of spare time and opt to make bubble tea from scratch, this simple bubble tea recipe is for you.
Buy it now on Amazon
---
MAIN INGREDIENTS TO MAKE BUBBLE TEA
To make bubble tea at home, you need these major ingredients:
TAPIOCA PEARLS
The tapioca tea, also called bubble tea, is mainly made of chewy tapioca pearls. These boba pearls make the drink recognizable from other types of milk tea such as chai or teh tarik.
The boba pearls or chewy tapioca balls can be purchased online, at grocery stores, or you can make them from scratch with the use of tapioca starch or tapioca flour, and other ingredients.
Both uncooked homemade and store-bought tapioca pearls can be stored in an airtight container for later use.
You can use any color of tapioca balls in your pearl milk tea.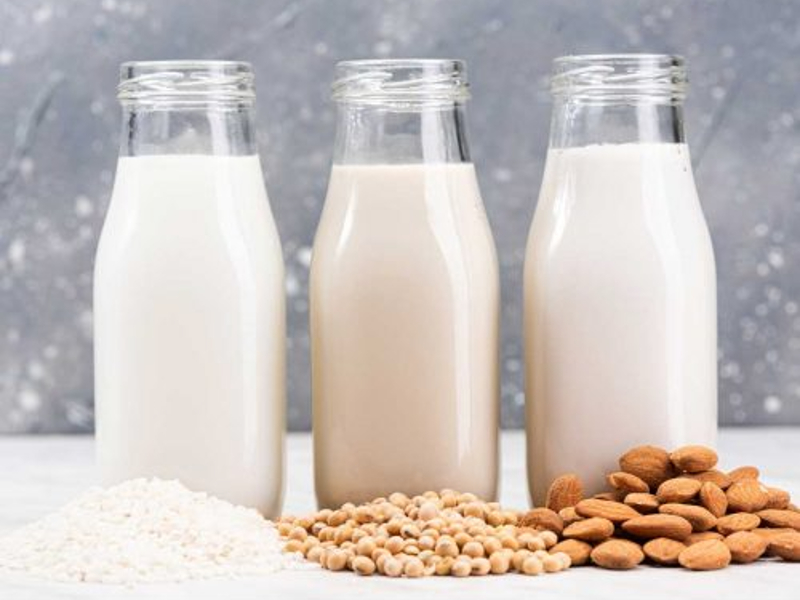 MILK
From the name itself, the tapioca milk tea is also made with milk. The milk you can use in making bubble milk tea can be dairy or non-dairy.
The classic bubble tea often uses cow's whole milk, while most tea shops in Southeast Asia use soy milk and condensed milk. Meanwhile, the US and Europe often make their bubble milk tea with non-dairy milk such as oat milk and almond milk.
Some tea shops use milk powder with water.
If you love bubble tea and you are a vegan, make your delicious drink with soy milk. This type of milk is gluten-free. However, your bubble tea will tend to become thinner, so better adjust the ice cubes you'll use.
---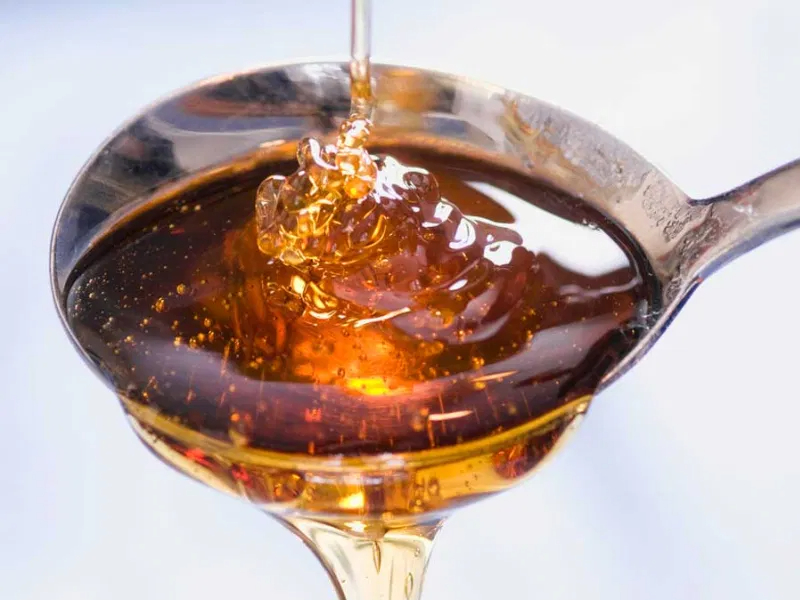 SWEETENER (SIMPLE SUGAR AND BROWN SYRUP)
The taste profile of your boba milk tea depends on the type of sweetener being used.
Japanese bubble tea uses Okinawa kokuto black sugar as a sweetener, simple syrup for plain bubble tea, and low calorie tea sweeteners like aromatic spices or stevia.
The most common sweetener used in bubble tea in most boba shops is the simple syrup. Simple syrup is a mixture of white sugar and water. This type of sweetener is ideal when you are up for a classic boba milk tea.
Brown sugar is also an excellent sweetener for bubble milk tea. Compared to its counterpart, the white sugar, brown sugar's caramel flavor is stronger. Therefore, it is not used in drinks with tea. But for bubble tea, brown sugar is only added to the whole fresh milk.
The most popular type of drink that uses brown sugar is called boba tiger, also known as tiger bubble tea. This boba pearls are mixed with brown sugar syrup into a cup and whirl it. Then add the milk.
If you opt for a less sweet bubble tea, then use brown sugar and cane sugar as sweetener.
---
ICE
To maintain the chewy texture of the pearls, ice cubes should be added to your tea. Since tapioca pearls are boiled, its texture will become sticky and less chewy when cool down naturally.
It is also not ideal to add the tapioca pearls to your drink without ice as the heat of the milk tea can overcook the boba pearls.
Additionally, the ice can add volume to your milk tea and make it a lighter drink as it can cut some calories from the sweetener used.
But if you opt for a richer and creamer drink, reduce the ice cubes.
---
HOW TO BREW TEA FOR BUBBLE TEA
You can use English breakfast tea, Chinese breakfast tea, or any other types of black teas and green teas, whichever you prefer.
For a more flavorful brew for your boba drink, brew black teas at around 95 degrees Celsius.
For bubble tea, warm brewing is the most common method used. For blends such as Earl Grey or Assam Tea, brew the tea at around 98 degrees Celsius.
WARM BREW TEA GUIDE:
1. Boil clean water at around 98 degrees Celsius, then pour the water into the pot or vessel with tea leaves.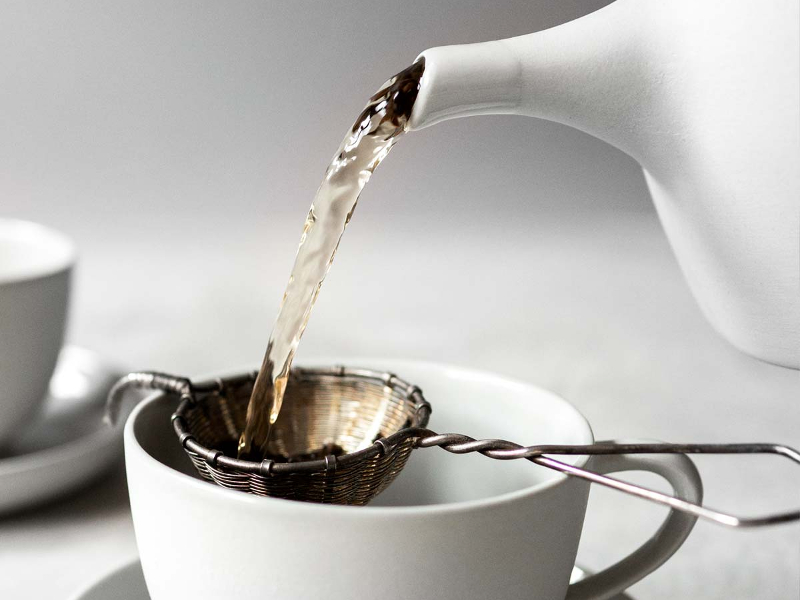 2. Wait for at least five minutes to steep, and strain the tea bags or tea leaves after the said time.
Now, if warm brewing isn't your thing, especially if you hate bitter taste or teas with tannin-rich flavor, you can use cold brewing method for your tea.
Simply add tea leaves in the water.
The cold water method, also known as Japanese mizudashi and koridashi, are not commonly used for drinks that contain sugar and milk. But it can be a refreshing twist to create a more interesting boba drink.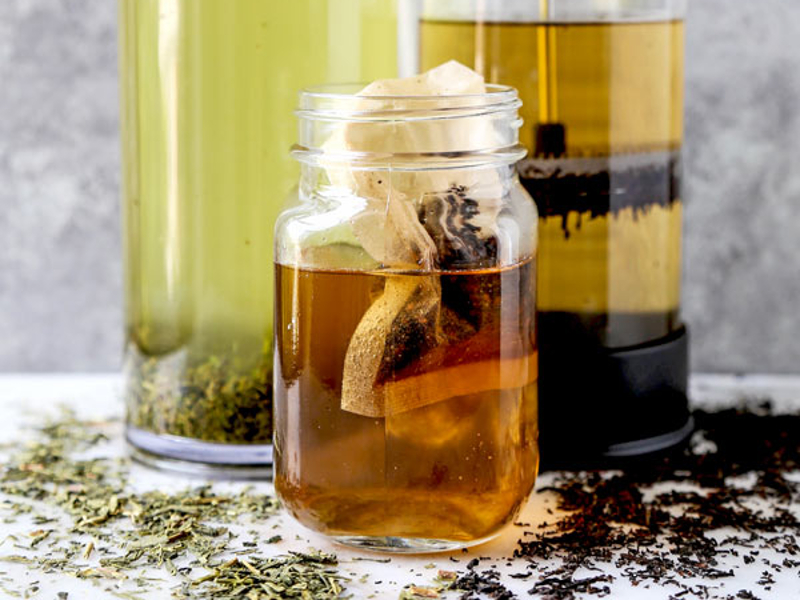 COLD BREW TEA GUIDE:
1. In a large pitcher, add the loose leaves or tea bags. Make sure this pitcher fits in your fridge.
2. Cold brew tea for at least 12 hours or overnight for a sweeter and less caffeinated brew.
3. After the said time, strain out the tea bags or used leaves.
This cold brewing method is preferable for serving cold tea.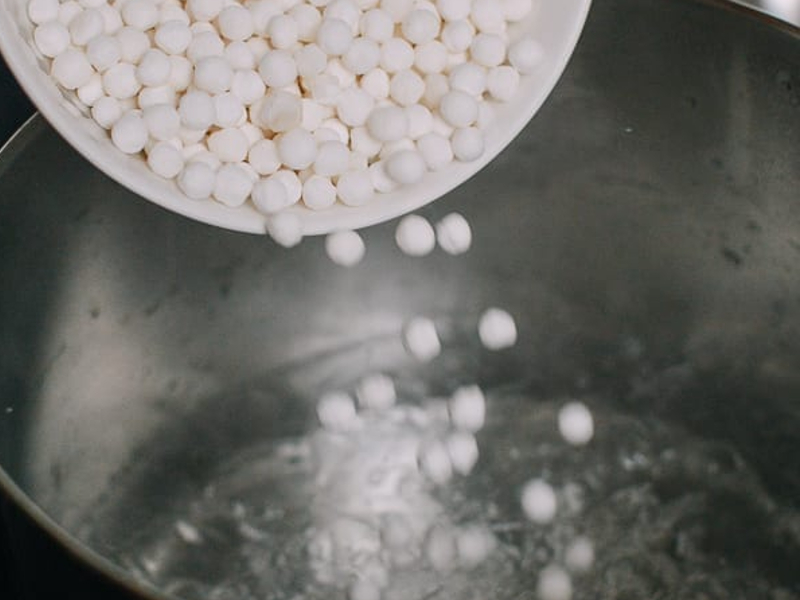 QUICK COOKING TAPIOCA PEARLS GUIDE:
1. Boil water. The ratio should be 7 to 1 (7 for water and 1 part for tapioca).
2. Once the water is boiling, pour tapioca pearls.
3. Lightly stir the tapioca balls or tapioca pearls to avoid sticking to the bottom.
4. Let the tapioca pearls float and cook for 15 minutes on high heat. Cover the pan when the balls start to float. Make sure to stir the balls every five minutes.
5. Steep cooked tapioca pearls for 15 minutes, and remove the pot from the heat. Sit aside covered for another 15 minutes.
6. After the said time, run cold water or lukewarm water over the tapioca pearls and drain. Sit aside cooked boba or cooked pearls for later used.
You can use white tapioca pearls, the black pearls, or other types of tapioca balls.
---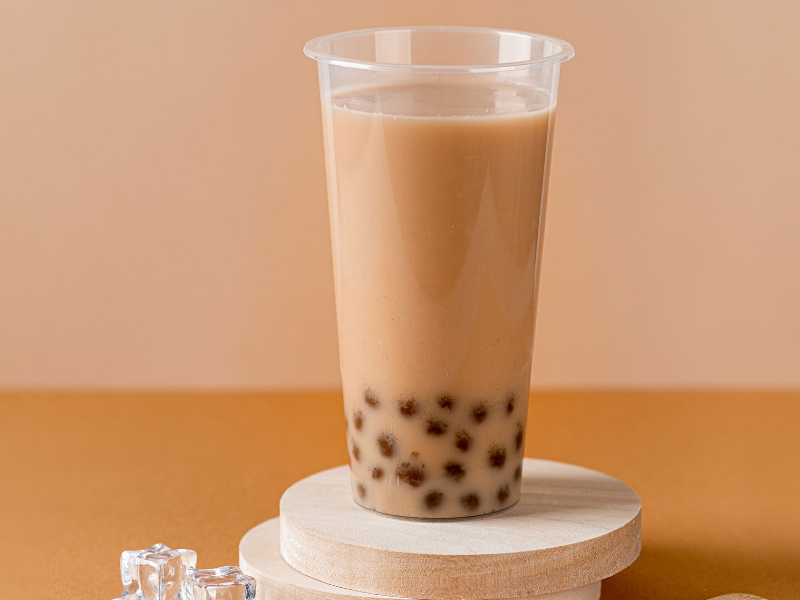 HOW TO MAKE BUBBLE TEA AT HOME
Make bubble tea at home, but taste more delicious than the one from a bubble tea shop using this simple bubble tea recipe.
INGREDIENTS:
4 CUPS HOT WATER
3 TABLESPOONS LOOSE-LEAF BLACK TEA OR 8 BAGS BLACK TEA
3/4 CUP TAPIOCA PEARLS
WHOLE MILK
SIMPLE SYRUP (1/2 CUPS OF WATER AND 1/2 CUPS OF SUGAR)
DIRECTIONS:
FOR THE TEA:

Warm brew tea. Steep the tea leaves or tea bags with (4 cups) freshly boiled water. Wait until the tea cools down.

FOR THE SIMPLE SYRUP or SUGAR SYRUP

In a saucepan, add sugar and water. Quickly stir until the sugar dissolves. On medium heat, boil the water until the sugar is totally dissolved. Turn off the heat and remove the saucepan. Let cool down before you transfer the simple syrup to a container or jar. Skip this step when using a different sweetener.

FOR THE TAPIOCA PEARLS:

You can refer to the guide listed above.

See QUICK COOKING TAPIOCA PEARLS GUIDE.
---
HOW TO ASSEMBLE THE TAPIOCA TEA OR BUBBLE TEA
1. Get a pitcher to strain the tea into. Split the cooked tapioca balls or boba pearls into four large glasses.
2. Add some ice into each glass and pour 1 cup of tea into each glass.
3. In every glass, add 1 1/2 tablespoons of simple syrup and the same amount of milk. Mix well, and taste the boba drink. If you like sweetened tea, add milk or more simple syrup.
NOTE:
You can use dark brown sugar if you are making brown sugar boba tea or brown sugar milk tea.
Aside from the sugar syrup or simple syrup, you can use any type of sweetener like maple syrup and honey on your homemade bubble tea or pearl tea.
You can use sweetened condensed milk, evaporated milk, and other types of milk whichever is available. Just adjust the amount of milk according to your taste.
If you want to make a more colorful and tasteful tea at home, you can add other flavors on your cooked pearls.
---
SUGGESTED MEASUREMENTS
Since you are making the bubble tea at home, you can adjust the ratio of the ingredients such as the tea, milk, simple syrup, tapioca pearls and ice depending on your taste. But you can also use this guide:
FOR STRONG BREW BASE:
2 CUPS TEA
1/8 CUP MILK
1/8 CUP SYRUP
1/4 CUP ICE
1/2 CUP TAPIOCA PEARLS
FOR MILKY BUT NOT TOO SWEET TEA:
1 3/4 CUPS TEA
3/8 CUP MILK
1/8 CUP SYRUP
1/4 CUP ICE
1/2 CUP TAPIOCA PEARLS
FOR SWEET AND NOT SO MILKY TEA:
1 3/4 CUPS TEA
1/8 CUP MILK
3/8 CUP SYRUP
1/4 CUP ICE
1/2 CUP TAPIOCA PEARLS
FOR A LESS ICED MILK TEA OR ICED TEA:
1/8 CUP ICE
1/2 CUP TAPIOCA PEARLS OR TAPIOCA BALLS
And that covers everything! I hope this bubble tea recipe will help you make a very delicious and healthy bubble tea at the comfort of your home.
---
FREQUENTLY ASKED QUESTIONS:
HOW TO STORE COOKED TAPIOCA PEARLS?
Unused cooked tapioca pearls should be stored in a container and be kept at room temperature or a more warm zone. It should be consumed not later than 10 hours, and make sure not to refrigerate or put inside the freezer to avoid messing up its texture.
HOW MUCH CALORIES A LARGE CUP OF BOBA TEA HAS?
The amount of calories in an average large cup of boba tea or bubble tea is approximately 460 calories.
WHAT ARE THE MOST COMMON FLAVORS OF BUBBLE TEA AVAILABLE IN MOST BOBA SHOPS ASIDE FROM THE PLAIN BUBBLE TEA AND GREEN TEA?
The flavors of bubble tea that are usually seen on most boba shops' menu are honeydew, lychee, mango, peach, strawberry, and avocado.