A lot of people have asked, "How to cook tapioca pearls?" Well, if you are one of them, then you are in good hands because that's exactly what we are going to discuss in this post!
* If you buy through links on our site, we may earn an affiliate commission. For more details, please visit our Privacy policy page.
Aside from knowing how to cook tapioca pearls or boba pearls, you'll also learn what tapioca pearls are, why you should learn how to cook them, where to buy tapioca pearls, how to use Instant Pot to cook your tapioca pearls and a lot more.
So, without further delay, let's get into our topic today and learn more about tapioca pearls.
What are tapioca pearls?
Tapioca pearls are made of cassava starch. It can easily be mistaken to be the same as sago, which is made of tropical palm trees. As this might be the case, both tapioca and sago are commonly used nowadays in bubble teas and similar drinks.
Going back to tapioca pearls (sometimes called tapioca balls or boba), they are delightfully chewy and sticky. If you ever have eaten tapioca pearls before, you know what we mean. That's why they are a great addition to most drinks. Simply put, it gives more taste and variety to your bubble tea.
Speaking about its appearance, tapioca pearls vary in size. However, they can be as small as a pea and as big as a marble. It depends on the manufacturer.
Tapioca pearls can be white, brown, or black. By default, tapioca pearls are white, but some manufacturers already add brown sugar and that's why they become darker in color.
By itself, boba pearls are flavorless. You have an option to sweeten it with brown sugar or not.
Why should you learn how to cook tapioca pearls?
There are various reasons why you should learn how to cook tapioca pearls.
One primary reason is that some manufacturers don't include instructions on how to cook their tapioca pearl products. So, you are left on your own to discover how to cook them.
Another reason is preparing your tapioca pearls can be enjoyable and exciting. Creating your bubble tea recipe and cooking boba pearls open up to a lot of possibilities.
Finally, cooking your tapioca pearls allow you to create your favorite bubble tea right in the comfort of your own home.
Where to buy tapioca pearls
Before you can cook tapioca pearls, you need to first have them. So, where are you going to get your tapioca pearls?
First off, you can buy them in your local grocery store. You can also check Asian stores as they usually have boba pearls for sale.
If you can't find any of these in your area, one of the most convenient places you can buy tapioca pearls would be online. To help you started, here are some of the best tapioca pearls you can buy on the Internet: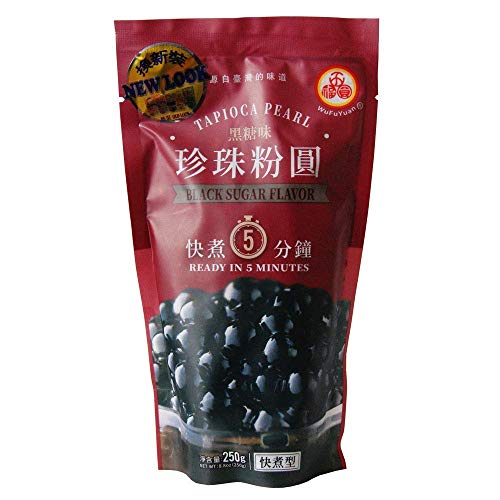 Tapioca Pearl by WuFuYuan – this is among the best sellers. It comes in a black sugar flavor. You can cook these boba pearls in just five minutes, which is way too fast compared to other tapioca pearls that may take up an hour to cook.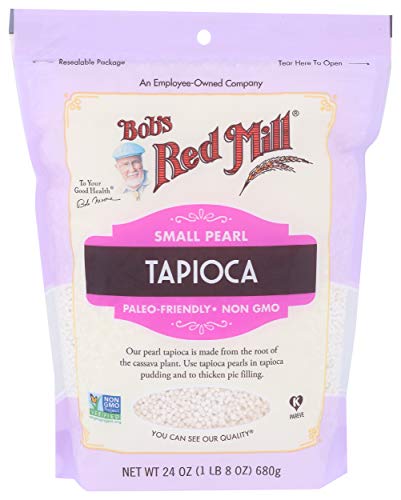 Small Tapioca Pearl by Bob's Red Mill – this product is GMO-free and is smaller than other tapioca pearls.
Tapioca Pearl by See Smell Taste – this one comes in a plastic bottle. A product of Thailand, they also come in smaller sizes. The tapioca pearls are freshly packed, pure, and naturally made.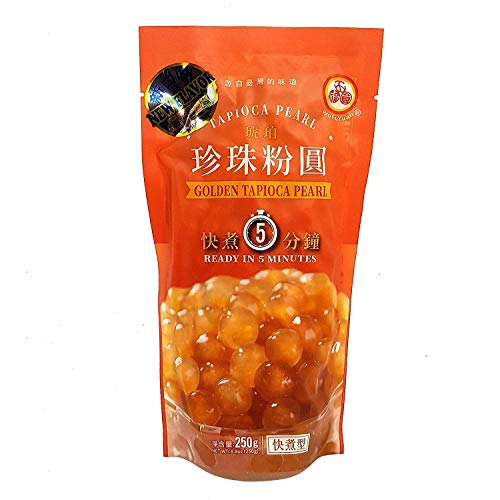 Golden boba bubble tea tapioca pearls – made by Buddha Bubbles Boba, these tapioca pearls are just delicious and chewy. They are super easy to prepare and quite affordable, too. The main selling point of these tapioca pearls is that they can easily be cooked in as fast as five minutes
Be sure to read reviews first before buying these products. Nevertheless, we have reviewed them and they should be among the best boba pearls available online.
How to cook Tapioca pearls
Now, let's go to our main topic — learning to cook tapioca pearls. Thankfully, cooking tapioca isn't hard. Remember, cooking boba pearls may depend on which product you're using. So, if you have written instructions on the packaging, then, by all means, follow that. However, if the manufacturer didn't include instructions for some weird reasons, then here are the basic steps you should take.
Prepare your cooking materials

You need to prepare the tapioca pearls. Unless mentioned in the packaging, don't rinse or wash your tapioca pearls. In most cases, 1 cup of tapioca pearls would yield about 2 ½ cups of cooked tapioca pearls.

When cooking boba pearls, you need a deep pot — deep enough for water and the tapioca. It would be helpful if you have a pot with a transparent cover, so you can visually check your tapioca pearls while cooking.

As for the water, You can estimate how much water you need but you can start with a ratio of 1:4. This means for every 1 cup of tapioca pearls, use 4 cups of water.

Don't worry, you would know whether you used too much water or not. Important thing is that you should have enough water to cook your tapioca. If not, your tapioca won't cook properly but instead, it becomes starchy and sticky.

Boil the water

Don't add your tapioca immediately to the water. You must wait until the water is a rolling boil. You can bring the heat up to the maximum when you're starting to boil so that the water will boil faster.

Add the tapioca pearls

Once the water is boiling, you can then add your boba pearls and bring the fire down to medium-low. Cover your pot for 30 minutes. You can check your pearls every once in a while, maybe after every five minutes, and then stir them to prevent sticking.

After about 15-20 minutes, you'll see that your pearls start to thicken and they become bigger. Stir a few more times as this is the point where they can be sticky.


Turn off the fire

After 30 minutes, you can turn off the fire and let the boba pearls sit there for another 30 minutes. Please note that tapioca pearls disintegrate eventually when put into water for a long period.

Please note that the cooking time could be shorter or longer, depending on the amount and size of the tapioca pearls you're cooking. You know that your pearls are already cooked when they are already translucent and you don't see the opaque white center anymore. You can even bite into the pearls to see if it is already in the right texture.

Rinse

Get a strainer and pour down your tapioca through it so you will drain the water, leaving the tapioca pearls behind. If you still notice that your pearls have white or opaque centers, it needs more time to cook. You can then boil water again and put back your boba pearls.

You can check as well by biting your tapioca pearl. If it is already chewy and not hard in the center, then it is already cooked. Once you're sure that the tapioca pearls are ready, you can then drain and rinse them with cold water.

Add Sugar (optional)

While waiting for your tapioca pearls to be cooked, you can also dissolve 3 tablespoons of brown sugar into 1 cup of warm water. You can then put your tapioca pearls in a bowl and add the dissolved brown sugar.

The sweetened warm water will infuse flavor to your tapioca pearls and at the same, prevent the pearls from sticking together.

Enjoy!

There are different ways to enjoy your boba pearls. As mentioned, the most common way would be adding it to your cold drinks. Some desserts use tapioca pearls, too. Now, if you haven't decided yet, don't hesitate to check various recipes available online.
How to cook tapioca pearls with Instant Pot
Recently, Instant Pot has become a craze in many households. How could it not be a best-seller and popular item when it can serve a lot of purposes? Instant Pot can be a pressure cooker, rice cooker, slow cooker, and yogurt cooker.
And yes, The Instant Pot can be a tapioca pearls cooker as well. As you can see, there are just so many reasons for you to get an instant pot right now.
Just in case you're thinking of buying an Instant Pot product and preparing your bubble tea, here are a few highly recommended models you should consider: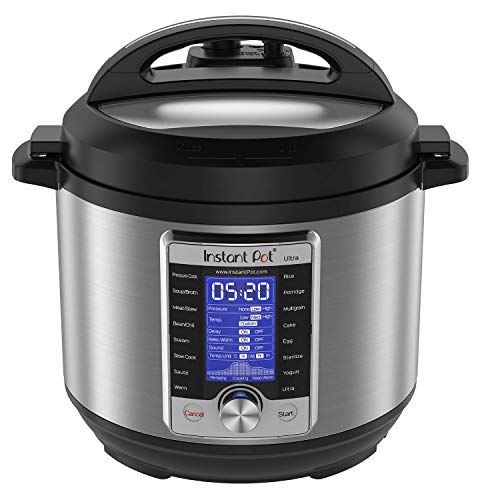 Instant Pot Ultra – with 10 functionalities, this product can do so many things. You can simply program the instant pot, leave it for a few minutes, and your food is already cooked. It's a perfect product to cook your tapioca pearls. You can dramatically reduce the cooking time with Instant Pot Ultra.
Instant Pot Duo – comes with seven multi-functional and programmable features. Can cook your food fast or slow, depending on your needs. You can also use this to cook your tapioca pearls.
There are other Instant Pot products, but these two are the most ideal Instant Pot items for cooking boba pearls and preparing the bubble tea.
Here's a quick look at the steps or cooking method on how to cook tapioca pearls with the use of Instant Pot:
Step 1: Add 1 cup of tapioca pearls to the Instant Pot
Step 2: Add 2 cups of water to the Instant Pot. Be sure that all tapioca pearls are fully submerged.
Step 3: Cover Instant Pot by closing the lid and vent.
Step 4: Set the Instant Pot at high pressure for two minutes.
Step 5: Release pressure before opening the lid.
Step 6: Drain water and rinse boba pearls.
Step 7: Add brown sugar for flavor. Mix well. The amount of brown sugar depends on your preference.
Cooking boba pearls even for the first time with Instant Pot is easy. As you can see, it just takes a press of a button and a few minutes and you should have cooked tapioca pearls in no time.
How to make tapioca pearls from scratch
We have already discussed how to cook tapioca pearls traditionally and how to cook them with Instant Pot.
However, what if you don't have any tapioca pearls? What if you just can't find any place to buy these pearls or you just don't want to wait any longer? What can you do?
Well, why not make your boba pearls? Yes, that's right! You can make them in your home.
Here are a few steps to follow.
Step 1: Prepare the ingredients and materials.
3 tsp of boiling water
9 tsp of tapioca flour
1 cup brown sugar
Glass bowl
Step 2: Prepare the tapioca flour
When making white tapioca pearls, you need tapioca flour or tapioca starch. If you don't have this, you can buy Bob's Red Mill Tapioca Flour. It's one of the best products there is online. Their product is gluten-free, vegetarian, paleo-friendly, Kosher, and it produces thicker and high-quality boba pearls.
Once you have your tapioca flour, simply add 9 tsp of it into your glass bowl (or stainless bowl, whichever is available). Some tapioca flour products come with instructions on how to prepare tapioca pearls. So, if you have that, feel free to follow that accompanying instruction instead.
Step 3: Boil water
You would only need to boil a small amount of water. 1 cup of water should be enough. Be sure that the water comes to a rolling boil before you turn off the fire.
Step 4: Add boiling water
This is the most crucial part of this recipe. You need to make sure that the water is boiling when you add it to your bowl of tapioca flour. You need to add only 3 tsp of boiling water.
Once the boiling water is in the bowl, quickly mix your tapioca flour with a spoon. Continue mixing with your hands until the flour becomes a dough.
Step 6: Make tapioca balls
Get a portion of your tapioca flour dough. Roll the dough into a sausage-like shape with about 5mm thickness. You can then cut the roll small enough so you can roll it into a pea-sized ball.
Create as many pea-sized balls as you can with your given dough. Of course, you can also try cutting your dough into small squares or cubes, which can give a different feel in your mouth.
Step 7: Cook as you would like
There you have it! The pea-sized tapioca balls you have just made will serve as your boba pearls. As you can see, the process is just simple and quick.
Now that you have your tapioca balls or pearls, you can now follow the steps or cooking method discussed above to how to cook them. Be sure to store them in your refrigerator to keep your tapioca pearls fresh.
A few tips to remember
For great tasting tapioca pearls, be sure to remember the following tips:
Once you have cooked your tapioca pearls, it is best to eat them as soon as possible for the best taste and flavor. The longer you wait, the more it will lose its freshness.
Tapioca pearls can be eaten within 1-2 days after they are cooked. However, please note that tapioca pearls will eventually dissolve when you let them stay in the water for many days.
When storing your uncooked tapioca pearls, be sure to store them in an airtight container. It is best to put it inside your refrigerator to keep it fresh.
White tapioca pearls are flavorless, unlike the darker pearls. So, if you're using white tapioca pearls, you can soak them in brown sugar, sugar syrup or honey after they get cooked for extra flavor. Otherwise, if you want it to have a plain taste, then you can skip this step.
When cooking tapioca pearls, make sure they don't sink to the bottom of the pot. When they do, they can stick to the pot and it can be difficult to clean later.
Don't rush things especially after boiling the tapioca pearls. When you boil the pearls, the first thing that gets cooked is the outer part. You need to wait for 30 minutes after turning off the fire for the remaining heat to reach the center of the tapioca pearls and cook it completely. If you drain the water too early, your tapioca pearls might be just cooked on the outside and not on the inside.
Don't overcook the pearls as well. Overcooking could destroy the pearl's texture. It won't be chewy anymore, but rather it looks cracked and dry.
Tapioca pearls accessories
Tapioca pearls are just among the most delicious, chewy, and tasty additions to your drinks. Now, there are various recipes you can try as well because tapiocas are not just for drinks but also appetizers, main dishes, and desserts.
Nevertheless, to fully enjoy your tapioca pearls, you may also want to consider getting a few accessories. Here are some of them:
Bubble teas and milk teas are best enjoyed using a straw. However, your straw should be big enough, so that the pearls can pass through. It shouldn't be too big as well because you may end up drinking your milk tea too fast and you won't enjoy your drink that much.
To have the perfect straw, you can have the boba straw of HIWARE Store. One order of their product comes with eight pieces of reusable straw with angled tips. The package also comes with free two brushes for cleaning. The straws are made with food-grade materials and are free of BPA, or toxins. To make things even more exciting the straws are made of various colors.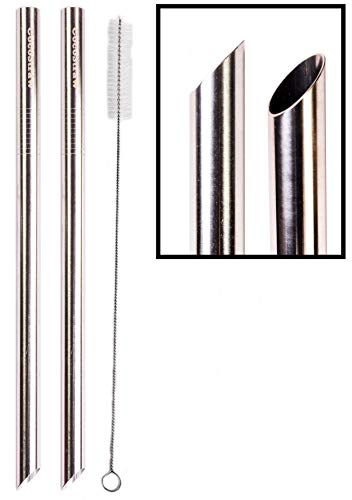 You will love to use these boba straws for a longer period because they are made of stainless steel. So, you can be sure that they are durable and long-lasting. You wouldn't surely need to buy new straws after getting this.
The package by CocoStraw comes with two stainless steel straws with a half-an-inch mouth and 9.5 inches in length. The tips are also angled for easy sipping of the tapioca pearls. You also get a free brush for cleaning the straw.
There's no doubt; milk tea, boba tea or bubble tea can be so addictive at times. Now, think about the many cups you might use and throw away every time you finish drinking your bubble tea.
Thankfully, you don't have to use too many cups because this reusable teacup is just the right product for you. The 24-ounce teacup is made of plastic with a stainless steel lid with reasonable straw how. What you'll love about this teacup is it comes with a cold insulating neoprene sleeve perfect for travel. You also get a stainless straw, which is perfect for sipping your delicious tapioca pearls.
Final words
Preparing your tapioca pearls is fun to do. Though it might be overwhelming at first, you will soon discover how easy it is to cook tapioca pearls on you know the right method. Once you are familiar with the process, you can now enjoy your tapioca pearls anytime, anywhere. You can even start your own business!
With that said, we hope you learned a lot from this post. If you have any questions, suggestions, or comments, please don't hesitate to leave a message below.
* If you buy through links on our site, we may earn an affiliate commission. For more details, please visit our Privacy policy page.