If you want to make a difference to the environment while sipping your favorite bubble tea, a reusable boba straw is one way to do it. You may not see how big an impact your choice of straw will make in our planet, but it does.
* If you buy through links on our site, we may earn an affiliate commission. For more details, please visit our Privacy policy page.
It is estimated that more than 500 million straws are being used in the US every day. Most of these straws are not recyclable and reusable, and they just end in landfills, ocean, and other garbage facilities. One less straw and one person a day can indeed change this number.
Reusable bubble tea straws are normally made of metal or plastic and are usually sold in sets and they include items such as the cleaning brush and a case. If you want to buy one now, we have listed some of the best products available.
Best Reusable Boba Straw
This is a very stylish bubble tea metal straw that comes with a handy silicone mouthpiece, because who wants to clash their teeth on a stainless steel straw? The silicone tip also protects your teeth and lips from the discomfort of drinking hot or cold drinks.
The BubblyStraw Reusable Boba Straws are designed in such a way that the other end is pointed so that you'll never miss a single pearl. You can also use this straw for whatever drink that has mango chunks, coconut jelly, and the like.
What we like most about this straw set is that it comes with a compact silicone case that also works like a keychain. Not only that, but the case also features small crevices for ventilation for regulating moisture. This helps prevent the growth of molds over time. It also comes with a cleaning brush for the straw.
The straws in this set are can extend up to 9.45 inches long and come in four colors. They make an excellent eco-friendly gift to someone who loves bubble tea.
Pros:
Wide enough for boba pearls, mango chunks, and coconut jelly
Stylish and ergonomic telescopic straw
Includes a cleaning brush and a compact case
Can be used for hot and cold drinks
The silicone tip offers a better drinking experience
Easy to clean
Cons:
A few customers reported having difficulty in extending the straw
---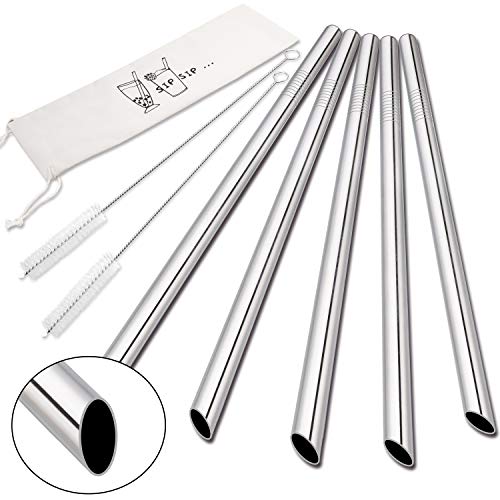 This is another good quality eco-friendly stainless steel bubble tea straw worth checking out. These straws are ideal not just for boba tea but also for smoothies, thick milkshakes, jelly, and jumbo drinks, among others.
The items included in this straw set are 5 reusable straws, 2 cleaning brushes, and a carry pouch. The pouch makes it very convenient for you to carry your straw anywhere. The straws are extra long, measuring 10 inches long and 12 mm (0.5 inches) in diameter. This set has the longest straws among the other products on our list.
Pros:
With 100% satisfaction service
BPA free and lead-free
Rust resistant
Ideal for any beverage with boba pearls
Smooth tip for drinking and angled tip for poking the cup cover of the drink
Cons:
For hot drinks, the straw also becomes hot so you need to wait a bit before you can sip through it
---
These rainbow-colored straws look fun and nice! Made from food-grade stainless steel, the outer layer has a rainbow color to give it its unique look.
The items in this straw set are 5 straws which are 10 inches long and 12 mm (0.5 inches) in diameter and are the longest bubble tea straws we've seen. Also included in the set are 2 straw cleaners and 1 storage pouch. You can use the straws for almost any type of frozen drink including smoothies, jelly, milkshakes, and boba tea.
Pros:
BPA free and lead-free
Rust resistant
Easy to clean
Cons:
The rainbow color tends to fade
Not ideal for hot boba tea
---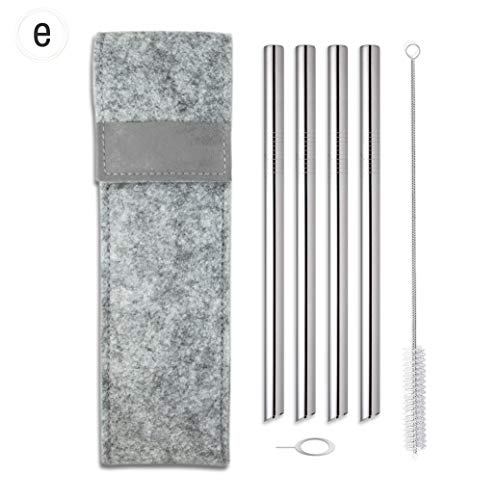 If you want a purely metal straw, this product is one of the best we've found. The set comes with several items including 4 pieces of 8.5-inch long reusable straws, 1 cleaning brush, and 1 sim card removal tool, all of which are wrapped in a felt makeup bag. The felt material soaks up any leftover liquid so that nothing in your purse gets wet.
We know that everyone complains about the splashes when you poke your boba straw into the plastic top. And this product has a solution – the sim card removal tool. You can use it to easily poke a hole into the boba cup cover to prevent splashes.
Pros:
Easy to clean
Comes with a tool for poking the cup cover
The felt case is convenient to carry
Ideal for boba tea, milk tea, or any drink with boba pearls
Cons:
A metal straw is not ideal for those with sensitive teeth
Buy it now: Amazon
---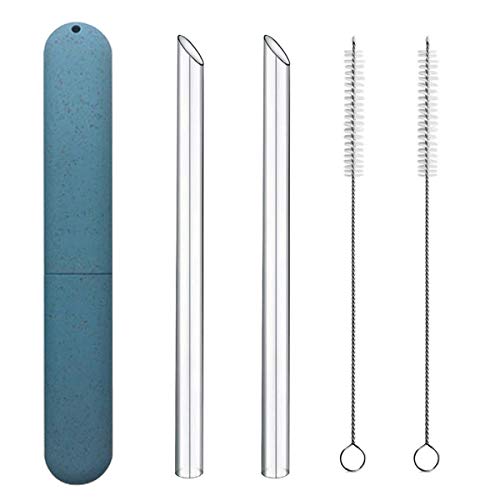 You don't like a plastic straw, you don't like a metal straw, your best bet is a glass straw. This reusable boba straw set comes with 5 items including 2 cleaning brushes, 1 travel case, and 2 straws which are ideal for bubble tea, milkshakes, smoothies, and frozen drinks. The straws are 8.85 inches long and have an outer diameter of 0.55 inches.
What's great about these glass straws is that they are easy to clean and you can also see through if there's food or residue left inside.
Pros:
Great for those with sensitive teeth
Comes with a 100% exchange or refund policy
Easy to clean
Easy to pack and carry on the go
Cons:
---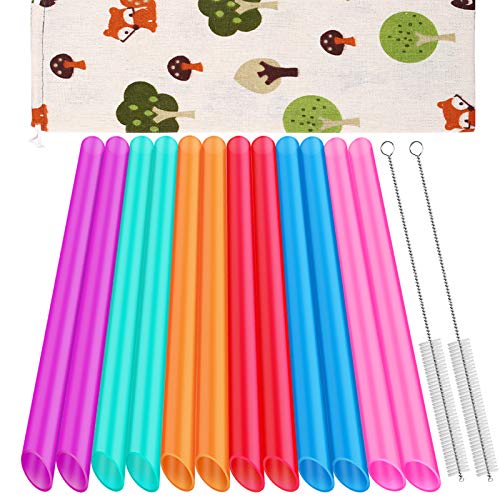 If you are looking for a more affordable reusable boba straw, this product might be it. The straw set comes with several items including 12 colored straws, 2 cleaning brushes and 1 storage bag. The straws are approximately 10 inches in length and about half an inch in diameter, which is ideal for boba tea, smoothies, and thick milkshakes.
The angled tip of the straws makes it easier to poke a hole through the cup cover of the boba tea drink. It's also a great design for sipping all those boba pearls.
Pros:
Teeth friendly
Light in weight
Ideal for any beverage with boba pearls
No bad after taste
Made of BPA-free and non-toxic semi-hard plastic
Cons:
Some users say that those straws are a bit too long for boba tea beverages
---
How To Choose the Best Reusable Boba Straw
Here are the two important factors you need to consider when comparing reusable boba straw products. If you consider these factors, you can easily pick one based on your preferences.
Material
Choosing the best reusable boba straw is not that difficult, but before you can compare, you need to first decide the type of material you want your straw to be made of. We have listed some of the most common types of reusable boba straws based on the material used as well as their pros and cons so you can easily decide.
Glass Straw – With glass boba straws, you can easily see the inside if it is clean or not. They are also great for those with sensitive teeth. And the best thing about them is that they can handle hot and cold beverages. Using a glass straw offers a better drinking experience because you get that same smooth feeling as when you are drinking from a glass. The major drawback of glass straws is that they are breakable and are not safe for kids.
Metal Straw – Metal boba straws generally last longer than most types of reusable boba straws. They are not breakable and are travel-friendly as well. However, with metal straws, they are temperature sensitive. This means that if you are drinking a cold beverage, the straw gets super cold. If it's a hot beverage, the straw gets super hot which could burn your fingers.
Silicone Straw – Silicone boba straws have several advantages. They are generally dishwasher safe, soft to feel, and can handle both hot or cold beverages. Silicone straws are also safe for kids. Many people who have sensitive teeth also prefer this type of straw. Silicone straws are also bendable which can be a pro or con depending on how you want your straw to be.
Items in the set
To get the best value for your money, check also what items are included in the boba straw set. At the least, aside from the straws, you should also get a straw brush and a case. The quantity of straws in a set may vary but typically you get at least two straws in one set.
Conclusion
You can celebrate earth day if you use any of the reusable straws on our list. Out of the products we have checked and reviewed, our top pick is the BubblyStraw Reusable Boba Straws – Metal Bubble Tea Straw. This is the only boba tea straw on our list with a telescopic design, allowing you to customize the length of the straw. This product stands out as it comes with metal and silicone parts which make the straw very user-friendly. With this product, you also get a straw cleaner and a keychain case.
We also know that you may have special preferences when it comes to straws. You can also see our list of other types of boba tea straws such as those made of plastic, metal, or glass. Be sure to read the pros and cons of these types of straws before making a decision.
* If you buy through links on our site, we may earn an affiliate commission. For more details, please visit our Privacy policy page.