For environment-conscious boba lovers, drinking from a reusable boba cup could mean guilt-free enjoyment. You don't have to worry about the environmental impact of using a disposable plastic cup every time you enjoy your favorite bubble tea.
* If you buy through links on our site, we may earn an affiliate commission. For more details, please visit our Privacy policy page.
Aside from reusable straws, reusable boba jars or tumblers are also becoming a trend nowadays. They come in stylish designs and normally come with a reusable straw. Many of these reusable bubble tea cups are versatile because you can also use them for other drinks.
Here are some of our top picks for the best bubble tea or boba cups.
Best Reusable Boba Cups
For a boba lover who is always on the go, this elegant reusable boba jar is a great choice. Created to be sustainable and versatile, this jar is perfect for any type of beverage including boba, coffee, and other treats. The best thing about it is that it fits in standard car cup holders, so you can conveniently carry it with you on your trips.
This product comes with several items that you can use to elevate your experience in drinking milk teas. Included in the kit is a leak-proof double-purpose lid with 2 openings so you can either use a straw or sip through the opening in the lid. It also comes with a colorful silicone sleeve and coaster, plus a complete straw set. The straw set includes a 9-inch stainless steel reusable boba straw, a regular straw, a straw brush cleaner, and a cotton straw pouch.
Pros:
Stylish design and color
Comes with a complete straw set
The cover of the bottle has a dual-purpose design
Comes with an ergonomic carry bag with a front pocket
Has a high-star rating
Dishwasher safe
Cons:
A bit more expensive, but many customers say that its features are worth the price
---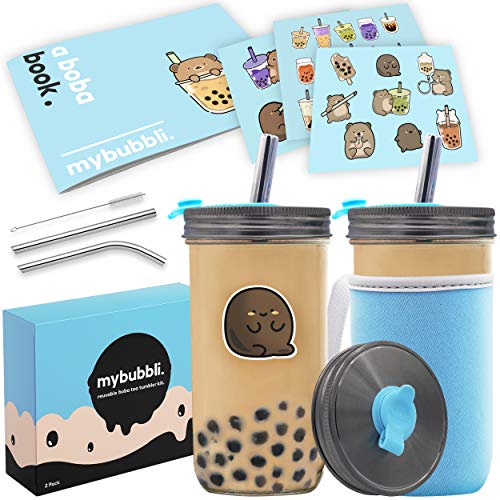 This is another product with a high star rating, and based on what its customers say, we can assume that it is another well-made reusable bottle for boba. If you are a boba lover or you know someone who is, this can be a perfect gift. It is a complete reusable boba kit that's portable and easy to carry and use.
Apart from the two large cups, this product also comes with 2 rust-resistant stainless steel lids with a silicone hole plug, 2 storage lids, one neoprene sleeve, 2 wide boba straws (one straight and the other bent), a cleaning brush, a recipe and sticker booklet, and a gift box. From a price point, this makes an affordable gift for someone who loves to drink boba.
Pros:
With a 100% satisfaction guarantee
leak proof and rust-free lid
Easy to clean
The recipe booklet is very handy
Cons:
Carry pouch not included in the free items
---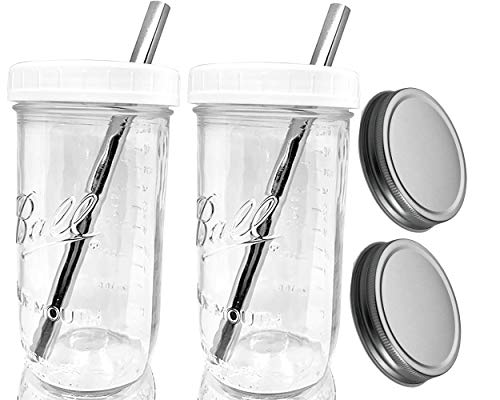 Whether you love boba pearls, smoothies, protein shakes, or milkshakes, you will find this reusable glass boba jar very useful. This set comes with two reusable boba jars so you can share the enjoyment with a friend.
The jars in this set are made of transparent glass with measurement markings on one side. You may find the markings useful if you are preparing your own boba tea using a recipe that calls for accurate measurement of the ingredients. Also included in the set are 2 offset lids with a hole for the straw, 2 silver storage lids, and 2 stainless steel straws that are 8.5 inches long.
Pros:
Leakproof lid
BPA-free and lead-free materials
Rush-resistant and stainless steel straw
Dishwasher safe
Highly rated / with many positive reviews
Cons:
Brush cleaner not included
No carry pouch for the jar
---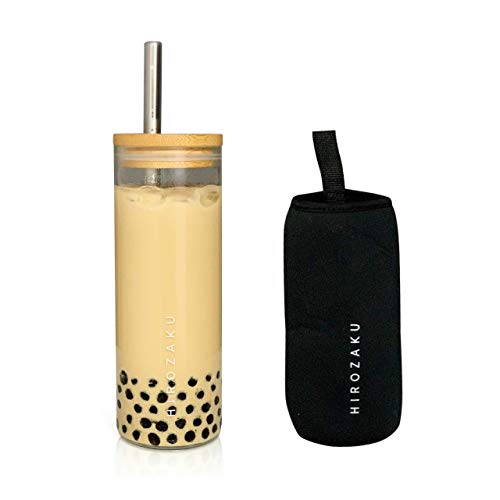 This is the only product in our review list that comes with an eco-friendly bamboo lid. So if you are looking for a reusable boba jar that's made of sustainable material, this is one of the best choices available.
This reusable boba jar is made of high-density borosilicate glass, a material that's also used in making premium glassware. The jar comes with a leak-proof bamboo lid as mentioned earlier and a wide-mouth straw for bubble tea, milkshakes, and smoothies. Also included is a neoprene sleeve to keep the beverage insulated.
Pros:
100% food-grade bamboo lid
Made of premium glass
Easy to clean
Cons:
Straw cleaner not included
---
This plastic tumbler is a good choice if you are looking for a lighter container for your boba tea. What's unique about this tumbler is that it has a double wall to keep the content cold for a longer time. It is also properly sized so that it will fit most car cup holders.
The lid of this bubble tea tumbler has a silicon plug with an airtight design. Even if you shake it, the content will not spill. Moreover, it also comes with a straw that's perfect for tapioca pearls. Looking at how well made this tumbler is we can tell that it's worth its price.
Pros:
With satisfaction guarantee
The airtight plug is leak-proof
Has a double wall keeps the content cold longer
With many positive reviews
Cons:
No cup sleeve and no straw cleaner
---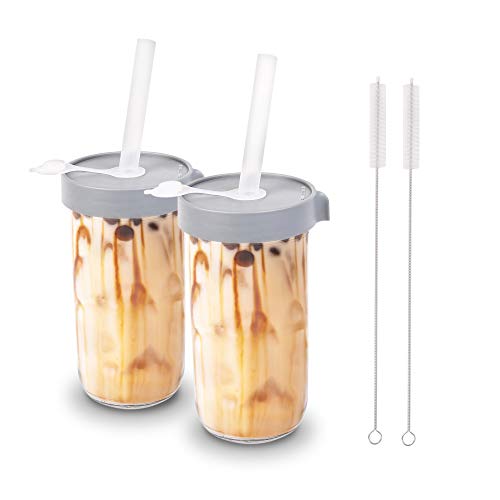 This is a travel-friendly boba tea glass cup worth checking out if you always find time to prepare boba drinks at home and take them with you to your office, school, or where ever you want to go. It's a set of 2 boba tea tumblers which also include 2 reusable straws, 2 sealable covers, and 2 boba straw cleaning brushes. We like that the opening for the straw has a sealable silicone plug which makes it extremely leakproof.
These boba tea tumblers are versatile as you can safely use them for cold and hot beverages. However, it's important to note that the glasses don't come with a sleeve to protect your hand from getting burned if it's a hot beverage.
Pros:
The lid has a fin that you can easily slide to open or close
The tumblers are easy to clean
Leakproof
Cons:
Doesn't come with a carry bag or sleeve
---
This is another good product if you prefer a plastic reusable cup for your boba tea drink. It is one of the products with a high-star rating as many find it really affordable and worth the price. The set includes two 24-oz tumblers, drinking cups, wide reusable metal straws plus a boba straw cleaner.
The reusable jars fit in standard cup holders so you can safely bring them with you on your trips.
Pros:
Easy to use and clean
No leaks
Affordable price
Cons:
No silicone plug on the straw hole
No sleeve or carry bag
---
How to Choose the Best Reusable Boba Tea Cup
Material
Reusable boba tea cups can be made of different materials but the most common are those made of glass and plastic. Glassware are quite versatile because you can use them for hot and cold drinks. However, their main drawback is that they are a bit heavy and on the expensive side.
On the other hand, plastic containers are lighter in weight and not prone to breakage. However, they are generally designed for cold drinks.
Size
The size of the cup also matters as it indicates the quantity of the content it can hold. Boba tea jars or tumblers are available in different sizes but the most popular are 20 oz, 22 oz, and 24 oz.
Items in the Set
Since the reusable boba cups are usually sold in sets, it's also a good idea to check the items that are included in the product you are buying. It would be nice to get a set that also comes with a boba straw and brush cleaner. Some more expensive sets also come with a carry bag for the boba cup and a case for the straw kit.
Leak-proof
Don't buy a reusable boba cup unless it is leak-free. This is especially true if you will be using the cup on the go or on your trips.
We found that boba jars with a silicone lid are the best way to go if you want a container that is completely sealed and leak-proof.
Price
The sale price of the boba cup also matters especially when you are comparing two very similar products, and the only thing that makes a significant difference is the price. Generally, plastic reusable cups come with a cheaper price tag and on average, a complete kit costs between $20 and $25. Glassware, on the other hand, are on the expensive end and a complete kit may cost about $25 and above.
Conclusion
Switching from single-use to reusable boba bottles, jars or cups is a decision that can have a long-term positive effect on our environment. If only many people would do the same, that cause would be a lot better.
If you are planning to start using a reusable boba cup now, the products we listed above are some of the best and affordable choices we found. However, our top pick is the All-In-One Reusable Boba Cup Gift Set / Smoothie Tumbler 24oz BPA FREE Bottle. It has all the items you need to enjoy your boba drink, wherever and whenever you want. And what we like most is that it comes with a stylish design and a convenient carry bag for your convenience.
* If you buy through links on our site, we may earn an affiliate commission. For more details, please visit our Privacy policy page.