Do you have your favorite bubble tea flavors? Is it mango, brown sugar, matcha or taro milk tea?
Many people are already familiar with Boba or bubble tea that originated in Taiwan. This tea drink is usually made of a tea base, milk, plus sweetened tapioca pearl. Some also add honey or condensed milk to the boba milk tea to achieve that sweet creamy flavor.
| Product | Brand | Name | Price |
| --- | --- | --- | --- |
| | Buddha Bubbles Boba | NEW TASTE ! Honeydew Boba / Bubble Tea Drink Mix By Buddha Bubbles Boba 10 Ounces | Check Price on Amazon |
| | Fusion Select | The Ultimate DIY Bubble Tea Kit 6 Flavors of Boba Bubble Tea | Check Price on Amazon |
| | Locca | Locca Premium Bubble Tea Kit (24+ Drinks) with Boba Cards, Loose Leaf Teas | Check Price on Amazon |
| | Buddha Bubbles Boba | NEW TASTE ! Mango Boba / Bubble Tea Drink Mix Powder By Buddha Bubbles Boba 10 Ounces | Check Price on Amazon |
| | Buddha Bubbles Boba | Strawberry Cream Boba / Bubble Tea Drink Mix Powder By Buddha Bubbles Boba 10 Ounces | Check Price on Amazon |
* If you buy through links on our site, we may earn an affiliate commission. For more details, please visit our Privacy policy page.
Boba milk tea has definitely conquered the world and has become popular in many countries outside of Asia. And since the invention of boba tea mixes, a long list of flavors became available to consumers.
With the wide variety of delicious flavoring to choose from, you may end up getting one that you will not like at all or one with an unfamiliar taste. So if you are looking for some inspiration on what flavor or flavors to pick, you can check our list as we have rounded up some of the most popular flavors.
Most Popular Boba Tea Flavors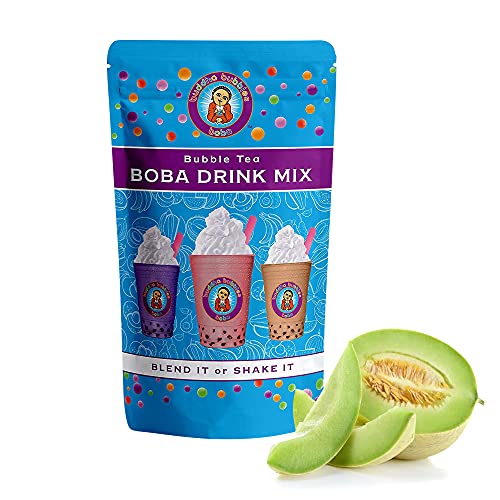 Just like strawberry, honeydew is such a popular fruit tea boba flavor and if you are one of those who prefer this flavor, this product is worth a try. It is already a 3-in-1 powder, which means that it includes creamer and sugar.
It is easy to prepare a honeydew bubble tea using this powder. All you have to do is mix two tablespoons of this bubble tea powder with a cup of room temperature water.
Pros:
Easy to prepare
Refreshing taste
Cons:
The pouch is not resealable
---
Why choose one when you can get six flavors in one kit at a discounted price which is cheaper than when you buy them individually. With this kit, you get lychee, taro, mango, coconut, Thai tea and milk tea, all of which are milk-free and in powder form. It also comes with 3 bags of 8oz quick-cook tapioca pearls plus large straws.
Each pouch of flavored boba tea mix is enough to prepare 6 cups of 12oz boba tea.
This kit is a product of Taiwan and the powder allows you to get a taste of authentic Taiwan boba teas. They are the perfect treat for any occasion. Moreover, aside from home use, this kit is also great for tea shops and other types of businesses that offer bubble teas.
Pros:
Six different tea flavors at a more affordable cost
Comes with free tapioca pearls and straws
Great tea texture
Cons:
Some customers reported quality issue with the tapioca pearls
---
The Locca premium boba tea kit is a good choice for parties and tea shop businesses. It also makes a perfect gift as the kit is beautifully put together in nice packaging, you won't be ashamed to send it to someone.
The boba tea kit includes the complete ingredients for making Thai milk tea, jasmine milk tea and black milk team. The jasmine tea and the black tea both brew in just five minutes while the premium Thai tea brews in 3 hours. The kit also includes raw tapioca balls, 8 black straws, and a California boba milk tea recipe.
With this kit, you can make more than 20 cups of drinks with loose tea leaves. If you are allergic to milk, no worries as the different mix do not contain the ingredient.
Pros:
Great packaging
The kit contains everything you need to make boba milk tea
Milk-free
Cons:
---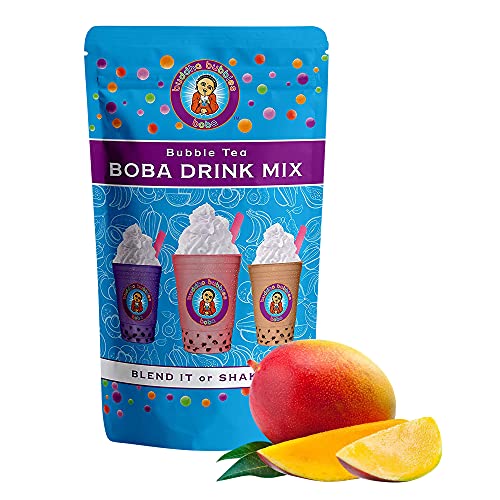 If you have a special preference for mango among all the other boba fruit tea boba flavors, this product is a good choice. It is made by Buddha Bubbles Boba LLC which makes some of the best bubble tea flavors. They also have taro tea, strawberry tea, avocado tea, honeydew tea, pina colada tea, durian tea, banana tea, matcha tea and more. Each pouch already contains flavoring, sugar and cream.
This boba mix produces a drink with a mild taste. If you like, you may also add a flavored jelly at the bottom of the cup to enhance the flavor just like what many tea shops usually do.
To prepare boba milk tea, you just have to add two tablespoons of the fruit mix to a cup of water, stir well then add ice! That's fast and easy!
Pros:
Tea is fast and easy to prepare
Produces a delicious mango drink
Cons:
Does not include tapioca pearls and straw
---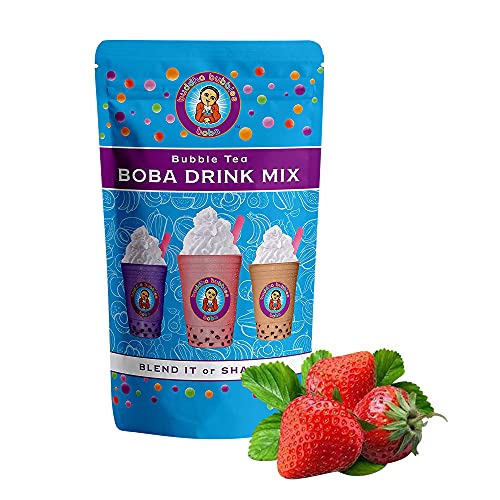 Do you love drinking strawberry milk tea? If you do, this strawberry fruit boba powder from Buddha Bubbles Boba is a good choice. It is a 3-in-one bubble tea mix that comes with strawberry flavoring, creamer, and sugar. It is a perfect do-it-yourself bubble tea because it is quite easy to prepare.
The preparation procedure for this boba tea is the same as the mango fruit bubble tea we featured earlier. The manufacturer recommends that the water is at room temperature but adding ice is fine. You can also add jelly to make your tea extra special.
Pros:
Sweet and creamy taste
Easy and fast to prepare
Cons:
Single flavor only and does not come with tapioca pearls
---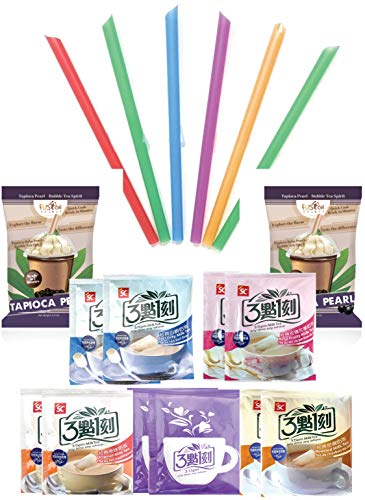 This product is a good choice if it's your first time making boba milk tea and you can't decide on the flavor to make. With small packets in five different flavors, you won't waste a lot of mixes just in case you don't like a certain flavor.
In this kit, you get earl grey tea, brown sugar tea, milk tea, rose fruity tea, and roasted milk tea. There are two single-serve packets for each packet for a total of 10 packets. You can turn them into hot or cold creamy bubble pearls. If you buy this kit, you'll also get two 8oz packets of tapioca balls and straws.
Pros:
Complete kit for making boba milk tea
Makes creamy bubble tea flavors
Cons:
Takes time to cook the balls
---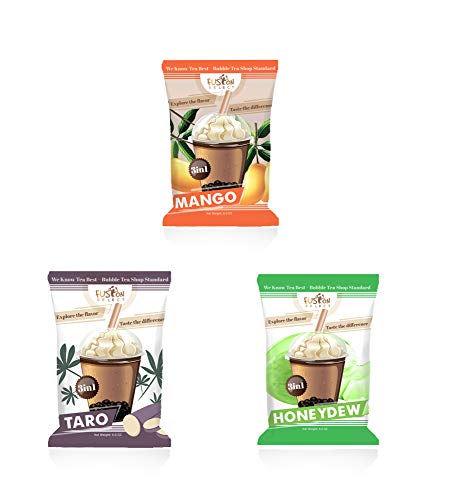 Can't choose between honeydew and mango? You might as well buy a kit that includes these two of the best bubble tea flavors, plus taro bubble tea, each of which is in a 6-oz packet. Each packet can make about four 16-ounce tea.
Preparing your Fusion bubble tea is easy. You just need to add 3 teaspoons of the powder into the cup, add brown sugar, honey or condensed milk as a sweetener, then add about 5 ounces of hot water to dissolve the powder. You can then add ice if you want your bubble tea to be cold. You could also add jelly or bursting bubble pearls for added taste and texture.
Pros:
Easy to prepare
Three flavors
Cons:
No sweetener so you have to add some for flavor
---
Buyer's Guide: How to Choose the Best Bubble Tea Flavor
Every boba tea tastes differently, depending on the flavor your choose, how much water or ice you add, and if you also add honey, sugar and other sweeteners. If you are not yet familiar with the flavors, these are the factors that you need to consider:
Fruit, floral, or tea base
Teas can be classified based on their base: fruit, floral and tea. Fruit-based bubble teas are like fruit smoothies, which are sweet and refreshing. A tea-based bubble tea tastes more like regular milk tea. On the other hand, floral teas such as jasmine tea have a distinct aroma and flavor.
With or Without Sweetener
Some ready-to-prepare bubble milk tea powder already come with sugar, so all you have to do is add water and tapioca pearls to make a sweet boba milk tea. With the no-sugar powder, you can customize your tea to your desired sweetness. You could also add honey instead of sugar for a healthier boba tea.
Conclusion
The best boba milk tea flavor depends on your specific preference. If you are a beginner, you could start with familiar flavors such as mango milk tea, honeydew milk tea or strawberry milk tea. You can then slowly try other flavors such as taro milk tea, green tea and other tea bubble flavors.
It would be good to buy a boba milk tea kit that comes with different flavors so that you have everything you need to try the various boba flavors. With that said, our top pick would be The Ultimate DIY Bubble Tea Kit 36 Drinks.
| Product | Brand | Name | Price |
| --- | --- | --- | --- |
| | Buddha Bubbles Boba | NEW TASTE ! Honeydew Boba / Bubble Tea Drink Mix By Buddha Bubbles Boba 10 Ounces | Check Price on Amazon |
| | Fusion Select | The Ultimate DIY Bubble Tea Kit 6 Flavors of Boba Bubble Tea | Check Price on Amazon |
| | Locca | Locca Premium Bubble Tea Kit (24+ Drinks) with Boba Cards, Loose Leaf Teas | Check Price on Amazon |
| | Buddha Bubbles Boba | NEW TASTE ! Mango Boba / Bubble Tea Drink Mix Powder By Buddha Bubbles Boba 10 Ounces | Check Price on Amazon |
| | Buddha Bubbles Boba | Strawberry Cream Boba / Bubble Tea Drink Mix Powder By Buddha Bubbles Boba 10 Ounces | Check Price on Amazon |
* If you buy through links on our site, we may earn an affiliate commission. For more details, please visit our Privacy policy page.